15 Ways of How to Make Him Want You
If you are interested in a guy and find yourself thinking, "I want him so bad," you might be curious about ways to get a boy to notice you.
Or, maybe you're already in a relationship, and you want to figure out tricks to make your boyfriend want you more.
Regardless of your situation, there are ways of how to make him want you, so you can catch his attention and keep him interested.
15 ways to make him want you
Attracting the attention of a guy so you can keep him wanting you is not always easy.
You might be nervous around him, or perhaps you just don't know what to do to figure out ways to turn him on.
When you want to make a man want you or are looking for tips to turn him on, consider the following fifteen strategies.
1. Be confident.
A key method to make him want you is to be confident in who you are, quirks and all. Don't be afraid to show your true personality or your silly side.
If you have confidence in yourself, this will attract the right man. In fact, research shows that people value partners who are self-confident.
2. Be agreeable to trying new things.
Being open-minded is attractive, so it is important to be open to new things if you want to make him desire you.
Whether it is agreeing to see a movie that isn't your usual genre or trying a hobby that he enjoys, when you are willing to try something new, you will keep him interested.
3. Keep a positive mindset.
If you want to make a man attracted to you, try to stay positive. Being pessimistic all the time isn't attractive, so if you can stay upbeat, even in the face of challenges, you will make your man want you more.
For example, instead of complaining about challenges at work, talk about how you are excited for the opportunity to grow.
4. Practice self-care.
While you don't need to be a supermodel to keep your man sexually attracted to you, when you take care of yourself, you are more likely to feel and look your best, which will increase your confidence and make you more attractive.
Practice self-care by eating nutritious foods, exercising in ways that you enjoy, and engaging in restorative activities, such as taking a relaxing bath or prioritizing an early bedtime.
Research has shown just how important self-care is when you want to keep him wanting you.
For example, studies show that regular exercise improves mood and promotes positive body image, both of which can improve sexual functioning and can keep a guy wanting more.
5. Avoid being clingy.
If you give your man space to breathe and explore his own interests, this will make him desire you.
On the other hand, being clingy or desperate and demanding all of his attention is typically a turn-off because he needs to know that he can still have his own life if he is involved with you.
Taking time to explore your own interests apart from him actually makes you more attractive, and it makes your time spent together more valuable.
6. Choose yourself.
It may sound cliche, but it is true that when you choose yourself, others will want to choose you too. This means that you should not put all of your time and effort into pursuing the man you want.
Instead, prioritize your own goals and interests. When you have your own ambitions and go after them, this will make him want you back.
7. Acknowledge his viewpoint.
One of the ways of how to leave him wanting more is to acknowledge his point of view. Men want to feel understood, so when you listen to his opinions and show that you have heard him, he will value you even more.
When he shares with you a topic that he is passionate about, take time to really listen and reflect back to him what he has said, which will leave him feeling like you "get" him.
8. Give genuine compliments.
While you do not want to be too over-the-top, a heartfelt compliment is one of the best ways to turn him on and attract him to you.
Guys may feel as if their efforts or strengths are never appreciated, so if you take time to compliment his outfit or his taste in music, he is sure to remember you.
9. Take time to enjoy yourself.
If you're wondering how to get him, the answer is to keep doing what you love. Explore your interests, and show that you are enjoying life.
When a guy sees that you are happy doing your own thing, he will want to find out more about you, and he will be all the more interested in becoming a part of your life.
Don't think you need to give up on your fitness goals or your house remodeling project just to make more time for him. When he sees that you have hobbies you enjoy, it will make you more interesting and more appealing.
10. Brush up on your dirty talk.
It's no secret that men like to talk dirty, so if you want to know things to say to turn him on, you will want to strengthen your skills in this area.
Knowing how to talk dirty is one of the top sex tips to keep him interested, as it will create sexual tension and leave him lusting for you.
Also Watch:
11. Have your own life.
Having a world apart from your man keeps you interesting and shows him that while you want him in your life and enjoy his presence, you don't need him.
This level of independence keeps you appealing and prevents him from getting bored with you. Part of what men enjoy is the thrill of the chase.
If he can easily have you because your entire life revolves around him, he may lose interest and respect for you.
12. Use physical touch to your advantage.
When a man desires you, he will crave physical touch. If you want to attract him to you and keep him wanting you, tease him with some physical touch the next time you have a conversation. You might nudge him on the shoulder or gently tap his arm to express your interest.
13. Work on your flirtatious body language
.
If you are thinking, "Making him want me is my top goal," you have to learn how to flirt with your body language. Smile and make eye contact.
It not only shows that you are interested in him but also indicates that you are confident. You may also try holding his eye contact for a few seconds and then smiling and looking away.
14. Wear the color red.
You may be surprised to know this, but wearing red is one of the ways of how to make him want you.
In fact, studies have shown that men are more romantically attracted to women wearing red.
If you are going on a date or know you will be running into him, you might consider wearing your favorite red dress to keep him wanting you.
15. Establish strong values and stay true to them.
Men respect a woman who knows what she values and who stands true to herself.
Decide what it is you value in life, and be prepared to uphold these values. This not only allows you to attract the right man but also makes you appear more confident.
For example, you may decide that you value commitment. If this is the case, you will not be willing to settle for a casual relationship but will instead choose something more serious.
Don't be willing to settle for something that is less than what you value.
Conclusion
There are several ways of how to make him want you, but in general, you can keep a guy wanting more by being confident in yourself, enjoying your own life and hobbies, and making him feel good about himself.
Through self-care, upholding your values, and owning your quirks, you can demonstrate that you are confident, which will attract the man you want. Boost his self-esteem by giving genuine compliments and acknowledging his opinions, and you will keep him wanting you.
Finally, take time to pursue your goals and live a life separately from him, which keeps you interesting and shows him that you are independent enough to do your own thing.
It doesn't hurt if you also throw in some physical touch and dirty talk to make him desire you sexually.
Share this article on
Want to have a happier, healthier marriage?
If you feel disconnected or frustrated about the state of your marriage but want to avoid separation and/or divorce, the marriage.com course meant for married couples is an excellent resource to help you overcome the most challenging aspects of being married.
More On This Topic
You May Also Like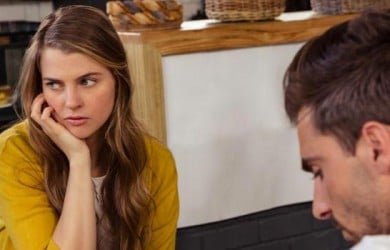 Popular Topics On Married Life