How to Tell Your Partner You Need Alone Time in a Relationship
It has been more than a year since the Coronavirus pandemic started. By now, we have gotten used to the new way of living.
Most of us started working from home, while others started venturing into online businesses and hobbies. These are the important things that keep us busy and distracted.
The pandemic also made us spend all of our time with our family or partner, and while this gave us more time to connect with them, it also made most of us miss our "alone" time.
Do you feel that you need alone time in a relationship?
It's not just you. Most of us have realized that we no longer have enough time for ourselves, and yes, this feeling is normal. A little alone time can have so many benefits, not just for our wellness but for our relationship as well.
Is it okay to ask for alone time in a relationship?
"I need time for myself, and I'm starting to feel like I want to be alone. Is this okay?"
Do not worry, and don't be too hard on yourself. You are correct, everyone needs a little time away, and there is nothing wrong with that.
If you need alone time in a relationship, you should get it because that time for yourself or "me time" is significant. Even if you are happy and content in your relationship, you still need to give space in a relationship.
However, not everyone is comfortable asking for space in a relationship because it often comes off as offensive and can even sound like a threat in your relationship.
Tricky, isn't it?
How do you get the message across that you just need space to unwind and enjoy what you want to do for yourself without making your partner think that something is wrong in your relationship?
Is it possible to learn how to tell someone to leave you alone for a while politely and even convince your partner that the both of you need alone time in a relationship?
To understand more about why you might need to spend some time alone, watch this video:
10 ways to tell your partner you need alone time in a relationship
Here are 10 easy tips that you can follow. Who knows, your partner might want some alone time as well.
1. Spending time apart in relationships is actually healthy
It's very easy for us to become too invested in a relationship, then one day, you just realize, "I have no time for me and the things that I love doing."
Sounds familiar?
Daily routines, responsibilities, even goals can leave us exhausted and stressed out.
Having a partner who is supportive and is always there for you can make it all better. But soon, this can cause the both of you to be overly dependent on each other, thus, making it a little bit suffocating.
Did you know that the healthiest relationships allow each other to focus on themselves as much as they focus on the relationship as well?
Explain to your partner that if you make time for what you want and what you like doing, it means that you are doing yourself a big favor. You relieve stress, pressure, and all the negativity that is surrounding you.
You will be able to rejuvenate and find yourself again; thus, you will become not just a better person but also a better partner as well.
2. Be sensitive when delivering the message
You have been contemplating that you need alone time in a relationship, but how do you deliver it without sounding like you're breaking up?
Be mindful of your words and be sensitive.
Remember that the wrong words may look like you're rejecting your partner. This can cause your partner to hold on to you and be insecure.
Talk to your partner calmly and sweetly. Take time to explain and entertain any questions your partner might have. Also, make sure that you focus on the topic and do it privately.
3. Don't blame your partner
When your partner asks why you need alone time in a relationship, don't enumerate what you do not like about your partner or what is missing in your relationship. This can cause miscommunication and even resentment.
On the contrary, make sure that your partner knows that he or she is not to blame for this decision and that it's not just you who would benefit with some time alone. Both of you can be stronger and better if you allow each other to enjoy quality "me" time.
Related Reading: 

Why Blaming Your Partner Won't Help
4. Be clear about what you want and need
Before you ask your partner to sit down with you and talk about spending quality "me" time, make sure that you take some time to reflect on what you want to achieve on this journey.
It's also a must that you know your needs to have a clear plan of what you want to achieve.
Be specific with your partner. If you want to have one whole day for yourself, then say so. Tell your partner your terms; like you don't want any calls or messages, be honest and transparent so that your partner knows what you want.
Related Reading: 

How To Know What You Want in a Relationship
5. Know your feelings
If you tell your partner that "sometimes I just want to be alone and be able to do the things that I want," expect that you will also receive questions.
This is a good sign. This means that you have good communication with your partner and that your significant other wants to understand you.
Take this chance to let your partner know how you feel. If too much home-office work leaves you stressed and irritable, then let them know. This way, your partner would understand where you are coming from.
Also, take this chance to ask your partner about relieving stress and tension. This may allow your partner to try and have some "me" time as well.
6. Emphasize your feelings towards your partner
By telling your needs and wants to your partner, your significant other would feel loved, trusted, and important.
You can say, "I love you so much, and I am thankful that I can share with you these things, and I know that you'd understand."
7. Always use "I" statements when you deliver the message
Take note of using the "I" when talking about why you need alone time in a relationship. This will help your partner feel secure that it's not him or her causing you to want some space.
You can say, "I have been so stressed and tense with all the tasks and deadlines, and I have realized that I haven't given myself time to relax and unwind."
Related Reading: 

Using "I" Statements in Relationships
8. Be specific with your plans
As you go deeper with your conversation, your partner would start asking you about your plans. Make sure that before you ask for a little alone time, you know what you will do first.
If you want to watch a Netflix series for a long time or want to start yoga, then tell this to your partner.
If you show how excited you are, your partner wouldn't just understand. He or she will also be supportive of you.
You can also ask your partner about their pending hobby.
You can say, "I remember that you have always wanted to restore your dad's bike; you can use this time as well. What do you think?"
Instead of creating misunderstanding and confusion, you will start to have great plans of how you can both spend your alone time.
9. Be open about giving your partner space too
Take this opportunity to introduce your partner to the importance of needing space in a relationship.
No matter how much you love each other, spending some time alone is necessary. It's always fun to have your partner with you, but wouldn't it be fantastic if you could get some time alone with your friends?
How about having your own time each week to start restoring that vintage bike?
We all have needs, and sometimes, you just need to free up some space and enjoy your own company.
10. Enjoy and be positive
There will be instances that your plan to ask for "me" time won't go as planned.
If you feel that your partner is a little bit stressed out or insecure, then just relax. We don't want to create unnecessary drama that can add to your stress, right?
Try again, and the next time, be more positive and enthusiastic. Soon, your partner will understand that spending time alone doesn't mean that your relationship is on the rocks.
Related Reading: 

Tips for Attracting More Positive Relationships
Conclusion
Pandemic or not, we all have to be aware of the importance of our mental health, and if you need alone time in a relationship, then ask for it.
Remember that it is healthy to spend time alone too. Whether you want to start a new hobby, watch movies, or just self-reflect, having and enjoying your alone time will give your mind the vacation it needs.
You make time for what you want, enjoy your own company, and just unwind. Then you can come back stronger than ever.
Share this article on
Want to have a happier, healthier marriage?
If you feel disconnected or frustrated about the state of your marriage but want to avoid separation and/or divorce, the marriage.com course meant for married couples is an excellent resource to help you overcome the most challenging aspects of being married.
More On This Topic
You May Also Like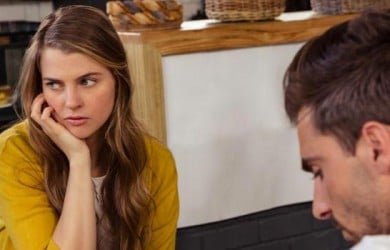 Popular Topics On Married Life