How to Seduce Your Husband: 25 Seductive Ways
After marriage, you may think that you've got everything secured into a lifetime of fairytale-like happy-ever-after.
Not to burst your bubble, but you may have realized that you're just starting with your love story – the real one.
The truth is, when you're husband and wife, you start learning how to get along, how to fulfill all your goals, and how to stay sweet and intimate.
Many couples soon realize that their sex life after marriage changes – a lot. That is where the urge to know how to seduce your husband comes in.
But before we get to the titillating part, we must first understand why it's essential to be knowledgeable in seducing your husband.
Related Reading: 

Easy and Effective Tips on How to Seduce a Man Subtly
Reasons why men can lose interest in sex
When you just started dating each other, your sex life was explosive and unpredictable. You're spontaneous, and you love experimenting. Sex was fantastic, but what happened?
When was the last time you made love that made you scream with pleasure?
Unfortunately, you're not alone with this.
Many couples experience changes in their sex life after getting married.
There can be several factors that can influence a person to lose interest in sex. Here are some reasons why your partner might be uninterested in sex:
Stress

Aging

Low testosterone

Medical conditions
While these are all common reasons why your husband might become uninterested in sex, that doesn't mean you have to be too.
Learning how to seduce your husband can work wonders and even serve as a cure for him.
Seducing your spouse – how to turn him on
One of the best ways to seduce your husband is to be familiarized with his sexuality first.
Once you understand how his sexuality works, it will be easier for you to make your husband want you sexually.
A man's sexuality consists of three characteristics.
All three fundamentals consist of psychological and physiological factors determining how your spouse will react to your sexual advances.
Related Reading: 

Top 5 Most Common Reasons Why Couples Stop Having Sex
His identity and ego
A man will be proud of himself if he's a good lover. It's part of his identity and his ego. If he feels his ego is being challenged, he may become stressed, causing low libido.
Work, stress, trying to prove something, or any other factors that cause a man to feel low or inadequate will affect his libido.
His need for sex
Most men consider sex as a physiological need. If that sexual need is not satisfied, chances are, the body will adapt, causing fewer testosterone levels.
Less sexual intimacy may cause your husband to lose interest in sex slowly. Unfortunately, this could happen when you're both too busy.
Related Reading: 

Lack of Sexual Desire in Relationships
The visual impact
There can be many ways to turn on your husband sexually, but we all know that it all starts with visuals.
Men are naturally and biologically visual creatures. This means that he focuses on what he sees, and by using this, you will have the upper hand on how to seduce your husband.
Related Reading: 

25 Ways to Get Him in the Mood
Secrets to get your husband in the mood
Before we proceed with the different ways to seduce your husband's tips, we will let you in a bit of secret.
A successful plan in seducing your husband will work if you have the following:
Confidence
How can you be a wife seducing her husband if you're not confident? Seduction requires oozing confidence. Just by staring him directly into his eyes, you can already convey your message to him.
Imagination
Seducing your man with words would be nice, but you should not be limited to that. You should use your imagination to ignite his passion for sex.
Effort
Lastly, you need to be able to put a lot of effort into making your husband fall for your seduction. It won't happen overnight, and it may fail a couple of times. Have the patience, and you'll see.
25 irresistible ways to seduce your husband
Now that you know why your husband is losing interest in sex and the secret in getting it back, it's time to learn how to seduce your husband with these 25 irresistible tips.
1. Get a make-over
Are there any seduce your husband ideas that would be easy?
For starters, focus on yourself first. Give yourself a total makeover. Why is this important?
If you look and feel good about yourself, everything else will follow. It would be easier for you to find ways how to seduce your husband.
2. Give him sensual massages
Touch can heal, but it can also ignite sexual passion.
Go ahead and buy some relaxing and fragrant massage oils. Ask what part is tensed and start from there. Make your husband feel better, make him feel relaxed, and proceed with your seduction techniques in bed.
Massage and give attention to other parts of his body. Move down until you can touch his behind. Go up and soften each stroke until he feels warm and aroused.
Related Reading: 

How To Attract Husband Sexually
3. Speak softly, whisper words
Do you want to learn how to seduce your husband without being obvious? Ask him to watch a movie with you, start talking softly, and at times whisper words into his ears.
The tickling sensation and your soft voice will surely give him other thoughts other than the movie you're watching. You can also put your head on his shoulders or cuddle. This will lead to unexpected actions.
4. Make lingering eye contact
Seduce your husband ideas don't have to cost much. You can just stare him in the eyes, and he could already guess that you want it. You may have seen this in the movies, and it works.
Stare and think of all the things you want to do to him. Come closer and kiss him. The fire inside you will release that deep yearn for a sexual connection.
Related Reading: 

10 Powers of Eye Contact in a Relationship
5. Let him caress you
If your husband is in the mood for cuddling, allow him to touch you. Close your eyes and feel every touch. Once he sees how much you're enjoying his caresses, he'll get aroused too.
You can also choose to make lingering eye contact with him. Bite your lip, go ahead and show him how his touch affects you.
6. Try sexting
"How to seduce my husband is he is at work?"
You might not be there personally, but you can still learn how to seduce your husband by sexting him. What is sexting?
Sexting is merely sending naughty, sex-themed messages to your husband. Tease him with naughty chats or texts like what you want to do when he gets home, etc. He would surely want to end his shift soon to get home.
Related Reading: 

How to Use Sexting to Spice up Your Marriage
7. Touch him
Is there a way how to seduce my husband physically?
Yes! Did you know that by touching him, you can turn him on?
Sway your hands on his thighs, his back, or his shoulders. Do it slowly while talking in a soft tone. Brush his hair with your fingers or caress his face. The attention, the warmth of your hands, and the sensuality will make him fall for you all over again.
8. Go commando
Now, if you're looking for fun ways to be sexier for your husband, try going commando.
That's right, skip wearing an undergarment on his day off and proceed as usual. Sweep the floor, pick up those dirty socks and give your husband a peek.
He'll smile and approach you once he sees it. Better be ready.
9. Flirt with words
"Any other seduce my husband tips to try?"
Did you know that you can use words to seduce him? Even when talking about any topic, you can convert it into something sexual and fun. Use words to tickle his mind and give him hints about what you want to do.
10. Flirt with actions
If words aren't enough, then flirt using actions. Eat slowly, lick your lips, or maybe you can let that cheese drip and then lick it. Keep in mind that you can do this while staring at him.
If you're a little bit naughtier, accidentally drop your towel after a bath. Use your imagination and play around.
This will be one of the fun ways to seduce your husband. We're pretty sure he'd fall for it in no time. Aside from what you can get from this, it will also strengthen your bond.
Related Reading: 

How to Flirt With a Guy: 30 Flirting Tips for Girls
11. Ask about his sexual fantasies
Ask your husband about his sexual fantasies. Allow him to talk about it.
He'd appreciate the fact that he can talk about his sexual fantasies with his wife – that's a bonus.
By knowing his fantasy, you can customize your seducing techniques. Also, while you're talking about it, your husband can already feel aroused by the fact that he's voicing out his sexual fantasies with you.
Want to learn more about exploring your fantasies? Watch this video.
12. Invite him to the shower
Some married couples usually take showers separately.
Try to hold his hand and guide him to the shower with you. Lather him with that fragrant bath soap and enjoy the warm water. Aside from the relaxing feel, being naked in the shower will surely lead to something hotter.
13. Have a game of strip poker
Instead of watching movies on your rest days, why not prepare ice-cold beers and play strip poker? This would be one of those fun ways to seduce your husband.
Imagine drinking your favorite beer and having fun with poker? Also, the juicy part is seeing each other get naked. Level it up by making the winner do everything they want with the losing end.
14. Kiss him and then stop
Quickly learn how to seduce your husband by kissing him passionately and then stop.
This way, you give him a taste of what's to come and tease him by stopping. This will intensify his sexual urges for you.
Related Reading: 

Top 7 Reasons Why Kissing Is Super Important in a Relationship
15. Send him a naughty photo
Surprise him with a sexy photo of yourself. Send it to him while he's at work or in the garage. Let him know what's waiting for him. You can also send some naughty phrases to add to the seduction.
Expect him to come to you in no time or go home as soon as his work is done.
16. Tell him your sexual fantasies
By now, you already know his sexual fantasies, but how about yours?
If you're comfortable, you can choose to share your sexual fantasies with your husband. It will make his imagination go wild. So, don't be surprised if he tries to fulfill your sexual fantasies.
Use this to make your sex life explosive and unpredictable.
If you both want, you can try experimenting with sexual role-plays. These are fun and addicting. You can do any scenario you want. Some examples would be slave-master, teacher-student, and so much more.
Let out that inner Hollywood actor inside you and act until you believe your roles.
Related Reading: 

Exciting Couple Role Play Ideas to Spice up Your Relationship
17. Wear lingerie
Skip those baggy t-shirts and pajamas. Show your beauty and confidence by wearing sexy lingerie.
Surprise your man with sexy lingerie. He would be thrilled to see you in bed wearing that red lingerie. He might get addicted to seeing you sexy and sultry. You would also feel extra sexy and confident when you're wearing lingerie.
18. Wear your hair down
When you're married and have kids, it's normal to want to feel comfortable while doing chores. After all, you would hate it if your hair is all over your face while you're cooking or doing the laundry, right?
Start seducing your husband by showing him that you can wear your hair down too. It would be better if your hair would smell like roses or vanilla. He would be tempted to touch and smell it, and you know what comes next after that.
19. Wear perfume
Invest in perfumes. You deserve them, and they are also a great way to seduce your husband.
Imagine your husband going home to see you wearing black lacey lingerie. Then he comes closer to you and smells your perfume. He'd immediately want to get all over you, so don't be surprised if he takes you to the bedroom.
20. Nibble him
Kiss him, nibble him and make him want you.
You can start kissing him on his nape, then slowly blow air on his shoulders. You can nibble his neck, behind his ears, and even on his shoulders. The sensation would be irresistible!
Once you see him getting in the mood, you can start kissing him on his sweet spots.
21. Talk dirty
Most men love it when their women know how to talk dirty. The key is knowing how and when to do it. Time it properly, and it can arouse your man.
Related Reading: 

100 Sexy, Dirty Text Messages for Him to Drive Him Wild
22. Perform a striptease
Give your man a show. Perform a striptease and blow his mind.
Women can be so sexy if they know how beautiful they are. Do this, and he'll never want to go to any club again. Make sure you tease him good.
23. Extended foreplay
Let's not forget about foreplay here. Even if you are already doing it, you can still do something about how to seduce your husband.
Some would stop after a few minutes of foreplay. Don't do that! Instead, extend your foreplay session, and you will both love it.
Foreplay can intensify your orgasm and can also make you yearn for more. This is where you can show off your new moves to your husband and who knows, you might discover how amazing sex toys are.
24. Tie him up
Make sex better, and seduce him by experimenting with tricks in bed.
You don't have to go all-out dominatrix, but you can incorporate some fun ways to seduce your husband.
Tie him up and take control. Men love that! Allow your inner boss to take over and make your husband beg for more.
25. Focus on him
Now that you know how to take control of your sex life, go all out and focus on your husband. Do what he loves in bed, take over and be the one who pleasures him. Focus on everything he loves and make his climax unforgettable.
What is the outcome of this? You need to be ready because he'll get addicted and will wish for you day after day. If you're ready for this, go ahead and make his sex life explosive.
Conclusion
It doesn't matter if you have been married for two, five, or even ten years – your sex life can be as hot as when you're still teenagers.
To do this, you should, as a wife, know how to seduce your husband.
Don't take it as an obligation. Instead, take it as a challenge to make your husband go crazy about you and your sex life. It will be fun, and it can also strengthen your bond.
Go ahead and try each of these 25 ways for you to know how to seduce your husband. Watch him fall in love with you all over again as you enjoy each other.
Share this article on
Want to have a happier, healthier marriage?
If you feel disconnected or frustrated about the state of your marriage but want to avoid separation and/or divorce, the marriage.com course meant for married couples is an excellent resource to help you overcome the most challenging aspects of being married.
You May Also Like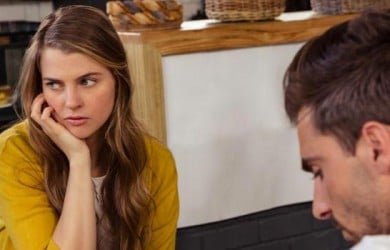 Popular Topics On Married Life