12 Ways to Be a Better Man in a Relationship
Becoming a better man in a world where most men are careless can be hard work. Nonetheless, it would be best if you didn't give up as there is a reward for your actions.
Due to the disappointment many women faced in their past relationships, they feel responsible men are scarce.
As such, they put little or no effort into their relationship. In the same vein, some men see how their actions affect their partner, so they seek how to be a better man for her.
On the other hand, some men believe they are perfect and need no guidelines on becoming a better man or being a man in a relationship.
Whether you think you can become a better man or you are satisfied with your behavior, one fact is inevitable – your actions will tell.
Being a man in a relationship goes more than vocalizing it or making bogus promises. Instead, it reflects in your actions. You don't need to tell people you are a better or real man. Your actions towards your woman naturally give your personality up.
Becoming a better man means being a gentleman. It requires humility and selflessness. If you desire to know how to be a better man in a relationship or how to be a better man for her, read this article to the end to learn how.
What makes a man happy in a relationship?
Again, romantic relationships are usually full of issues and disagreements. Many of these arguments center on misunderstanding, especially when one partner doesn't know how to please the other.
That has made many women ask the long-age question, "What makes a man happy in a relationship?"
What some women think makes their man happy is wrong and often causes them (the men) to get furious. Consequently, this leaves the women frustrated and hopeless about building a romantic relationship with their partner.
Meanwhile, the same goes for women, as many men misconstrue what makes their women happy.
Regardless, you will be surprised that the unexpected and the little things make a man happy. Many things make a man happy, but these are the most important:
1. Love and care for him
This might look obvious already, but you have to do more than say it. Loving your man means being his peace and haven. When your partner thinks about home, you should come to his mind. Show that you care about him in every way you can.
Also Try: How Do You Show Love?
2. Believe in him
One thing that makes men happy is when their partner believes in them. Even when things aren't working out as planned, a man needs his partner to cheer him on and trust his abilities to make things happen.
3. Support him
Everyone wants a supportive partner. If you can stand by your partner in their endeavors and show up when they need you, they will be happy. Becoming a better man becomes easier.
Also Try: Do You See Lifelong Commitment In Your Relationship?
4. Encourage him
Encourage your partner by constantly telling him how amazing he is. It is easy to lose yourself in a world reeling with fierce competition.
However, pushing your partner to pursue his goals and achieve his dreams against all odds can make him the happiest man on earth. In a way, you are teaching him how to be a better man in a relationship.
What does a man need in a relationship?
Like what makes a man happy in a relationship, what a man needs in a partnership is not that difficult to get. They are:
1. Honesty
Yes! Becoming a better man in a relationship isn't hard as long as you are truthful to your partner. Many men want to trust their partners fully without second-guessing their words or actions. If honesty is guaranteed, being the man in a relationship becomes easy.
Also Try: How Honest Is Your Relationship Quiz
2. Trust
Some women cause conflict in their relationship when they think their partner is dishonest without proof. That puts your man on the edge, making him think twice before communicating with you.
Many men want their partners to trust and believe in them even when things are rough. Acting otherwise means you don't believe in them.
3. Communication
Constant communication is the only way to have a relationship and develop it. When you vocalize your thoughts rather than keeping them to yourself, it makes your partner happy. That way, he understands you better.
Watch this video to learn how to have better communication with your partner:
4. Friendship
If you want your partner to be the man in a relationship, you should be his friend. Of course, he has other friends but knowing you are more than a romantic partner puts his mind at rest. Even when the world is against him, he will be happy knowing you will be there for him.
Also Try: Am I In Love With My Best Friend?
5. Loyalty
Don't we all want the people in our relationship to be loyal to us? Loyalty is the assurance and reassurance many people need to keep pushing their relationship forward. Once you know your partner is committed to you, other things will naturally fall in place.
What is the role of a man in a relationship?
If you wish to know how to be a man in a relationship, you must first understand your role. Yes! Every participant in a relationship has a role to play to build a stable and healthy relationship. A man has a myriad of functions to perform in a relationship, but the following are vital:
1. A man loves his partner
If you want to know how to be a better man for her, start loving your partner genuinely. It isn't the time to play games or act deceitfully. Being a man in a relationship demands loving your love interest unconditionally and showing it through your actions.
2. A real man protects his lover
Being the man in a relationship means acting as a protector and being your partner's safe place. That means protecting your partner emotionally, physically, and financially. You don't have to go overboard with your actions, but your effort should be glaring enough.
Also Try: Is My Boyfriend Too Possessive Quiz
3. A man respects his partner
Becoming a better man means reflecting on your partner, especially in decision-making. Please don't act like she is incapable of doing things independently. While you can offer some advice, don't try to overshadow her thoughts and feelings.
4. A man is committed and loyal to the relationship
There is no point in accommodating many women to prove your manliness. If you want to know how to be a better man, then be loyal to her and the relationship. Commit fully to the relationship without fear. There will be disagreements and conflicts in the future. Looking for solutions rather than a quick way out will strengthen the relationship.
Also Try: Am I Afraid of Commitment Quiz
5. A real man takes responsibility
Instead of defending his mistakes and avoiding conflicts, a man in a relationship accepts his faults. Instead of arguing, he seeks solutions.
12 Ways to be a better man in a relationship
If you ever wish to become a better man for her, there are ways to do that. Learn more in the following paragraphs to be the man in a relationship.
To begin with, becoming a better man means you will let go of some old ways. One of such is keeping your thoughts to yourself.
These days, many men are expressing themselves more freely than before. That way, you can help your partner eliminate all doubts and assumptions about who you are.
Also Try: Communication Quiz- Is Your Couple's Communication Skill On Point?
2. Listen to your partner
To be a man in a relationship means to be fair. While you express yourself without limit with your partner, you should also listen to them.
Listening is a great skill that lets you into your partner's mind. It also shows you ways to improve your relationship and strengthen your bond.
3. Care for her
Every partner wants a caring partner. To be the man in the relationship, you must care for your partner differently. Saying, "I care for you." is one way. Importantly, you must show it in your actions.
For instance, ask your partner how she feels even when she feels all right. Another way to be a man in a relationship is to buy thoughtful gifts for her. This gesture may include buying sanitary pads, chocolate, and pills during her monthly period.
Also Try: Does He Care About Me Quiz
4. Help her out in the house
Some men believe being a man in a relationship or marriage only requires financial support. However, this isn't so true. One way to be a man is to help your partner out in the house.
For example, you can help her with the dishes when she's tired. Also, you may help out with other activities that she usually does. Seeing this tells her you care about her.
5. Encourage her
Becoming a better man also means encouraging your partner at their lowest. In other words, when your partner feels like giving up on a task or project, you should be there to motivate them.
Everyone needs encouragement in life. When it comes from our partner, it is more fulfilling.
Also Try: What Parenting Style Would You Best Co-Parent With Quiz
6. Don't cheat
Being a loyal partner should be familiar to many individuals, but sadly it isn't. If you want to know how to be a better man for her, try not to cheat.
Cheating breaks all trust that might have taken your partner a long time to build. If you feel your partner offends you, speak up rather than accommodate other people.
7. Accept your partner
One of the ways to be a man in a relationship is to understand that humans are different. People come from different backgrounds and cultures. These factors often reflect in their lives which make them act differently.
Knowing your partner has unique traits and personality will make your relationship successful. Accept them, and make it known if you don't like any of their behaviors.
Also Try: Do You And Your Partner Accept Each Other's Influence Quiz
8. Make time for your partner
Knowing how to be a better man for her means creating and giving time in your relationship. Understandably, you may be busy with work and other activities. Nonetheless, it is vital to make time for you and your partner to meet.
For example, you both can plan a weekend getaway week if you are always busy. Even though the meetup is not soon, it shows your partner that you value her and the relationship. Thoughts count a lot in a relationship when we can't reveal them through our actions.
9. Be trustworthy and trust
Trust is a universal trait everyone looks out for. In becoming a better man, you should position yourself as a trustworthy person. Let your actions speak for themselves without effort.
Always stick to your words, fulfill your promise, and ensure you are truthful. Let your partner believe you without question. Similarly, you should trust your partner if you want to build a healthy relationship.
Although, no guarantee of trusting a person will make them better, it will help you become a better person. Sooner or later, they will reveal their true personalities.
Also Try: Can I Trust Him Quiz
10. Make her laugh
Many women love a guy with a great sense of humor. Be that guy! Learn to make jokes and learn to take one.
Be that man that makes a dull room lively and bubbling. If you can change your partner's mood and make her forget her current problems, you are becoming a better man.
11. Love yourself
In becoming a better partner, you must be careful not to neglect yourself. Often, some individuals are so invested in becoming a better person for her that they forget to love themselves.
For instance, they provide all their partner's needs while forgetting theirs. Also, you may find them not looking their best while making their partner happy. To take care of and love another person, you must first love yourself.
Also Try: Do I Love Myself or Do I Have Low Esteem?
12. Improve yourself
Similarly to loving yourself is to improve yourself. Don't ever neglect your progress in life to satisfy your partner. Always take a look at your life to see areas that need improvement. Encourage yourself constantly, and don't ever belittle your effort.
That is one way your partner can love, respect, and value you more. Do things you love, travel, eat what you like without limit. By doing this, you become happier. That makes it easy to be a man in a relationship.
Conclusion
Many men want to know how to be a man in a relationship. Becoming a better man requires little effort only if you are devoted and committed. It makes you a real man and strengthens the bond you and your partner have.
Share this article on
Want to have a happier, healthier marriage?
If you feel disconnected or frustrated about the state of your marriage but want to avoid separation and/or divorce, the marriage.com course meant for married couples is an excellent resource to help you overcome the most challenging aspects of being married.
More On This Topic
You May Also Like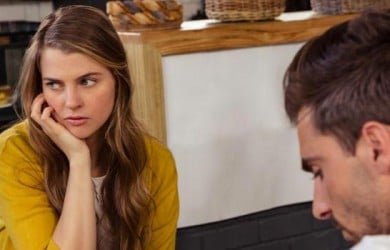 Popular Topics On Married Life