What is Loyalty & Its Importance in a Relationship?
Most people would probably say that they value loyalty in a relationship, but it may be unclear what loyalty in a relationship looks like. Being loyal to someone can mean various things, so it is important to understand the various aspects of faithful relationships.
Before we understand how to be loyal in a relationship, let's first understand the definition of loyalty in a relationship.
What is loyalty in a relationship?
When people think of loyalty, they probably most often define loyalty in a relationship as being fully committed to your partner and not cheating. While this is undoubtedly an important aspect of being loyal, there are other facets of loyalty.
Being loyal to someone in a faithful relationship requires avoiding cheating and being loyal in the way you speak about your partner to others.
Speaking positively about your partner to others demonstrates loyalty, just as being faithful to the relationship does. There are other aspects of loyalty in relationships, and it is necessary to consider all of them since loyalty is paramount.
How important is loyalty in a relationship?
Most people value loyalty in relationships, and it's for a good reason. Here are some points that explain how important trust is in a relationship and why you should be loyal to your partner.
Loyalty is central to having a healthy relationship
The Gottmans, who are psychology experts for couples, have explained that trust and commitment in relationships lead to happiness and promote wellbeing— couples who have loyalty can. Therefore, please expect to be more satisfied in their relationships and lives.
Related Reading: 

Top 10 Characteristics of a Healthy Relationship
Loyalty is central to a successful, lasting relationship
Everyone wants to have a partner who chooses them above everyone else and is their lifelong companion. As humans, we ultimately want to feel like our partners love us unconditionally and will always make us a priority. Having loyalty in a relationship helps to cultivate these positive feelings.
It is also important to remember that you deserve loyalty in relationships. Having a partner who truly loves you, cares for you, and is committed to making the relationship work will make you happier and healthier.
Not having loyalty in your relationship can set you up for disappointment and leave you feeling stressed, leading to emotional and even physical health problems.
Related Reading: 

How to Make Your Long Distance Relationship Last
8 Ways to build loyalty in a relationship?
Since loyalty is so important, it is essential to take steps to build it in your relationship.
As stated previously, loyalty in a relationship means staying faithful in the relationship and speaking positively about your partner.
1. Speak kindly about your partner
So, aside from staying away from cheating, which is critical, an important part of being loyal to someone in a romantic partnership is speaking kindly about them to others.
For instance, you should avoid talking badly about your partner behind their back. If someone says something negative about your partner, you should defend them. This is among the top things that represent loyalty because if you talk negatively about your partner to others, you aren't truly being loyal to them.
2. Keep your promises
Another key method of building loyalty is to follow through or remain loyal to your promises. This is pretty simple. If you tell your partner, you are going to do something. You should follow through with this commitment. This builds trust and shows that you are committed.
Related Reading: Significance of Commitment in Relationships
3. Be supportive of your partner
Other strategies for building loyalty in a relationship include being supportive of your partner through life's challenges and being prepared to face obstacles together.
4. Discuss before making decisions
Loyalty also involves discussing big decisions with your partner.
If you make important decisions without including your partner, they can feel left out. On the other hand, discussing life's decisions with your partner and deciding things together shows that you are faithful to them and want them always to be included in your life choices.
5. Be forgiving
Forgiveness is one of the most important parts of building loyalty in a relationship. It would be best for you to understand that we all make mistakes, and it is essential to forgive and move past those as quickly as possible.
If you keep grudges, it will only damage your relationship. Let go and accept the apology. Only by accepting that humans make mistakes will you truly be able to build trust and loyalty.
Watch this video to learn how to practice forgiveness :
Related Reading: 

4 Types of Forgiveness in a Relationship: When and How to Apply
6. Be vulnerable
Loyalty is correlated to honesty and vulnerability. If you want to build trust in your relationship, you have to be entirely honest and vulnerable. Many people think that being vulnerable is a sign of weakness which is not the case.
The vulnerability allows you to be stronger. If you are vulnerable and honest, your partner will feel more comfortable, and they will be more open with you about things.
7. Respect each other's differences
It is crucial to accept and respect differences to maintain loyalty in a relationship. Leave no room for judgments.
You may not relate or understand some things about your partner, but try to understand where they are coming from and accept that they might have a different perspective.
Related Reading: 

10 Reasons Why Respect Is Important in a Relationship
How to be loyal in a relationship?
Most people don't understand what loyalty is and how it affects a relationship. Here are some points that can help you to be loyal in your relationship.
Understanding that

relationship requires consistent efforts

. Relationship is always a choice, not an option, and you have to stay loyal to your partner because you promised and have to fulfill that promise.

Appreciate and understand the value of your partner. Realize that you have a person who has always got your back and how amazing this is. Be grateful to them for always being by your side.

All the issues you face should be discussed personally first, and if only you can't find a solution, you should share it with others.

Treat your relationship as the top priority. There may be other things in your mind but make sure to give time to your relationship first. Find the right balance between your work and personal life.

Never try to look for happiness in someone other than your partner. If you think there is a problem with your relationship. Communicate, as it is the key to all the solutions.

Ask your partner how they are doing. Does your partner seem tired? Distracted? Irritable? Ask them what is going on; this shows that you are supportive.

If you know your partner is dealing with stress or a difficult situation at work, ask how you can be supportive. Offer your help.

Ask for your partner's opinions and share your thoughts and feelings with them.

Keep your partner's secrets. If they share something with you in confidence, you should not break this trust.

Be

willing to compromise

and adjust with your partner. Sometimes, being loyal means that you need to put some of your partner's wishes or needs first or be willing to accept that you will not always have things 100% your way.
10 qualities of loyalty in a relationship
The signs of a loyal relationship listed above are closely linked to the qualities of a loyal relationship. Based upon the things that represent loyalty, it seems that the following ten things are the main qualities of loyalty in a relationship:
Trust

Partnership

Authenticity

Lasting Companionship

Commitment to the Relationship

Patience

Strong Conflict Resolution Skills

Mutual Support

Having each other's backs
6 things that represent trust and loyalty in relationships
The above strategies can help build trust and loyalty in your relationship. When you have achieved this goal, you may notice some things that represent loyalty within your relationship.
These can include the following:
1. Patience
No one is perfect, so we all make mistakes. If you and your partner are loyal to each other, you will be patient with each other as you grow and you learn from mistakes. Patience shows that you are willing to remain faithful, even despite imperfections.
Your relationship is about companionship, a genuinely loyal relationship. You and your partner should be best friends and have a strong companionship. In a loyal relationship, your partner becomes your lifelong companion. This requires lasting friendship.
Related Reading: 

15 Ways to Have More Patience in a Relationship
2. You are a team
Just as teammates are loyal to each other, those in a loyal partnership should view each other as being on the same team.
This means having shared goals and a sense of fighting all of life's battles together. Being on the same team also means cheering for each other and always wanting your partner to succeed.
3. You are open and honest
Open, honest communication is another feature of loyalty in relationships.
Sometimes, this requires you to share information your partner may not want to hear, such as constructive criticism. If you are loyal to your partner's wellbeing and success, you will always be truthful with them because you ultimately know this is in their best interests.
4. You are yourself around your partner
In a loyal relationship, you will not feel the need to hide aspects of who you are from your partner. Trust and loyalty in a relationship mean sharing your authentic self with your partner, including your hobbies, quirks, and flaws. A loyal partner will accept you for all of who you are, imperfections and all.
5. You work conflicts out between yourselves
While we all vent to our friends or family members from time to time, we should resolve conflicts with our partner in a loyal relationship. This means that we address it directly with our partner if we have a concern instead of gossiping or complaining to others.
Running to a friend or family member to complain every time you disagree with your significant other can be seen as badmouthing your partner, which is the opposite of loyalty.
Related Reading: 

Putting Relationship Conflict to End – Conflict Resolution 101
6. Commitment towards working on yourself
Improving and growing as a person benefits you individually but it also has a positive impact on your relationship. When two people learn to grow together, they feel they can take on the world. If your partner is someone who needs the push to get into a self-care routine, provide them.
Make sure that your partner understands that you are there to help and get help from them.
Conclusion
It is pretty clear what being loyal to someone means, and it is important to be a loyal person if you want a happy, healthy relationship. If you and your partner have issues surrounding loyalty, it may be helpful to have a conversation about what loyalty means to you. Being on the same page about what you expect can help you be faithful to each other.
Taking steps such as including your partner in big decisions, viewing each other as best friends and teammates, and supporting each other through ups and downs can go a long way. It is also important to speak positively about your partner to other people, practice patience, and openly communicate.
Healthy relationships should be based on trust and loyalty. If you find your partner has not been a loyal person, seeking the help of a couple's counselor may help you to develop more trust and loyalty in your relationship.
Ultimately, a relationship that involves repeated instances of disloyalty is unhealthy, and you may have to put an end to it, but this only opens the door for a relationship with true loyalty down the road.
Share this article on
Want to have a happier, healthier marriage?
If you feel disconnected or frustrated about the state of your marriage but want to avoid separation and/or divorce, the marriage.com course meant for married couples is an excellent resource to help you overcome the most challenging aspects of being married.
More On This Topic
You May Also Like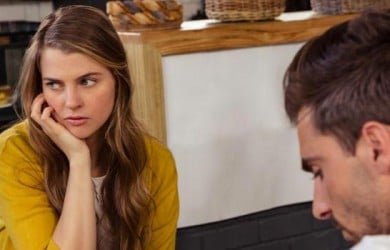 Popular Topics On Married Life