Respond Not React to Your Thoughts and Feelings
Plato said, "There is an old fable about God trying to reconcile the strife of opposites, and how, when he could not, he fastened their heads together."
Men say, "You are so emotional!" Women say, "You are so insensitive!" What if men and women are the same 'thing'?
One thing! Two ends of one stick?
Practice action, not reaction. Respond, not react!
Do not allow thoughts or emotions to rule you.
Have your thoughts and feelings, but do not let them have you.
Your emotions and thoughts flow through you like clouds through the sky. They change moment by moment. So, it is essential to respond, not react.
Were you ever angry because you were hungry and stuck in traffic doing errands? Or upset because someone got mad at you?
Your brain said, "Conjure belief system #246. Okay, play it…' Look at all I've done for you!" and "No one appreciates me! Who takes care of me?! No one!!!" and you are off and running on automatic.
Feeling vs. thinking
In the race of thoughts vs. feelings, firstly, you need to remind yourself- you are neither your thoughts nor emotions. So, you need to keep reminding yourself incessantly that you need to respond, not react to them.
Your feelings, thoughts, and bodily cravings are transient, temporary. Your soul is the only constant, and it is unaffected by the personality wars that go on the Earth plane.
You are lying in the field of soft grass. Notice the clouds, like your emotions and thoughts, waft through. "Interesting, now I'm feeling angry, Hmmm, now I'm blaming someone else, Hmmm…"
It implies that you need to respond, not react!
Occasionally you have a thunderstorm with a lot of intense emotion. Wait it out, observe it, and you will be washed clean, just like a rainstorm in the desert!
Where people get confused is, they think they are the clouds. You are not the clouds; you're the sky. So, when you respond instead of reacting, you are less likely to regret your words and actions in the future.
Avoid getting attached to your thoughts and feelings
You need to just observe your thoughts, feelings, and behaviors.
But, do not get attached to them one way or another. "Ugh, I don't want to feel that!" or "I shouldn't feel this way!"
These belief systems cause feelings to stick to you and turn sadness and anger into depression or resentment.
Do not get attached to your or others' feelings, and they will float on through. You will learn from them because they each bring a message.
People are afraid of others' feelings because they think they now must DO something. Instead of trying to do something so that someone won't feel a certain way, why not try inviting the feeling.
Can you imagine if instead of us saying to each other, "Don't be angry…" we said, "I want you to be as angry as you need to be!" That would be different.
If their intent was to throw a temper tantrum or give you silent treatment to gain control of you, and it doesn't work, they will drop the behavior for lack of effectiveness as a manipulative tool.
Plus, thoughts and emotions which are thoroughly expressed are less likely to recycle. Invalidated and suppressed feelings and emotions cause a lot of illness.
Related Reading: 5 Relationship Strategies & Techniques to Eliminate Stress
Conquer your unsolicited response to stress
It is our job as adults to learn to have all our emotions in a respectful, responsible way. You can be in full-on rage in such a way that your partner still feels loved and respected by you.
Aggressing with temper tantrums and withdrawing or pouting, are both a childlike reaction. We must challenge our respective "fight styles" and conquer our knee-jerk response to stress and pressure.
You must see that any duality are two ends of the same stick. Right–wrong, my way or the highway, aggress– withdraw, mental-emotional…they are all the same.
The answer lies in something higher. As Chuang Tsu said, "Behold the light between right and wrong."
Your objective observer is not your brain; it is the "something higher." It is a God-like part of yourself.
If you practice being your objective observer enough, you notice that it is more "permanent" and consistent than any other part of you.
It does not change or judge; it just observes. After a while, going into your objective observer begins to feel like coming home, kicking off your shoes, sinking into the couch, and taking a deep, relaxing breath.
Also, watch the video given below for learning the secret of becoming mentally strong. If you are mentally healthy, you can better choose to respond instead of reacting.

Final words
Next time you think "Emotions, Aughhh!!!", zip-out into your objective observer and say, "Hmmm, another interesting opportunity to find out about me!" "And so, I have to respond, not react!"
Good luck to you!
Share this article on
Want to have a happier, healthier marriage?
If you feel disconnected or frustrated about the state of your marriage but want to avoid separation and/or divorce, the marriage.com course meant for married couples is an excellent resource to help you overcome the most challenging aspects of being married.
More On This Topic
You May Also Like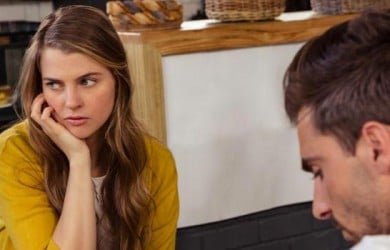 Popular Topics On Married Life