What Does It Mean When a Guy Says He Misses You
Hearing the magic words, "I miss you," from your man can set off many emotions within you. First, you want to believe him, but sometimes, it could be a bit difficult to wrap your head around it.
When a guy says he misses you, does it mean he loves you? "He says he misses you but doesn't show it." These questions and more tend to come with the magic words – "I miss you."
In any case, understanding exactly what he means when a guy says he misses you first is the first step toward getting used to hearing them and making the most out of this piece of information.
In this article, we will find answers to these questions. When you're done with this article, you'll know whether you should take him seriously the next time he tells you he misses you or if you should take that with a pinch of salt.
So, what does he mean when he says I miss you?
What does it mean when a guy tells you he misses you?
You want your male partner to get on the phone and tell you how much he misses you. These magic words make you feel special and reiterate that he values your presence in his life.
When you hear it, here are 10 things he probably means when a man says he misses you.
1. He misses you
When your male partner tells you that he misses you (especially when you've been away from each other for a while, maybe at work or on a trip), the first possibility you should consider is that he secretly misses you.
Also, if he has never given you a reason to doubt his words (he has been faithful and honest to you), there may be no reason to doubt his sincerity.
What to do: If this is the case, you may want to try letting your guard down a bit and going with the flow. If the feeling is mutual, you may return the statement to him and enjoy some deep-level connection.
Who knows where it may lead?
Related Reading: Does He Miss Me? 5 Signs to Show He Does
2. He is not yet ready to use the 'L' word
"When a guy says he misses you, does it mean he loves you?" This is one question many ladies seek answers to as they navigate the rocky terrains of relationships.
When a guy misses you and tells you that much, it may indicate that he has deeper feelings for you but may not be ready to let that cat out of the bag yet.
This is more likely the case if the guy;
Has never been in a relationship before.

Is just getting to know you and is worried about looking like a creep who rushes head-first into things.

Both of you are still trying to figure things out.
What to do: If you fall under any of these categories, you may want to take a step back and go with the flow. Remember not to push him or make him feel pressured to make a big, bold declaration of his undying love to you.
However, if you feel the same way for him, consider finding ways to pass across the information that you aren't opposed to the idea of being in a relationship with him.
3. Can I see you?
This could also be what he means when he says, "I miss you." Although this is pretty much obvious, it is best if you tread with caution because his desire to see you can be an entire spectrum of things.
First, it could mean that he wants to hang out with you (especially if you have built that close bond as just friends). It could also suggest that he wants to hook up (if it has ever happened before) or is just looking for a quick chat.
What to do: Under these conditions, you need to remember that "I miss you" can be anything, including a statement to make you feel good about yourself. To keep yourself from getting disappointed at the end, please do not attract a lot of meaning to the words.
Also Try: How Likeable Are You Quiz
4. He is returning a favor
Think critically about this one.
There's every possibility that when he says "I miss you" right after you say the same words to him, it could just be that he is trying to return the favor and make you feel appreciated.
No one wants to be seen as a bad person, especially not him. Also, it would be crazy to let yourself get vulnerable with people that way and have them turn an icy shoulder to you. Hence, not many people may be that annoying.
What to do: Your preferred line of action would be to wait and see if he would say the words to you first. Being the first person to tell him you miss him may be interpreted (from his standpoint) as putting him under the spotlight, and his reflex may be to return the favor.
However, if you've taken the bull by its horns and put it out there first, keenly observe how he tells you he misses you. If he returns the words to you almost immediately (like he's throwing something back at you), it could mean that he doesn't mean it that much.
However, if he takes some seconds to return the words, it could be that he means what he said, at least to an extent.
5. He may be manipulating you
Although this may be a lot to wrap your head around, it is a possibility you shouldn't throw out the window per se.
Master manipulators understand the emotional side of people, and they know the kinds of words to throw at you if they want you to lower your guards so that they can get something from you.
Sometimes, when a guy says he misses you, he may just be setting you up to have his way with you (by manipulating you to do something you ordinarily wouldn't have), after which he would hit the road.
What to do: You may have to trust your gut for this one. In addition, there should be some kind of precedence to this. If you know a guy to be crafty, cunning, or hell-bent on having his way at all times, you may want to take his words with a pinch of salt.
Also Try: Am I Being Manipulated By My Partner Quiz
6. You're his last (and otherwise undesirable) option
This is another place where you may want to place your feet against the brakes and think critically once again.
Can you remember the times he told you that he misses you? Were those times closer to the night or very way in the mornings? Does he reach out to you (to tell you he misses you) only when the bars are closed or when his date has stood him up again?
If your answers to these questions are 'yes,' it may mean that he doesn't miss you. Those words may just be a reflection of point 6 above (the place we discussed manipulation).
It could also mean that he's deeply in need of a late-night booty call and maybe had no better and ready option at the moment.
What to do: Value yourself more than the value he attaches to you. If, after analysis, you discover that he's just been using you as a backup plan, you may want to brace yourself to turn him down the next time he starts playing with the whole "I miss you" card.
If he says he misses you but doesn't show it, it could be that he doesn't miss you at all.
7. He misses the idea of you (the thought of having you with him)
This applies the most if the man in question is an ex. If he is an ex, there's every tendency that when he tells you he misses you, what he means is "I miss the idea of you."
A man may prey on this line to make you rethink your separation from them, especially if they are beginning to see the value you brought to their lives when they were in your world.
The idea here is to make you lower your guard and begin to think to yourself, "what if the Universe destined us to be together again?"
What to do: For this, there's no one right or wrong answer. Your best bet would be to think critically about the peculiarities of the situation and trust your guts. If, deep down, you think you should get back together, wonderful.
No? You may want to take a walk in the other direction.
Also Try: Quiz To Test The Trust Between You And Your Partner
8. He wants something from you
People can be really manipulative sometimes, especially when they need their wants satisfied.
If he only tells you he misses you when he has some wants that need to be met or when he wants to ask you for a favor, chances are he does not miss you but just wants to satisfy his needs or wants.
What to do: Study context. Under what conditions does he tell you he misses you? Are they when he's about to request something from you? If yes, it could be that he is trying to manipulate your decisions to suit his needs.
Does he only tell you he misses you when it is evident he doesn't have any better option? These are things you need to look out for.
9. You are not sure of his intentions
Sometimes, even when someone says they miss us, their actions could speak otherwise. If he tells you he misses you, but his actions say something else, chances are he is trying to take advantage of you or manipulate you into an emotional situation.
What to do: Trust your gut. Deep down, a part of you knows. It knows when they are as genuine as they can get and when they are acting in their selfish interests. In any case, taking a few seconds to listen to what your gut says can save you a lot of stress in the future.
Not sure if they miss you? Watch out for these signs.

10. He is confused
He may like you, but he is not sure if he wants to move ahead with you just yet. His feelings for you may be genuine, but there may be other factors holding him back.
If he says he misses you, maybe he genuinely does but is not ready for a relationship or a commitment right now.
What to do: Ask. Sounds funny, right? When you've tried the two steps above and can't seem to come to a final answer, you may want to try asking him yourself. Combine the answer he gives you with the facts you already have at hand to make a final decision.
Also Try: Am I Confused About My Sexuality Quiz
In summary
This article has shown you how to know if he misses you. When next a guy says he misses you, please consult with your guts to know if allowing him to access you would be the best line of action.
Some guys mean it when they say, "I miss you a lot." Others? Maybe not.
Also, if he says he misses you but doesn't show it, you may want to take some time to redefine things.
Share this article on
Want to have a happier, healthier marriage?
If you feel disconnected or frustrated about the state of your marriage but want to avoid separation and/or divorce, the marriage.com course meant for married couples is an excellent resource to help you overcome the most challenging aspects of being married.
More On This Topic
You May Also Like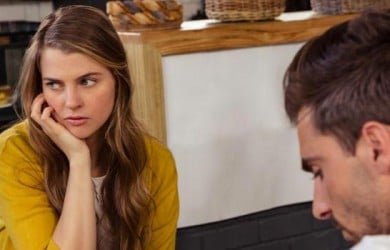 Popular Topics On Married Life