Does He Miss Me? 20 Signs & Hints He Drops to Show He Thinks of You
Relationships can be very complicated.
Often, it is hard to discern what your partner may be thinking or feeling. Especially if it is a new or budding relationship.
"Does he like me?", "Does he miss me?" or "Does he ever think about me?" may be some questions that come up in your mind, when the two of you are just starting out.
You are still getting to know them and the fact that you can't read minds does not help answer these questions.
It can get really frustrating when you have no idea how they feel about you. Do they reciprocate your feelings? Or are they just putting on a show? Are they shy?
There could be multiple possibilities. Questions like, 'does he miss me too?', 'does he miss me like I miss him?', or, 'will he miss me if I leave him alone?' move around your head whether you are busy at work, relaxing at home or hanging out with your friends.
Well, sometimes people don't really leave apparent hints that you could interpret. Especially guys. It is rather unfortunate, but there is a social stigma surrounding men and the expression of emotion. So, their partners are often left to contemplate on their own.
For that reason, today's article compiles some signs he misses you or not. Do keep in mind that it does not speak for the entire male population. It also does not intend to paint all men with the same brush.
How can you tell if a guy misses you?
Wouldn't it be nice to know that your special someone misses you?
Some men are vocal and easier to read, but some are great at hiding their emotions. When a man misses you, he may show some signs, which we will focus on.
Are you ready to know the different ways of how a man shows that he misses you?
Does he miss me? 20 signs
It is just a collection of signs that are most commonly noticed which will answer your primary question, 'does he miss me?'
Here are 20 signs he is missing you.
1. He will make the extra effort
If a guy misses you, he will definitely make a special effort to come to see you. It does not have to be a necessarily grand gesture the likes of which you see in books and movies.
No, it can also be for the briefest of moments, but they will be insistent on meeting up.
They will even forgo being with friends or other relatives to come to see you or hang out with you. The location wouldn't particularly matter either. The main focus will be just being with you.
To answer your question, 'does he miss me?', yes, this point is definitely one of the signs 'he misses me.'
Related Reading: 

Romantic Gestures: How to Express Yourself
2. You will hear from him quite often
Boy, oh boy. Be ready because you will be receiving a considerable amount of text messages and calls. You will be hearing from him for the most trivial and irrelevant reasons ever.
Warning – This may induce an extreme test of patience.
"I just called to say hi" is an example of what you might hear and other such statements. Not only that, but you'll see them quite frequently on your social media.
Likes, comments, shares, it'll be like having a fan.
3. Reminiscing about the good old days
Trips down the memory lane will become quite frequent.
Even if the memory lane doesn't go quite far. "Do you remember that one time" "I wish we could do that/go there again."
You may hear these more often. They'll try to remember and hold on to precious memories. You may even come across old pictures, letters, or other physical proof of your time together.
If you ask yourself, "Does he miss me at all?", this behavior may hold the answer.
If your partner is still holding onto those old memories, then he is already missing you.
Related Reading: 

15 Awesome Ways to Create Memories with Your Partner
4. He will talk about you everywhere
You will not experience this first hand, but he will talk about you to his friends and even family. It may be a little annoying for others, but this strongly implies that he wishes you were there with him. He will think of you in every situation.
'Does he miss me?' Well! The answer is obvious – he does. And guess what! He may even call back and relay the entire experience to you.
5. He will say it
'Does he miss me?', 'will he miss me?', or, 'Is he missing me now?' These questions will always trouble you throughout your relationship.
But stay assured if your man is really into you, you will be the first, second, and the last thing on his mind throughout the day. He may not say it often, but you will hear it from him.
Not the half-hearted version, but one with sincerity. There is also a chance that you may find out through his friends as it is highly probable that they will find out sooner than you will. Else, you can always take the 'Does he miss me' quiz to find out 'does he really miss me?', 'How much does he miss me?', and 'why does he miss me?'
6. He will reply to you ASAP
Do you notice that every time you text, chat, or call him, he answers as soon as possible? If you notice that he responds quickly, it means that he misses you and has been waiting for your call or text.
When a guy misses you, he'll be waiting for you to message him first. Some men may not be into chatting or texting, but if he misses you, he'll be checking his messages often.
Related Reading: 

12 Tips For Understanding How Guys Text When They Like You
7. He talks about you – a lot
Here's another sign of how to tell if he misses you. If a mutual friend talks about him mentioning you or that he talks about you, then it means you are on his mind and whatever topic they may have, he remembers you.
By this time, you can already answer the question, "does he miss me?"
8. He's always present on your social media
Today, social media is a part of our lives, so it's normal for a person who misses someone to check out their profile.
He would post, like, and comment on your post, and these actions only prove one thing – he's showing signs he misses you.
"Does he miss me as much as I miss him?"
One sign to look out if he would tag you in memes, quotes, and posts. This means he's trying to get your attention.
9. He feels jealous
When does a man start to miss you? If you are just starting and you see this man get jealous, then he misses not only you, but he's also falling hard for you.
Men try to hide their feelings. Well, most of them do. However, jealousy can be pretty obvious, especially when he misses you terribly.
Related Reading: 

15 Tips on How to Stop Being Jealous in Your Relationship
Mark Tyrrell is known for his free therapy techniques, especially on his YouTube Channel. In this video, he talks about how you can treat jealousy in 3 ways.
10. He gives you a surprise gift
One of the signs he misses you when you're not around is when he meets you or visits you to give you a gift.
For some men, it's better to show their feelings through actions rather than words. So, if he comes knocking on your door with something, that is his way of showing you he misses you.
11. He asks about your past
What if he seems curious about your past and everything about you? Is this one of those 'does he miss me' signs? Indeed, it is. If he asks about your past, plans, and even day, he wants to keep the conversation going because he misses you.
Related Reading: 

How to Accept the Past of Your Partner: 12 Ways
12. You know how his day went
You're both busy, but at the end of the day, before he sleeps, he would send you a message, a photo, and a summary of how his day went. Why does he do this?
It's one of the sweetest signs he misses you badly and that you are important in his life.
13. He asks you on a date
If this man asks you out or goes to your house and brings you food, he's showing how much he misses you.
This answers your "how do I know he misses me?" question. His actions are the efforts of someone in love with you.
Related Reading: 

100 First Date Ideas to Make Your Date Memorable
14. He's close and keeps in touch with your family and friends
What if you haven't been together for a few weeks?
For some, distance is an effective way of how to make a guy miss you, so if you see him being extra close with your friends or family, then that means he misses you and wants to be with you again.
15. He will look at your old photos together
Does he post old photos of you together? Or maybe he sends them to you and says, "Hey! Do you remember this photo?"
If you're asking yourself, "does he still think of me?" then this is your answer. He took time to find those photos and start a conversation with you, which is a sign that he misses you.
16. He calls you when he's drunk
The question, "Is he thinking about me after a breakup?" is very common. It's normal to wonder if the man who broke your heart can still miss you.
If he calls you when he's drunk and spills his emotions, then that's one of the signs he misses you and wants you back.
17. You start seeing him everywhere
You see him at the mall, at a mutual friend's shop, or even in your favorite coffee shop. It's not completely coincidental. It would probably mean that he hopes that you'll bump into each other if you go to the familiar places.
"Does he miss me?" The answer is probably. Will you say hi?
18. When you see each other, he becomes clingy
What if you wanted to make him miss you and you want to know if it worked?
Take notice when you're together and look at his reaction. If he would hug you, kiss you, and be clingy, he misses you, and like a baby, he doesn't want to part from you.
Related Reading: 

15 Signs of a Clingy Partner
19. He wants to sleepover
The feeling of being missed by your special someone feels good, doesn't it? Most of the time, we don't even care or ask ourselves, "why does he miss me?" Because the answer is obvious: he loves you.
Don't feel surprised if he insists he wants to sleep over because he wants to be with you. Sometimes, just cuddling in bed is all you need.
20. He starts to do your favorite things
"Does he miss me? I saw his playlist and those are my favorite songs."
Yes, men won't be vocal that they miss you, but they have their sweet gestures that will tell you he misses you.
Related Reading: 

10 Most Important Things in a Relationship
Does he miss me after the break up?
Now that we know how much a guy could miss his partner, what about those who have just broken up?
"Will he miss me if he dumped me?"
Truth is, this is still being hopeful, but let's see. No one can say if your ex would miss you after breaking up. Each relationship is unique.
Some would do their best to get back together, but some men won't. It's better not to assume because you might end up hurting yourself.
Will no contact make him miss me?
What if, after breaking up, you choose not to contact him? You will ask yourself, "will he miss me or move on?"
Again, there's a chance that he will move on, but there's also a chance that he will realize what he lost and try to win you back.
Either way, it won't be that easy. You need to work on your relationship and grow together. It's better not to assume anything at this moment.
The bottom line
The feeling of genuinely missing someone is quite unbearable regardless of your gender.
Therefore, if he misses you truly, you are bound to find out sooner or later.
Another important thing is communication. Maybe if you communicate effectively, he will tell you instead of masking his feelings.
Where all of these signs will help you figure out, 'does he miss me' or not, the best way is to talk.
The reason for that is when you talk you will find the answer to this question quite easily! If all he wants to talk about is you, he misses you for sure!
Share this article on
Want to have a happier, healthier marriage?
If you feel disconnected or frustrated about the state of your marriage but want to avoid separation and/or divorce, the marriage.com course meant for married couples is an excellent resource to help you overcome the most challenging aspects of being married.
More On This Topic
You May Also Like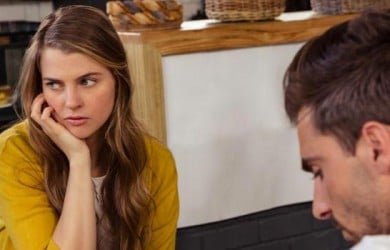 Popular Topics On Married Life