10 Factors that Contribute to Marriage Satisfaction
Marriage is the most important human relationship because it's the foundation for starting your family. To date, people still view marriage as an important part of their lives.
Some may not consider marriage until their late 20s or early 30s, but ultimately, it's one of the most important goals of most couples. Once married, the challenges of keeping marriage satisfaction becomes a priority so the marriage won't lead to divorce, but who's responsible for keeping the marriage happy and harmonious?
What is marriage satisfaction?
Let's face it, a happy marriage provides not just the couple but the whole family a bond that lasts. If the couple has marriage satisfaction, it becomes a strong foundation to raise a family, a sense of meaning and identity to everyone in the family.
What is marriage satisfaction, and how do you know if you have it?
Satisfaction in marriage isn't about having a perfect marriage. It's not about having a happily-ever-after life with no problems and pure love and happiness. Those only exist in fairy tales and not in real life.
Marriage satisfaction is when two people who are married accept one another for their own individual personalities with respect and love while growing together.
It's not just being able to grow old together; it's growing wiser together and supporting each other while fulfilling their dreams.
Therefore, marital satisfaction is a mental state where a married person is happy and satisfied with the benefits and costs of being married to their spouse. Now that we know what marriage satisfaction means, we ought to understand why it's so challenging to maintain a good and harmonious marriage.
Why is marital satisfaction important?
Marital satisfaction is important for several reasons because it determines the overall fulfillment of a married couple. It could lead them to determine if they will succeed or decide to end their marriage.
Would you choose to stay if you are no longer happy with your marriage?
A happy and satisfying marriage can contribute to an individual's overall emotional well-being. When people are in a supportive and loving relationship, they are more likely to feel happy, content, and fulfilled.
This also manifests in better physical health. There is a growing body of research that suggests that individuals who are in happy and satisfying marriages have better physical health outcomes.
Aside from that, marital satisfaction is a key factor in the stability of a relationship.
Wouldn't you be happier and more contented if you felt secure in your relationship? Couples who are unhappy in their marriage are more likely to divorce, while couples who are satisfied with their marriage are more likely to stay together.
Now, if your relationship is healthy, it's almost an assurance that this will significantly impact your parenting skills. It's true that when parents are happy and satisfied in their marriage, they are more likely to provide a stable and nurturing environment for their children.
Overall, marital satisfaction is important because it contributes to individuals' well-being, the stability of the relationship, and the well-being of any children involved.
10 factors that contribute to marriage satisfaction
According to one marriage satisfaction survey, married adults had expressed a higher level of satisfaction with their union. Abound 58% say that they have achieved marital satisfaction.
Marital satisfaction statistics are a great way to know what the majority think. Of course, who doesn't experience marital satisfaction?
However, we also know that it's not that easy to achieve this. Rather, you must work hard and consider all the factors to achieve a harmonious relationship.
Here are 10 factors that contribute to marriage satisfaction.
1. Communication
This may be one of the most common attributes that we often see when we talk about relationships. It is, in fact, one of the most important marriage values that we have to consider in attaining marital satisfaction.
Effective communication helps couples to understand each other. This includes communicating your needs, desires, and even your fears, which help you build a strong emotional connection with each other.
Aside from that, if you practice effective communication in your relationship, you are also making way for both of you to resolve conflicts and issues. Over time, you learn how to communicate openly and honestly with each other, and you are more likely to feel secure in your relationship.
2. Respect
Respect is also a critical factor in any relationship. When you respect your partner, you won't do anything that will hurt them, right?
When you have that deep respect towards your partner, then you will value your spouse's feelings, opinions, needs, and boundaries as much as you value yours.
This helps to build a solid foundation of trust and mutual understanding in your marriage, which is essential for a healthy relationship and marital satisfaction.
How do you show your respect towards your partner? You can show it by listening to them, acknowledging their perspective, and also avoiding behavior that might be hurtful to your partner and your relationship.
Related Reading: 

10 Essential Tips to Foster Love and Respect in Your Marriage
3. Trust
We shouldn't forget trust when we talk about marital satisfaction. When partners trust each other, there is a feeling of security.
You feel secure because your partner has your best interests at heart. Trust is usually there when marital satisfaction is at its peak, but the couple has to work hard to maintain it.
To do so, the couple should show consistency and reliable behavior, including honesty, openness, and follow-through on commitments. When trust is present in a relationship, partners are more likely to be vulnerable with each other, sharing their fears, hopes, and dreams without fear of judgment or rejection.
Trust is a foundation of a healthy and fulfilling relationship and a sure way to attain marital satisfaction.
4. Intimacy
Marital happiness also depends on the different forms of intimacy. Remember that there are five types of intimacies, which are physical, spiritual, intellectual, emotional, and sexual.
You can build and strengthen the various intimacies through shared experiences, open communication, and a willingness to be vulnerable with each other.
When partners prioritize intimacy, they create and maintain a deep understanding and emotional connection. This could help them deal with different challenges, manage stress, and promote overall health and well-being.
Ultimately, this deep connection helps maintain marital satisfaction between married couples.
5. Appreciation
Appreciation is also a very important factor in any relationship. When partners show appreciation for each other, they acknowledge and value each other's contributions and efforts in the relationship.
This can take many forms, such as expressing gratitude for minor acts of kindness or recognizing each other's strengths and accomplishments. A simple hug, thank you, or a few words of gratitude can do much in your marriage.
When you show appreciation for each other, you also build a positive and supportive environment in your relationship. You cultivate a marriage where partners feel seen and valued for who they are.
Appreciation is a crucial element of a healthy and fulfilling relationship, and partners who prioritize appreciation are more likely to experience greater satisfaction, happiness, and overall relationship quality.
Related Reading: 

5 Ways Lack of Appreciation Can Ruin Your Marriage
6. Commitment
Let us not forget about commitment. This is when both consciously choose to prioritize their relationship and work together to overcome challenges.
Together, they would also build a strong foundation for their future. When two people commit, they invest their time, effort, and resources into the relationship. It's also shown by having a deep sense of loyalty and dedication to each other.
When both partners are committed to their relationship, they are more likely to work through conflicts and challenges together rather than giving up at the first sign of difficulty.
7. Acceptance
When you get married, you accept your spouse wholeheartedly. You may have included this in your vows when you got married.
When partners accept each other, it means they acknowledge and appreciate each other's unique qualities, quirks, and flaws.
Once you have accepted each other, you become life partners, and you have the sense of being seen and valued for who you are.
Ultimately, both partners are free to be themselves, and this is where you thrive as individuals and as a couple, thus making marital satisfaction possible.
8. Time
No matter how much you love each other, this love will fade if you don't spend time. Therefore, time matters in maintaining marital satisfaction.
When partners spend time together, they build intimacy, trust, and commitment. If they find time to spend together, they can learn so much from each other.
Spending time can take many forms, such as shared experiences, date nights, or even just spending time while relaxing together at home.
No matter how busy you are, prioritize and make time. Show your spouse that you value and prioritize each other's company.
Related Reading: 

5 Tips for Making Time for Yourself After Marriage
9. Support
It feels different when you have a spouse who understands and supports you. This is the reason marital support is something that you need to treasure if you want to maintain marital satisfaction.
As partners, supporting one another can help each other manage stress, stay healthy, and pursue their goals and dreams. You know your spouse has your back, whatever you do, and will not leave or judge you.
Support is an essential element of a healthy and fulfilling relationship, and partners who prioritize support are more likely to experience greater satisfaction, happiness, and overall relationship quality.
10. Love
Love is indeed beautiful, and when partners love each other, they share a deep emotional attachment that is strong and growing.
It involves a deep appreciation and affection for each other and a willingness to work through challenges and prioritize the relationship above all else.
However, love can change. It either grows or fades, so never assume that the fire you feel will always be the same. Instead, you have to work hard for it.
Love is a seed that, if fueled with other factors, can grow into a blossoming relationship.
Related Reading: 

15 Tips to Identify Characteristics of Love
5 challenges in marriage satisfaction
Although marriage seems to be the best choice for creating your own family, statistics also show how an ample number of marriages sadly end with divorce. This is the truth, marriage isn't a guarantee that you'll end up being together for a lifetime.
Marital satisfaction is indeed a challenge no matter how strong your foundation is; trials and life itself will test you and your relationship.
There can be many reasons why a couple would have difficulty aiming for satisfaction with their marriage. Some of the things and situations that will affect one's perception of being satisfied in marriage are as follows:
1. Financial problems
We all know that money will play a great part in one's relationship.
It's just practical to want your own house and car and to be able to send your children to a good school. Let's face it if one partner is irresponsible, the whole family and the marriage will be affected greatly.
Related Reading: 

Facilitate Your Understanding of Types and Ways to Handle Financial Issues in Marriage
2. Optimism and pessimism
How a person views their spouse will greatly affect if they are satisfied with the marriage.
If you are someone who only sees the negative traits of your spouse, then satisfaction is hard to achieve. Being optimistic about your marriage and your spouse can play a huge part in feeling satisfied with one another.
Everyone has their not-so-good qualities. If you know how to accept that and work together, you'll have a happier marriage.
3. Temptations
This one is one of the hardest trials of any marriage. Suppose one is tempted to have extramarital affairs or is indulging into vices and addiction sooner or later. In that case, it will greatly affect not just the marriage satisfaction but the family itself.
Your marriage and your family doesn't just need to be complete. It needs nourishing, love, and respect. How can you find satisfaction if one drifts away from the marriage and find "happiness" elsewhere?
4. Comparison
Being envious of other married couples or families will only negatively impact your marriage. Instead of seeing how beautiful your marriage and your family is, you'll ultimately just focus on how much the grass is greener on the other side. How can you be satisfied with your marriage when you're so busy comparing instead of working on your marriage and family?
Related Reading: 

Compare No More: Building Confidence in Your Marriage
5. Lack of communication
Marital satisfaction could deteriorate if a couple cannot maintain healthy and deep communication with each other.
Poor communication can lead to misunderstandings, conflicts, resentment, and a breakdown in emotional connection. When partners struggle to communicate effectively, it's difficult to resolve conflicts and build intimacy in the relationship.
Aside from that, this is where some of the most common negative feelings grow. Resentment, insecurities, jealousy, and so much more can fill one's mind.
If you can't communicate and clear things out, these will overtake your relationship and cause your happiness to be affected.
A note:
Sometimes, when everything seems to be overwhelming, it's tempting to just give up. However, it's important to remember that working on your relationship is never too late. Instead of drifting apart, talk and agree to seek marriage advice.
How to achieve marital satisfaction – 5 Tips
If you want to seek marital satisfaction, you have to start with yourself.
It won't just come to you; you have to work hard for it. If you're wondering how you can start achieving this, remember the following:
1. People change, and this includes your spouse
Your basis of being satisfied with this person should not only depend on just some specific traits.
It should be accepting your spouse as a person, including all their bad traits. People change, and remember that what you love about them might change sooner or later, so you have to know how to grow with your partner.
2. Try to see the person's value and efforts
Don't focus on your partner's disappointing traits because you will never find satisfaction or even happiness if you do.
Appreciation can do so much for marriage. If you start seeing your spouse past their weaknesses, then you'll see how fortunate you are to have them.
3. Value your spouse
Don't just love them, respect and value the person. If you respect your spouse and value them, then temptation won't have power over you.
Related Reading: 

6 Ways to Appreciate and Value Your Spouse
4. Keep up with the effort
When you're not yet married, it may seem that you'll do things just to show how much you love your partner, right? Marriage isn't the end of these efforts. Show how much you love your spouse; this is when you should show how consistent you are with showing how much you value the person you married.
If this is done in marriage, don't you think it'll play a great part in the union of two people?
5. Learn to forgive
No one is perfect, and we all make mistakes. To achieve marital satisfaction, it's important that we learn how to forgive.
Of course, this will depend on the situation, but learn to forgive your partner when they make mistakes or hurt you. This is also one thing that marriage advice therapists share with their clients.
Remember that forgiveness doesn't mean tolerating unacceptable behavior but that you should work through problems and conflicts constructively and respectfully.
Sometimes, we find it hard to forgive, especially when we've been hurt really badly. Marie Forleo, named by Oprah as a great thought leader, tackles how to forgive when you feel that you've been wronged.
Takeaway
People may ask if it's the man's responsibility to secure marital satisfaction or the wife's responsibility.
The answer is fairly simple; two people who are married are both responsible for making sure that they are both satisfied with their marriage.
Marriage satisfaction is a labor of love, respect, and appreciation of two people who are married. Together, you won't just grow old but will grow wise and loyal to your marriage while imparting important life lessons to your children.
Marriage satisfaction isn't an impossible goal, and it's a challenging one, but definitely, the most rewarding goal that any married couple can have.
Share this article on
Want to have a happier, healthier marriage?
If you feel disconnected or frustrated about the state of your marriage but want to avoid separation and/or divorce, the marriage.com course meant for married couples is an excellent resource to help you overcome the most challenging aspects of being married.
More On This Topic
You May Also Like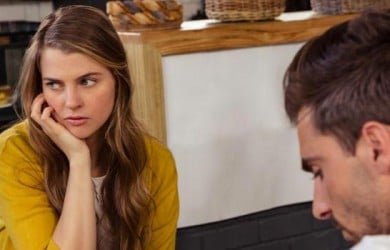 Popular Topics On Married Life