20 Causes of Stress in Relationships and Its Effects
Many people desire to have happy and healthy relationships where there are no problems. However, the challenges that come with living alone are enough to threaten the strength of the relationship.
When some people are faced with some relationship problems, which are often induced by stress, they get frustrated and feel like quitting.
One of the best ways to handle stress in a relationship is first to understand what causes it.
Unfortunately, some partners in relationships cannot solve stress in their relationship because they are unaware of how it began in the first place.
In this Journal written by Mariana K. Falconier et al., stress among couples is viewed from the systemic-transactional stress model stand point. The results of these findings are centered on relationship satisfaction, physical and psychological well-being.
What does relationship stress mean?
Relationship stress is few issues that happen between partners resulting from various circumstances.
When you look at how to deal with stress in relationship, it is challenging but should not be avoided because of the subtle benefits that come with it.
For instance, your partner might be going through difficult times, which can make the relationship stressful.
However, your reaction during their trying times determines if the relationship will stay secure and healthy or not. In addition, a relationship where stress is effectively handled gives each partner the impression that they can count on each other.
20 causes of stress in relationships
It is correct to mention that stress is an integral part of a relationship because it helps checkmate hidden cracks.
When you understand what causes stress in your relationship and use this knowledge to your advantage, you can maintain a healthy and happy relationship with your partner.
Here are the top 20 relationship stressors
1. Finances
One of the signs of a stressful relationship is the poor state of finances. When there are many bills to settle, and finances are not forthcoming, it can create tension between both partners and put the relationship under pressure.
Therefore, partners need to be understanding and open-minded when it comes to financial issues so that it doesn't adversely affect the relationship.
Related Reading: 3 Steps to Financial Success in Marriage
2. Work
Your work can cause stress in your relationship if you don't provide a proper balance. For instance, if a partner has to work extra time, the time needed to spend with their partner will be shortened.
This can result in a stressful relationship, and both partners need to understand each other so that it won't cause problems.
3. Trust
One of the causes of stress in relationship could be trust, especially if it had been lost before. For example, if infidelity existed in the relationship before, it would be challenging for one partner to trust the other.
Once trust has been lost, it takes ample time to get it back. And during its recovery phase, it can make a relationship stressful.
Also Try: How Much Do You Trust Your Spouse?
4. Separation/Breakups
People who have experienced breakups before their present relationship are likely to exhibit anxiety which can cause stress in relationship.
Hence, irrespective of the type of relationship, the fear of separating from their partner can take an emotional toll on them.
5. Childhood experiences
As children and adolescents, we develop some ideologies that we carry into adulthood. No two persons can have the same ideologies, so partners disagree to agree in a relationship.
However, if one person is adamant and unwilling to unlearn some of the things they picked from childhood, it can affect their relationship.
Also Try: Take The Childhood Emotional Neglect Test
6. Pessimism
No matter the association, pessimism or negativity can induce backwardness. A partner who is always pessimistic will drain their partner's energy which will often cause anxiety.
When there is a need for both partners to collaborate, the negatively-minded one would be the progress inhibitor.
7. Jealousy
Another major cause of stress in relationship is jealousy from either one or both partners. There are different reasons why jealousy can set in.
For example, it could be when one party is progressing and the other is stagnant. Another reason could be when there is betrayal or distrust in the relationship due to past flings.
Also Try: Jealous Boyfriend Quiz
8. Frequent fights
Even though conflict is an unavoidable feature in relationships, it can be dangerous when it is frequent.
Both partners might want to be more conscious and deliberate about their actions so that they don't offend each other.
However, this would only make them pretend to be who they are not. More so, it becomes another avenue for them to make mistakes instead.
9. Power
When it comes to stress and relationships, power is an important factor usually at play. For example, a partner might feel that their gender gives them the superior leverage to make critical decisions in the relationship.
In contrast, the other partner handles the less complicated ones. Eventually, it creates an unhealthy atmosphere where one party controls while the other listens without objecting.
Also Try: The Power Of Two - Relationship Quiz
10. Children
Not everyone in a relationship wants to have children until they become married. However, some people prefer the idea of having children even in a relationship.
When two people with divergent views on this are in a relationship, it could stress them when they disagree.
11. Overbearing behaviors
You and your partner can go through difficult times that can adversely affect the relationship at some point in life. It could be the impact of family, work, finances, and the likes.
These circumstances can make the individuals put up behaviors that can become frustrating.
Related Reading: 25 Signs You're in a Controlling Relationship
12. Infidelity
If one partner or both of them begin to have emotional and sexual flings outside the relationship, it is a definite cause of stress in relationship.
It would interest you to know that one of the common reasons why relationships experience setbacks and stress is because infidelity was introduced into the relationship by either one or both partners.
13. Premature ejaculation
For men and women or men and men who are sexual partners, premature ejaculation is a good reason to cause stress in relationship.
Both partners will not derive the needed satisfaction during sexual activities, creating conflict between them.
Also Try: What Makes a Man Desire a Woman Sexually
14. Health issues
It is quite impossible to have perfect health all through your life. At some point, your health can take a downward spiral which can cause problems in your relationship.
A partner with frequent health problems will stress the other partner out.
15. Sex drive problems
Low libido can make partners disinterested in each other. Even though this can be solved by therapy which uncovers the root cause of the problem, not everyone is patient to wait till this phase.
Experiencing low sex drive and libido is one of the reasons for stress in relationships that can make partners go their separate ways.
Also Try: Is My Sex Drive Normal Quiz
16. Self-centeredness
As humans, it is pretty normal to think of ourselves first before considering others due to our survival instincts.
However, it is not advisable to always do this in a relationship. You need to consider your partner's needs and sometimes, put theirs before yours. If you always think about yourself before looking at what your partner needs, it can induce stress in relationship.
17. Absence of empathy
Lack of empathy and self-centeredness are pretty connected. Some people cannot understand the pain and difficulties other people are going through.
Similarly, they can only view issues from their standpoint instead of borrowing another eye. If you or your partner does not show empathy in the relationship, it can cause stress.
Related Reading: Is Empathy a Friend or Foe?
18. Poor communication
One of the significant factors that cause couple stress in relationship is poor communication. It is one of the reasons why couples regularly experience conflict because they don't understand each other.
Knowing how to communicate would go a long way to navigate misunderstandings smoothly.
19. Family and friend intrusions
It is challenging to prevent interference from family and friends because we don't know which meddling will make or break the relationship.
So many problems can spring up from listening to what people are saying about your partner that would make you see them in another light.
This is why partners need to set the boundaries that would prevent interference.
Related Reading: How to Know If You Are Ready to Start a Family?
20. Abuse
Abuse can happen in different forms, emotionally, physically, and mentally, and can damage in various ways.
For example, a relationship is meant to be a safe space where both partners can thrive and find solace in each other. But if abuse exists, it would make them want to leave the relationship.
To find out if stress could be the cause of your relationship problems, check out this research study by Kira M. Newman on how stress can come in between you and your partner.
Understanding the effect of stress on relationships
Stress is a regular feature among individuals which can also affect a relationship. Partners often prefer to keep to themselves, which makes it difficult for their partners to comprehend them.
When stress is not handled, a negative cycle is created where each partner's stress rubs off on each other.
On the other hand, stress can positively impact the relationship because it helps both partners tackle amicably. It also improves the understanding that exists between the two of them.
To learn more about how to challenge the effects of stress on your relationship, check out this book by Chris Adkins. You will also learn how to navigate your relationship irrespective of what stressors would surface successfully.
To learn more about how to handle a stressed relationship, watch this video:

Conclusion
Partners in a relationship need to spot and discuss things that cause stress. Handling stress in relationship is challenging, but it is needed.
When you assist your partner during their stress period, it makes the relationship more healthy and secure.
They will also be confident in your ability to be physically and emotionally present for them, and they will be willing to return the favor if the coins were flipped.
Share this article on
Want to have a happier, healthier marriage?
If you feel disconnected or frustrated about the state of your marriage but want to avoid separation and/or divorce, the marriage.com course meant for married couples is an excellent resource to help you overcome the most challenging aspects of being married.
Learn More On This Topic
You May Also Like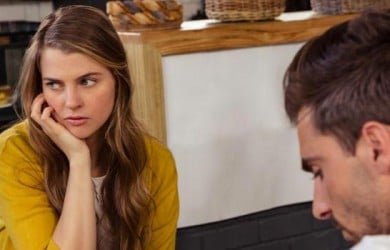 Popular Topics On Married Life