3 Steps to Financial Success in Marriage
It can be a tough, awkward topic to discuss, especially with your partner. If you and your spouse do not have a mutual understanding about how money is separated and spent, it may be detrimental to your marriage and your family.
According to Ramsey Solutions, money fights are the second leading cause of divorce, behind infidelity. It is important to create a foundation, which will make discussing finance easier.
Communication, financial expectations, trust, and establishing roles for the household are several steps to financial success that ensure a healthy marriage finance-wise. In this blog, we'll go through these topics to inform you of the different ways to guarantee you are on track for a financially successful marriage.
It is important for both the partners to be involved in the day-to-day finances and seek marriage finances advice from each other as necessary steps to financial success.
Here are a few questions that could be helpful for financial planning for married couples and for budgeting for married couples.
1. When was the last time you talked about your financial expectations and goals?
Being transparent about financial expectations and goals is essential to making sure you both are in the same mindset about how you are spending your money and what it is going towards, whether that is for a mutual savings account or a hedge fund.
It is never too soon to talk about money and financial goals in marriage if you both seek steps to financial success. In fact, asking questions before tying the knot can help couples prepare for a future with shared financial goals.
This is one of the finance tips for a successful marriage that will set out any assets that the other person has and will help make any financial decisions before you and your partner marry, such as signing a prenuptial agreement.
With that being said, communication is one of the important steps to financial success- before, during, and after marriage. Talking to your partner and discussing any concerns you may have will help you both be on the same page.
If you are struggling to find a way to approach your partner with any questions, ask yourself: Have you and your partner previously discussed money? If so, then how often?
As time progresses, it may be in your family's best interest to adjust your expectations to fit any budget depending on the current situation. This is considered normal and is encouraged to ensure that you and your partner are in a strong position financially.
Related Reading: Financial Advice For Married Couples
2. How much do you trust your spouse with your finances?
Trust is one of the vital steps to financial success. If there is no trust, then there is no foundation to build and strengthen your relationship.
If you are married, then a spouse has a right to know the whereabouts of a particular source of income as you both are sharing finances in marriage.
Though, as mentioned earlier, this would not be an issue if you frequently communicate with your partner. If not, ask yourself if you have shared access to all of your bank accounts and have not kept any financial secrets.
Do you have to ask your spouse for permission to purchase something?
These are all warning signs that your significant other does not trust you when it comes to money and is something that should be addressed. Some couples may have separate bank accounts. Ask yourself why that is.
Do you have an alternative or compromise, such as having a joint bank account for necessities such as living expenses?
If so, this is okay, as long as there is a mutual agreement beforehand. It's helpful to be transparent with your spouse about finances, even if there are individual accounts.
Lastly, do you fight about money in front of your children? CNBC states that 77% of parents are stressed out due to the rising costs of raising children, which can lead to money-centered arguments.
Check out these tips on how to build trust in the relationship:
3. Have you established clear-cut roles for the household?
When it comes to finance and marriage, there have been two defining household roles acting as steps to financial success. The breadwinner, in which one person is making the majority of the money, and the caregiver, who normally maintains the household duties.
However, does the breadwinner have control over the majority of the money, or do you both make money and relationship advice from each other?
Life changes, such as the COVID-19 pandemic, have impacted the way that people work and live, which has had an impact on household roles, as couples are working more from home. The pandemic has also changed a lack of income as 22.1 million Americans lost their jobs in 2020 (via Reuters).
Some of those jobs have returned, but not all of them.
The pandemic also impacted a number of business owners. Has this changed the dynamic between you and your partner? If so, this is completely understandable and normal, though it will be important to create a solution for you and your partner so that you can survive the rough bump.
Related Reading: 5 Great Marriage Finance Tips
Takeaway
To conclude, money is a factor that can damage marriages.
However, communication and trust are key steps to financial success and when it comes to financially protecting yourself and your partner from any issues that could lead to divorce.
Talking about money early and often during the marriage is a way to stay integrated as a couple. At My Divorce Solution, we create financial portraits for couples considering divorce. An interesting outcome from this process for some of the couples that work with us? They end up staying together because the financial portrait ironed out one of the key conflicts impacting their relationship.
Share this article on
Want to have a happier, healthier marriage?
If you feel disconnected or frustrated about the state of your marriage but want to avoid separation and/or divorce, the marriage.com course meant for married couples is an excellent resource to help you overcome the most challenging aspects of being married.
More On This Topic
You May Also Like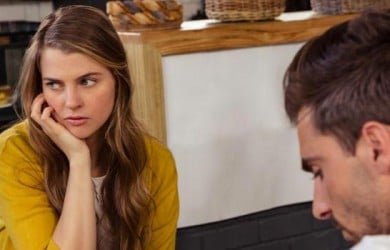 Popular Topics On Married Life