5 Relationship Strategies & Techniques to Eliminate Stress
How the Corona Virus Pandemic has an impact on our intimacy and relationships?
Do you feel stuck in your house, and your relationship gets worse every day?
Let me introduce you to five simple relationship strategies that will change your life forever.
These relationship strategies will help you to understand how to live 24*7 with your partner without feeling tedium. It does not matter how hard you work to make your relationship work out if you did not learn how to cope with changes.
When life was just right, and everything was going smooth, you never have realized something would turn so topsy turvy.
I have realized that this pandemic has been the most overwhelming and difficult time we are facing as humanity. You get up one morning, finding that the world you have known is not the same anymore.
Your brain couldn't cope with the shock. It took you a few weeks, if not months to understand what we are going through is happening. Even though we are halfway to understanding this situation, we are still in a state of confusion.
This is because the mind has the ability to reserve the traumatic events or painful situations as a cushion to protect you.
Therefore, you will find yourself and your partner in a very high tendency of sensitivity and lack of focus. Feeling tired or exhausted is your everyday life now.
Coronavirus pandemic has definitely been an overwhelming circumstance that leads to overstimulated messages to our brains, creating what we call it "Hyper-suggestibility" state of mind due to the environmental hypnosis.
Term environmental hypnosis means overloading message units from the outside world into our brains leads to an overwhelming feeling. And that creates chronic stress and anxiety, and if you don't address it early, your ability to cope becomes very slim.
Research shows the efficacy of Quantum Medical Hypnosis on relieving stress and social anxiety symptoms:
In summary, the following 5 relationship strategies had a positive instantaneous impact on increasing your Heart Rate Variability (HRV) in which is correlated with your stress level.
These relationship strategies are accessible now for anyone to measure their HRV by using a simple device that can be attached to your finger, very similar to a pulse oximeter, and show you a full reading of your stress level.
In my practice, I see so many cases with relationships anxiety and stress because of COVID 19 and couples seeking strategies to maintain healthy relationships. The mental impact of this pandemic is as high as the physical impact.
In fact, I think addressing the mental aspect of it is as important as taking care of the physical part.
And now, let us jump in the five relationship strategies for a successful relationship and to help you cope with stress around togetherness 24*7.
Read on for some successful relationship advice:
1. Self- De-hypnotization Technique (SDT)
Because most couples are subject to hyper-suggestibility, that is, they are in a state in which the body reacts very quickly [hypersensitive emotionally, i.e., hot temper] due to high stress, COVID19, and chronic anxiousness.
So, they are in a constant state of environmental hypnosis or sensory overload because the brain doesn't know what to do with the stress. It seeks mental or physical diversions to escape the stress, such as drugs, overeating, or just being spacey.
One of the first bonding relationship strategies is the act of counting oneself up many times per day to "dehypnotize" yourself to get out of the dreamy, escapist patterns, and into the moment.
Then, it follows that during QMH, the therapist must take the PTSD person into a deeper level of sleep than their current state.
Homework 1: Dehypnotizing oneself
One
: 1 body I have
Two
: 2 eyes I see through
Three: my 1 heart is beating, and my 2 lungs are breathing
Four: the extremities I feel, 2 hands and 2 feet are intact.
Five: 5 senses I am blessed with, and I can see, hear, smell, taste, and feel.
The goal of SDT is to provide the person with tools to maintain the physical body under one's own control.
2. Ten steps to hypnotize yourself and control your anxiety
Here are ways to control the anxiety that can act as one of the essential relationship strategies during the challenges in your bond.
Identify your concern (………………).

Identify your triggers (………………, ……………..) and measure it on a scale from (0-10).

Identify your intellectual word (Deep Sleep).

Repeat your intellectual word (Deep Sleep) 21 times.

Identify your PHYSICAL body feelings caused by your triggers (…………, …………)? And replace it with your desirable PHYSICAL body feelings instead (……….., ………..)?

Repeat your desirable PHYSICAL Body feelings (……………, ……………) 21 times.

Identify your EMOTIONAL body feelings caused by the triggers (…………, …………)? Replace it with your desirable EMOTIONAL body feelings instead (…………, ………..)?

8. Repeat your desirable EMOTIONAL Body feelings (……………, ……………) 21 times.

Repeat 21 times your Intellectual word (Deep Sleep) + your PHYSICAL Body feelings words (…………, …………) + your EMOTIONAL body feelings words (…., ……)?

Anchor your desirable PHYSICAL Body feelings words (…………, …………) and your desirable EMOTIONAL body feelings words (…………, …………) by holding your right thumb and index fingers together and repeating your desirable feelings words 21 times.
3. Venting Machine Technique (VMT)
This is another best relationship advice.
One of the important keys to a healthy relationship is to structuring our venting dreams, which is an important part of your unconscious mind.
We drift into a natural state of hypnosis 30 minutes prior, actually falling asleep. This is an important time in which, if we make this a consistent habit, we can slip new thoughts into our subconscious mind.
Why does this work?
Because what I've called the "critical mind" that during the day sits between our conscious and unconscious mind acts as a sort of filter or judge as to what remains and what gets tossed out.
For instance, if I ask you to recall the color of ten different cars you saw today unless you're an extremely extraordinary sort of person, you won't be able to because this "critical mind" simply vents out memories that it considers to be non-essential.
If it did not, we would very quickly become overwhelmed with the memories and visual images we encounter every day and be unable to function. However, in the semi-hypnotic state, we are in just before going to sleep, the critical mind is not as vigilant as it in during the rest of the day.
Therefore, if we consistently write down an affirmation such as "I am enough," before falling asleep, it will gain access to our subconscious mind where it will be processed in our sleep. Again, repetition is the key to anchoring this thought.
So, prior to going to sleep every night, write down this simple yet powerful affirmation:
"I am enough"—
Sign and date it as a way to learn to accept and feel hopeful about your future. This encourages you to be accountable and in control of your emotions every moment of the day, even before going to bed at night.
Practice Time
| | | | | |
| --- | --- | --- | --- | --- |
| | Morning | Noon | Afternoon | Evening |
| Monday | | | | VMT |
| Tuesday | | | | VMT |
| Wednesday | | | | VMT |
| Thursday | | | | VMT |
| Friday | | | VMT | |
| Saturday | | | | VMT |
| Sunday | | | | VMT |
Mark, on your daily calendar, when did you practice the VMT exercise to keep yourself accountable. This is just an example of how you can mark your practice at home, but you can choose any time of the day and as many times as you desire.
This will help you to build a successful relationship.
4. Check your breathing cycle
One of the effective relationship strategies is the art of doing nothing works as one of the strong relationship tips.
Be silent for a moment and notice and observe the normal breathing cycle.
In hypnosis, you are reprogramming or rewiring your brain neural pathways through breathing control. By doing this, you connect with your higher self or deeper inner guidance, which is authentic and pure.
In the video below, Patrick McKeown, the world-renowned breathing expert, author, and lecturer, shares the power of conscious breathing. One of the most important tips from this video: tongues resting place should be the roof of the mouth.
Watch out for more:

5. Self-Hypnosis
Research has shown that practicing self-hypnosis, meditation, mindful exercises for 5-15 minutes every day contributes to your physical, mental, social, and spiritual health positively and can act as one of the essential relationship strategies.
Therefore, I have created audio self-hypnosis techniques that you can download here.
Here is a simple "5-minute self-hypnosis exercise," which is a powerful technique to disconnect the physiological body from the current moment of social anxiety and togetherness 24*7.
This is how it goes: Counting down from 5 to 0.
5 – Acknowledge out loud and identify five things around you: I feel the room temperature. I am aware of my surroundings. It is the daytime. I am aware of my chair, etc.
4 – My extremities—legs, toes, arms, hands—are relaxed. Feel every muscle and joint relax.
3 – My breathing and my heart are more synchronized and rhythmic.
2 – My eyes are closed, gently, and deeply relaxed.
1 – I have one body fully and completely relaxed from head to toes.
0 – I am in a deep sleep.
Stay silent for about 5 minutes. Just listen to your thoughts, acknowledge them, and let them go. Do nothing.
Then count yourself back up:
1 – I am coming back up now.
2 – I am bringing back with me a sense of peace and calm.
3 – Take a deep breath and let it go.
4 – My extremities and body are relaxed.
5 – I open my eyes wide, feel awake, relaxed, and say out loud the 5 things I acknowledged in the beginning. By using this technique, Ronald began to realize that he was in control of the painful memories and situations, not vice versa.
Five-minute self-hypnosis
Medical Disclaimer: Nothing on this article/audio is intended to diagnose, treat, or cure any physical problems or medical conditions. The information contained in this article /audio is intended for educational purposes only. It is not intended for the treatment, cure, diagnosis, or mitigation of a disease or condition. If you have any medical conditions or are taking any prescription or nonprescription medications, see your physician before altering or discontinuing the use of medications. Persons with potentially serious medical conditions should seek professional care. No therapeutic or medical claims have been implied or made.
Always stay awesome and amazing.
Share this article on
Want to have a happier, healthier marriage?
If you feel disconnected or frustrated about the state of your marriage but want to avoid separation and/or divorce, the marriage.com course meant for married couples is an excellent resource to help you overcome the most challenging aspects of being married.
Learn More On This Topic
You May Also Like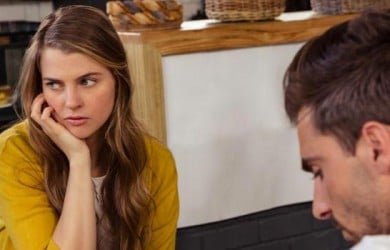 Popular Topics On Married Life