How to Know If You Are Ready to Start a Family?
Are you ready to start a family? Deciding whether or not to have a baby should be taken seriously as bringing a child into this world is a huge responsibility. Deciding to start a family entails a lot of contemplation.
Having a baby will affect every aspect of your life. Taking up are you ready to have a baby quiz can be a fun and insightful way to make your first foray into determining your choice to extend your family.
Choosing to start a family is a personal choice so there's no set formula on how to determine whether you're ready or not. However, there are some issues that you can consider before you make up your mind.
How to know if you are ready to start a family? Thinking about these questions will give you the definitive signs you're ready to start a family and will also help your new family to thrive.
Consider your relationship stability
Having a baby will put pressure on your relationship so it's important that you and your partner are committed to each other. While becoming a parent is a joyous occasion, you'll also face increased financial pressure. A lack of sleep as well as having less time to spend with your partner can also put a strain on your relationship.
A stable relationship creates a strong foundation for your family, which enables you and your partner to cope with the changes that accompany parenthood. Communication, commitment, and love are important components of a successful relationship.
While there is no perfect relationship, having a child when you're experiencing high levels of conflict with your partner is inadvisable.
Likewise, having a baby won't help to solve any relationship problems that you're experiencing. If you want to develop the skills that you need to build a healthy relationship with your partner, you can seek guidance from a couple's counselor.
Manage your health
The pressures of pregnancy and raising a child puts a strain on your physical and emotional well-being. If you're struggling with your mental health, it's advisable to talk to a therapist before you have a baby.
Your therapist can help you to manage your mental health so that you are better prepared for parenthood. Support from a mental health professional can make the transition to parenthood easier as well as helping you to cope with any challenges that arise along the way.
Review your support system
Do you have a support system? Having supportive friends and family will help you to cope with the challenges that come with parenthood.
Write a list of the people that you can rely on for help and discuss what you may need from them during your pregnancy and after you have given birth. While a lack of a support system doesn't mean that it's not the right time to have a baby, it is worth considering who you can ask for help during difficult times.
Talk to your partner
Communication is an important aspect of any relationship, especially if you're thinking about starting a family. Talking about the emotional and practical aspects of parenthood can help you to make a decision that you both agree on.
Ask your partner what aspects of parenthood they're looking forward to as well as if they have any concerns about starting a family. It's also essential to discuss your ideas about parenting and to explore both of your parenting styles so that you know what to expect from your partner when your baby is born.
If you have conflicting ideas about parenting, this is your opportunity to resolve them before you decide to raise a child together. Take time out to discuss childcare with your partner and how the work will be divided between you.
Explore how you currently support each other and what additional support you'll need from each other once the baby is born. Knowing how to express your needs clearly is helpful during these types of conversations and honesty is crucial when you're having conversations about starting a family.
Assess your finances
Can you afford to have a baby?
If you find yourself asking, "Am I financially ready for a baby?" consider this first.
From child care to nappies, there is a wide range of expenses that come with having a child. The older your child gets, the more their expenses increase. You'll need to ensure that you and your partner have a stable income before you decide to start a family.
Draw up a budget and assess your financial situation realistically to determine whether you can afford to have a child. The medical expenses that accompany pregnancy and birth also need to be considered. Check that you have sufficient savings in case of an emergency.
Consider your parenting skills
Do you have the skills that it takes to raise a child? Consider what you know about parenthood and if you have the information that you need to be the mother or father that you want to be. You can prepare for parenthood by enrolling for educational classes or by joining a support group.
Learning effective parenting skills before you have a baby creates an excellent foundation for your family. Ask people to share their pregnancy and parenting stories with you to gain insight into what your life will be like once you have children.
Advice from a trusted mentor can also help you to prepare for becoming a parent. While you can prepare for the transition into parenthood, each family's experience is unique. When you decide to start a family, you'll be stepping into the unknown.
Accepting that there is no perfect parent will help you to relax and enjoy time with your newborn once they arrive.
Acknowledge lifestyle changes
Are you ready for the dramatic lifestyle changes that accompany parenthood? Think about how having a baby would impact your everyday life. Having a baby means that you'll need to be ready to put someone else's needs ahead of your own. If you drink excessively or smoke, you'll need to cultivate healthier habits before you decide to have a baby. Having a child will change what's important in your life as you move towards focusing on raising a family.
Only you and your partner can know if you're ready or not to start a family.
By discussing these aspects of parenthood, you'll be better equipped to make a sensible decision. Not only will these considerations help you to make up your mind, but they'll also make you a more effective parent.
Share this article on
Want to have a happier, healthier marriage?
If you feel disconnected or frustrated about the state of your marriage but want to avoid separation and/or divorce, the marriage.com course meant for married couples is an excellent resource to help you overcome the most challenging aspects of being married.
More On This Topic
You May Also Like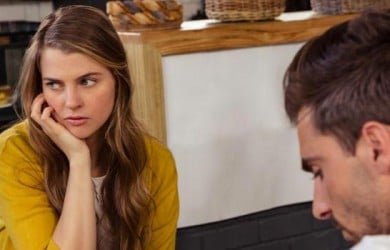 Popular Topics On Married Life