Effective Stress Management Strategies for a Healthy Relationship
In a fast-paced world where everything seems to be on the move, stress is an inevitable part of life. If not well managed, stress often finds its way into our relationships.
In this article, we'll take a quick look at stress management strategies and provide practical strategies you can apply to aid in the management of stress in your relationship.
By the time you're done with this article, you would have figured out how to deal with stress and keep your relationship alive in the midst of a busy world.
What is stress management in a relationship
?
Before getting to the part of stress management, it makes logical sense for us to define what stress is all about in the first place.
The American Institute of Stress defines stress as any type of change that causes physical, emotional, or psychological strain. It is a condition or feeling experienced when a person perceives that demands exceed the personal and social resources the person can access.
Stress management occurs when partners make conscious efforts to understand, acknowledge, and effectively navigate the stressors that can threaten their relationship. There are many management techniques for stress in a relationship, but awareness remains the first and most important step.
Why is stress management so important in a relationship?
Stress can be a silent killer of relationships. If left unchecked, it will eventually lead to a breakdown in communication, intimacy, and trust. Understanding the methods of stress management in your relationship is a way of showing that you prioritize your connection and you're willing to fight for your love.
Ways to deal with stress in a relationship
Now we've understood what stress is and how it can affect relationships, here are some practical strategies to manage stress in your relationship.
1. Open and honest communication
Studies have proven the essence of effective communication in relationships. More than ever before, you need open and honest communication when stress rears its head. Share your feelings and concerns with your partner.
Use "I" statements to express yourself, and actively listen when your partner does the same.
2. Spend quality time together
One of the most powerful ways to stress management in your relationship is to make time for each other. Schedule regular date nights or simply snuggle up on the couch with a movie. These moments of togetherness can provide comfort from stress.
3. Set and enforce healthy boundaries
Establishing clear boundaries is crucial. Know when to say no to additional commitments, and respect each other's need for personal space and time.
4. Embrace teamwork
Efficient teamwork is one way how stress can be managed on a daily basis.
The downside of being stressed is that it can make you approach life from a 'me against them' perspective, where it feels like you're in a constant battle with everyone else, including your partner.
To overcome, approach stress as a team. Work together to find solutions to common stressors, whether they be financial, family-related, or work-related.
5. Develop conflict resolution skills
Figuring out how to deal with stress in your relationship involves developing effective conflict resolution skills because stress can set in when you get into fights with your partner.
Develop effective conflict resolution skills. Learn how to express your concerns calmly and listen actively to your partner's perspective. As much as possible, avoid heated arguments and focus on finding common ground.
6. Support each other's hobbies
Encourage each other to pursue individual interests and hobbies. Having personal outlets can reduce stress and create a healthier balance in your relationship.
7. Express gratitude
Regularly expressing appreciation for and to each other can make your partner know that you value them, and this can help them cope with any stress they feel in other areas of their lives.
Simple acts of gratitude can boost positivity and reduce stress levels.
8. Have quality conversations, especially about the future
Have meaningful conversations that go beyond daily routines. Discuss your dreams, aspirations, and long-term goals as a couple. This can reinforce your connection during stressful times.
9. Maintain intimacy
Keep the flames of intimacy alive in your relationship. Studies show that frequent sexual activity can reduce emotional and psychological stress. Sometimes, you may just need some mind-blowing sex to get over stress.
10. Delegate responsibilities
Another way to cope with stress is to share household and family responsibilities. Create a fair division of labor to reduce the stress of managing daily tasks.
11. Improve your time management skil
l
Improve time management as a couple. Effective planning and organization can help prevent last-minute stressors that would have otherwise been present.
12. Plan getaways
Regularly plan short getaways or vacations together. These breaks from routine can be rejuvenating and provide a much-needed escape from stress. It also helps to plan these trips together as they give you something exciting to look forward to.
13. Financial transparency
Financial challenges can cause stress. To avoid this in your relationship, be transparent about financial matters. Create a budget together and set financial goals to minimize money-related stress.
14. Seek social support
Studies show that high-quality, positive social support can enhance resilience to stress. This implies that having a support group is one way to combat stress and its effects on your relationships.
Connect with other couples or friends who can empathize with your relationship challenges. Sometimes, sharing experiences and advice can be comforting.
15. Practice mindful listening
Don't always try to be the savior when your partner feels stressed. Learn to lend a compassionate ear without immediately offering solutions. Sometimes, all they need is someone to listen and validate their feelings.
16. Seek professional help
If stress is overwhelming your relationship, don't hesitate to seek the guidance of a relationship counselor or therapist. They can provide valuable tools and insights to help you both cope.
Long-term stress management techniques
While the above strategies can provide immediate relief, you must also cultivate long-term stress management strategies that will benefit your relationship over time. Here are some of them.
1. Healthy lifestyle choices
Regular exercise, a balanced diet, and adequate sleep can significantly reduce stress levels. Encourage each other to lead a healthy lifestyle.
2. Develop conflict resolution skills
Learn how to navigate conflicts constructively. Avoid escalating arguments. Instead, focus on finding compromise and resolution.
3. Set relationship goals
Set specific relationship goals and revisit them periodically. These goals can encompass emotional intimacy, personal growth, or even mutual career aspirations.
4. Regular check-ins
Make it a habit to check in with each other about your stress levels. Are there new stressors? How are the existing ones affecting you both? Knowing what ticks off your stress boxes can help you formulate the perfect stress management strategies for your relationship.
5. Adaptability
Develop adaptability as a couple. Life is full of unexpected challenges, and the ability to adapt and face them together can be a potent stress management technique.
6. Develop emotional intelligence
Work on improving emotional intelligence. Understanding and regulating your own emotions, as well as recognizing and empathizing with your partner's, can reduce stress.
Here are 8 thoughtful ways to become more emotionally mature:
7. Regular health check-ups
Stress can sometimes be directly related to physical health challenges. This is why you must prioritize your physical and mental health. Regular check-ups can help catch health issues early, reducing the stress associated with unexpected health crises.
8. Couples counseling
The most trusted among the common stress management strategies is counseling.
Consider long-term couples counseling as a proactive measure. It can provide a safe space to address underlying issues and enhance communication skills.
What not to do when managing stress in a relationship?
While we've discussed effective stress management strategies, you must also know what not to do when managing stress in a relationship. Here are some of them.
1. Do not play the blame game
Avoid blaming each other for stressors. Instead, focus on working together to find solutions.
2. Don't ignore stress
Ignoring stress won't make it disappear. Pretending everything is fine can lead to more significant issues down the road. It is best to address what's stressing you before it escalates.
3. Avoid isolation
Don't isolate yourselves when stressed. Reach out to friends and family for support. Talk to your partner. Don't skip into your shell and expect a miracle to happen.
4. Don't repress your emotions
Bottling up emotions is never a good idea. Address issues as they arise. However, you must be strategic about how you do it.
Commonly asked questions
Here are the common questions relating to stress management strategies for relationships and their answers.
What is the ABC of stress management in a relationship?
The ABC of stress management is an acronym that stands for Awareness, Balance, and Control. This concept highlights the importance of recognizing stress triggers (Awareness), achieving a healthy work-life balance (Balance), and taking control of one's response to stress (Control).
It encourages individuals to identify stressors, establish boundaries, and employ coping strategies effectively.
What are the types of stress in relationships?
There are 2 main types of stress in relationships. They include external and internal stressors. External stressors originate from outside the relationship. They include financial challenges or family conflicts.
Internal stressors, on the other hand, stem from within. They may include communication breakdowns or emotional disconnection. These stress types can strain relationships and lead to tension.
What are the causes of stress in a relationship?
There are many causes of stress in relationships, including financial struggles, communication issues, differences in values or goals, family conflicts, and external pressures like work demands. These factors can strain the relationship if not managed effectively.
For stress-free relationships
Effective stress management strategies are required in healthy relationships. When you adopt these strategies, you navigate life's challenges better, strengthen your bond, and ensure that love thrives, even in the face of stress.
Share this article on
Want to have a happier, healthier marriage?
If you feel disconnected or frustrated about the state of your marriage but want to avoid separation and/or divorce, the marriage.com course meant for married couples is an excellent resource to help you overcome the most challenging aspects of being married.
Learn More On This Topic
You May Also Like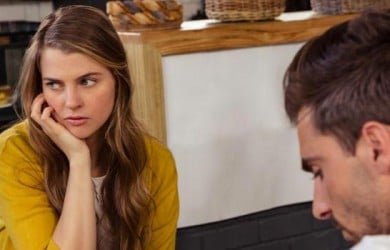 Popular Topics On Married Life