How to Understand Your Partner Better: 15 Ways
How often do we bring our attention to automatic thinking patterns and actions when communicating or responding to those we have a relationship with? We all wish to know how to understand your partner so that our relationship can be enriched and enhanced further.
When misunderstandings are a major reason for the conflicts and stress between couples, it becomes essential for all couples to learn how to be more understanding of each other.
In this article we will look at what does understanding your partner mean and how we can take steps towards understanding our partner even better.
Meaning of understanding your partner
To be understanding of your partner means knowing what they mean and what their intentions are without asking them about it. It is a subconscious knowledge that one develops about their partner's behavioral patterns and thoughts.
There are fewer chances of misunderstandings and miscommunications if you've learnt how to understand your partner. You will be able to get what they want to say, even when they are not able to say that to you exactly.
One gesture, one expression or one word from your partner will reveal to you their intentions and response if you have taken the time to get to know each other better.
Why is it important to understand your partner
A marriage can continue to stay healthy and happy if there is a beneficial understanding between the couple about each other, and about the expectations that they have from each other.
If a couple lacks interpersonal understanding, they are bound to get into conflicts due to misunderstandings and wrong assumptions about each other. Fewer conflicts, along with an enhanced understanding of each other would make for a healthier and happy marriage.
Research into couples' dynamics shows that understanding one's partner is integral to a strong relationship between two people. It includes having an awareness of each other's personal backgrounds, different expectations from marriage and past traumatic experiences.
Partners need to feel understood by each other to feel bonded with each other. They feel valued, heard and seen by their partner. And that in turn enhances the overall happiness that both partners experience within the marriage.
15 steps to understanding your partner
Often understanding your partner is laced in romance and inexplicable chemistry. However, understanding is something that you can develop over time. If you are a willing and open partner, you will be able to understand your partner's perspective easily.
Learning how to understand your partner requires a little effort and careful consideration. Try out the steps mentioned below and watch your relationship transform beautifully:
1. First, understand yourself
It is imperative that you first have a proper understanding of your own emotions, intentions and biases. These come together to influence your understanding of everything and everyone around you.
Once you know yourself, you will be able to better gauge your partner's behavior and feelings after separating your bias from the situation. It will also help you draw parallels between your partner's behavior and yours and thus be more understanding towards them.
Related Reading

: 

How to Improve Understanding in a Relationship
2. Use 'I statements'
A helpful tool and habit that can teach you how to understand your partner are 'I statements.' Sentences that start with the word "you" are geared towards accusing your partner, like, " you are mean.'
'I statements' or sentences that start with the word "i" convey your experience and emotions without utilizing a language of blame and accusations. These statements will not make your partner feel cornered and thus defensive.
Research shows that "I statements" are valuable tools in conflict resolution and help people remain open to understanding each other's perspectives more readily.
3. Make it a priority
Understanding your spouse or partner is not an all-or-nothing situation or something you innately possess. You can develop this skill over time if you have the proper mindset.
Make understanding your partner a priority for you, as this is the only way you will learn how to understand your partner for sure. You need to consciously work towards developing an understanding of your partner and not wait for the magic to happen on its own.
Related Reading: 

What Are the Three Biggest Priorities in a Relationship
4. Notice body language cues
Did you see that shrug? Did you see that grimace? Did you see them take a deep breath? These cues can be key in learning how to understand your partner better.
Body language and physical cues reveal a lot about how a person feels in response to particular situations, actions or words. If you start reading your partner's body language, you will develop a subconscious understanding of their responses and thoughts.
You may notice a pattern in their behavior or recognize their true feelings regarding certain things. These observations will help teach you how to understand your partner every day better.
5. Ask questions about their childhood
Our childhood influences our personality in a big way. It shapes one's personality and informs their understanding of their surroundings.
Learning how to understand your partner requires gaining an insight into your partner's past, as they can reveal key information about the formative things in their childhood that they carry with them now.
By asking questions or remembering things they have mentioned about their past, you can better understand their motivations and responses. You can tell if a traumatic experience from their childhood is the reason for their outburst or isolation.
To learn more about how a bad childhood can affect someone in their adulthood:

6. Show your appreciation
Learning to understand your partner will be easier if your partner has their guard down around you so that you can understand their true feelings, motivations and impulses.
Research shows that expressing your gratitude leads to improved relationship satisfaction. And once people are happier in their relationships, they feel more comfortable letting their guard down.
If you show your appreciation and love for your partner, they are more likely to open up to you about themselves and not try to hide their feelings around you. Compliments can show them that you value them, making them feel accepted and comfortable enough to open up.
7. Learn their communication style
Everyone has a different communication style based on their culture, personality and experiences. Some people communicate using words directly by saying exactly how they feel, and others do this using indirect communication.
Some people feel awkward talking about themselves, so they may use their actions or gestures to convey how they feel. Take note of the unique combination of communication methods that your partner utilizes to better your husband and wife understanding.
8. Step away
Fighting is not communicating.
It is normal for all couples to have disagreements and fights; however, these can be counterproductive if you don't have the right approach. Sometimes, walking away from a fight helps you better understand your partner's perspective.
Instead of hurling accusations at each other, breathe and walk away. Give yourself the chance to reflect on your partner's words and actions. Reflecting on things may help you understand each other better.
9. Accept follies and mistakes
The only way to understand your partner is to be open and honest with each other. A big part of this is accepting your mistakes and taking responsibility for your actions as it will affect your partner's behavior towards you.
Your vulnerability and accountability will allow your partner to feel safe in your presence. They will feel less judged and hence will open up more readily. Learning how to understand your partner requires giving them a chance to understand you as well.
10. Get to know their loved ones
Loved ones play an important role in not only the shaping of a person but also informing their responses. They are a window into who your partner is, so get to know them.
Allow for trust to build between you and your partner's loved ones. They may be able to share details about your partner that you may not have noticed, or they can simply act as embodiments of what kind of people your partner values.
Also Try

: 

Top 100 Getting to Know You Questions
11. Ask them about their needs and desires
Guesswork can be fun, but it can also be frustrating. So, instead of trying to guess what your partner needs, go ahead and ask them.
People's needs and desires are informed by who they are and what they value. Therefore, you can learn how to understand your partner by directly asking them about their needs. It will let them know that you care while simultaneously giving you a clear picture of who your partner is.
12. Be the support
Tough times reveal key aspects of a person's personality and coping mechanisms. So, when your partner is going through a tough time, take time to extend your kind support towards them.
Support can ensure that your partner can trust you, and during tough times they will be comfortable revealing how they feel and why. This will help you figure out how to understand your partner better.
Related Reading

: 

20 Steps to Becoming a Supportive Partner
13. Respect their boundaries
Only if your partner is open around you will you be able to understand them. A big part that you can play to ensure that this happens is respecting their personal boundaries.
If you violate your partner's boundaries, they are much more likely to become hostile or cold towards you. They might have raised their defenses around you as a way to protect their space, which can make understanding them extremely difficult.
Try to respect your partner's boundaries and personal space. By doing this you can make your partner trust you and thus open up to you at their own pace.
14. Be present
Busy with work? Lost in your thoughts?
Be present when you are around your partner, as this will give you a chance to notice things about your partner. You may miss how they are feeling or a change in them if you don't take a moment to notice them.
By being present, you can learn how to get to know your partner better, as this will also let them know that you are important to them. They will open up more readily and give you a chance to understand them better.
15. Consult a specialist
Sometimes any work is done best with the help of a specialist.
If you find it challenging to understand your partner, you can consult a therapist. They can give you helpful tools to cater to your specific problem and facilitate understanding between your partner and yourself.
Final thoughts
Though it may take extra work to understand our partner's feelings, actions, and reactions, incorporating the steps mentioned above can improve the connection between you and your partner.
You have to create an environment of openness and make a conscious effort to learn more about your partner. Instead of waiting for an intuitive understanding to develop, take matters into your own hands.
To learn how to understand your partner, take the time to continue learning about your partner to facilitate healing and growth in your relationship.
Share this article on
Want to have a happier, healthier marriage?
If you feel disconnected or frustrated about the state of your marriage but want to avoid separation and/or divorce, the marriage.com course meant for married couples is an excellent resource to help you overcome the most challenging aspects of being married.
More On This Topic
You May Also Like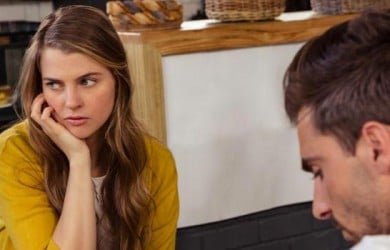 Popular Topics On Married Life