20 Ways to Give a Man Space to Fall in Love
Relationships are a fine balance between the never-ending cycle of push and pull. Sometimes, we're aligned, and sometimes we need different things.
It's perfectly normal, which is why you should give him space when your man asks for it. The key is to not panic and approach this time strategically.
What does giving a man space mean in a relationship?
We all go through ups and downs in life, and we deal with stress in different ways. Some people like to be alone, and others prefer to reach out to their partners for extra support.
That's why giving a guy space isn't necessarily cause for alarm.
It's perfectly valid to give him space because he needs to sort out his emotions and feelings. Many people find it difficult to connect with their emotions, and men often also face societal pressures about feelings.
A study conducted by research firm Ipsos MORI and commissioned by men's health charity Movember shows that 58% of men are expected to show no weakness, which is usually linked to emotions.
There's also something called the Pursuer-Distancer Cycle that marriage and family therapist, Moushumi Gouse, explains in her article. Essentially, one of you tries to get closer, which pushes away the other one.
When this happens, the only choice you have is to give him space gracefully. It's then a time to self-reflect and focus on personal growth.
The first thing you can actively do when you give him space is to practice breathing. This will help reduce any anxiety and stress. These exercises are a good starting point.
Why giving a man space will get him back?
When you give him space and make him miss you, first consider the physical versus emotional space. What exactly is he asking for? For example, many of us have firm physical boundaries, and we need alone time to recharge and self-reflect.
On the other hand, perhaps when he needs space, it's simply to work through his emotions. It's worth noting that emotions are complex and are still being researched. Nevertheless, this can work to your advantage.
Neuroscientists have proven that we need to seek things and people because the reward centers in the brain get activated even when we're just chasing something we can't have.
This isn't about being manipulative when giving a guy space. Instead, it's about showing yourself in the best light possible as an independent and confident woman.
There's nothing more attractive than a woman who is at ease with herself and who can connect emotionally with those around her.
What not to do when giving a guy space
First and foremost, if he wants space, never plead or cling. Desperation is not an attractive trait. That also means not stalking him on social media or turning up as if by surprise where you know he tends to go out. It's both creepy and will drive you insane.
Another trap that many women fall into is trying to control the situation. Of course, controlling behavior can be in both men and women.
Regardless, make sure it's not you when you give him space. On the contrary, listen to him and respect his wishes. That's the best way to help me relax and not become defensive.
How much space should I give him? If this question is rolling around in your head, stop and pause. It's actually the wrong question. The question is, how are you going to use the time for yourself?
Only by re-prioritizing yourself can you start oozing self-respect and self-esteem. That's when you give him space, and he'll come back.
20 ideas to give a man space to fall in love again
Does giving a man space work? Yes, it can, very simply because we tend to want what we don't have.
Nothing is absolute when it comes to human relationships, though, but there are ways to give him space and make him miss you, starting with these ideas:
1. Don't call or text but be there
This is all about not panicking and not forcing yourself on him when he needs space. Of course, it can feel disheartening when a man we love tells us he wants space. Try to remember not to take it personally by getting some perspective.
Remind yourself that he just needs some time. So, give him space and show how much you respect his needs.
Also Try: Should I Text Him Quiz
2. Reconnect with yourself
How to give him space and make him miss you is necessarily going to be easy. You might prefer to hide under the covers and not face the world. The best thing you can do when you give him space for himself is to also refocus on yourself.
By feeling good and looking fabulous, you'll make him want you back. Moreover, you've taken time out for self-care, and you feel positive again.
3. Be exciting
Now for a bit of reverse psychology for how to give him space and make him miss you. Naturally, there's a fine line with manipulation, so don't overdo it.
Nevertheless, you can use your newly-found space to get out and have some exciting times with your friends. Your man will then see that you're doing ok. They'll then feel distant, and generally, they'll want to come back.
Also Try: Fun Personality Quizzes for Women
4. Be empathic
When you give a man space to fall in love, you need to show your nurturing and caring side. So, when they ask for space, make sure you thank them for being honest. Then just listen to what they need.
Try to see it from their viewpoint so that you can connect with what's perhaps going on for them that you might have missed. For instance, have they been overworked both in their jobs and at home?
5. Listen to what he needs
Listening is a skill that takes practice. It needs curiosity and attention such that we step out of our heads for a short time. At the same time, you try to connect with his feelings and emotions as he asks you to give him space.
This approach helps you better understand what's going on without losing your emotions and overreacting. You'll also convey an image of calm and respect, which is much more appealing than the anxious, screaming alternative.
Also Try: Quiz: Are You Open with Your Partner?
6. Self-care
Don't ask yourself, "how much space should I give him." Instead, ask yourself, "how much space do I now need." Of course, it's hard, but if you can flip the situation around and see it as a welcome time off for yourself, things will be much easier.
Self-care comes in many different forms. Whether you need emotional, spiritual, or physical self-care, see if this list can help you get more ideas.
7. Personal goals
Needing space can happen to anyone. Sometimes, we don't even realize it ourselves that we need space until we crack.
So, take the opportunity when you give him space to review your goals and how the relationship is supporting those. Do you want anything to change?
Reflecting through will then put you back in the driving seat, so to speak, when you do meet and talk again. Both of you have needs and goals, and great relationships work by aligning those goals.
If you just say yes to everything when he comes back after needing space, the chances are he'll lose respect for you.
8. Sit with your fears
Give him space, and he'll come back if you first make sure that you can manage your fears. Processing your emotions so that you can let them go is the first step in managing ourselves so that we can be more open to others around us.
A great way to do that is by journaling. The simple act of writing about our fears and feelings gives us time to experience those emotions. They then float away more easily so that we react less.
Also Try: Fear of Rejection Quiz
9. Be mysterious
Why not spark his curiosity when you give him time? You can do this relatively easily by not offering all the details about your week when you do sit down and talk.
Moreover, you don't have to describe everything during your girls night out, do you? Again, this isn't about being manipulative or secretive but about having an air of mystery.
Check out this video if you want more details about how to do this and make him crave you:

10. Renew hobbies and interests
Do you know which hobbies you've given up on? Perhaps some books that have just been gathering dust that you want to read?
Give him space but give yourself space and rediscover what you love doing. This gives you the independence and maturity that men love. After all, no one wants a clingy or needy partner.
11. Wait before responding to messages
This can be hard these days when messages are constantly popping up on our phones. Nevertheless, when you give him time, and he sends you a message, whatever you do, wait.
Make sure he knows you're busy and not pining after him. Whether that's the case or not doesn't matter. Simply make sure he knows that you have a life but that you're there for him also, within reason.
Also Try: 100 Sexy Texts for Her to Drive Her Wild
12. Spend time with other guys
Of course, this isn't about cheating. On the contrary, have fun with your friends, both male, and female, and be free.
You can easily post on social media that you're having a great time, and he'll want to come back. Remember, though, that it's not about being dishonest but about living your life and not crying in a corner somewhere.
Related Reading: 

Making Time For You And Your Spouse
13. Be happy
This might sound odd, but we can rewire our brain to be more positive and happier. Neuroscientist Rick Hanson tells us in his interview that we need to pay special attention to the positive things in life for us to remember them.
Our brains tend to focus on the negatives, but you can counteract this by looking for what you can be grateful about. So, try to list 10 things you're grateful for at this moment.
14. Check in with your attachment style
It's worth getting familiar with attachment style theory if you feel stuck in the Pursuer-Distancer cycle. As Dr. Patel explains in her article, we all develop how we attach ourselves to those close to us when we grow up as children.
We are either secure, anxious, or avoidant, and this carries on into our adult relationships. Try this quiz if you want to discover where you are for yourself.
15. Make your own decisions
This might sound obvious because, after all, you're giving him time and space. Nevertheless, get used to making your own decisions without relying on him.
Most importantly, enjoy it and remember that you have so much to offer the world as well as to yourself. This can only translate into positive vibes that will draw him back in.
16. Have fun together
Giving a man space doesn't mean going off the radar. Some couples agree to meet every few weeks, for instance.
Whatever it is for you, make sure that you focus on the positives when you do meet. Bring humor along with you and have fun.
17. Set specific dates
Suppose he's open to meeting, then set specific dates so that it becomes a firm commitment. Of course, you'll have to read the situation and see if he's ready for that.
The last thing he needs when you give him space is to then be cornered. You might have to wait for him to make that first step but when he does, ask for specifics.
Also Try: Finding Out If I Am Ready To Date Again Quiz
18. Understand your differences
Giving a guy space gives you a huge opportunity to reflect on how you're compatible and where you're different. Can you solve the differences, or are they perpetual problems, as Dr. Gottman describes?
Then you can get planning how to solve those problems to find a way forward while being happy about what you need to let go of.
19. Trust
Sometimes you simply have to trust the process. Yes, this will be hard, but to give him space, you're also taking the time to focus on yourself. That way, you can rebuild your inner confidence, everything will be much easier.
Believe in yourself, and the rest will follow. If it doesn't, for whatever reason, then you know you tried your best, and it just wasn't meant to be.
20. Evaluate your relationship
Let's not forget that giving a guy space also means that we get space to review the relationship. If you want him to come back, try the steps above.
If, on the other hand, you don't, this gives you the perfect opportunity. The choice will become clear as you reflect and enjoy some self-care.
Conclusion
So, does giving a man space work? Absolutely but you need to be strategic about it. Make sure you reconnect with yourself, including lots of self-care, and you make yourself fabulous.
Add an air of mystery with some humor and excitement, and he'll soon be wondering what all the fuss was about.
Share this article on
Want to have a happier, healthier marriage?
If you feel disconnected or frustrated about the state of your marriage but want to avoid separation and/or divorce, the marriage.com course meant for married couples is an excellent resource to help you overcome the most challenging aspects of being married.
More On This Topic
You May Also Like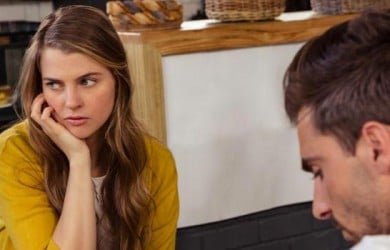 Popular Topics On Married Life