What is Push-Pull Relationship Cycle & How to Break It
Pushing and pulling as a couple is almost like gameplay. In many cases, one or both participants are afraid of intimacy.
Unfortunately, someone might not have a sense of love for themselves, so they're challenged to become involved in a structured, secure relationship, often pushing the other person away after pulling them in.
The push-pull relationships are sustainable for a substantial period since there are moments of joy and satisfaction to make each person want to hold on.
There is, though, no possibility for a genuine attachment, nor is fulfillment attainable. More so, each feels a lack of control and no stability, leaving everyone vulnerable to hurt.
This kind of pairing is fruitless in helping to heal old wounds. Instead, it adds another layer by disallowing oneself to enjoy a union that might otherwise make them happy if they allow themselves to experience joy, instead choosing defeat when it seems to be going well.
At this point, you need to consider if it isn't wise to pursue self-love before attempting to get involved in any relationship. There has to be self-love before a healthy bond can develop in a partnership.
What is a push-pull relationship?
A push-pull relationship cycle is a clear-cut example of "playing games," but it's a dynamic that's not uncommon.
One person will generally play the role of the pusher showering the other person with their interest. The other individual wallows in the "gushing," developing a misplaced sense of security.
The puller believes there is a bond developing, so they begin to enjoy the attention and feel value in the pairing. Still, the pusher starts to pull away gradually and becomes disinterested. The puller's immediate thought is wondering what they had done to cause the reaction.
It's a classic push-pull relationship strategy leaving in its tracks a feeling of instability and bouts of stress and tension for at least one partner. Some people thrive on the push-pull relationship dynamic.
These emotional highs and lows are not something anyone can endure for an eternity. Eventually, innate insecurity and intermittent high-pressure situations become unbearable.
Everyone enjoys somewhat of a challenge, but emotional turbulence is exhausting.
Believing that you have love, value, and acceptance plus the beginnings of a special bond and then having your world turned upside down creates doubt in your judgment causing you to question your ability to make accurate perceptions.
A healthy person, generally stable and balanced, finds push and pull in a relationship confusing, causing them to second-guess what they believed and deal with rejection, creating a wound for the one simply looking for a loving mate.
What type of people end up in a push-pull relationship?
Ideally, for this type of relationship to work, someone with a healthy, balanced ideology towards dating and relationships is ineligible.
The people who involve themselves in the push-pull relationship theory have typically unhealed wounds from previous experiences or have been exposed to unhealthy relationships causing them to develop unhealthy attitudes about partnerships.
Each individual will lack self-confidence or have lower self-esteem than most. One will have abandonment issues while the other will have a problem with intimacy, and these fears will create the push-pull mechanics.
One will initiate the relationship as the pusher. The other will avoid it for fear of being vulnerable to abandonment, and this sets the tone for the varied stages that comprise the cycling that the pair will endure throughout their partnership.
Explaining fundamentals of push-pull cycle in 7 stages
Navigating through the push-pull theory for any length of time takes two distinct individuals to carry the dynamic. These people will consciously fear abandonment or intimacy or do so unconsciously.
Each has low self-esteem. Therefore, one seeks romantic partners to feel valued, and one enjoys someone chasing them to feel that value. One won't want to be suffocated by a mate, and the other will avoid insecurity in a relationship.
If there is only one of these kinds in a matchup, while the other comes from a healthy balanced relationship style, the pairing won't last.
Most often, if these two people come together, the push-pull dynamic is there from the start. The cycles can be drawn out at first and then become less so throughout the relationship.
There are roughly seven stages, and they work like this.
1. The pursuit
In this stage, there are two people with lower self-esteem. Someone needs to make the first move.
Generally, it's the one with the fear of intimacy who pursues someone they're drawn to, while the individual with the abandonment fear plays hard to get at first.
This person is reluctant to be vulnerable by exposing themselves to a new relationship. Ultimately the attention paid is enough to make it worthwhile for the boost to self-esteem.
2. The bliss
In the beginning, each partner has a good time finding the experience exciting, with more time spent together, ultimately culminating in a physical attachment.
Unfortunately, push-pull syndrome relationships like these are relatively superficial, with couples not involving themselves in intimate, deep conversations.
3. The Withdrawal
After some time, the person that initiated the union chooses to push away the mate because they become overwhelmed due to the fear of intimacy.
When intimacy begins to develop, it causes the person to consider either cooling things down or running. In most cases, this person withdraws from their mate both emotionally and physically.
4. Repel
The pair experiencing this dynamic switch places to the point because of the abandonment fear; that person now becomes the "puller" or the pursuer to avoid being left.
They will do what they deem necessary to get the attention they were once receiving. The original puller, now the pusher, being afraid of intimacy, is experiencing cold feet.
They want to be alone, finding the situation suffocating and choosing to withdraw increasingly the more the partner attempts to get close. The one feeling abandoned is appearing needy and as though they are nagging or possibly being critical.
5. Becoming distant
Fearing abandonment, ultimately, the person will pull back, acting out of self-protection in case of the union dissolving, so the hurt is less intense.
6. Reconcile
Now the intimacy is significantly decreased. The mate, afraid of intimacy, starts to see their mate in a favorable light again instead of like a threat.
The relationship is a much better option than being alone, so the pursuit begins again. Apologies, attention, and gifts begin as an extension of remorse for the unpleasant behavior to win back the mate's affection.
There is some reluctance, but the attention is still good for the ego and having a partner is better than the abandonment that was initially the focus.
7. Peace and harmony
A sense of happiness and peace return to a degree with the one person content that nothing became too intimate. The other is merely satisfied that the pair didn't end the relationship entirely.
Stages six and seven are like one and two beginning all over again – it's a cycle, and this can continue as many times as the two will allow. It works because, in essence, no one wants the pairing to progress too seriously, nor do they wish for the union to end.
In some cases, couples can go for years in these cycles. In some instances, the emotional upheaval becomes too much for one or both.
Why do the partners subject themselves to the cycle?
The cycle continues because these two individuals who suffered wounds from past experiences satisfy a necessity for the other. It's not fulfilling, not healthy, not stable, but it's better than what they see as the alternative, which they believe is being alone.
Each wants nothing deep or intimate, but they want to be sustainable. The stages create a cycle or develop a routine to maintain a partnership without meaning or substance but can last as long as they want to continue with the pattern.
Can a push-pull relationship work?
These relationships can go on for years or even for the couple's lifespan if they can develop an "armor" to the emotional rollercoaster they'll experience.
There's always that not knowing period for the one afraid of abandonment where you have to wonder if that might be the ultimate end. If you experience many cycles that can either get genuinely painful or become comfortable in the fact it's just part of the "game."
The one with the intimacy fears has less to lose in the deal due to not wanting anything serious anyway. It's unlikely this person will be left alone unless the abandonment-fearing mate grows tired of the emotional turmoil and walks away.
Can members of the push-pull game alter their behavior?
For the pair involved in pulling back in a relationship and pushing someone away in a relationship, things can change if someone realizes that the cycle they're experiencing is not healthy for either of them.
Ultimately someone will grow weary of the extreme emotional toll that a union like this takes and want better, even if that means becoming okay with the concept of being alone and healthy, instead of with someone but continually traumatized.
How to fix a push and pull relationship?
Doing a relationship dance of hot and cold or becoming close and then going distant can emotionally drain the pair enduring the toxicity of this match.
The sad part is that the push and pull are cyclic, meaning there's not a break from the turmoil; the conflict, uncertainty, and pressure continue until someone finally sees that it's unhealthy – if that happens.
Sometimes these partnerships go on for years and beyond. How can these partners avoid the addiction and save themselves from the push-pull cycle?
Here are some tips:
1. Identify the problem
Ideally, you want to recognize the dynamics of push-pull relationships
so that you're each in a better position to resolve the problems instead of labeling one or the other as single-handedly creating the pushing and pulling behavior.
Each is contributing to the cycle equally.
2. Empathize to avoid an ultimate ending
Those who want to sustain the relationship and attempt to remove the toxicity of the push-pull dynamic need empathy. Owning the fact that you play an active role in the unhealthy dynamic helps you understand your partner and the triggers for their vulnerability and fear.
Showing empathy can open up a line of communication between each of you that will ultimately relieve fears and insecurities and help develop healthier attachment habits.
Related Reading: 

How to Build Empathy in Relationships
3. Recognize how costly these dynamics can be
Couples can become addicted to the dynamics of a push-pull pairing. But the turmoil placed on emotions costs the individuals exceptionally as each person experiences fear, anxiety, stress, frustration, confusion, alienation, plus anger, all of which are wearing and unhealthy.
When you recognize the cost to your emotional health, you can then start to make necessary changes. It's not impossible to fix this dynamic.
4. Respect the other person as they are
Each person has distinct needs and attachment styles responsible for creating the push-pull basis. In some cases, the one pulling might want to have a lengthy discussion concerning partnership issues to feel security and stability so the abandonment fear can become satisfied.
A pusher, however, will begin to feel suffocated and overwhelmed by these conversations, ultimately withdrawing from their partner.
When, instead, mutual respect develops concerning the other's unique way of viewing the match, each might accommodate these differences instead of pushing against them.
5. Distance can be refreshing
Pushers need distance to reassure their sense of individuality instead of feeling that developing a partnership might cost their sense of self.
If the puller accepts a pusher's need to invigorate without becoming anxious, nervous, or critical of that time away, the pusher can enjoy self-soothing without the need to withdraw or repel. Likely the pusher will come back fully attentive and affectionate.
6. Do the work
Instead of focusing on trying to fix the other person, it's essential to work on healing some of your wounds so that you can develop into a healthy version of yourself. It can contribute to ending the push-pull cycle.
Healing some self-esteem problems until you have more self-confidence helps fight some of the insecurity and fear giving you a better perspective, ultimately creating a healthier atmosphere.
7. Allow vulnerability
When the pusher requests the puller to allow some distance periodically without feeling threatened, the pusher should give something to the relationship.
The pusher can perhaps show some emotional vulnerability. That will equate to becoming intimate at some point.
There are probably wounds creating the need to develop walls around this aspect of the pusher's heart, but using baby steps, thoughts, previous experiences, apprehensions, and fears will slowly come to light.
For the pusher to be successful, the partner needs to meet their vulnerability with compassion, support, and understanding. If there is any judgment, the withdrawal will be imminent, and the fear compounds.
Related Reading: 

Powerful Benefits of Vulnerability in Relationships
8. Don't allow a power play
Typically, the power with this theory goes to the person playing hard to get or distancing themselves while the one chasing is left vulnerable.
It will take a conscious effort to ensure that each person plays a part in making decisions in the partnership, even with small things. All things that affect the union should be shared choices.
9. Assumptions are better out of the mix
It's vital to avoid developing your version of mates or partnerships in your mind and then finding a way to support the imagery. That will cause a reaction towards your significant other based on your perception instead of what might be a point of genuineness.
By doing this, your partner might make a statement that you completely take out of context because you have created a negative spin on sincere traits.
10. Remember, healthy relationships are not impossible
Regardless of what you might have experienced or witnessed in your history, healthy relationships are possible. The push-pull cycle you're in is correctable, and you have the opportunity to develop a deeper connection if you each own your feelings and choose to express these openly.
That means without pointing fingers or holding anyone accountable for creating the issues or fixing them but instead working together to change the dynamics.
If you want to understand more about how to break the push-pull relationship cycle, watch this video.

Final thoughts
Push-pull relationships can grow to a toxic level, or two people can recognize what's happening and work together to alter the course of the partnership.
It takes work, compromise, and exposing a level of vulnerability that might make you uncomfortable. Still, if you believe the other person is right for you, there's no better place to start healing old wounds.
Share this article on
Want to have a happier, healthier marriage?
If you feel disconnected or frustrated about the state of your marriage but want to avoid separation and/or divorce, the marriage.com course meant for married couples is an excellent resource to help you overcome the most challenging aspects of being married.
You May Also Like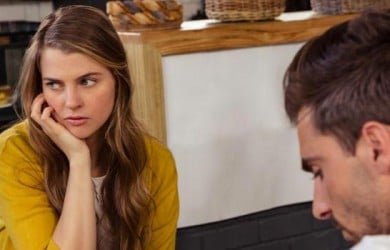 Popular Topics On Married Life