20 Benefits of Healthy Relationships
People are born with the ability to form close relationships. The need to connect and establish relationships is biologically supported and evolutionarily significant.
The innate tendency speaks the importance of relationships for a person's life- evolutionary, physically, and psychologically. Our tendency to build close relationships was and is adaptive. The benefits of healthy relationships are abundant and reinforce further our desire to connect with others.
Before we move to list the benefits of healthy relationships, let's define what we infer by healthy relationships.
What is a healthy relationship?
Having a healthy relationship means having interdependence, relying on one another without losing one's own individuality and identity.
Depending on the type of relationship and the people involved, different amounts of dependency are described as healthy. This will also vary depending on the life stage of your relationship.
For example, it is expected to need more interdependence than usual when pregnant, ill or stressed.
A healthy relationship is one in which both parties are respectful, communicating, and investing in the relationship. It is one where both can find comfort, encouragement, challenge each other in a productive way, and have individual, as well as shared, goals.
Healthy, positive relationships don't exclude the experience of conflict and arguments. All love relationships are subject to disagreements, but people communicate on overcoming them because the relationship is worth it to both sides.
Why are healthy relationships important?
Many studies have explored and captured the benefits of healthy relationships on health, habits, and mental well-being.
Not only do they permit us to have a sense of community, belongingness, and support, they also give an opportunity to grow and learn. When we have a healthy relationship, we communicate, care for another person, and depend on them too.
This helps us evolve and, with the model of a healthy relationship in mind, work on improving other less healthy relationships or our expectations.
If you are trying to respond to "why are relationships important," look for the answer in the immense benefits of healthy relationships. Let's elaborate more on the key positive effects of relationships on people's lives.
20 benefits of healthy relationships
Following are the benefits of healthy relationships and why they are good for you.
1. Better physical health
Social relationships, their quantity, and quality have important short and long-term effects on one's health, and that impact starts in childhood. Being in a healthy marriage has a positive effect on one's health, especially for men.
This effect only exists for healthy relationships, where partners are respective and appreciative of one another. The research found that unhappy or toxic relationships have a higher negative influence on health compared to people who are single.
It could be that a spouse is helping reduce the impact of stress and provide support.
We can also hypothesize that a spouse helps get rid of bad habits and thus improve health. Regardless of the mechanism, the benefits of healthy relationships include lower blood pressure and a boost in the immune system.
2. Longer life
Social connections are also relevant to our longevity. Although the actual mechanisms through which healthy relationships exhort influence are yet to be explained, the fact remains that social isolation is one of the major risks of mortality.
A meta-analysis of 148 studies concluded that social relations should be included in the list of risk factors for mortality, along with smoking and alcohol abuse. They deserve this place due to the amount of influence they hold, exceeding factors such as physical inactivity and obesity.
3. Decreased stress
One of the benefits of close relationships is decreased stress. Having someone to talk to, rely on, and share the load can have a significant impact on how we perceive the problem.
The challenge may seem easier to surmount when we have a network of healthy relationships in our corner. When we believe we can, the chance improves of us actually doing it.
Important to note is that the quality of the relationship plays a major role in how much benefits of healthy relationships we reap. The positive effects are reserved for people who enjoy satisfying and supportive relationships.
4. Quicker healing
Many studies have been done linking recovery and social support the person receives. Although more research is needed before drawing strong conclusions, it has been noted that patients with strong social support have faster recoveries.
Marriage and other types of relationships are associated with higher chances of surviving myocardial infarction and coronary artery disease and lesser chances of their recurrence.
5. Experience less pain
Being in a healthy relationship has a positive effect on pain experience. A person experiences a decrease in thermal pain when presented with a picture of their partner. This effect was not present when they were shown pictures of random attractive people.
Benefits of healthy relationships mean having feelings of euphoria and well-being due to the activation of rewards systems in the brain. Same systems that have non-pharmacological analgesia and help manage the pain better.
6. Better physical form and fitness
We can all use support and accountability when it comes to maintaining healthy eating and exercising habits. Having a support network can assist in sticking to the set goals and overcoming the challenges we meet along the way.
Surely you have seen the effects a romantic relationship can have on weight loss and physical activity because you want to look and be the best you can for your loved one.
7. Practical help
Never underestimate the power of a helping hand. It may seem insignificant until you need someone to babysit, take you to the hospital, assist with moving, and help with caring for a sick family member. It is essential to have people's practical support and assistance.
It also makes you feel less alone.
8. Changing the habits & lifestyle
When we have people who care for us, their encouragement to eat healthily, exercise, quit drinking or smoking, and take care of medical problems propels us to make the necessary changes.
When we are important to others, they take time and effort to provide the support needed to overcome bad habits and improve our well-being and life satisfaction.
9. Shared experiences
We don't need studies to tell us that the benefits of healthy relationships where we share the good and the bad is a wonderful feeling.
A close and healthy relationship adds value to our lives in many ways, and one of them is having someone to share experiences with. Let's remember the old saying:
"A shared sadness is cut in half, and shared happiness is duplicated."
10. Emotional support
Remember a time when you felt upset and had someone to hear you out and understand? Now, remember a time when you didn't feel there was someone to share a similar upsetting experience with.
Just by reflecting on those you are probably reminded of the immense importance close relationships have. Emotional support is one of the biggest advantages of cultivating healthy relationships.
11. Feeling seen and appreciated
A person we have just met usually can't have the same significance as someone we have a longstanding and nurturing relationship with. Feedback and recognition from someone who has seen us in many diverse situations tend to mean more because they have arguments and experiences to back it up.
Additionally, when we are vulnerable and open, only then can we feel appreciated for who we are, flaws and all. This makes people feel seen and treasured.
12. Higher self-esteem
As a result of caring and supportive relationships, we begin to believe in ourselves more.
When people we cherish and whose opinion we value see potential in us and think we will succeed, we are more likely to trust in our abilities too.
In the video below, Ellko discusses how self-esteem is related to relationships and why discussions with the partner are important to keep respect for self and partner intact:
13. Lower anxiety and depression
One of the key relationship benefits is a positive impact on mental health. When we feel connected and important to others, depressive and anxious symptoms decrease.
Studies show that people in happy marriages experience fewer depressive symptoms compared to those who are widowed, single, divorced/separated, and those in lower-quality marriages.
14. Opportunities for growth
Nothing is better than having someone to cheer you on and help you endure the misfortunes. Such a support system provides self-confidence and enables people to advance and go after their dreams.
Since you can find recognition for your efforts within your support system, you get quickly reinforced for the efforts you make, and you are more likely to keep growing through life's challenges.
15. A greater sense of purpose and meaning
Most people enjoy being helpful and needed by others. When we offer assistance, our knowledge, and wisdom and see other's progress due to it, we are rewarded with a sense of meaning.
The advice we offer is based on something we went through or gathered as life wisdom, and sharing it with a person in need makes what we went through slightly more purposeful.
The positive change our help creates in other's lives is the motivation to keep doing that good. And in turn, we feel fulfilled and accomplished. Our help is beneficial to someone and that makes our efforts worthwhile.
16. Enhances your communication
Healthy relationships are not just something that happens. They happen because people care about each other and invest in the relationship. Among other things, that means continuously communicating about needs, boundaries, and interests.
The more you do something, the better you become at it. The same goes for your communication and conflict resolution skills. If you are willing to learn from experience, relationships will offer opportunities to improve your talking and listening skills.
17. Become a better version of yourself
Admitting there is a problem is never easy. However, having a person you trust who won't judge you makes it a whole lot easier to share. Therefore, another benefit of healthy relationships is a safe environment to become a better version of yourself.
A healthy relationship is also a chance to recognize some old patterns or expectations that have been holding you back. Once you acknowledge the problem, you can also find support in your relationship to resolve it.
18. Better productivity
It's not surprising that when we feel better, we are more productive. Having healthy relationships not only increases our cooperation, which in turn increases success, but it also makes us healthier and more capable of working.
The positive effect can also be seen through the impact healthy relationships have on creativity because people feel more confident to share new ideas and innovations when they receive social support.
19. Encouragement to try new things
As a result of caring and supportive relationships, we begin to believe in ourselves more. When people we cherish and whose opinions we value potential in us and think we will succeed, we are more likely to take a chance and risk.
The safety net we have mitigates the risks (or at least our perception of risk) and makes us more willing and capable to try new things. Failure seems less dangerous and easier to overcome when we know we have people to rely on.
20. Be part of something bigger
Humans first lived in communities for survival reasons. Today, being a part of society has more meaning than just life or financial security. We need the feeling that we belong to something greater than ourselves.
People often enjoy living in communities since, through them, they can be a part of something larger that also helps to deal with our own mortality. When we leave something behind, we feel as though we are outliving death itself.
Takeaway
Close relationships make us happy and healthy. They positively impact our physical health by boosting our immune system, balancing our heart rate, expediting recovery, and decreasing the perception of pain.
Healthy relationships also impact our mental health and are directly linked to lower anxiety and depression and higher self-esteem and self-worth.
The benefits of healthy relationships are immense. People in healthy relationships also live longer, so if you have a chance, make an effort and invest in your relationships. We are sure you will get a return on your investment.
Share this article on
Want to have a happier, healthier marriage?
If you feel disconnected or frustrated about the state of your marriage but want to avoid separation and/or divorce, the marriage.com course meant for married couples is an excellent resource to help you overcome the most challenging aspects of being married.
More On This Topic
You May Also Like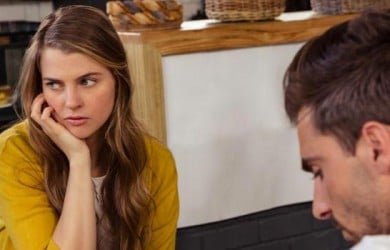 Popular Topics On Married Life