The Harsh Truth About Social Media and Relationships' Codependency
Can you last a day without using your phone and checking your social media accounts? Can you give up your social media life if it were to save your marriage?
Social media today has become part of our lives and that's the reality. For those who have grown in the age where social media and relationships are connected, do you ever think that it helps your relationship or do you think it's one of the factors that ruin relationships?
Relationships then and now
Do you ever wonder what it's like to live-in-life where there is love, marriage, and relationships without phones and social media?
Where long distance relationships mean that they have to wait for weeks or months just to be able to see a photo of their loved ones and hear from them through telegrams and letters. Where relationships mean that they have to talk about their problems privately and actually have a conversation?
This is what it was like before we had our gadgets and social media accounts.
Today, problems about relationships are being posted through rants and quotes about social media and relationships, where you can check where your partner is anytime and where, in an instant, you can get in touch no matter how far he or she is.
This is the life where flirtations happen with just a tap on a phone and where secrets are just a few apps away.
Do you ever wonder about how social media and relationships have evolved and how social media has greatly affected how we deal with love and relationships?
Social media and relationships – the good and the bad
Let's go ahead and see how relationships and social media is connected and what are the good and bad effects that it has to offer not just with our relationships but also with our own perception of love, respect, and commitment.
Social media's advantages in relationships
One of the most notable advantages of social media and romantic relationships of today is that with the use of messaging apps and other social media options to communicate, it'll be very easy to get in touch with your partner.
You don't have to worry about mailing your letter and waiting before getting a reply. This way, we are able to get in touch and make even those hard long distance relationships seem easy with the use of technology.
Unlike before when we used to rely on mutual friends and relatives to help us meet the "one", but today, our social network has expanded dramatically thanks to social media.
According to some social media and relationships statistic, over a third of couples have met their spouse through online dating sites. With social media and relationships dating websites and apps, you can easily find people to date or to be friends with.
With our busy lifestyle today, we don't have time to always go out and that's why with social media, we are able to get to know the other person well with his or her posts and how he goes well with the people around him.
You can also text and do face time whenever you are free, thereby bridging the gap and allowing you to get to know the other person better.
Social media's disadvantages in relationships.
Let's face it, with social media and relationships, there is no telling when one is going to cheat because social media is an open door for temptation.
Social media and relationships study shows that some marriages that end in divorce blame social media for its influence and we all know why.
With social media, you can meet so many people and with a tap of a button you can erase your browsing history and you can even communicate and flirt using secret messaging apps that are readily available.
Social media may help us with communicating with our loved ones but it's also an instrument where we can find other people who you can be attracted with.
Social media is an open window for those spouses who want to spy.
How easy would it be to create a dummy account and try and add your spouse to pretend you're someone else to set a trap? Will this be beneficial to the relationship?
Guess not and it will only ignite suspicion, jealousy, and paranoia.
Let's say you and your spouse aren't doing any flirting online but what if your social media accounts have taken over your relationship? What is the first thing that you would do when you wake up in the morning and even before you sleep at night?
You got it right – you are looking at your social media accounts. No time to bond, no time to talk and no time to be intimate with each other because of social media addiction.
How to protect your relationship
In a way, we are all guilty of being too real in social media and relationships tend to suffer in the process. So, how do we protect our relationships?
If you know it's not right, don't add that person or entertain chat requests. Don't start something that you know would compromise your fidelity to your partner. Focus on your real life relationships but not through a virtual medium. You can post many happy photos with hashtags like #blessed or #loveofmylife but this isn't real life, it's only for show.
You don't need likes to validate your love.
What we need is to be present here and now, to talk with your partner without gadgets, to enjoy each other's company and be there in the moment to treasure your love instead of thinking how many likes you'll get.
Social media is great and of course, we all know that we can't live without them especially if you are using it for work but we can definitely use it in moderation.
Social media and relationships are connected because we use it to communicate and be closer to our loved ones but as they say, everything in excess is bad. This goes with social media presence as well.
Use it to bridge the gap but don't give in to the temptation of doing something that you know would compromise not just your relationship but also your ideals as a person.
Share this article on
Want to have a happier, healthier marriage?
If you feel disconnected or frustrated about the state of your marriage but want to avoid separation and/or divorce, the marriage.com course meant for married couples is an excellent resource to help you overcome the most challenging aspects of being married.
More On This Topic
You May Also Like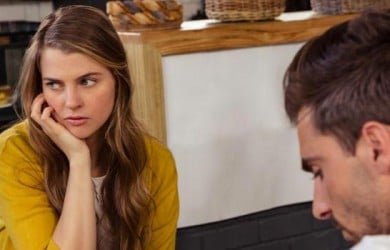 Popular Topics On Married Life