How Men Fall in Love: 10 Important Factors
Over the years, there have been various studies on how men and women approach love. According to conventional knowledge, men and women have almost entirely different biological make-up.
Generally, it is known that men fall in love with what they see while women fall in love with what they hear. However, there are some exceptions to this because some men fall in love with what they hear before they begin to check a woman's physical appearance.
This article aims explicitly to address how men fall in love. However, it is important to bear in mind that some of these points apply to women too.
Men vs. Women: Who falls in love faster?
In the past, the common belief was women fell in love faster because they were presumed to be more emotional than men. Hence, it was deduced that they were likely to fall in love faster than their male counterparts. However, with recent studies, this conjecture has been proved to be wrong.
One of the research studies worthy of mention is the article published by The Journal of Social Psychology titled: Women and Men in Love- Who Really Feels It and Says It First?
This article presents a survey report from 172 college students, revealing that more men fell in love and expressed their feelings than women.
Based on this research, women are more likely to be more cautious when seeking a suitable partner because of the biological differences between both genders, like pregnancy, for instance.
So a woman who wants to have children would check all the important boxes before she can fall in love genuinely with any man.
How long will it take a man to fall in love?
The question "how long does it take a man to fall in love?" comes with no exact correct answer because various studies give their answer to this question.
However, all indications point to the fact that men wait for an average of between one to three months before they confess their feelings. For women, they spend a long time before telling their partner that they love them.
What does love mean to a man?
When it comes to how men fall in love psychology, it is important to mention that they process love differently within themselves. For example, some men can show their love through actions, while others are comfortable with words.
In addition, some men might feel butterflies in their stomachs anytime the thought of their partner crosses their mind.
While some men can be calm and collected depending on their temperament, also, at the initial stage, many men do not carry out an in-depth inquiry into the reason why they are in love. However, they are fine if they see a woman they are attracted to and meet their basic physical needs.
Along the line, as the relationship gets older, they start to discover other important qualities that their partner should possess.
Related Reading: 

What Passionate Love Really Means
How do men fall in love?
What makes a man fall in love is what gets a Girl's attention. This makes him notice his potential partner and motivates him to know more about them.
Generally, men focus on appearances, but it doesn't understate that there are other features that they find appealing.
Then, they begin to know more about their partner, like their hobbies, likes, work-life, sexual proclivities, and the likes, which determines if they will love their partner more or not.
Related Reading: 

What Makes a Man Fall Deeply in Love With a Woman – 4 Pro Tips
10 factors responsible for men falling in love with women
Falling in love is a beautiful and interesting experience that many people don't wish to get out of. It is easy to tell when men fall in love with women because their lives revolve around them.
The question "what makes guys fall in love?" is dependent on several reasons. Here are some of the reasons that determine how men fall in love.
1. Being accepted for who they are
When a man discovers that a woman accepts him for who he is despite his flaws, he is very likely to fall in love.
Men need women with whom they can feel safe. They need someone who will not use their shortcomings against them.
Usually, when it comes to the male psychology about love, being accepted is one of the major factors determining whether they will fall in love.
A woman who is great at encouraging a man to be his genuine self will find it easy to make him open up.
Related Reading: 

Developing Acceptance Skills in a Relationship
2. When they are recognized for their worth
Unlike women, men are not so great at deciphering compliments from subtle remarks. One secret psychology to what makes a man fall in love is showing him explicitly that you recognize him for who he is.
This is also similar to making a man feel like he matters. To accomplish this, make it a habit to always remind him of how valuable he is to the world.
When he supports you, or he gets you a gift, appreciate him immensely.
3. Women who are goal-driven and inspirational
No man wants to fall in love with a woman who has no great plans for her life. When men sense that a woman prefers to be a leech instead of being inspired to achieve her goals, they will most likely lose interest.
Many men are attracted to goal-driven women in their career, finances, marital life, and anything that equals achieving success in life.
If you have seen questions like why do guys fall in love so fast, it is because they have sensed that you have shared passion, interests, and goals.
Related Reading: 

How to Be a Better Lover to Your Woman
4. The same sexual chemistry
Another reason that tells how men fall in love is when they discover that the woman shares their sexual chemistry and inclinations.
One of the important factors in adult relationships is physical intimacy. To a great extent, physical intimacy helps to keep both the man and woman together.
When it comes to the issues of sex, many men prefer if their women are open and bold about it.
This would ensure that he is attracted to the woman in the long run because he is confident that she will be a worthy romantic partner.
Also, when both parties are not shy to talk about their sexual encounters and the likes, it will be easy to have open communication, which signifies that the relationship is healthy and bound to last.
Related Reading: 

Understanding the Basic Signs of Sexual Chemistry
5. Women who are not put down by tough times
In a relationship, it is easier for partners to weather the storm together if they are like-minded. However, if the woman finds it challenging to keep her head above the water during tough times, it is a red flag for most in a relationship.
To know how men fall in love, you will find some of them asking questions about what they should expect during times of crisis. A man needs a woman that would provide cushioning support as they try to craft a way out of any problem.
If a woman can prove beyond all doubts that she can be a worthy partner through thick and thin, it will be easier to get a man to fall in love.
Related Reading: 

6 Tips to Overcome Difficult Times in Your Relationship
6. When the woman is open to love
Society is used to men setting the bait and women falling for it. However, when it comes to how men fall in love, it is interesting to mention that they don't like uptight women.
If a woman is hesitant about opening up or expressing herself when in love, the man can lose interest.
It would be difficult for him to express himself. Also, the man would feel confused and rejected, which will make him distance himself from the relationship.
7. Women who feel secure in the relationship
Generally, men don't want to be with women who don't feel confident and secure in the relationship. One of the traits that endear women to men is their confidence.
A woman's confidence and sense of security should be easily noticeable to a man because it determines to a good extent if the relationship will work out or not.
When a woman is confident and secure, the man will find it easy to open up and be vulnerable.
Also Try: Insecure in Relationship Quiz
8. Women who don't struggle with their feminine side
Even though men like women who are confident in themselves, they still want women who do not fight their feminine side.
Naturally, one way that shows how men fall in love is their ability to perform different tasks, and they appreciate it when their efforts are not underrated.
They love it when women open up to them when they need help instead of keeping to themselves.
A man will feel more confident in his abilities to be a worthy partner and helpmeet when the woman he is interested in is not reluctant to share her challenges with him.
Related Reading: 

What Do Women Want in a Relationship: 20 Things to Consider
9. Women who are worth building a future with
The truth is, not all women have future plans for themselves and their homes if they ever want one.
Men are usually quick to detect this, and when they can confirm that a woman isn't concerned about her future, they will keep their distance.
When people ask questions like what does a man want from women, one of the common answers is a futuristic-driven woman.
Hence, even though a woman is keen on living in the moment and making the most of it, the man needs to be sure that she is working on something more serious, especially with her life, career plans, etc.
10. Women who meet their standards
You must have heard men utter words like "complete package, total package, girlfriend or wife material."
These words simply convey their intent of looking for a woman that possesses all the qualities they need.
Even though it is quite impossible for a man to see a woman that has all the attributes, it is important for them that they love someone who meets the basic requirements as this is how men fall in love.
This book, written by Diana Hagee titled: What Every Man Wants in a Woman; What Every Woman Wants in a Man, is an eye-opener for both men and women. The book contains the recent marriage and relationship statistics that appeal to both men and women.
Here is a video that will help you understand the psychology behind men and women falling in love:

How does a man behave when he is falling in love?
Many women are usually concerned about the secret psychology to what makes a man fall in love.
This is why they are always on the lookout for certain behaviors that men exhibit which will let them know if he is in love or not.
However, the truth is, there are no fixed stages of falling in love for men because they behave in different ways when they are in love.
Some men can get romantic and keep their feelings private. Others might start flaunting her for everyone to see.
In addition, when some men fall in love, they immediately get the sense of responsibility that they need to provide.
The hack to determine when a man falls in love is when he starts treating you in a special way, different from how he treats his friends, especially females.
Dan Griffin's book titled: A Man's Way through Relationships: Learning to Love and be Loved provides a crucial guide to the issues men face when it comes to creating and maintaining healthy relationships.
The book contains excerpts which are interviews with men that have various experiences in their relationships and marriages.
Conclusion
After reading this piece, it will not be puzzling to find out how men fall in love. You will also come to understand that men behave in different ways when they are in love.
When you know the temperament of a man, it will be easy for you to tell if he is falling in love or not.
Share this article on
Want to have a happier, healthier marriage?
If you feel disconnected or frustrated about the state of your marriage but want to avoid separation and/or divorce, the marriage.com course meant for married couples is an excellent resource to help you overcome the most challenging aspects of being married.
More On This Topic
You May Also Like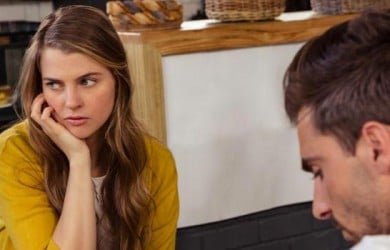 Popular Topics On Married Life