Proven Ways to Get Him to Listen – Do It Like an Expert!
Ladies, if you were ever in a relationship or married, you know all too well how men are an expert when it comes to not paying attention and all you can do is look for ways to get him to listen.
We may not even be sure why they do it but they do it very well. How many times did you ask him to put his clothes in the hamper? Or have you tried talking to him about your feelings? What's your biggest frustration when you are talking to you boyfriend or husband?
We've all been in this situation and we just want to know the proven ways to get him to listen – and we mean to actually listen and understand what we are talking about! We've heard you, so here's what we can do.
Goes into one ear and out on the other
Have you ever talked to your friends about "how my boyfriend doesn't listen to me when I talk?" Why are men in general like this?
Do they have a man-code about it? Are there ways to get him to listen? Well, before we dive into the secrets, we must first understand why they are like this.
It's a fact. Men, in general don't like long boring talks especially about what happened in the grocery store, how you like to repaint the kitchen, how you saw this bargain, and even how you feel sad and neglected.
Let's understand why your boyfriend or husband doesn't listen to you.
They don't like drama. Long talks and discussing about how he forgot the anniversary or how that girl at work seem to be that person who would flirt with him.

These are topics that your man knows would take hours of talk. Of course, we all want to know how to talk to your boyfriend about your feelings

but if it isn't the right approach – you'll just scare this man into avoiding you.

Your

husband not listening

? Is he busy thinking of someone else? See, this is the first idea that comes to our minds but is he really thinking about other girls?

You'd be surprised to know what lingers into a man's mind when he's distant and it's not just girls.
Maybe he wants to start off a new project, he has seen some good car deals and he's contemplating if he'll buy it, or he may have seen something bizarre and he wants to know how it happened.

Another issue of

my husband doesn't listen to me

problem is when you feel he's avoiding you especially when you're talking about your feelings towards him.

Never start a topic about "how my husband doesn't listen to my needs

" phrase. This is the phrase that all men know and once they hear this, they'll be running off elsewhere. Men hate long discussions.

They don't like it either that we, women would ask them questions like they are being presented in court and later on, we can use these answers to make him admit mistakes or problems.

Want to know how to effectively talk to men? Don't nag. We get it, it's frustrating, even makes us angry most of the time but you know what? Set aside that temper and understand men in order for us to know the

ways to get him to listen.
How to talk to men – the general rules
Before you resent him by saying that "my boyfriend doesn't listen to my feelings" anymore, maybe you should reassess everything first.
Instead of getting frustrated with your boyfriend or spouse and bursting out – why not go ahead and understand them? You'd see how easy it is to reach out to men.
Straight to the point and keep it simple
How to get your husband to listen to you? Simple really. Stick to the subject. Keep it simple and summarize it if needed. If you want to have a night out with him, then just say so.
Don't go telling stories like how your friend and her boyfriend are having a trip or you're tired and maybe someday you can also have time together etc. This is a boring topic for a man so if you want him to listen – be straight to the point but still sensitive.
Allow him to absorb what's happening
Another secret of how to make your boyfriend listen to you? Grab the chance of him listening to you but don't bore him. Have the ability to see if he's really bored because if you don't? He will just doze off into the conversation and we're back to square one.
Allow him time to relax first
Unlike us women, men are private individuals. Women, when they are experiencing problems at work would most definitely want to talk about it while men won't.
So, before you resent him for thinking hard or for not listening, then maybe it's time to check on him as well.
Avoid distractions
We all know that men, when they get home or have their day offs would just want to focus on their DIY projects or maybe watch football or have a drink with friends.
Yes, they have their own little world and they are good at tuning out things that will only distract them – including us.
So, how to talk so your husband will listen? Well, you don't barge in when he's busy with his "me" time. Don't ever do that. You can actually tell him that after the movie or the project he's doing, he should come to you so you can talk.
Start off positive
Now that you've got his attention, remember that the ways to get him to listen are connected. Now that he's here, start off positive. Don't nag him! No one wants that. If you want to talk to him about his feelings, start with a positive script first.
If he has been neglecting you, you can still start off by what he has been doing right and that you appreciate that and then you say what you want.
Be patient
Lastly, how to get a man to talk to you also means that you have to be patient with him. Men aren't like women so don't expect him to be.
He won't be able to be the all understanding husband instantly. Everything needs some time so being patient with him will also allow him to feel more comfortable with you so he can talk and share as well.
There can also be other ways to get him to listen but do you know what all of these have in common?
It's understanding. Sometimes, we are so focused on the fact that it's frustrating that he won't listen but we don't see that we're not really giving them an option. Open communication is both giving and taking, respect and patience and that will get him to listen to you.
Share this article on
Want to have a happier, healthier marriage?
If you feel disconnected or frustrated about the state of your marriage but want to avoid separation and/or divorce, the marriage.com course meant for married couples is an excellent resource to help you overcome the most challenging aspects of being married.
More On This Topic
You May Also Like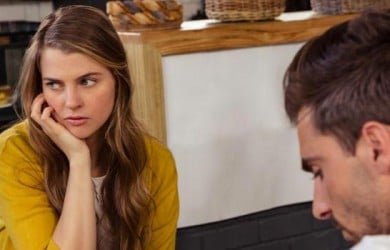 Popular Topics On Married Life