20 Ways on How to Make Him Miss You in a Long Distance Relationship
Relationships can be quite tricky, especially if you do not know what you are doing. When you add a long distance to the mix, it becomes even trickier. So, are you wondering how to make him miss you when you are separated by distance?
Long-distance tends to make things even more complicated. The distance is not just a physical but a mental and spiritual barrier that one must be prepared to face.
Staying away from a loved one is certainly a feeling that not many of us want to experience, but you might face a certain problem if you are in a situation like that.
This problem is quite common. In a long-distance relationship, it is quite difficult to meet and greet a person. This can create a feeling of loneliness. It is thus completely okay if you feel that your significant other is not missing you as much as you miss him.
It could be a simple misunderstanding, time difference, or a number of other factors. But can you from your side do anything to make him miss you more?
You certainly can. Below are 20 ways on how to make him miss you long distance and think of you more.
Related Reading: 

10 Long Distance Relationship Problems and What to Do About Them
20 ways on how to make him miss you in a long-distance relationship
If you are in a long-distance relationship with your partner and want him to miss you more, here are some ideas on how you can make him want you and miss you more.
1. Waiting is important
This goes without saying, but if you stop doing your work the moment a text or call comes, then there is a good chance you will make it harder for them to miss you.
This simple feeling of being missed arises when people are not close or distant. Making yourself available 24*7 will be counterproductive. This is one of the easiest ways on how to make him miss you.
2. Don't initiate conversations
This can be tough, but as part of your plan to wait, you need to learn to control the urge to text him now and then.
Let him make the first move. Wait it out. If it's something not necessary, you don't need to respond immediately. Take your time and let your brain process things logically.
This is important because, more often than not, we tend to make decisions based on emotions and not logic when in such a situation.
As said above, giving someone time to miss you is crucial as well.
3. Make the most of your time
In the time that you do spend with him, make it special. This is a very basic thing that most people don't value. In essence, a person will miss you if the time they spend with you is memorable.
Enjoy what each of you likes. Dinner dates, romantic getaways, visiting couple-friendly places are just some activities you can engage in.
If you haven't tried escape rooms with him, you should. They are the best when it comes to making memories.
Related Reading: 

Making Time For You And Your Spouse
4. Have a separate space
Couples tend to forget that they are two different individuals. There will arise a time when you might want your personal space to work on your own life. Give yourself that space.
Maintaining this balance is necessary. It is difficult to miss someone if they are constantly intruding in their space. Make your own space and learn to live in it. Also, give him the space he needs. This is an important step in how to make him miss you more.
5. Respect his space
As mentioned above, it is important to have personal space. Even he will require it. Demanding attention is one of the worst ways to get attention. How to make someone miss you? Let him come to you. If he is busy, has plans, or wants to work on his own life, give him that opportunity.
This will help you create a healthy relationship, but it will also result in him knowing that you care about him and his life.
6. Hangout with friends
This is a bit controversial. This is because if the sole purpose of hanging out with your friends is to make them miss you, it will negatively impact you. So, how to make your boyfriend miss you?
The good way to go about it is to enjoy your time with your friends without thinking much about them. When you hang out with your friends and have fun, he will miss you by virtue of missing out.
Here is some excellent advice on how to get through long-distance relationships together. Watch this video.
7. Give him glimpses of what he is missing
People tend to forget what they are supposed to miss, and it is quite natural, to be honest. Do they miss the person? Do they miss the company? Do they miss a certain quality?
Find out what is your best trait. If it's your cooking, make his favorite dish and let him know. If it's more physical, then wear a lovely dress and let him know. These small things can go a long way in making him crave you.
8. Surprise him
In a long-distance relationship, visiting a person is one of the best possible ways to surprise someone. If he has been the one to visit you, surprise him with a visit. This can be quite good for your relationship. It also has an added benefit of him missing you after you've left.
Related Reading: 

20 Tips on How to Surprise My Boyfriend For No Reason
9. Talk
This is one of the most important parts of any relationship. It is crucial for you as well as him. Just like any relationship, talking and communicating are vital to building a solid bond.
Over a long-distance relationship, it can be quite difficult to communicate even with today's technology. This can create misunderstandings and relationship problems.
Sharing things and talking is important, even if it's a small 5-minute call or a text about how their day was or how your day was. It will work like a charm.
10. Have a dedicated time
When does a man start to miss you? Guys can get pretty insecure over long-distance relationships. One good way to make him crave you and miss you is to have dedicated time with him. This could mean calling, texting, or even online games.
The purpose is to let them know that they are still special and that this time is a special way of letting them know. This will also lead to him knowing that he has something to look forward to.
11. Surprise gifts
Who doesn't like a surprise gift! One great way to create a memorable effect on him is to give him something unique and special. Something that will instantly make him miss you. This could be anything from a simple pen to cake or even more expensive gifts.
Related Reading: 

Gift Ideas for Couples
12. Dress up
Men are simple. They get happy and excited to see their girlfriend all dressed up and looking stunning. Are you wondering how to make a man miss you? Dress up for him!
This could mean that you don't need to wear expensive or raunchy clothes. Dress in something that he likes. He won't be able to get you out of his mind for the whole day. This is one of the easiest ways on how to make him miss you more.
13. Sexy time
Let's face it, one of the most effective and quick ways to make your boyfriend miss you is through spontaneous or random hot topics. If you want to make him want you bad, plan something sexy for the two of you.
Physical intimacy can be challenging to achieve in a long-distance relationship. One of the easiest ways to spice things up is talking sexy over the phone or sending some risqué texts.
Also Try: 

Does My Boyfriend Miss Me Quiz
14. Memorabilia
If cheesy Hollywood movies have taught us anything, it is that you can quite easily leave something of yours at their place and then let them miss you or remember you whenever they see it.
This could be done intentionally as well as unintentionally. Make sure it is special and unique.
15. Let him crave
Whether it is your sexy time or just regular day-to-day talks, let him crave what he wants. This will help you in leaving him wanting more of you. This could again be achieved through various other means. Cooking his favorite dish only a select few times is another alternative.
16. Experiment
Spice up your life by trying something you or him have never done before. It could be something when you meet him, or it could be something that can be done remotely. It could be a new game, or it could be something to try out in bed.
Experimenting creates memories that stay with a person for quite some time. This will also help in him missing you more.
Related Reading: 

4 Things a Woman Can Do to Spice up the Bedroom
17. Get busy
Don't wait around him to text or call. Get busy, take up a project, or spend a day out. Don't make yourself available that easily. Give him a reason to call or text you repeatedly. Like said earlier, give him some time to miss you while you get your work done.
18. Let him know he is a special guy
Men like to be complimented. They are more prone to remembering random positive compliments. One great way to plant yourself in his mind is to give a positive random compliment.
Let him know he means something to you and show that affection in whatever way he likes it.
19. Avoid chained texts
It was mentioned earlier that you should avoid texting first sometimes. But in cases where you do text first, avoid chain texts. Keep it short, sweet, and mysterious if possible.
Reading a ton of text can be overwhelming and, in some cases, annoying. Plus, a short mysterious text allows him to text you back as well.
20. Be different
Be your own person. Don't get lost in pleasing someone. There are plenty of people who might please him more. You, on the other hand, need to stand out. How to do it? Simply be you and what makes you special.
Standing out from the rest is a great way to have someone think of you and miss you.

Related Reading: 

9 Ways to Make Him Feel Special in a Long Distance Relationship
The bottom line
These are the 20 best ways to make him crave you in a long-distance relationship. If you suffer from some common problems that long-distance relationships have, this will help you a lot.
As a disclaimer, you need to understand not to overdo certain things. Being mature about when to do what is an important part of any relationship. Be there for him when he needs it the most. Don't be too distant from him. Most importantly, have proper communication with him.
Share this article on
Want to have a happier, healthier marriage?
If you feel disconnected or frustrated about the state of your marriage but want to avoid separation and/or divorce, the marriage.com course meant for married couples is an excellent resource to help you overcome the most challenging aspects of being married.
Learn More On This Topic
You May Also Like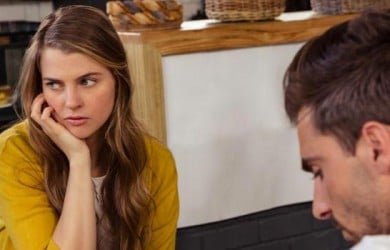 Popular Topics On Married Life