How to Cope With the Fear of Losing Someone You Love
You're happy and content, and you are starting to fulfill your dreams with your partner. Then suddenly, you find yourself experiencing the fear of losing someone you love.
You start to notice that your anxiety over this thought is growing and is starting to interfere with your daily life. What can you do about it? Is this feeling of worry even normal?
How do you get over the fear of losing someone you love?
Before we start addressing the issue and the ways on how we can cope up with these intrusive thoughts, we first need to understand where all these thoughts are coming from.
Is the fear of losing someone normal?
The answer is a clear YES!
This feeling is normal, and all of us will experience it. The feeling of loss is scary. Even at a very young age, we learn how painful loss is.
From a baby who starts experiencing separation anxiety to a toddler losing a favorite toy- these emotions are frightening and devastating to a child.
As we grow old, we start loving and caring for other people, and this feeling will include the thought of losing them – which is completely normal.
Then, we get married and start our own family, and sometimes, things can happen that can trigger the fear of losing the people we love the most.
Did you know that the fear of experiencing death or just the fear of loved ones dying is called "Thanatophobia?" Some may also use the term "death anxiety" to describe the feeling of fear of your loved ones dying.
When you hear the word "death," you immediately feel a lump in your throat. You try to divert the topic or the thought because no one wants to talk about death.
It's a fact that we will all face death, but most of us wouldn't even want to accept this fact because losing the people we love is unimaginable.
We just refuse to accept the fact that death is a part of life.
Related Reading: 

How to Address Fear in Relationships and Support Your Partner
How does the fear of losing someone you love develop?
What makes people experience the extreme fear of losing the people they love?
For some, it's from a series of losses or traumas surrounding death that may have started in their childhood, adolescence, or even in early adulthood. This can cause a person to develop extreme anxiety or fear of losing people that they love.
This fear often leads to unhealthy thoughts, and over time, it can cause the person suffering from death anxiety to develop control, jealousy, and even manipulation.
How do we know if what we are feeling is healthy or unhealthy?
The fear of losing someone you love is normal. No one wants to experience this.
We all worry and even feel sad about the thought of being left behind by the people you love, but it becomes unhealthy when these thoughts are already interrupting how you live your life.
It's considered unhealthy when it already involves anxiety, paranoia, and a change in attitude.
3 Signs that you are experiencing the fear of losing someone
Worried if you are having unhealthy thoughts about the fear of losing a loved one?
Here are the signs to watch out for when you are experiencing the phobia of losing someone you love.
1. You become preoccupied with thoughts of losing the love of your life
This is usually the start of having unhealthy thoughts of losing the people that you love. While it's normal to think about this once in a while, it becomes unhealthy when, upon waking up, you already imagine situations where you might lose the people you love.
You begin your day, and you notice that you start to associate the fear of losing someone with everything around you.
You watch the news, and you put yourself in that situation. You hear that something bad has happened to your friend, and you begin to associate this same event with yourself.
These thoughts may start as just small details, but over time, you will become occupied with these intrusions.
2. You tend to become overprotective
Once you start feeling anxious about losing the people you love, you become overprotective to the point that you can already be irrational.
You stop allowing your partner to ride his motorcycle, fearing that the person you love would encounter an accident.
You start calling your partner every now and then to check if everything is alright or you start to panic and have anxiety attacks if your partner fails to answer your chats or calls.
Related Reading: 

Overprotective Partner? Here's What You Can Do
3. You start pushing the people you love away
While some people can be overprotective and manipulative, others can do the opposite.
The feeling of dread of losing the one you love can escalate to the point that you just want to distance yourself from everyone.
For some, learning how to deal with losing the love of your life can be unbearable.
You start to avoid any form of closeness, intimacy, and even love just to make sure that you shield yourself from the pain of loss.
Is the fear of losing someone the same as the fear of abandonment?
In a way, yes, the fear of losing someone you love is also the fear of abandonment.
Have you said "I'm scared to lose you" to the person you dearly love?
Have you been in a situation where you love the person so much that you can't imagine your life without them? That's where the fear sets in.
Being scared of losing the person you love is also the fear of being abandoned.
You get used to being loved, and you become dependent to the point that you can no longer imagine your life without this person.
In fact, it's not just death that causes this type of fear. Deciding to have a long-distance relationship, a third party, a new job, and any unexpected life changes can trigger the fear of losing the person you love.
But we have to understand that we're alive, and being alive means we need to be ready to face life and all the changes that come along with it – including death and loss.
Related Reading: 

Tips to Overcome Abandonment Issues in Relationship
10 ways on how you can cope with the fear of losing someone
Yes, you are scared, and the fear of being left behind is horrible.
It's hard to accept the fact that sometimes, the person you love the most is gone, and learning how to cope with losing the love of your life or even the thought of it is hard.
This thought can strip you of your happiness and can even lead to depression.
But would you rather eliminate your chance of being happy over the feeling of loss that hasn't happened yet?
If you want to start dealing with the fear of losing someone, then check out these 10 ways on how you can start living your life without death anxiety.
1. The fear of losing someone you love is normal
We are all capable of loving, and when we love, we also feel scared that we might lose the person we cherish. It's normal to feel scared sometimes.
Most people have also dealt with loss in their lives, and this fear never goes away. That's how we can empathize with other people.
Start with validating the emotion that you are feeling. Start by telling yourself that it's okay and normal to feel this way.
2. Put yourself first
Understandably, we tend to get used to someone being there for us and loving us. In fact, it's one of the most beautiful feelings that we could ever have.
However, we should also know that nothing is permanent. That's why our happiness shouldn't depend on another person.
If you lose this person, will you also lose the will to live?
The fear of losing someone is hard, but it's harder to lose yourself in loving another person too much.
3. Accept loss
Acceptance can do so much in one's life.
Once you begin practicing acceptance, life becomes better. This is also effective when it comes to dealing with the loss of a relationship.
Though, you have to remember that acceptance will need time. Don't be too hard on yourself. Just remember that death is a part of life.
Related Reading: 

How to Accept and Move on From a Relationship
Check out this video about the strength in accepting losses:

4. Write a diary
Each time you start feeling death anxiety or that overall feeling of fear, start to write them down.
Start a diary, and don't be afraid to write down what you are feeling and a list of all of the extreme emotions and thoughts that you are having.
After every entry, list what you can do to help yourself accept that loss is a part of life.
You can also start putting notes on what helped you overcome these thoughts, and you can reflect on them when you need to.
5. Talk about your worries
Don't be afraid to talk to your partner.
You are in a relationship, and the person who should know your worry is none other than your partner.
Your partner can help you by listening to your worries and assuring you that no one is in control of everything. Having someone to talk to and having someone who understands can mean a lot.
6. Know you can't control everything
Life happens. Whatever you do, you can't control everything. You're just giving yourself a hard time.
The sooner you accept that you can't control everything, the sooner you will learn how to cope up with that fear.
Start by letting go of what you can't control.
Then, the next step is to focus on the things that you can control. For example, you can control how you can react to certain situations.
Do you really want to live a life of constant fear?
7. You're not alone
Aside from talking to your partner, you can also talk to your family. In fact, this is the time where you need your family beside you.
Dealing with anxiety is never easy.
That is why having a strong support system will help you overcome the fear of losing the people that you love.
8. Live your life
Having the constant fear of losing the people that you love will stop you from living your life.
Can you see yourself surrounded by the four corners of fear, uncertainty, anxiety, and sadness?
Instead, try your best to overcome death anxiety and start living your life to the fullest. Make memories, tell the people you cherish how much you love them, and just be happy.
Don't dwell on situations that haven't happened yet.
9. Mindfulness can help a lot
Are you familiar with mindfulness?
It's an amazing practice that we should all start learning. It helps us to stay in the present moment and not dwell on the uncertainty of our future.
We can no longer change our past, so why stay there? We are not yet in the future, and we don't know what will happen then, so why worry about it now?
Start by being grateful for your present time, and allow yourself to enjoy this moment with your loved ones.
Related Reading: 

Improve Your Relationship with Mindfulness and Meditation
10. Help others
By offering help and support to other people dealing with the same problem, you are also giving yourself a chance to heal and be better.
By talking to the people who need it the most, you don't only offer healing, but you are also building a strong foundation for yourself.
Takeaway
We will all experience the fear of losing someone we love. It's natural, and it only means that we can love deeply.
However, if we can no longer control this emotion, it will begin to disrupt our lives and the lives of the people we love.
So try to do your best to cope with the fear of losing someone you love and, in the process, learn to appreciate the time you have now.
Love deeply and be happy. Don't regret anything that you are doing for love, and when the time comes that you will face that day, you know that you have done your best and that the memories that you have shared together will last a lifetime.
Share this article on
Want to have a happier, healthier marriage?
If you feel disconnected or frustrated about the state of your marriage but want to avoid separation and/or divorce, the marriage.com course meant for married couples is an excellent resource to help you overcome the most challenging aspects of being married.
More On This Topic
You May Also Like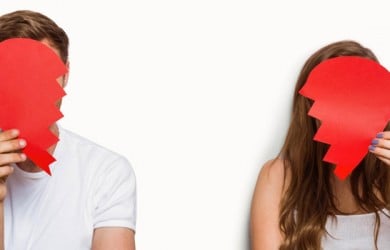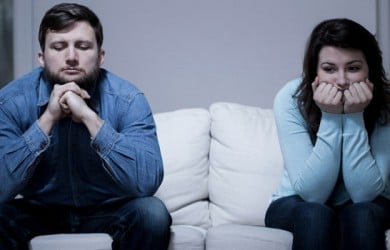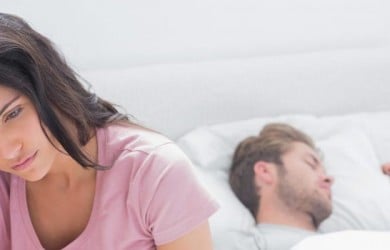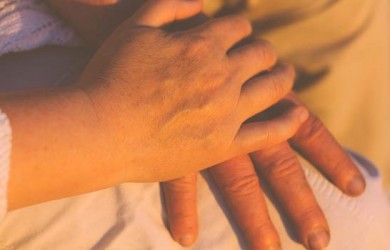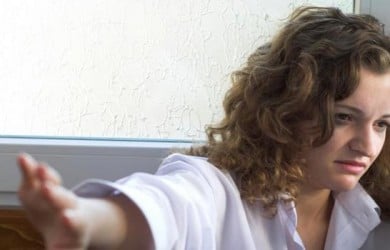 Popular Topics On Marriage Help