Fear of Losing Someone You Love: Reasons, Signs & Ways to Cope
Relationships bring love and joy, but they can also trigger the fear of losing someone dear. In this article, we explore why this fear arises, its signs, and coping strategies.
The fear of losing someone you love stems from our need for connection and past experiences of loss or dependency. Change and life's uncertainty can also fuel this fear.
Recognize signs like excessive worrying, clinginess, and avoidance. Cope by building resilience, practicing self-care, and fostering open communication. Embrace the present and find healthy ways to manage anxiety. Remember, you're not alone in this journey.
What is the fear of losing someone you love called?
The fear of losing someone you love is commonly referred to as "separation anxiety." It's a natural and deeply human emotion that arises from our strong attachment and fear of being separated from those who hold significant importance in our lives.
On the other hand, the phobia for losing someone you love to death or experiencing extreme anxiety about death is known as Thanatophobia. This intense fear can have a crippling effect on daily life, disrupting one's well-being and causing unhealthy distress.
Causes of the fear of losing someone you love
The fear of losing someone you love can stem from various causes, each deeply rooted in our human experiences and emotions. Past experiences of loss, abandonment, or a sense of dependency can contribute to this fear.
Additionally, the fear may be intensified by a fear of change, the unpredictability of life, or a deep attachment to the person. Understanding these causes can help us navigate and address this fear with empathy and self-compassion.
7 reasons behind the fear of losing someone you love
There could be many reasons why you experience the fear of losing a loved one. Here are some common ones.
1. Trauma or bad experiences
The fear of losing someone in a relationship can erupt from negative past experiences.
If you had a traumatic experience in a relationship, it impacts you psychologically. You might start to fear being in a relationship because you might think they will leave.
Maybe you had a toxic relationship and have started looking at all relationships through that lens. You might fear it will happen again, which might impact your decisions.
2. Insecurity
The fear of losing someone you love in a relationship can also be a result of insecurity.
When people are not confident enough or may feel not good enough for their partner, they experience fear of losing someone.
Maybe you belittle yourself or think you don't deserve love. These thoughts can make you fear losing a loved one.
3. Their treatment towards you
Fear of losing someone you love also arises when someone mistreats you. You keep succumbing to their toxicity because you keep hoping they will change, but their behavior makes you feel insecure, and you fear losing them.
4. Uncertainty and change
Life's unpredictability and the fear of change can contribute to the fear of losing someone. The fear of the unknown and the potential disruption to familiar routines and dynamics can create anxiety.
5. Dependency and reliance
The fear of losing loved ones can be a consequence of over-dependency. Relying heavily on someone for emotional support and fulfillment can magnify the fear of losing them. The idea of losing that source of support and stability can be overwhelming and unsettling.
7 signs that you are experiencing the fear of losing someone
Worried if you have unhealthy thoughts about the fear of losing a loved one?
Here are the signs to watch out for when experiencing the phobia of losing someone you love.
1. You become preoccupied with thoughts of losing them
This is usually the start of having unhealthy thoughts of losing the people you love. While it's normal to think about this once in a while, it becomes unhealthy when, upon waking up, you already imagine situations where you might lose the people you love.
You begin your day, and you notice that you start to associate the fear of losing someone with everything around you.
You watch the news, and you put yourself in that situation. You hear that something terrible has happened to your friend, and you begin associating this same event with yourself.
These thoughts may start as minor details, but you will become occupied with these intrusions over time.
2. You tend to become overprotective
Once you start feeling anxious about losing the people you love, you become overprotective to the point that you can already be irrational.
You stop allowing your partner to ride his motorcycle, fearing that the person you love would encounter an accident.
You start calling your partner now and then to check if everything is alright, or you start to panic and have anxiety attacks if your partner fails to answer your chats or calls.
3. You start pushing the people you love away
While some people can be overprotective and manipulative, others can do the opposite.
The feeling of dread of losing the one you love can escalate to the point that you want to distance yourself from everyone.
For some, learning how to deal with losing the love of your life can be unbearable.
You start to avoid any form of closeness, intimacy and even love to make sure that you shield yourself from the pain of loss.
4. You face overwhelming anxiety
Experiencing intense anxiety, panic attacks, or a constant feeling of unease when separated from your loved one, even for short periods of time.
Watch BBC's 'Incredible animation on battling and overcoming anxiety' in this video:

5. You sense loss of enjoyment
Finding it difficult to enjoy activities or engage in hobbies independently, as the fear of losing your loved one overshadows other aspects of life.
11 ways on how you can cope with the fear of losing someone
Yes, you are scared, and the fear of being left behind is horrible. But how to overcome fear of losing someone.
It's hard to accept that sometimes, the person you love the most is gone, and learning how to cope with losing the love of your life or even the thought of it is hard.
This thought can strip you of your happiness and can even lead to depression.
But would you instead eliminate your chance of being happy over the feeling of loss that hasn't happened yet?
If you want to start dealing with the fear of losing someone, then check out these ways on how you can start living your life without death anxiety.
1. The fear of losing someone you love is normal
We are all capable of loving, and when we love, we also feel scared that we might lose the person we cherish. It's normal to feel scared sometimes.
Most people have also dealt with loss in their lives, and this fear never goes away. That's how we can empathize with other people.
Start with validating the emotion that you are feeling. Start by telling yourself it's okay and normal to feel this way.
2. Put yourself first
Understandably, we tend to get used to someone being there for us and loving us. It's one of the most beautiful feelings that we could ever have.
However, we should also know that nothing is permanent. That's why our happiness shouldn't depend on another person.
If you lose this person, will you also lose the will to live?
The fear of losing someone is hard, but it's harder to lose yourself in loving another person too much.
3. Accept loss
Acceptance can do so much in one's life. Even when you're stuck wondering how to deal with the fear of losing someone.
Once you begin practicing acceptance, life becomes better. This is also effective when dealing with the loss of a relationship.
Though, you have to remember that acceptance will need time. Don't be too hard on yourself. Just remember that death is a part of life.
4. Write a diary
When you start feeling death anxiety or that overall feeling of fear, start to write them down.
Start a diary, and don't be afraid to write down what you are feeling and a list of all of the extreme emotions and thoughts that you are having.
After every entry, list what you can do to help yourself accept that loss is a part of life.
You can also start putting notes on what helped you overcome these thoughts, and you can reflect on them when you need to.
5. Talk about your worries
Don't be afraid to talk to your partner.
You are in a relationship, and the person who should know your worry is none other than your partner.
Your partner can help you by listening to your worries and assuring you that no one is in control of everything. Having someone to talk to and having someone who understands can mean a lot.
6. Know you can't control everything
Life happens. Whatever you do, you can't control everything. You're just giving yourself a hard time.
The sooner you accept that you can't control everything, the sooner you will learn how to cope up with that fear.
Start by letting go of what you can't control.
Then, the next step is to focus on the things you can control. For example, you can control how you can react to certain situations.
Do you want to live a life of constant fear?
7. You're not alone
Aside from talking to your partner, you can also talk to your family. In fact, this is the time when you need your family beside you.
Dealing with anxiety is never easy.
That is why having a strong support system will help you overcome the fear of losing the people that you love.
8. Live your life
Having the constant fear of losing the people that you love will stop you from living your life.
Can you see yourself surrounded by the four corners of fear, uncertainty, anxiety, and sadness?
Instead, try your best to overcome death anxiety and start living your life to the fullest. Make memories, tell the people you cherish how much you love them, and be happy.
Don't dwell on situations that haven't happened yet.
9. Mindfulness can help a lot
Are you familiar with mindfulness?
It's a great practice that we should all start learning. It helps us to stay in the present moment and not dwell on the uncertainty of our future.
We can no longer change our past, so why stay there? We are not yet in the future, and we don't know what will happen then, so why worry about it now?
Start by being grateful for your present time, and allow yourself to enjoy this moment with your loved ones.
10. Help others
By offering help and support to other people dealing with the same problem, you are also giving yourself a chance to heal and be better.
By talking to the people who need it the most, you don't only offer healing, but you are also building a strong foundation for yourself.
11. Focus on the present moment
Stay grounded in the present by practicing mindfulness. Shift your focus from worrying about the future to appreciating and cherishing the present moments with your loved one.
Some more questions
Relationships can stir up fears and uncertainties. Let's explore some common questions about the fear of losing someone and discover compassionate answers that provide clarity and support.
Is the fear of losing someone normal?
Yes, the fear of losing someone is a common and normal human experience. Our deep emotional connections can trigger fears of separation and loss, highlighting the importance of the relationship.
Is the fear of losing someone the same as the fear of abandonment?
While related, the fear of losing someone and the fear of abandonment have distinct nuances. The fear of losing someone encompasses a broader range of potential losses, whereas the fear of abandonment specifically focuses on being left behind or rejected.
How does the fear of losing someone you love develop?
The fear of losing someone can develop from various factors, such as past experiences of loss, attachment styles, fear of change, and a strong emotional dependence on the person. Each person's experiences shape their individual fear.
What can I do to strengthen my relationship and reduce my fear of losing my partner?
Focus on building trust, nurturing open communication, and cultivating a healthy sense of independence within the relationship. Engage in activities that foster connection and support, seek professional help if needed, and practice self-care to alleviate fears.
How do I stop being afraid of losing someone I love?
Addressing the fear involves acknowledging and understanding its roots, practicing self-compassion, challenging negative thoughts, and developing coping mechanisms. Openly communicating with your loved one about your fears can also help build a foundation of reassurance and support.
Look beyond the fear
We will all experience the fear of losing someone we love. It's natural, and it only means that we can love deeply.
However, if we can no longer control this emotion, it will begin to disrupt our lives and the lives of the people we love.
So try your best to cope with the fear of losing someone you love and, in the process, learn to appreciate the time you have now.
Love deeply and be happy. Don't regret anything that you are doing for love, and when the time comes that you will face that day, you know that you have done your best and that the memories that you have shared will last a lifetime.
Share this article on
Want to have a happier, healthier marriage?
If you feel disconnected or frustrated about the state of your marriage but want to avoid separation and/or divorce, the marriage.com course meant for married couples is an excellent resource to help you overcome the most challenging aspects of being married.
You May Also Like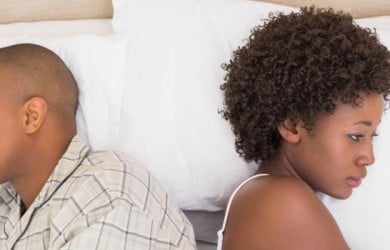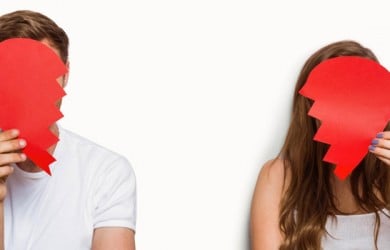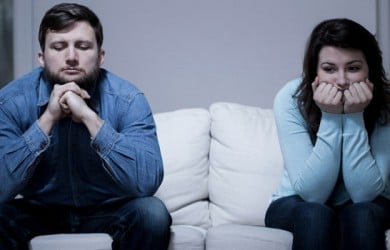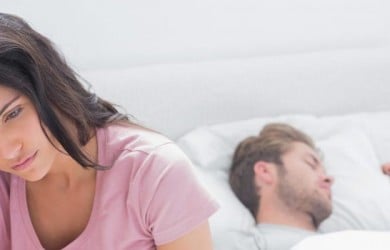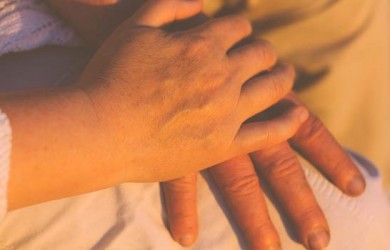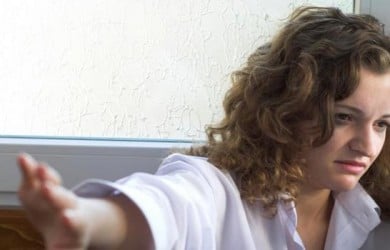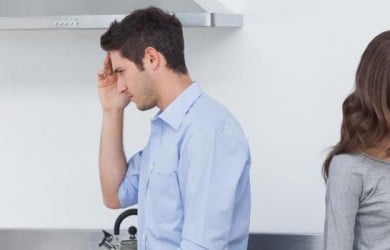 Popular Topics On Marriage Help