20 Signs & Symptoms of Emotional & Psychological Trauma in Relationship
An unhealthy relationship can cause both emotional and psychological trauma. Ongoing conflict and abuse can lead to distress, which leads to the development of trauma symptoms over time. Here, learn about signs of emotional trauma, as well as how you can begin healing from emotional trauma.
Psychological & emotional trauma in relationships: what this means
You may be asking questions like, "What is emotional trauma?" or, "What is psychological trauma?" On the most basic level, psychological and emotional trauma is damage to a person's mind after an overwhelming or scary event.
People often think of trauma as arising from a dangerous or life-threatening situation like war or a violent shooting. Still, ongoing distress from an unhealthy relationship can also lead to symptoms of trauma.
In the context of a relationship, emotional trauma can occur when a partner has been manipulative or engaged in behaviors like isolating their partner from friends and family or giving the partner the "silent treatment." Emotional and psychological trauma can also appear when one partner is physically or sexually abusive or destroys their belongings.
Ultimately, any relationship that involves domestic violence and/or controlling behaviors can lead to signs of emotional trauma within the relationship.
Symptoms of psychological trauma in a relationship: 10 signs
If you're suffering from psychological trauma in your relationship, you may begin to show some side effects. The psychological trauma examples below show that you have this type of trauma in your relationship.
1. Difficulty concentrating
When you're involved in a relationship that leads to psychological trauma, you may find that you just cannot focus or get anything done. Your brain is so fixated on the abuse you've experienced that you just can't get other things done.
2. You question your reality
Abusive partners may engage in a type of behavior called gaslighting, in which they make you feel as if your perception is incorrect. For example, they may deny saying or doing things that they did say or do.
Over time, you begin to question yourself, because they've constantly told you that your version of reality is wrong.
3. You begin to blame yourself
Psychological trauma can change the way that you think, to the point that you may blame yourself for your partner's behavior. There is a good chance you entered into the relationship thinking that physical or emotional abuse is never acceptable.
Still, you may eventually convince yourself that you deserve the abuse after being in an unhealthy relationship because of something you did wrong.
4. You see yourself in a negative light
Psychological trauma can begin to change the thoughts you have about yourself. You may have been confident before the relationship, but now you find yourself thinking that you are somehow flawed or unworthy.
Related Reading: 

4 Tips on How to Get Rid of Negative Thoughts in Relationships
5. Your perception is skewed
Trauma in a relationship can have lasting negative effects. Part of understanding psychological trauma is realizing that it can change your outlook on life. You may begin to view the world as a negative or unsafe place.
6. You startle easily
https://www.marriage.com/advice/mental-health/how-to-heal-from-relationship-trauma/
When psychological trauma leads you to believe that the world isn't safe, you will find yourself constantly looking for signs of danger in your environment. This can cause you to startle easily.
The increased startle response can even be a symptom of post-traumatic stress disorder (PTSD), a mental health condition that occurs when someone has experienced a trauma event or event.
7. Rationalizing
You can begin to recognize psychological trauma by looking at how you explain your partner's abusive or traumatizing behaviors.
If you make excuses such as, "He was just having a bad day," or, "This wouldn't have happened if I would have been a little more appreciative toward her," you are probably living with psychological relationship trauma.
8. Misinterpreting events
Since trauma leads you to be on high alert for potential danger, you may notice that your brain interprets harmless events as being dangerous.
For instance, you may overreact to a loud noise, because it triggers memories of abuse in your mind. Or, you may perceive that someone talking in a loud voice is somehow violent or aggressive, but in reality, they are just excited.
Related Reading: 

Negative Experiences of the Past can Affect Your Relationship
9. Excessive guilt
Being exposed to psychological trauma means losing a sense of control over your safety and wellbeing.
You may try to regain control by blaming yourself, leading to feelings of guilt. If this is the case, you'll find that you spent a considerable amount of time thinking about what you've done wrong or what you could have done differently to stop the abuse.
Learn how to deal with guilt with Russell Brand:
10. Intrusive thoughts
Another one of the common symptoms of psychological trauma is intrusive or unwanted thoughts. You may be focused on something else, and then become flooded with thoughts of abuse that has occurred within your relationship.
For instance, you may find that you cannot stop thinking about instances of verbal abuse or physical violence.
Emotional trauma in relationship: 10 signs
The effects of trauma can also show up in emotional symptoms. The signs below can help you to recognize emotional trauma within your relationship.
1. Feelings of shock
Being exposed to relationship trauma can make you feel shocked, as if you cannot believe such abuse would happen to you.
2. Irritability
You may have had an upbeat, bubbly personality before your trauma, but afterwards, it is not unusual for people to become irritable. You may notice that you are annoyed easily or snapping at other people.
3. Mood swings
Another one of the examples of emotional trauma signs is mood swings. After living through trauma, you're likely to find that your mood quickly changes. It is because the brain has become more reactive to what is going on in the environment.
4. Feelings of sadness
Sadness is one of the most common emotional reactions to trauma, so you're likely to feel down if you're in a traumatic relationship.
Also Try: 

Why Am I Sad Quiz
5. Anger
Anger is another common emotional reaction to trauma. You may lash out at others or become easily provoked if you're experiencing emotional signs of trauma.
Related Reading: 

5 Valuable Tips on Managing Anger in Relationships
6. Repressing Emotions
Trauma can be difficult to process, so some people may cope by repressing their emotions. You may deny that you are sad or upset in an attempt to move on from the trauma.
Related Reading: 

How to Overcome Emotional Repression in Your Relationship
7. Difficulty with emotional regulation
Most psychologically healthy people are able to regulate their emotions, meaning they can cope with stress and experience negative emotions without reacting in an inappropriate or socially unacceptable fashion.
After living through trauma, it is not uncommon for people to struggle with emotional regulation, so they may react very intensively when sad or angry, or have emotional meltdowns over situations that seem minor to others.
8. Attempting to numb emotions
Trauma can lead you to feel "numb" so that you do not have to cope with upsetting emotions like sadness or guilt.
You may turn to unhealthy or even dangerous methods of emotional numbing, which could include drinking, using drugs, or engaging in self-injury.
Also Try: 

Do You Suffer From Emotional Numbness Quiz
9. Feeling disconnected from other people
If you notice yourself withdrawing from family and friends and remaining isolated, this could be a sign of emotional trauma. It can be difficult to connect with others when you're feeling shock, sadness, or guilt surrounding trauma.
10. You feel different
Just as trauma can lead you to feel disconnected from other people, it may also cause you to feel as if you are somehow different from those who have not experienced trauma.
Trauma comes with feelings of shock and disbelief, and you may feel as if others simply cannot relate to your experience.
Are emotional and psychological trauma the same?
You may be wondering if emotional and psychological trauma are the same. It turns out that the psychological effects of trauma may be more significant than emotional trauma. People may use the terms emotional trauma and psychological trauma interchangeably, but there are differences between the two.
For example, psychological trauma affects the way that people think. If you have psychological trauma symptoms, you may begin to question your thoughts and intelligence, or feel that you are somehow crazy.
You may have trouble thinking logically. On the other hand, emotional trauma affects your feelings. It can cause you to feel sad, guilty, or frightened. While emotional and psychological trauma are different, they do often go hand-in-hand.
Effects of untreated trauma on a relationship
When trauma occurs in the context of an abusive relationship, the abuse is likely to continue if not treated. It is necessary to leave a toxic relationship to recover from emotional trauma in many instances.
When trauma is untreated, you will likely carry side effects into your next relationship. For example, you may withdraw from your next partner or distrust them because you are afraid you will experience the same abuse again.
Irritability and mood swings from trauma can make it difficult to have a healthy relationship. You may have frequent conflict or overreact to seemingly small situations within the relationship if you perceive them as being somehow threatening.
Trauma can also lead you to be unwilling to rely upon your partner for support. Instead of communicating your feelings, you may isolate and put up walls, leading to problems.
Finally, since trauma can lead to feelings of betrayal, you may be constantly on the lookout for signs that your partner will betray or mistreat you.
In the end, the effects of untreated trauma are quite damaging not only for you but also for your intimate relationships.
How to overcome emotional and psychological trauma
Emotional and psychological trauma can come with troubling symptoms. Fortunately, there are ways to recover from emotional trauma. In many cases, therapy or counseling is the first line of treatment for trauma. In therapy, you can process your feelings with a mental health professional and overcome the difficult emotions you are experiencing.
One specific type of therapy called interpersonal psychotherapy teaches people how to improve their relationship functioning and can benefit those experiencing the effects of emotional and psychological trauma.
Another type of therapy, called EMDR, is widely used to treat trauma symptoms, and a large body of research has found that it is effective.
The best type of counseling for trauma will depend on your unique needs and preferences, but reaching out for intervention from a mental health professional is often the first step toward healing emotional trauma.
Beyond counseling, the following practices can be helpful if you are trying to recover from emotional and psychological trauma:
Get Regular Exercise

Practice Yoga or Meditation

Join a Support Group

Spending Time with Caring Friends

Try a New Hobby

Volunteer
With a combination of therapy, self-care, and support from loved ones, you can begin to recover from your trauma and reclaim that life you once had.
Conclusion
Living through emotional and psychological trauma can create distress and lead to painful emotions. These feelings may be difficult to overcome, but you can heal with the help of a therapist.
Therapy sessions provide a safe space for you to process your emotions and learn new ways of thinking after living through trauma.
A therapist can also provide you with psychoeducation to develop an understanding of trauma symptoms and learn ways to cope. Over time, you can move forward from the trauma and begin to see life in a new way.
Instead of being fearful or having a negative outlook on the world, you'll begin to have hope for the future and a sense of safety in the present moment.
As you heal and surround yourself with supportive people, you'll find that you're able to have a loving relationship again, without allowing symptoms of emotional and psychological trauma to interfere with the connection you have with a significant other.
Reaching out for help may seem intimidating, but you have so much to gain.
Share this article on
Want to have a happier, healthier marriage?
If you feel disconnected or frustrated about the state of your marriage but want to avoid separation and/or divorce, the marriage.com course meant for married couples is an excellent resource to help you overcome the most challenging aspects of being married.
More On This Topic
You May Also Like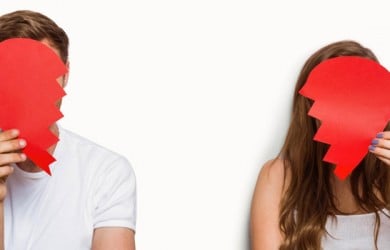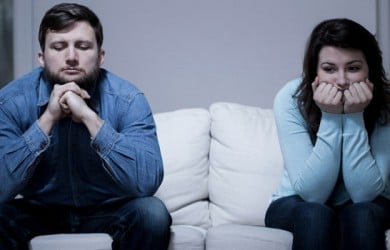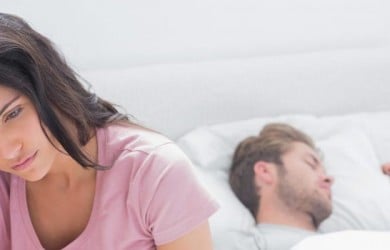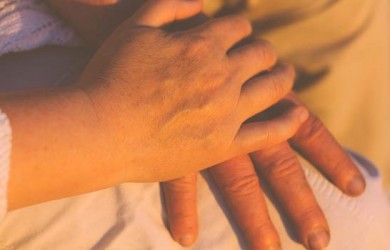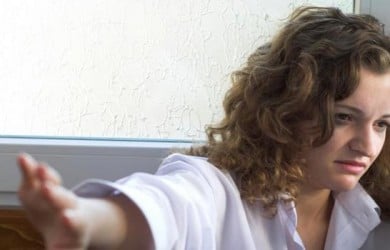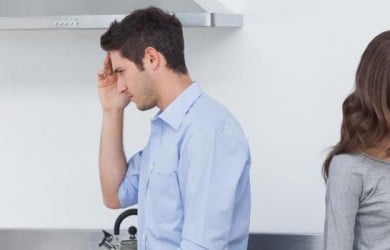 Popular Topics On Marriage Help