20 Signs You're In An Intimate Relationship
When people think of intimacy, they might initially think of sex, but intimacy is about so much more than getting physical.
Intimacy is about closeness, not sex. Intimacy doesn't have to be romantic at all. You can have intimate moments with your best friend because you're so close.
But intimacy is important for your romantic relationship. Intimacy has been shown to improve your health, make your relationship more exciting, and boost the ever-important oxytocin hormone.
Do you want to learn how to be intimate?
Is a couple being intimate healthy?
We're going behind the curtain and defining what relationship intimacy really means. Keep reading to define intimacy and learn 20 signs you're in an intimate relationship and what to do if you realize your relationship isn't as deep as you thought.
What is Intimacy?
What does intimate mean in a relationship?
Physical intimacy is the act of cuddling, kissing, holding hands, and having intercourse. This is great for couples since it released oxytocin. This hormone is responsible for building trust, relieving stress, and promoting bonding between partners.
But sex isn't everything when it comes to happy, healthy intimate relationships. Couples also need emotional intimacy.
Emotional intimacy is built when couples develop deep chemistry and familiarity. It's the ability to be vulnerable together without judgment.
Intimacy is about attachment and attention. It means you're giving one another your undivided attention. It's making each other feel special.
Who doesn't want that in a relationship?
Not only is this a great way to ensure a deep connection, but studies show that the older a couple grew together, the more importance they put on emotional intimacy.
Are you in an intimate relationship? Sometimes we think we are, but when we delve deeper, we see that our relationship still needs a bit of help.
Next up are the top signs that your relationship is on the right track!
20 Signs Of Intimacy in a Relationship
Find out the following signs of an intimate relationship:
1. You trust each other
There is no doubt that trust is important in the relationship and intimacy. Couples who have high levels of trust enjoy more fulfilling relationships.
Trust helps you feel comfortable and confident in your relationship.
You build trust by growing in emotional, mental, and physical intimacy together.
2. You have shared experiences
What does intimate mean in a relationship? It means sharing your lives and building a deep connection.
Couples who do new and exciting activities together experience a boost in relationship satisfaction.
Whether you're doing something huge like starting a family or buying a house, or doing something a little more low-key like taking a language class together, sharing experiences will boost your intimacy.
3. You have strong chemistry
Chemistry is a great sign that your emotional and physical intimacy is strong in your relationship. You are so emotionally connected that you don't need any filler to enjoy your time together. All you need is each other.
4. You rely on each other freely
What is intimacy? Intimacy bonds you in a relationship, and it allows you to rely on each other without hesitation.
If you trust your spouse to support you and know that they will always have your back, this is a sure-fire sign that your relationship is on the right path.
5. You've developed nonsexual intimacy
Still wondering how to create intimacy?
Physical affection is strongly related to heightened intimacy and partner satisfaction. Intimacy does not have to include sex. Physical affection such as a kiss, massage, hand-holding, hugging and cuddling all contribute to an increase in intimacy.
6. You work together as a team
There are two types of couples:
Ones who work together as a team and use communication and love to accomplish their goals, and

Ones who become frustrated by teamwork and tend to lash out at each other
If you are in the first category, your relationship is chock-full of that emotional intimacy and connection you need to work as a team.
7. You have an unspoken language
Can you tell what your partner is thinking just by the way they look at you? Can you read their expressions when you're out at a party? Do you have an unspoken language together?
If so, your intimacy is skyrocketing!
8. You're honest with each other
Honesty is essential to a healthy intimate relationship, but it isn't always easy to dish out the truth to your spouse.
If you believe that your partner will always have your back and you share that deep, intimate connection, you'll never have to worry about being honest in all things.
9. They're the first person you want to talk to
One great way to tell if you have intimacy in your relationship is to gauge the following.
When you:
Hear something funny

Find out a juicy piece of gossip

Have something big happen in your life
Who is the first person you want to tell – your besties or your partner?
If your partner is the first person you want to share the news with, your intimacy is strong.
10. You make each other a priority
There are endless benefits to having a regular date night. Partners who regularly share a date experience deeper intimacy, increased communication, and more passion and excitement in their relationship.
As a bonus, married couples who make a habit of date night are less likely to get a divorce!
11. You are best friends
What is intimacy? It's two people who are best friends.
Studies show that marital satisfaction is twice as high for partners who view each other as their best friend.
If you and your partner proudly declare each other as your best friend, you are on the right path to building relationship intimacy.
12. The kiss is amazing
Still, wondering how to create intimacy? Start by kissing!
Do you remember when you first met, and you felt like you could kiss for hours?
It turns out there's a scientific reason why kissing feels so good. Kissing promotes attachment. Sharing a smooch can also reduce anxiety and provide a sense of safety between couples.
13. You have great communication skills
One of the top ways to show intimacy is through communication.
Communication is the key to a successful relationship and an intimate connection. The more you talk, the more intimate topics you're bound to discuss.
Have you ever heard of pillow talk? This is a reference to the moments after intimacy when couples lay together, cuddle, and talk. Pillow talk improves closeness, emotional intimacy, and relationship satisfaction.
14. There's a certain level of lust
Sex shouldn't be discounted when it comes to intimacy! Sexual satisfaction predicted heightened emotional intimacy in couples.
Having an intimate relationship with your partner has been known to reduce anxiety and stress. In some cases, intimacy and the release of the oxytocin hormone may actually act as an antidepressant in women.
Intimacy isn't only good for your relationship. It's also good for your health. Research shows that physical intimacy raises the body's immunoglobulin A, which acts as an antibody that helps fight off infections and strengthens your immune system.
15. You want to get to know each other
Growing emotional intimacy is all about having a deeper connection, and what better way to strengthen your relationship than to get to know each other better?
The best ways to be intimate is to:
Play would-you-rather

Ask get-to-know-you questions

Play a game of truth or dare

Take fun quizzes online

Find out your love languages

Take the Myers Briggs personality test
Taking the time to discover your goals, fears, and fantasies is a great sign that your emotional intimacy is strong.
16. You respect each other's boundaries
When you are open with your partner, you can discuss your insecurities and discuss your personal boundaries.
Respect contributes to your romantic, emotional wellbeing, trust, and safety. Whether your boundaries are sexual, physical, or emotional, showing each other deep respect will contribute to healthy intimate relationships.
Check out this quick video below to know important boundaries in a relationship:

17. You don't fear vulnerability
You want your partner to think the best of you, so it isn't always easy to be vulnerable and admit your faults. But vulnerability is a great sign that you and your spouse have attained true and lasting intimacy in your relationship.
18. You flirt
Flirting is a great sign that you have intimate feelings in your relationship. Eye contact can actually heighten emotional intimacy and vulnerability between partners.
When it comes to ways to show intimacy, flirting with your partner boosts your physical connection, increases your self-esteem, and enhances your connection.
If you still find yourself dressing up for each other, making flirty jokes, and checking each other out after many months of dating, that's one of the guaranteed signs of intimacy.
19. You never feel judged
Still wondering how to be intimate? Being intimate with someone is about being vulnerable to your partner and never having to worry that they're going to judge you.
This is great because it allows you to be completely honest with your partner and further strengthen your relationship.
20. You put your phones down
One survey reveals that 1 in 10 couples admit to checking their phone while they're making love! If that doesn't spell addiction, we don't know what does.
There's no doubt that our phones can be useful – they help us work, keep us entertained, and allow us to connect with friends and loved ones. But misused, our cell phones can hurt our love life.
Research shows that of 308 adults, 46.3% admitted to feeling snubbed by a partner's phone use.
Further research reveals that thus phubbing (phone + snubbing) can lead to depression among married couples.
Partners who put their phones down and go tech-free for at least thirty minutes each day improve their partner intimacy by giving each other their undivided attention.
What to do if you're not in an intimate relationship
If you read the above and have discovered that you are in a non-intimate relationship or that your relationship needs more intimacy, don't worry. There are plenty of ways to show intimacy that may cue your partner into your need for a deeper connection.
What is being intimate, and how can you increase it in your life?

Show physical affection that doesn't lead to sex. This will boost that bonding oxytocin.

Do something new together.

Talk about intimacy and how important it is to you.

Unplug and

spend some quality time together

. As we learned earlier, technology can get in the way of truly connecting on an intimate level.

Communicate, communicate, communicate. This is how you will get to know each other better, build trust, and develop that deep connection.
When you do these things, you help strengthen your connection to your partner or crush and build intimacy in your relationship.
Questions to ask your partner to improve intimacy
Don't be afraid to ask silly questions to loosen your partner up and get them laughing, but don't be afraid to dig deeper.
Here are some questions to ask your partner about you / each other:
Do you ever see yourself married?

Do you want kids?

What is your favorite memory?

If you could do anything in the world without money being a factor, what would you do?

What is on your bucket list?

If you could be there for any historical event, what would it be?

What is an object that means more than anything to you?

How have you changed in the last three years?

What is something nobody knows about you?

Do you want to learn any new skills?

What does our relationship mean to you?
Asking fun get-to-know-you questions over wine is like doing a dive deep into what makes each of you tick and is sure to strengthen your intimacy.
Conclusion
An intimate relationship is about more than just sex. Couples who share true intimacy have a deep emotional connection.

Couples who are intimate have deep trust for one another.

Emotional intimacy means you can rely on each other and work as a team.
If you're not in an intimate relationship or your current relationship needs an intimacy boost, don't panic! Learning how to be intimate is easy. There are plenty of things you can do to deepen your connection. Practice nonsexual physical affection, unplug from technology and focus on each other, and open the lines of communication.
Enjoy your relationship. True intimacy isn't achieved overnight. The longer you are together and the more time you devote to truly getting to know each other, the deeper your intimacy will be.
Share this article on
Want to have a happier, healthier marriage?
If you feel disconnected or frustrated about the state of your marriage but want to avoid separation and/or divorce, the marriage.com course meant for married couples is an excellent resource to help you overcome the most challenging aspects of being married.
More On This Topic
You May Also Like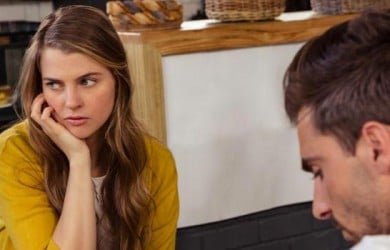 Popular Topics On Married Life