5 Valuable Tips on Managing Anger in Relationships
Out of all problems, many of the serious yet common issues that spring in a relationship root up from anger.
From lingering grudges resulting in fights and arguments to feeling emotionally detached from your partner; anger in relationships has always been regarded as the stumbling block.
However, little do we know that anger is just an emotion. An emotion that is inevitable, and all-natural to feel.
And to your surprise, 'anger' does not share the onus of your problems, but perhaps it is the consequences this emotion brings about, that are to be blamed.
Thus, it is extremely important to know how to deal with anger in a relationship. Do not know how to control anger and frustration in a relationship?
It is imperative for you to control your anger, and soften your partner's anger to foster a healthy relationship.
Dealing with anger issues isn't all that difficult if you are determined to control issues in relationships. There are many ways to control anger.
So, how to calm down when angry? How to control your emotions in a relationship?
By now, you must have realized that yelling and screaming in relationships is of no use. So, read along for a couple of healthy ways to deal with anger in relationships.
1. Think before you act
When anger rises, think of the consequences- Confucius
This is one of the best strategies to manage your anger. Think thoroughly about everything before you act out of anger.
Think whether you being angry is really worth it or not. Ponder over the consequences your action will bring; are they fruitful, or will they worsen the situation?
Doing this not only saves you from acting irresponsibly and hurting your relationship but also gives you a much better insight into the matter.
It isn't easy, but if you ardently practice doing it, you will successfully get over the nudging issue of anger in relationships.
2. Listen to the side of your partner
One of the glaring reasons that fuel the anger in relationships is turning a deaf ear to the other side of the story.
There is no denying the fact that every story has two sides. This maxim alone endorses the need to listen to your partner before acting out on them.
But do you think it all ends here?
Certainly, not!
Listening to your partner is actually more about understanding their reasons and perspective. It is about being open to the perspectives your partner has and treating them with respect.
Once you have both sides of the story, it becomes easier to reach a conclusion.
Furthermore, it strengthens the bond you share with your partner and helps you maintain a stable temper in general.
3. Feel your anger but do not let it take over
This is very important while you are trying to manage anger in relationships.
Make sure you always feel your anger alone and do not bury it inside you. This paves a way for further anger to dwell in which makes things worse.
However, a common misconception people hold is that feeling anger to the full is equivalent to expressing it to the full. Your actions must always be controlled especially when they are a result of anger.
4. Try to remain calm
How to deal with an angry spouse?
Well, one of the best ways to work upon anger in relationships is to stay calm. Save yourself from the temptation of reacting on the spur of the moment.
Being calm and understanding when your partner is all angry and shouting at you may be hard, but is surely worth it in the end.
It helps your partner lets out whatever they feel or have in their hearts; making them feel emotionally relieved.
Once they have spilled the beans, sit them down and talk everything out. Clear the misunderstandings they have regarding you, or present them with your justifications.
Not only does it make your partner realize they were wrong to lash out on you immediately without listening to you, but will also make them feel loved and valued.
5. Make them speak
If your partner is angry at you and giving you the silent treatment make sure you do not let this go by. Communication is the key here.
Of course, it won't be easy. especially when every word from them is pinching you to the core. But, now that you are on the mission of dealing with anger in relationships, be ready to walk over the bed of roses with protrusive thorns.
Hold your partner's hand, sit with them, and talk it out. If this seems to be impossible, try practicing the entire drill in your head first, before implementing it in the real world.
So, in the actual scenario, ask them clarifying questions. Force them gently to let out everything inside them.
Listen to them actively, and show them that you support them. Show them that you can understand their feelings.
Lastly, reassure and reach a conclusion together for a long-lasting and healthy relationship. Good luck!
Also Watch:
Share this article on
Want to have a happier, healthier marriage?
If you feel disconnected or frustrated about the state of your marriage but want to avoid separation and/or divorce, the marriage.com course meant for married couples is an excellent resource to help you overcome the most challenging aspects of being married.
More On This Topic
You May Also Like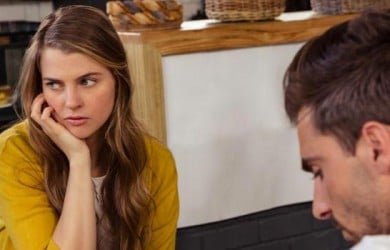 Popular Topics On Married Life