10 Most Effective Ways On How to Control Anger in a Relationship
Out of all the problems, many serious yet common issues that spring up in a relationship arise from anger. Lingering grudges that result in fights and arguments and feeling emotionally detached from your partner, anger in relationships have always been regarded as a stumbling block.
However, anger is just an emotion that is inevitable and all-natural to feel.
And to your surprise, feeling angry in a relationship isn't always abnormal either. In fact, every couple tends to experience disagreements in their relationship at some point.
In this guide, you will learn how to control your temper in a relationship with some easy steps. Besides this, we will also discuss the causes that activate outbursts of anger in a romantic bond.
What triggers anger in a relationship?
There can be many reasons that make a partner angry. Understanding the causes of anger is crucial for restoring peace in your romantic relationship. For your help, we have pointed out the most common triggers, which include the following:
If your spouse continuously puts you in uncomfortable situations or says things you find inconsiderate, it may trigger feelings of anger.

Controlling your

outburst of

anger in a relationship where your significant other doesn't treat you like a priority can be extremely difficult.

Stress can also be one of the major causes of anger in a relationship. In fact, the

American Psychology Association

(APA) has revealed that stress contributes to making individuals annoyed and angry. Prolonged working hours, emotional trauma, or financial issues are some factors that trigger stress.

If you are the only one cleaning the dishes, preparing the meals, and taking the children to the park, it can build frustration between the partners and even damage the best relationships.
A great sense of humor can be a powerful tool that can create a

healthy bond between couples

.

However, it can also be annoying if your partner cracks a joke or stays in a playful mood, even in serious situations.
10 most effective ways for controlling anger in a relationship
Anger can do more harm than good in the relationship. Check out these effective ways you can control your anger:
1. Think before you act
"Think of the consequences when your anger rises." – Confucius
Think about whether staying mad at your partner is really worth it or not. Ponder over the consequences your action will bring; are they fruitful, or will they worsen the situation?
Learning to take a few minutes or deep breaths before responding to them can do wonders for your romantic relationship.
Doing this not only saves you from acting irresponsibly and hurting the feelings of your partner but also gives you a much better insight into the matter.
Sure, this isn't easy, but if you ardently practice taking a few minutes before responding, you will successfully get over the nudging issue of anger in a relationship.
Related Reading

: 

14 Tips on How to Control Your Emotions in a Relationship
2. Understand your partner's perspective
There is no denying the fact that every story has two sides. This maxim endorses listening to your partner before jumping to conclusion.
But do you think it all ends here? Certainly not.
It is about being open to your partner's perspectives and respecting them. Once you have both sides of the story, it becomes easier to reach an informed understanding.
Furthermore, it strengthens the bond you share with your partner and can help you maintain a stable temper in general.
Related Reading

: 

How Seeing Things From Your Partner's Perspective Can Boost Your Love
3. Try to remain calm
How do you overcome anger in your relationship? Well, one of the most effective ways to deal with anger in relationships is to stay calm.
Save yourself from the temptation of reacting on the spur of the moment; instead, try to stay calm if your partner is angry and yelling at you. It may be hard, but it is surely worth it.
Allow your partner to let out whatever they have in their heart so that they can feel emotionally relieved.
Once they have opened their heart, sit with them and talk everything out. Clear their misunderstandings regarding certain pressing issues and present them with your perspective.
Staying calmer makes your partner realize that they were wrong to lash out at you without listening to your side, and it will also make them understand that all you want is to save your relationship.
4. Make them speak
If your partner is mad at you and gives you the silent treatment, do not ignore it. Remember, communication is the key here.
Of course, it will be challenging, especially when every word they utter pricks you to the core. But now that you're on a mission to overcome anger in your relationship, brace yourself to walk over a bed of roses with protruding thorns.
Hold your partner's hand, sit with them, and talk it out. If this seems challenging, try practicing the entire drill in your head first before implementing it in an actual scenario.
Have an open conversation with your partner, listen to them actively, and show them that you are willing to support them.
5. Figure out the source of anger in the relationship
If you feel a sudden outburst of anger, you may be covering up fear, shame, sadness, or rejection. However, take a few moments to understand why exactly you feel anger and how you can fix it.
For example, if your partner's spending habits are something that make you angry, you might feel scared about getting into debt.
Or if you get outbursts of anger as your partner doesn't prioritize you or always comes late at home, you might feel sad, hurt, or rejected by them.
6. Work together to resolve the problems
When you get into a disagreement with your partner, your first instinct might be to "win the argument."
The right approach, however, should be to learn and work together as a team in order to find a solution that helps in bringing harmony to your relationship while also assisting you in dealing with anger issues.
How can I do this? Replace "I" with "we." Instead of saying,"You never spend time with me," say, "When we don't spend time together, I often feel ignored in our relationship."
Related Reading

: 

30 Common Relationship Problems and Solutions
7. Forgiveness is the key
Nobody is perfect in this world, including you. Accepting that your partner can eventually commit mistakes can help you maintain a satisfying relationship.
Remember, forgiveness is a powerful tool, and holding a grudge can only lead to anger and bitterness in your relationship.
Forgiving your partner will not only relieve you of the burden of unresolved issues, but it can also make you realize that you are no longer hoping for "payback."
8. Learn relaxation techniques
There are numerous kinds of mindfulness and calming strategies available to help you with your anger issues.
However, if you find it a little boring, enlist the help of your significant other to accompany you in trying visualizations, deep breathing exercises, or even yoga that can relax your mind and body.
Remember, when you start taking care of your mental health, you will be able to control your anger issues.
Check out this 10-minute meditation guide to ease your anger issues quickly:
9. Learn how to communicate assertively
Assertive communication can be defined as being in control of your emotions and conveying positive or negative emotions while being open to feedback.
Raising your voice, yelling, and insulting each other is definitely not part of assertive communication.
Even if you are angry, such a practice to express your emotional state will prevent you from getting outbursts of anger.
With the help of assertive communication, you both can talk openly and honestly with each other while admitting your mistakes to minimize the risk of having angry outbursts.
Related Reading

: 

10 Effective Communication Skills in Relationships for Healthy Marriages
10. Take the help of a mental health expert
If your anger issues are affecting your relationship and driving you to hurt others, or if your anger is entirely out of control, you must consider looking for a therapist.
If you want, you can opt for couples counseling sessions or try working with anger management groups; such groups can help individuals to gain better control of their anger.
Remember, it's always important to figure out when your anger is getting destructive and to seek professional help to save yourself and your relationship from the negative consequences of anger.
Takeaway
It is normal to experience anger in a romantic relationship from time to time.
However, learning how to control anger in a relationship can be difficult sometimes. Practicing relaxation techniques like mindfulness, visualizations, deep breathing exercises, and yoga can help control your anger issues.
If you have started feeling that your anger is becoming destructive, seek professional help. Such a practice will assist you in gaining better control over your anger issues.
Share this article on
Want to have a happier, healthier marriage?
If you feel disconnected or frustrated about the state of your marriage but want to avoid separation and/or divorce, the marriage.com course meant for married couples is an excellent resource to help you overcome the most challenging aspects of being married.
Learn More On This Topic
You May Also Like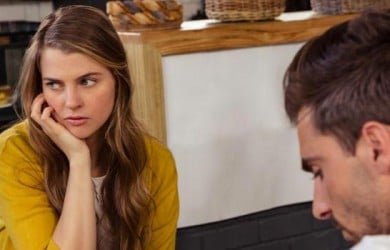 Popular Topics On Married Life