12 Tips on How to Leave a Toxic Relationship
Leaving a toxic relationship, whether with a partner, friend, or family member, is one of the most challenging things a person can do.
However, it is also one of the best things you can do for your emotional and mental health and overall well-being. It can be challenging to know when a relationship has reached a level of toxicity and is leaving the best option or figuring out exactly what steps to take.
While every relationship is different, some things are helpful when you choose to leave a toxic relationship. So, before we know how to leave a toxic relationship, we should know what is toxic relationship.
What is a toxic relationship?
Toxic relationships are potentially harmful and dangerous for one or both partners. While these relationships are not entirely doomed, they require the correct approach and continuous effort to get better.
A toxic relationship can be mentally, emotionally, or physically harmful. To know more about what is a toxic relationship or how you can determine if you are in a toxic relationship or not, read this article.
Also Try

: 

Are You In A Toxic Relationship Quiz?
How to leave a toxic relationship when you still love them?
You can try to make a toxic relationship work, but more often than not, you would find the life drained out of you.
On the contrary, if you are planning to walk away from a toxic relationship, you might have some questions, such as how to get out of a toxic marriage and how to leave a toxic marriage, especially when you are still in love with your partner. These tips will help you:
Know that you can't change your partner
The biggest mistake is staying in a toxic relationship and thinking that you can change your partner. Most people choose to know how to fix a toxic relationship, rather than leaving a toxic relationship.
You have to accept that the only person that you control is yourself. Your partner may promise to change and may even be genuine about it, but more than likely, they will remain the same.
Change cannot be forced. It has to come from within, and only then it could work. You have to accept the hard truth and look beyond your loving feelings for your partner.
Accept that you will be alone
Being alone is perhaps the most challenging part of letting go of a toxic partner. You have to accept that you will be alone after ending this relationship for some time. A single life is better than being in an unhealthy relationship.
It would be best to think of it as an opportunity to rebuild yourself. After the first step towards your happiness, everything will seem more manageable. Work through the pain instead of avoiding it. Ending a toxic relationship will only make you better.
Stop denying and start accepting
For the sake of being in a relationship, do not deny its true nature. Accept that you are in a toxic relationship. Until you do that, you will not be able to step out of it.
It would be best to know that you might never get along with your partner, and it can make you feel stressed, frustrated, and sad. The more you try to deny it, the more it will bother you. Stop lying to yourself and accept the plain truth else, you will feel trapped in a relationship.
To leave a toxic relationship, you have to put your happiness over your relationship. You have to believe that leaving this relationship will do you better, and you will be happier than you have been in this relationship.
Stop thinking about the judgment of people around you and believe in your decision. More importantly, yourself.
Related Reading: 

Keys to a Happy Relationship: Being Strategic and Open
If you are thinking of holding on to your toxic relationship, then think about how your relationship will be in the next 10 years. Think about how miserable you both will be and do you want to be a part of it.
Think about your ideal relationship and then analyze the possibilities of the existing one. Once you realize that you will always have this perfect relationship in your imagination if you won't get out of yours now.
Warning signs of a toxic relationship
The most important thing is to know when it is time to get out of a toxic relationship. The signs are sometimes obvious – lying, constant criticism, emotional starvation, cheating, and emotional and physical abuse.
Sometimes they are not so obvious – something doesn't feel right. It may take the form of a gentle but constant heartache, feeling lonely, or lack of connection, intimacy, or security between the partners.
This article talks about many warnings signs of a toxic person and relationships that you should know if you are confused about the red flags in the relationship.
How to leave a toxic relationship – 12 tips
In the real world, people are not as perfect or romantic as they are on the silver screen or in the pages of a romance novel.
Even though some relationships can be complicated and hectic due to fights and disagreements, there is always a chance to rebuild them with time and effort.
Here are some tips on how to leave a toxic relationship to help you build a better relationship with your partner:
It sounds simple, but deciding that it's time to leave is the most important step as you exit a toxic relationship. Decide that you will leave and know that you deserve better than what is happening in this relationship.
Depending on your circumstances, whether you live with a partner, have children with your toxic soon-to-be-ex, or have to continue working with the toxic soon-to-be-ex friend — the specifics of your plan for leaving will look differently.
But, leaving any toxic relationship begins with the decision that enough is enough and that it's time to seek a way out.
Related Reading: 

20 Effective Ways to Put Effort in a Relationship
You need to understand that it will be harder to forget if you won't forgive. Life is short to carry the past baggage, and it exists now.
It would help if you chose to live in the moment for yourself, and for that, you have to forget your past. Rather than clinging to your toxic relationship, forgive the person who wronged you to get over it completely.
Related Reading

: 

How to Practice Forgiveness in a Relationship
Here is a video that can help you practice forgiveness with meditation:
After you've decided to leave, it's time to seek help and resources to put your plan in place.
Reach out to friends and family members who will support you and may be able to offer any material support you might need. Working with a therapist may also be helpful as you leave and in the aftermath.
If you don't have access to a therapist, check with your workplace to see if you have an Employee Assistance Plan that offers a limited number of free sessions. If you need help with housing, transportation, and other daily needs, explore whether there are local or state services.
Above all, make sure you have a support network. Toxic people like to separate their victims from sources of support. So, marshall your support network around you.
Accept that leaving will hurt
Even though you're ready to leave the toxic relationship, leaving will still hurt.
Accept that fact and permit yourself to feel the pain and sadness. Often, a toxic partner, friend, or even family member can become the entire focus of a person's life.
So, walking out of the relationship will hurt, no doubt. But, give yourself credit for being willing and able to do what's best for yourself, irrespective of the fact that such a step is likely to cause pain, even if it is for a short term.
Also Try

: 

When to Walk Away From a Relationship Quiz
Give yourself a safe space to express your feelings. This can be journaling, blogging, drawing, or talking with a trusted friend or a professional. Allow yourself to express the full range of emotions you're sure to be feeling – anger, sorrow, grief, elation, hope, despair.
Cry as much as you need or laugh as much as you want. Keeping the feelings in or denying them increases the time you'll need to heal.
Exercise, especially vigorous ones such as using a punching bag or dancing, can also be a great release. And this is one of the best tips on how to leave a toxic relationship and survive the aftermath.
Know that you deserve better
Sometimes loving someone is not enough if you are not getting the same love in return. It's like working on an old, broken-down car. No matter how much work you put into it, it will never be the same again.
The time you invest in a relationship that is not making you happy prevents you from having a relationship with the right person who truly loves and respects you.
Even a toxic relationship can't be all bad. You must realize that holding on to the happy moments will bring no good to you or your mental health.
Understand that it has ended for a reason, and no matter how amazing those memories reflect in your mind, there was something fundamentally wrong with that relationship.
It sounds silly but think of the benefits of leaving the toxic person. What can you do now that they never let you do or made you feel bad for doing? It can be as frivolous as sleeping diagonally on the bed, ordering anchovies on the pizza, or as severe as traveling abroad or going out with friends.
Make yourself a list of all the things you'll be able to do, all the things you won't have to do or deal with anymore, and all the reasons your life is better without this toxic relationship in it.
Read it over often. You can even post reminders on post-it notes around your home or send yourself reminders on postcards in the mail.
Give yourself time to heal
Even when you're the one to initiate a break-up and leave a toxic relationship, you will need time to heal. Give yourself time to heal from the damage caused by the toxic relationship and the pain of the break-up.
Take time off from work if you can, even if it is just for a day or two. Healing from a toxic relationship is as hard as you will make it.
Allow yourself to eat food that sounds good, rest as much as you need, and be good to yourself. Bodywork, exercise, and time outdoors can all help, as can time with friends, snuggling with a beloved pet, and engaging in hobbies you enjoy.
You will heal. It will just happen in its own time.
Pursue self-development and self-growth
If you ask, how to leave a toxic relationship as soon as possible?
Remember that it's no magic! You are not going to get over your ex-toxic partner instantly. It's a gradual process that might take longer than you expected.
At first, you need to promise yourself that you will do all that it takes to get out of the relationship, both mentally and physically.
Instead of wasting time brooding over your failed relationship, redirect the energy to develop yourself emotionally and physically. Make use of your time and energy to pursue self-growth.
Make a declaration that today starts the healing process. Promise yourself that you will work toward living the wonderful life you have always dreamt about from now on.
Engage your body and mind in journaling, reading self-help books, and taking up weekly psychotherapy if the need arises.
Many people who try to move on from toxic relationships feel guilty and hold themselves for mistakes they haven't made. You have to understand that the other person brought the worst in you.
Consider this experience as a lesson rather than a mishap. It would be best to know what your toxic relationship taught you and the learnings you are taking away from it.
Accept that it changed you as a person, but it is for your good.
Just because you have had a relationship with a toxic partner does not mean there is no Mr. or Ms. Right for you. You should not dwell on past experiences; instead, be determined to move on and get a life!
One wrong decision or a mishap cannot dictate the rest of your life. There are a billion options out there.
You have to plunge into the process of dating with a positive mindset. The love of your life could be waiting for you just around the corner! Moving on from a toxic relationship is challenging yet the best thing you can do.
Conclusion
Try these tips on how to leave a toxic relationship, and you will get to know how easy it is for you to sever the malignant from your life and survive the aftermath of it.
Share this article on
Want to have a happier, healthier marriage?
If you feel disconnected or frustrated about the state of your marriage but want to avoid separation and/or divorce, the marriage.com course meant for married couples is an excellent resource to help you overcome the most challenging aspects of being married.
More On This Topic
You May Also Like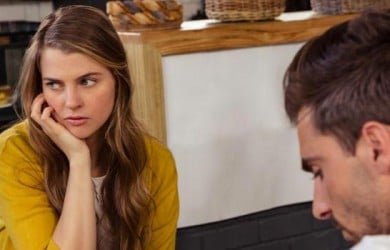 Popular Topics On Married Life