The Truth About Walking on Eggshells in a Relationship
Have you ever heard of "walking on eggshells relationship?"
You wake up, and you already know what you need to do. You immediately feel tense as you do your best to start the day with positivity. Still, the feeling of dread doesn't go away.
You're afraid that any moment, with one wrong move, you can trigger your partner's outbursts. It's exactly how walking on eggshells in a relationship is.
Some of us might not be familiar with the said term but can relate to the given situation.
What does it mean to Walk on eggshells in a relationship?
What does walking on eggshells mean? What causes it, and the signs that you're walking on eggshells in a relationship?
Stepping on eggshells or walking on eggshells is the best description for anyone who is around a person who has erratic, explosive, and unpredictable behavior.
This can occur anywhere and with anyone. From your boss, friends, your parents, siblings, co-worker, and most commonly found with a spouse or partner.
It's like living in fear knowing a single word, action, or just anything can set them off. You just realize that you are always walking on eggshells, always careful with everything you do and say to avoid any conflict.
It is sadly a tiring and toxic relationship.
Now that you fully understand what walking on eggshells in a relationship is, the next question is to understand the signs and how to stop walking on eggshells.
14 Signs you are in a walking on eggshells relationship
Have you ever asked yourself, "Does walking on eggshells mean emotional abuse?"
If you do, then it's about time you realize that you are in a very toxic relationship. Here are the 14 signs that you are in a walking on eggshells relationship.
1. You always worry
You wake up, and you look at your partner only to realize that you will start another day worrying. You constantly feel that you might say or do something that can ruin your partner's mood.
You start feeling stressed out when you hear your partner call you. You feel tense when your partner asks you what went wrong. Over time, this fear becomes a trauma.
2. Your partner is manipulative
Something goes wrong, and your partner immediately tries to blame you. You don't even have time to explain or clarify the situation. Your partner makes you feel bad about what happened and would even say mean words about how you are incapable of doing anything right.
Walking on eggshells in a relationship feels like this. You can also suffer from emotional and verbal abuse whenever your partner is angry.
Related Reading: 

How to Recognize and Handle Manipulation in Relationships
3. You prefer staying silent
Misunderstanding is common in every relationship, but how can you clear the issue if you can't even justify yourself or the situation.
Your partner is already angry and is already lashing out at you. As much as you want to talk, you bite your lip and swallow the harsh words that your partner is saying. You don't want to make things worse, so you choose to stay quiet.
4. Non-verbal abuse is present
Abuse from walking on eggshells in a relationship isn't only done verbally. You don't talk about it with your family or friends, but you know your partner's non-verbal cues when this person is angry.
You're at a party, but you can't enjoy anything because you are scared that you might do anything that will upset your partner.
You constantly have to look at your partner to see if they are already glaring at you, being silent, or would even squeeze your hand tightly out of anger.
5. You are no longer happy
Are you tired of walking on eggshells? Do you feel sad and depressed?
If you do, then ask yourself why are you still holding on? Being in a relationship should make you feel complete and happy and not the opposite.
6. You are insecure
Your partner should uplift you, encourage you, and hold your hand as you reach for your goals.
But what if all you feel is insecurity, jealousy, and uncertainty?
Remember that the way your partner talks and treats you will have a huge effect on how you see yourself as a whole. It will also have a big effect on your relationship. Soon, you might find yourself showing unhealthy behaviors because of this.
7. You always try to understand
"My partner is just tired and overworked. I did make a mistake, and I deserve that. He's a good provider and a good person."
Do you often find yourself trying to justify your partner's outbursts?
Do you overlook your partner's bad actions, faults and try your best to justify them? If you love yourself and your partner, you would want to pinpoint the issue and work on it.
8. You feel powerless and weak
When your partner gets angry at you, you just keep quiet and stay still until this person, who you love so much, calms down.
You accept everything that is thrown at you because you feel that you are powerless and weak, that you can't stand up for yourself. Deep inside, you know this as a fact. That's why you just try your best to let everything pass.
9. One-way decision making
In a healthy relationship, both partners talk about everything and consult each other before making any decisions. If you feel that you can't even voice out your opinions and thoughts, then this means that you are walking on eggshells in your relationship.
10. Hard to please
You focus on attending to your partner's needs. You do your best every day to please your partner, but somehow, this person can still find something to criticize.
Is this how you want to live your life? To constantly try to please your manipulative partner just to get affection? Remember that your partner is not your boss.
11. Anything for love
Are you the type of person who would do anything for love?
Do you believe that if you show how much you love this person? That soon, they will just realize their mistake and change?
That approach never works and will just make your situation worse. Walking on eggshells in a relationship will not change overnight because of your sacrifices.
12. It's only temporary
"It's okay; this is just a challenge to test our love for each other. It's just temporary."
It's not uncommon to come across people who had experience with walking on eggshells in their relationship to say this. In fact, many people believe that what they are going through is just a trial to test their relationship.
13. You've become dependent
Do you feel that you are now completely dependent on your partner?
Whether it's emotionally or financially, feeling dependent will make you feel that you can no longer survive without your partner. So, you just try your best to please this person, even if it means you have to tolerate walking on eggshells.
Check out this video that talks about codependency in the relationship and how it can be healed:

14. You feel trapped and lost
You feel trapped, unable to do anything.
You don't dare to stand up for yourself or walk away from the relationship.
You used to be independent, happy, and positive, but now, you just fear making the tiniest mistakes. You look into the mirror and see a terrified stranger, and you wonder what happened.
You just don't know yourself anymore.
Related Reading: 

Common Reasons for Feeling Trapped in a Relationship
Is there any hope for walking on eggshells relationships?
Walking on eggshells in your relationship starts when you become afraid of your partner's reaction to any given situation. From then on, you become leery of your words, actions, and even your own feelings just to avoid another outburst.
Soon, you will notice that your relationship has already started revolving around this pattern. Is there any hope for this type of toxic relationship?
The good news is that there is hope, but it will start with you. What do we mean by this?
Let's first refer to this quote: "You teach people how to treat you by what you tolerate."
If you are tired of walking on eggshells in your relationship, then it's time to break this unhealthy and toxic habit. Stop tolerating your partner's behavior and act to see the change that you want.
There is still a chance to save your relationship and it happens when you decide to act.
How to stop walking on eggshells?
Here are proven ways on how to stop walking on eggshells.
1. The change that we want should begin with us
The change that you have been dreaming about should start with you. Breaking free from the fear and stress will be a hard process, but remember that it's not impossible.
Learn to lift yourself up. Remind yourself that you deserve love and even compassion. Save yourself first before you save your relationship.
2. All the negative feelings are being caused by another person
Stop blaming yourself for everything. Stop allowing your partner to convince you that you are not enough or that you are incapable of doing anything right.
If you start seeing the bigger picture, then, instead of fearing your partner, you'll begin to understand that maybe, this person needs help.
Instead of keeping quiet, be calm and simply ask your partner.
"Tell me why you are upset with me?"

"Tell me what happened."

"Are you okay?"

"Do you want to talk about your feelings?"
Remember that it may not work the first time but it will be a great start practicing being open to each other.
3. Stand up for yourself
This is the hardest part of this process. You need to face your fears and doubts. Stand up for yourself and refuse another moment of these toxic behaviors.
Remember not to be aggressive because this may cause a lot of trouble.
Start with small steps. If you start seeing your partner getting impatient and start accusing you, stop this person and simply say, "No. Stop. This will not work for me anymore. Instead of being aggressive, let's talk."
Be firm and look your partner in the eye.
4. Offer to talk
Sometimes, it all boils down to a calm and open conversation.
If your partner listens to you, then this is the time to offer this person a quiet time to talk. Agree to be honest with each other. You'd be surprised to know that maybe, there were hidden resentments or problems in your relationship that haven't been addressed.
Remind your partner that being honest and listening attentively is better than walking on eggshells.
5. Set boundaries
Once you've started talking to each other, this is also the time to start setting boundaries for yourself and for your partner as well.
If the situation calls for it, give yourself a private or quiet time. Don't go lashing it out on your partner. Instead, start finding ways to calm down and relieve whatever negative emotions you are feeling.
6. Agree to work together
Agree to be a better couple. If the both of you don't have problems with this setup, then that's great. It won't be perfect, and there will be instances where one of you might make a mistake.
However, admitting your faults and being open to change is already an improvement.
Takeaway
If you feel that you need the help of an expert, don't hesitate to ask for it. Your partner might need to go through sessions such as eggshell therapy or anger management.
Remember that every situation is different. If all of these steps didn't work, or you are the only one trying to make your relationship work, then maybe it's time to leave the relationship.
No one deserves to stay in an emotionally abusive relationship.
You start to become unhappy, and your mental health will also be affected. Soon, your self-esteem and even your self-confidence will be compromised. Yes, you love your partner, but please, learn to see the reality of your relationship.
Learn to put yourself first. Start by loving yourself and knowing what you deserve in life. Choose to stop walking on eggshells in a relationship, and know that you deserve to be loved.
Share this article on
Want to have a happier, healthier marriage?
If you feel disconnected or frustrated about the state of your marriage but want to avoid separation and/or divorce, the marriage.com course meant for married couples is an excellent resource to help you overcome the most challenging aspects of being married.
More On This Topic
You May Also Like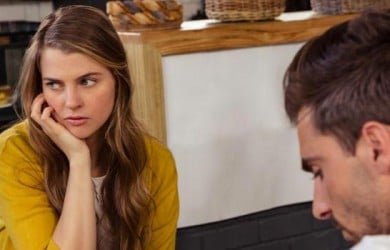 Popular Topics On Married Life