5 Common Reasons for Feeling Trapped in a Relationship
You must have heard people discussing how they've started feeling trapped in the very relationship that made them feel alive earlier.
This is not an unusual phenomenon and can be experienced by almost anyone. It can happen with even the most ideal couple whom you have admired all your life.
The sense of not being able to be yourself in a relationship or the growing sense of feeling stuck is what it means to feel trapped in a relationship.
If you've been living with your partner for far too long, and you secretly feel suffocated or overwhelmed because of the baggage attached to this relationship, it's time that you sit down and figure the problem and how it can be corrected.
It is completely normal to feel trapped in a relationship, and usually, there are several reasons that lead to a person or both the people in the relationship feeling this way.
However, as common as this problem is, things can get out of hand if the situation is not resolved in the right way.
Do you often wonder, why do I feel trapped in my relationship?
If you are feeling stuck in a relationship, you must not keep your feelings under wraps. On the contrary, you need to confront the situation in order to find a plausible solution to your underlying problems.
And the first step towards finding a way out of your situation entails identifying the root cause. So, here are some probable reasons that could be making you feel trapped in a marriage or your relationship.
1. You are not the same person anymore
At the onset of any relationship, numerous promises are made on the basis of ' forever.' We expect our partner to be the same forever, we wish the spark to be alive forever, conveniently forgetting that change is inevitable.
As time progresses and you move up life's ladder, not only your partner, but you too are bound to change. And, your perception about your relationship and life can change as well.
However, sometimes, your partner may not be happy with the person that you have become or vice versa.
If this is the case, you must try to talk to your partner politely about the changes that are bothering you and the way that they are making you feel.
2. You and your partner need space
Even in the closest of relationships, space is something that must never be compromised upon.
Before you get into a relationship, it is advisable that you discuss this aspect with your partner. Personal space will help you and your partner relax in ways that they like within the defined limits of your relationship of course.
Giving yourself and your partner some space doesn't mean that you don't love each other. This is just a simple yet effective way of letting the two of you re-energize so that you bring the best of each other to the relationship.
If you are feeling trapped in a relationship, perhaps you aren't getting enough of the space that you need.
You can have a small discussion with your partner over tea. Try to explain to them how you feel and what you want to do about it.
3. Your relationship has become monotonous
There's a great chance that the reason you are feeling trapped is only due to the monotony in your relationship.
When a couple gets married, several other things take over. There are career issues, family responsibilities, and several such commitments that take a toll on the relationship.
And, gradually, the couples lose that feeling of excitement that they felt at the onset of their relationship.
So, if you are feeling stuck in a marriage, its time for introspection. We need to remember that marriage is hard work, and it requires constant effort.
Feeling suffocated in marriage, or being trapped in a relationship doesn't imply that there has to be a major fault with you or your spouse. All you could be missing out is simple pleasures in life.
Add some romance to your life by things as simple as planning a date night or cooking a meal together or having an evening stroll by holding hands. Although cliched, these simple things can do wonders to make the two of you feel loved.
4. Absence of meaningful communication
Communication is the key to a happy relationship.
If you and your partner both aren't communicating in meaningful ways, there's a great chance that you are feeling trapped in your relationship.
It is essential for partners to sit and talk to each other about their routines and troubles. Any healthy relationship requires this form of care.
It's also important to understand that when communication is verbal, there are some non-verbal signs too.
Try to ask yourself some relevant questions regarding your partner's moods. Sometimes, you or your partner might simply not be in a mood to talk.
At such times, understand that you need to give them time alone. Then, talk to them at a time when they feel better.
5. Lack of appreciation
If you are feeling trapped in a relationship, one of the major contributing reasons could be the lack of appreciation.
If you don't feel valued or feel that your partner conveniently takes you granted, it is a clear sign that your relationship lacks mutual respect.
Of course, you do not expect your partner to sing your glory every now and then, but for a relationship to foster, respect and appreciation are imperative.
Watch the video given below to identify if you are experiencing healthy or unhealthy love
What to do when you feel trapped in a relationship?
Those, as mentioned above, are some of the many possible reasons that might have got you feeling trapped in a relationship.
Perhaps you are really irked with your partner and the status of your relationship. But, you must not give up and fret over the unpleasant situation.
The first step entails having an open and honest conversation with your partner. Try to have an amicable discussion about the possible reasons why your relationship is losing its essence.
If you have tried your best, and nothing has worked in your favor, you can seek a professional counselor's help. A licensed therapist can provide an unbiased opinion and provide you with solutions to help you in the long run.
Share this article on
Want to have a happier, healthier marriage?
If you feel disconnected or frustrated about the state of your marriage but want to avoid separation and/or divorce, the marriage.com course meant for married couples is an excellent resource to help you overcome the most challenging aspects of being married.
More On This Topic
You May Also Like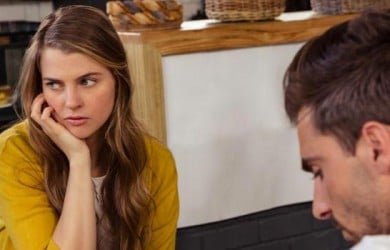 Popular Topics On Married Life