How to Deal With Someone Who Blames You for Everything
Even the happiest couples must manage disagreements and disappointments. What makes them remain happy is that they developed calm, loving, and productive ways of handling their anger and disappointment.
Over a period of time as the resentment grows, partners begin blaming each other and this has no end. This will eventually turn the relationship toxic or lead to a breakup. Not just this, constant blaming can also be a feature of emotional abuse.
However, it is important to know the triggers and act in the right direction to deal with the situation.
Related Reading: 

Ways Blame-shifting in Relationship Harms It
Why does my partner blame me?
Do you wonder, "Why does my partner put the blame on me? How come it's always my fault?"
How to deal with someone who blames you for everything?
Well, in order to understand that, first we need to get to the root cause of why partners blame each other. It could be because of the long-standing resentment due to the action you either took or failed to take.
It can happen due to various reasons:
Constant stress in life because of work, relationships or both

Narcissism where your partner simply refuses to look for fault in themselves

They are controlling, and that leads them to find faults in you all the time

They are

unhappy in the relationship

They have a resentment that hasn't been communicated yet

Blaming could also be a product of several

miscommunications in the relationship
Related Reading: 

The Blame Game Is Destructive to Your Marriage
15 things to do if your partner blames you all the time
The thousands of couples I've counseled have asked me, "Why is everything my fault? They have also shown me what works for them.
So what to do when you are in a situation like 'wife blames me for everything' or 'husband blames me for everything.'
Here are the top ten tested and effective ways that these happy couples used as a solution for how to deal with someone who blames you for everything or when there's a situation of blaming the spouse for unhappiness.
1. Understand your partner's mindset
Begin with "getting into the mindset" of your partner. What do you know about your partner's upbringing? For example, which caregiver, sibling, or other people in the family acted lovingly? Who got angry, dismissive, critical, sarcastic, or abusive? Who, if anyone, came to their aid?
Know the emotional issues that can spark your partner to get angry and blame you. Often, when a partner's anger flares up, the cause can come from not feeling loved. Blame, then, becomes the way they express this emotional hurt.
2. Check the pattern
Think about the past times that your partner blamed you for something. What words would you use to describe how they handled the situation?
For example, did they walk away or leave home, throw or break something, criticize you or other family members, threaten you, or take away your money? Did they tell the children what a terrible person you are?
3. Look for solutions in the past
Think about how you handled a situation effectively when your partner blamed you.
Why did it work? What gets in the way of you using that approach now? What did you learn from your caregivers about effective or ineffective ways of handling arguments, disagreements, and blame?
4. Change your strategy
In your mind—and heart—change the goal from "winning or getting your way" to developing calm, loving, and effective techniques.
5. Be calm
Remain calm. Do not get sarcastic. Don't make faces. Don't make an aggravating sigh. Do not walk away—unless you feel that you are in danger. If you need to walk away, tell your partner that you want to talk about the issue but that you need time to think.
If possible, set a time limit for within the next few days to discuss and fix the issue.
6. Listen
How to deal with blamers?
One of the important elements of communication is listening to your partner. Listen. Don't talk in between your partner's words. There must be a lot of built-up emotions inside them. So, allow them to release before you explain your side of the story.
Once they feel light, they will be ready to entertain you too.
7. Apologize
If you did do something that was not the best action, own up to it. Apologize. Explain—without making excuses—but do add what you think contributed to your behavior.
If possible, reach out for your partner's hand—and hold it there so your partner can cool off enough to take your hand. Relax your face. Smile.
Related Reading: 

How to Apologize to Someone You've Hurt
8. Develop a plan to overcome the situation together
Develop together a plan of handling these situations, disagreements, and disappointments. For example, the couples I counseled used the following approaches. Test them out to see what works.
Modify them to fit your situation. The following suggestions are the top ideas that my clients developed. Ask your partner to read these suggestions or rate the ones that they think would work.
9. Don't hesitate to ask questions
If you are at fault, tell your partner that you want to get in "learning mode."
Ask your partner how they would have handled the situation. Explain—without making excuses—why you think the situation happened.
10. Use gestures
If your partner is getting hot-headed, use your hands to indicate a "calm down" or "time out" moment when you feel you are getting blamed for everything.
As a solution to how to deal with someone who blames you for everything, ensure not to be sharp in your actions. Soften your facial expressions. No "tsking or hissing."
11. Choose penning down the issue
When you are being blamed for something you didn't do, write on a piece of paper why you handled the situation the way you did.
What was going on with you at the time of your action? Be concise—you are not writing your whole personal history.
12. Change your routine
Modify each of your couple or family tasks so that there is less room for error.
Blaming each other could also happen because of the bad management of work at home. This can get pretty messy and unclear because of this.
13. Share the load
Learn from each other how to do some of the other tasks so you each can be a backup for each other.
Be patient. After all, most partners agree to share the work and do specific tasks because they feel confident in doing them.
14. Focus on the positives
Make a list of the good things about your partner and give the list to your partner.
Just because things have been difficult between you two of late doesn't mean your partner is a bad human being altogether. Shift your mind towards why you like them and this will help you in avoiding further fights.
Related Reading: 

Ways to Build Positive Relationships
Check out this video where Nikki Novo discloses three tips on how to stop being negative, which can be useful to infuse positivity in the relationship:

15. Ask for help
If your partner is someone who blames others for their problems, ask for help when you feel overwhelmed or unable to do something.
You could count on your friends and family for help or even get in touch with relationship counselors to understand the root cause of the problem and come home with a solution.
Related Reading: 

Why Blaming Your Partner Won't Help
Takeaway
Relationships can be difficult at times, but every problem has a solution.
When you seek solutions for how to deal with someone who blames you for everything, you must know it isn't always about living in the extremes like ignoring the situation or walking out of the relationship.
You can handle the relationship using various easy advice and turn your bond with your partner into a healthy one.
Share this article on
Want to have a happier, healthier marriage?
If you feel disconnected or frustrated about the state of your marriage but want to avoid separation and/or divorce, the marriage.com course meant for married couples is an excellent resource to help you overcome the most challenging aspects of being married.
Learn More On This Topic
You May Also Like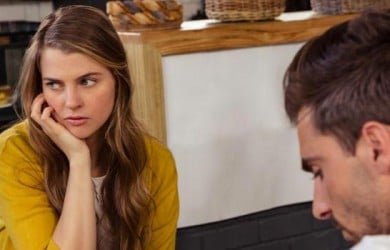 Popular Topics On Married Life