What Is a Toxic Relationship and Major Types of Toxic Partners
Often a partner in a toxic relationship ends up accepting a toxic relationship as normal. Not realizing how drained and depleted it can make a person feel.
Naturally, human beings want to be emotionally and physically close to each other i.e. they want to be in each other's company, no one can survive in the solitude of mind and body.
But, there is no aspect of the human endeavor that seems more frightening than the challenges and difficulties of our personal relationships with others. This means relationships are like any other living thing that requires effort and work to be put into it.
We have to learn how to accommodate and adapt to other people's faults, hobbies, dislikes, moods, etc., just as they must learn how to do the same with us.
There are some relationships that are more difficult, more hectic and many fights and disagreements. These relationships proportionately require more work and effort invested into it so as to keep the relationship going.
And then we have toxic relationships.
Before we delve into how to leave a toxic relationship that's chipping away at your happiness, let's deep-dive into toxic personality traits.
What is a toxic relationship?
These relationships have turned themselves into a relationship that has the potential, if not properly put to check, to be extremely harmful and dangerous to our well-being, owing to our partner's toxic behavior.
These relationships are not totally hopeless, but they require substantial and difficult work and effort if they are to be turned around into something less harmful and healthy.
Therefore, a toxic relationship is a relationship that involves behaviors on the part of the toxic partner that are emotionally and physically damaging or harmful to their partner.
This does not mean persons in toxic relationships are physically harmful and life-threatening to the life and health of the other partner but it can happen that the other partner feels frightened, threatened and scared to share their opinions because they are nervous and afraid of the toxic person's emotional reactions.
Difference between a healthy relationship and a toxic one
By learning what makes a relationship healthy and signs of an unhealthy, toxic relationship, you can protect yourself from relentless toxicity.
While a healthy relationship boosts our diligence, mental capacity, self-esteem, and emotional energy, a toxic relationship damages the ability to think straight, self-esteem and drains energy.
A healthy relationship involves care, sacrifice, integrity, self-respect, and compassion, an interest in our partner's welfare and growth, and ability to share control and also take part in decision-making, in short, a mutual desire for each other's happiness but a toxic relationship doesn't involve care or sacrifice or integrity or self-respect and compassion.
It does not involve any interest in our partner's welfare and growth and an ability to share control or take part in decision-making. In short, a toxic relationship does not include a mutual desire for each other's happiness.
A healthy relationship is a clean, secure and safe relationship; a healthy relationship is a relationship where we can be ourselves without fear, a place where we feel comfortable, safe and secure.
A toxic relationship, on the other hand, is not a safe and secure relationship.
A toxic relationship involves insecurity, self-centeredness, selfishness, irresponsibility of actions, forceful authority and power, dominance, control.
We risk our very being by staying in a toxic relationship with a toxic person. A hostile relationship has serious debilitating effects on our health too.
To say a toxic relationship is damaging is an understatement.
Getting out of a toxic relationship, healing the shame and choosing to keep only the positive people around you, is the only answer to how to get out of a toxic relationship. You have to stop living in a denial and stalling the decision to let go of a toxic partner.
Dealing with a toxic personality entails putting your foot down, speaking up, and moving on without them.
Related Reading: How to Fix a Toxic Relationship
3 Types of toxic partners
Here are the major types of toxic partners in a toxic relationship
To manage the damaging repercussions of a partner's relentless toxicity, look at the types of toxic relationships.
With this, you will be able to see the relationship for what it really is and take the right steps to protect yourself from a toxic bully and the endless suffering.
1. The quick-tempered toxic partner
These are also known as the ill or bad-tempered toxic persons.
These individuals have a quick trigger to their temperament that is they are swift to get angry. They get annoyed and angry easily and unpredictably.
They are also known as "walking on eggshells" toxic partner.
Their partners never quite know what will send them into a rage. The partner constantly needs vigilance and the ability to know what will trigger an angry outburst.
If you confront an "ill-tempered" partner about the inappropriateness of their anger, they will blame their temper outburst and actions on you.
They will see it as your fault and yell and scream at you.
Signs of a toxic relationship include the dysfunctional behavior of a toxic partner, who is out of control through violence, mentally or physically abusive behavior or a hot temper that leaves you feeling distraught.
2. The depreciator or belittler partner
This type of toxic partner will constantly depreciate and belittle you, he will see you as nothing. They will always make fun of you, indulge in name-calling they see anything you say that expresses your ideas, beliefs, or wants is silly or stupid.
A toxic partner will not hesitate to cut you out or belittle you in public, in front of your friends or family.
3. The overdependent partner
These toxic partners want you to make every decision for them, from where to go to dinner to what car to buy. They depend on you for money, provisions and what to eat.
They don't want to spend but have you spend on them, and they are usually passive-aggressive when confronted.
Also watch:
Other types of toxic persons include:
The possessive or the paranoid toxic partner
The "independent" or the non-dependable toxic partner
The over-reactor/deflector toxic partner
The guilt-inducer
Related Reading: How to End a Toxic Relationship
No one ever sets out to be in a toxic relationship, it can be really hard to break free from an unhealthy partnership. If you really want out, these steps can help you in leaving a toxic relationship.
If you feel your partner displays the above-shared signs and characteristics of a toxic person, stop rationalizing their toxic relationship symptoms, take time for yourself and firmly stick to the decision of leaving a toxic relationship.
Share this article on
Want to have a happier, healthier marriage?
If you feel disconnected or frustrated about the state of your marriage but want to avoid separation and/or divorce, the marriage.com course meant for married couples is an excellent resource to help you overcome the most challenging aspects of being married.
Learn More On This Topic
You May Also Like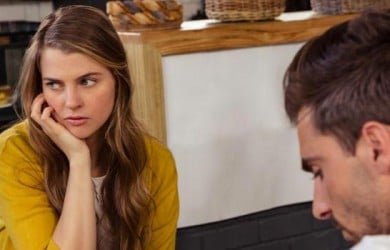 Popular Topics On Married Life