Living in Fear – Symptoms and How to Overcome It
Fear is not necessarily all bad. It can be valuable when it serves as a warning about an impending danger. However, the flight or fight response is no longer crucial for humans as it used to be.
Fear can be of help when it comes to averting some peril like fire or an attack, but living in fear is definitely be harmful to our physical or mental health.
Our ancestors required this prompt response to physical danger to survive. We no longer experience such threats, or at least, not as often. Although this response is no longer crucial for our survival when we perceive something to fear our body operates in the same manner. Therefore, we worry about working as dangerous, exams or social interactions as if they were substantial for our life extension.
Fear, similarly to stress, is a highly idiosyncratic reaction and what scares or stresses one person could excite another. The way we perceive an event and how we think about it will cause a varied reaction. Therefore, we should look into why before we look into how to solve it.
What are we afraid of?
The list of things we are living in fear of is potentially endless, right? We might fear the dark, dying or never truly living, being poor, never achieving our dreams, losing our jobs, our friends, partners, our minds, etc.
Everyone fears something to a certain extent and depending on the quality and quantity of fear itself it can be either motivating or repressing.
When fear comes in small doses it can drive us to improve the situation, but when the level is too high we might petrify due to the overwhelming effect of it. Sometimes we freeze and wait for the situation to pass, for the circumstances to change and might invest years in this. It might sound strange to use the word invest here, but energy cannot disappear, therefore, we are always investing ourselves and our energy into something. Let's make sure it is invested in overcoming living in fear and finding peace.
With the proper motivation, support, and understanding of the root and effects of it, anyone can overcome their fears.
How do know you are under its influence?
Most likely you can list some things you are afraid of from the top of your head, but some could be deeply seethed in you without you ever noticing they are inhibiting you. Some signs that could be showing you are living in fear are: settling as a way of not facing challenging situations and potentially failing, allowing others to decide for you, not saying "no" when you truly mean it, feeling numb, procrastinating and/or trying to exercise control in life occasions that resists it.
Fear also triggers stress responses and can affect your body's health – you might find yourself often ill or developing some more severe illnesses. People living in fear suffer a greater chance of having diabetes, heart problems, autoimmune illnesses or cancer. Additionally, they are more susceptible to some of the less severe problems like colds, chronic pains, migraines, and decreased libido.
What can you undertake to overcome it?
1. Understanding as the first step to solving
When you want to understand the cause and how it plays a role in your life, you can start by asking yourself some of the first questions a psychotherapist would address with you.
When was the first time you felt like this? What are some other situations that resemble this one? What helps reduce fear? What have you attempted so far and what worked? What didn't work and why do you assume that is? How would your life without fear be like? What could you do when you wouldn't be living in fear and what would remain out of your reach?
Some of these might be more straightforward to answer, some might have more hidden answers. This is precisely the job of a professional – to assist you in navigating on your road to finding the answers that are hard to reach.
Before you attempt to rectify the problem you need to be able to comprehend it as it will direct the way you go about solving it.
Nonverbal answers also need to be translated into verbal answers before you attempt to get rid of them. Similar to how you wouldn't try to solve a math problem written in an unfamiliar language before translating.
2. Face your fear (if possible)
Once you figured out how you came to fear something and answered the questions listed above, you might attempt to resolve it alone. In some situations, you will be capable to do it on your own. This is helpful for overcoming those fears that are not overwhelming of course. Do not try exposing yourself to your greatest fears without preparation first or any help.
If you do attempt to confront your fear, best is to start with the smallest possible experiment that possess the least amount of threat to you.
This will allow you to test how you handle it and not overwhelm yourself.
3. Surround yourself with support
If you are human, you are anxious about something.
No one is excused of fear and this notion may encourage you to reach out and share with others what is it that intimidates you.
There are support groups for numerous problems where you can obtain practical advice, help, and recognize the patterns that keep you afraid. Surround yourself with people who can help like friends that acknowledge and support you in the process of overcoming it.
4. Address it with professionals
In order to avoid avoidance, best is to approach the problem smarter not harder. Instead of traumatizing yourself by submerging yourself in fear, you can find a professional to help you move forward.
Psychotherapists are precious in aiding us to work through these issues, especially when fear stems from a traumatic event.
They are skilled to produce a secure environment to look fear in the face and consider new perspectives in dealing with it.
Share this article on
Want to have a happier, healthier marriage?
If you feel disconnected or frustrated about the state of your marriage but want to avoid separation and/or divorce, the marriage.com course meant for married couples is an excellent resource to help you overcome the most challenging aspects of being married.
You May Also Like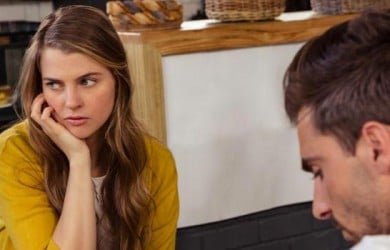 Popular Topics On Married Life