Turning a Toxic Relationship into a Healthy Relationship
Relationships can become very toxic. When a couple deals with unexpected hardships and communication duress, a once-solid bond may digress into a shaky connection.
While no one wishes for this sort of duress in a partnership, it can happen. From name-calling to downright aggressive behavior, the bond can eventually become unbearable.
When this happens, we often want "out." This is when you realize that you are indeed in a toxic relationship.
A toxic relationship can be defined as any relationship where either one or both the partner indulges in certain habits, manners, or behaviors that are emotionally and, at times, physically damaging.
In a toxic relationship, the toxic person damages their partner's self-esteem by creating an unsafe and controlling environment.
Can a toxic relationship become healthy? Certainly. It takes time and energy, but we can build a relationship that can weather future issues and impasses.
What's the key to moving a toxic relationship into healthy relationship territory? Learning from the past.
It sounds simple, but it is truly the key to moving on from a toxic relationship. If we are willing to recognize that our previous missteps inform our future direction, there is hope for growth and a positive moment.
Also watch:
Signs of a toxic relationship
In a toxic relationship, you get so tense, angry and furious around your partner which builds up negative energy in your body which later leads to hatred for each other
You are in a toxic relationship if you don't seem to do anything right, no matter how hard you try to do it perfectly.
Once you don't feel happy around your partner, it is a warning sign that you are in a toxic relationship.
The relationship scorecard develops over time because one partner or both partners in a relationship use past wrongdoings to try to justify current righteousness.
A toxic partner will want you to automatically read their mind to figure out what they want.
If your partner makes you feel like you need to be silent and agreeable while constantly putting their needs first — you are in a toxic relationship.
There are many more signs of a toxic relationship that you must look out for.
Knowing these signs is helpful, but how to get over a toxic relationship or how to move on from a toxic relationship?
If you are having a hard time letting go of toxic people or letting go of toxic relationships and you are constantly looking for ways for ending a toxic relationship for good or healing from a toxic relationship.
In the piece ahead, we take a look at a "case study" couple that was able to handle hardship because of the strength of their bond.
The relationship grew from toxicity because the couple wanted to build a stronger family. Could this work for your partnership too?
Quick case study
The great recession hit the family squarely on the chin. Bill, who had a good job building RVs in an Indiana plant, was laid-off with no prospects of another job.
Sara, who'd worked part-time in a local library, took on more hours in an attempt to make up a portion of the lost income.
The family budget was trimmed. Vacations canceled. Clothes passed down through the three stair-step boys. The house was put on the market – by the bank – because there was no money to pay the mortgage.
In the bleakest days of the recession, the family lived in a midsized RV Bill rented from his former employer.
Imagine the situation. A family of five camped out in a two-bedroom abode on wheels situated in a corner lot at the local KOA campground.
Many meals were cooked over a fire. The laundry cleaned on coin-operated machines down at the camp store. Bill did odd jobs around the camp, to offset the cost of renting the site. It was rough, but they managed.
Everyone is doing their part. Everyone encouraging the other. Eyes fixed on the prospect of better times.
During this encampment, Sara encountered some bullies among here once close cadre of friends. As her "friends" learned about Sara's family situation, they pounced.
Why can't your husband find a decent job? Why don't you just leave him, take your kids, and get on with your life?
The slurs were ruthless. One morning, in an especially ruthless display of bullying, Sara was cornered by an especially callous former friend who delivered a cutting question:
"Don't you wish you had a real home and a real husband, Sara?"
Sara's retort was measured and mature. She announced, "I have a wonderful marriage, and we have a real home. We just don't have a house to put it in."
Here's the thing about Sara's response. If Sara had responded two years before, she would have been quick to condemn her husband and heed her friend's advice to abandon ship.
For years, Bill and Sara were mired in toxicity. Their relationship was burdened by financial trouble, sexual indiscretion, and emotional distance.
When they weren't arguing, they emotionally and physically separated from one another, retreating to separate corners of the house. In reality, it wasn't really a relationship at all.
The turning point? One day Sara and Bill arrived at a shared realization.
Sara and Bill realized that they couldn't get the day back. Every day they were in conflict, they were losing a day of connection, opportunity, and shared vision.
On the heels of this revelation, Sara and Bill made commitments to one another. They made commitments to respect one another's ideas and vision.
They made commitments to engage in good counseling and pull their children into the cycle of counseling too.
Sara and Bill decided that they would never give another day to unresolved conflict, bitter disputes, emotional and physical distance.
Recovering from a toxic relationship
We do not have to accept relationships mired in anger, anxiety, and heavy hostility. If we are willing to recommit ourselves to good therapy and conversation, we have the ability to move forward in a healthy and actualized way.
Are you and your beloved ready to move forward? So how to turn a toxic relationship into a healthy one, let me suggest the following priorities.
Do not say things about your significant other than cannot be "taken back." If you are addressing the behavior you disagree with instead of attacking the person, you are on the right track.

Make therapy a priority in your relationship. Do this now, not when it's too late.

Remember that you only have one chance at the day. Do not hand your day over to bitterness.

Reclaim spontaneity. Do something loving and unexpected with your beloved one.
Share this article on
Want to have a happier, healthier marriage?
If you feel disconnected or frustrated about the state of your marriage but want to avoid separation and/or divorce, the marriage.com course meant for married couples is an excellent resource to help you overcome the most challenging aspects of being married.
More On This Topic
You May Also Like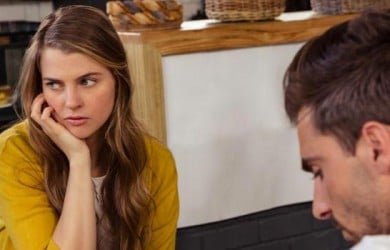 Popular Topics On Married Life