Why Projecting Feelings Can Be Harmful to Your Relationship
Have you ever heard of projection or the act of projecting feelings? It may seem new to your ears, but actually, the action is commonly practiced by many in relationships.
These relationships are not just limited to intimate romantic ones but also those bound with wholesome love and affection such as family, relatives, and friends. However, what does projection mean exactly?
According to psychology experts, projection is unconsciously attributing to others your unwanted traits and emotions.
Not only do you deny what you indeed are or what you have done, but you also think that other people have caused those circumstances. With that said, let's analyze projection psychology in marriage more.
What projecting your feelings mean
So, what does it mean when someone is projecting? Simply put, projecting feelings is a defense mechanism. In this case, you choose to defend your negative expressions and emotions by transferring the accountability to others.
To understand more about what is projecting, it can be helpful to identify such everyday actions that illustrate it. Here are some examples that define projecting feelings.
You and your partner are engaged in a conversation. Then, you speak for what seems like an eternity. Still, as soon as your partner cuts in to make the conversation a bit dynamic or interactive, you become discouraged and eventually view your partner as a destructive listener.

You belong to a team in your workplace, and as a team, you have tasks to finish. Even though the majority is constantly advocating your ideas, you always believe that others view you as someone who always wants to control or impress.

You blame your younger sibling for not finishing a task. In this case, you procrastinate because you think your younger sibling is making you uneasy or irritable.
The examples can go on and can even get more complicated. Overall, in projection psychology, you deny yourself of any responsibility for the bad decisions you willingly choose to act upon.
So, how natural is projecting? Naturally, even animals can do it. Wild predators can kill anyone just because they find the existence of animals before them provoking or annoying.
So, how much more to humans who complicated relationships with one another, right? You can be the one projecting or be on the receiving end of it. However, most people who are projecting feelings will have the habit of doing it repetitively.
Some examples of those people are bullies. Most bullies have personal issues that affect their mental health and self-esteem. Once they find someone or someone weaker than them, primarily physically, they will project all their negative emotions and thoughts onto them.
More often than not, they will continue doing that unless someone will stand up and stop their actions. Throughout history, projecting feelings can span across different periods.
For example, one global issue related to projecting feelings is rape culture. In this case, many people blame the indecency of women's clothing and mannerisms as the reasons for their assaults instead of the rapist for acting on their lust without the other person's consent.
Why do we project our feelings?
Why do people project feelings? Why do they resort to projection in relationships? In this case, the most straightforward answer for that is to get rid of the guilt. After all, it can be easier to point a finger towards other people instead of oneself.
In some cases, projecting feelings can be done unconsciously due to other life experiences that formed such a habit. Of course, projecting is not just the only defense mechanism people use to eliminate guilt.
Let's look at other defense mechanisms people use to compare them with psychological projection in relationships. Some of them include the following:
Denial: The act of refusing to accept what is true and real

Distortion: The act of changing the reality of a particular situation for one's sake

Repression: The act of covering or masking emotions

Sublimation: The act of channeling negative emotions towards positive actions

Dissociation: The act of changing one's disposition to avoid a particular emotion

Passive aggression: The act of being aggressive indirectly in a passive manner.
Unlike projecting feelings, these common defense mechanisms are seemingly easy to spot and can last for a short period. On the other hand, projection can last as long as the doer wants it to.
In this case, projection psychology tells us that people projecting feelings cope with the fact that they are guilty of what they have done or felt. So, to get rid of that, they look for reasons to justify their actions.
It is even easier to do that within a relationship since you already have someone you can blame, making it harmful for your relationship if this behavior is tolerated.
How projecting feelings can be harmful to your relationship
Is projecting feelings that bad for a relationship? In general, the gravity of the action can vary, but overall, it brings more harm than good to a relationship.
After all, projection psychology tells you that there exists an emotional displacement every time you project. Instead of you, the doer of the action, being held accountable, you choose to blame it on someone else.
So, why is projecting in a relationship harmful? Here are some of the primary reasons projecting feelings can cause damage:
When you project emotions, you build a perception that you are helping a person. However, it's not productive since, in the first place, those emotions are not caused or incited by that person. As a result, you are building a fake and restrictive atmosphere.
Projecting emotions doesn't help you understand your actions. Instead of reflecting on what you have felt or done, you decide to hold others accountable. As a result, you are not solving your problems and might be creating more.
As you are projecting emotions, you are also preventing yourself from understanding others.
You are so occupied with attributing your own emotions that you hope others feel what you have felt. You are making your experiences their own, and thus, you failed to see that other people are not entirely similar to you and have a life of their own.
As mentioned, projecting behavior or emotions can be done unconsciously. So, to measure the status of your relationship, it will be better to identify the situations where you can be the one projecting. Here are the following:
Expecting the worst
Relationships are built around positive emotions. However, if you constantly expect things to go wrong, you can end up developing bad habits. For example, you might end up expecting your partner to betray you.
Of course, they may not be doing anything traitorous. Still, in your mind, you are already building a perception that they will betray you.
Related Reading: 

How to Deal With Your Partner's Annoying Habits
Maintaining tight control
Wanting to maintain control within a relationship is expected. However, if the grip is too tight, it may cause more damage that quickly goes out of hand.
Control issues are often born from one's insecurities, but someone else pays the price to meet your expectations instead of you.
Overreacting
Things can be quickly blown out of proportion if you overreact. If you feel like what the other person did is a bigger deal than it was, this can harm your relationship and cause you to project feelings.
Moreover, you might express aggression towards your partner, and you might only feel regret when you start listening to reason. In some cases, you might also be tempted to attribute that regret to that person.
Hearing selectively
Because of the guilt that you feel, you're likely to become less open-minded. You might start dismissing the other person's emotions as you project your own. In this case, the argument will appear one-sided since you choose to mask the reality of your actions.
Creating unfair comparisons
If you are used to projecting your emotions, sometimes you can overreact and come up with unfair conclusions and comparisons based on previous relationships.
For example, you might think your partner, who committed a small mistake, is similar to a previous partner that caused your trauma.
Related Reading: 

Compare No More: Building Confidence in Your Marriage
Changing the story
In most cases, projecting feelings often end up with partners competing over the victim in the story. In some cases, you might end up even changing the story to make it work in your favor.
If you see projection psychology here, it can signify that projecting feelings can become harmful in a relationship, especially when someone is hurt. Of course, this isn't only limited to physical injuries; it also affects the emotional and psychological aspects.
For example, people in relationships who cheated or left can sometimes blame their actions on their partners. Some even go to extremes to torture their partners or put them in harm's way. So, how can one manage to reduce projecting emotions?
Ways to stop projecting in your relationships
To ensure your relationship stays healthy and respectful, you can practice ways to stop projecting in a relationship.
Yes, it won't be easy. After all, you will need some time to put the bad habits away, but recognizing that you and the people in your relationship can be the ones projecting feelings is an excellent start.
Aside from that, here are five ways you can stop the habit for good.
Be humble
One culprit that pushes you to project emotions is ego. In this case, your ego can make you too afraid or cowardly to recognize your mistakes, opting to transfer the accountability to others instead.
In fact, in some cases, you might even be willing to go to great lengths to free yourself from guilt and maintain your pride. However, this can be harmful to your relationship.
In this case, for it to work, it's best to set aside your ego and practice humility in a relationship. After all, if you continue to project your feelings out of ego, you are continuously moving in a vicious cycle.
On the other hand, if you humble yourself by owning up to your mistakes and accepting corrections, your relationship can become more productive and healthier.
Accept the consequences
As you cast out your ego and become humble, you might become more open to talking about your feelings and actions. In this case, if it turns out to be hurtful to others, it's best if you accept the consequences and learn to take responsibility for what you have felt or done.
It may be worrisome, but doing so will serve as a reminder to become a better person next time. After all, if your relationship is essential to you, you will have to make up for your shortcomings.
Related Reading: 

How to Avoid Consequences Of Perfectionism On Relationships
See the reality
Life is not entirely black and white. It can become more challenging and demanding, but it can also give you the happiness you want. That's the reality, so if you dwell on your past experiences and use them to justify projecting your feelings, you are trapping yourself in your world.
Clinging to something terrible in the past can make you fail to see the good in front of you. To prevent this, it's best to reflect more on what matters most and accept the truth in your life. That way, you can reduce the likelihood of projecting and damaging your relationship.
Related Reading: 

Expectations vs Reality in Relationships: 4 Common Misconceptions
Think before you act
Before you succumb to your overreactions, insecurities, fears, traumas, and desires, it might be better to try and think about what comes next if you act upon them. For example, if it will only bring harm, it might be better to take other steps.
However, suppose your partner is doing something to cause them. In that case, acting upon your feelings can be justified as long as you still practice respect towards them.
Exercise self-discipline
While practicing humility, open-mindedness, and accountability is great, it can be tough to keep it up, and you might end up projecting emotions again.
This is where self-discipline comes into play. Exercising enough self-disciple can help you maintain the positive steps you have been taking to stop projecting feelings.
You can add more activities that will reinforce the effectiveness of the ways mentioned above. Examples are meditation, proper outlet of emotions, increasing self-esteem, and having a stress-free lifestyle.
To understand more on how to handle projection, watch this video.

Conclusion
Projecting feelings can quickly become a toxic habit that can harm your relationships, whether with your romantic partner or your family and friends. It can even affect your professional life if left unaddressed.
With that said, it's best to start recognizing the typical situations wherein you project your feelings and use the five ways mentioned above to start addressing the issue.
Share this article on
Want to have a happier, healthier marriage?
If you feel disconnected or frustrated about the state of your marriage but want to avoid separation and/or divorce, the marriage.com course meant for married couples is an excellent resource to help you overcome the most challenging aspects of being married.
More On This Topic
You May Also Like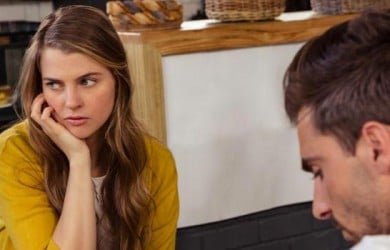 Popular Topics On Married Life