11 Uncommon Habits that can Lead to a Healthy Marriage Life
Everyone should have a hobby. After all, hobbies provide a great sense of purpose outside the office, they offer an awesome way of meeting new people and pass times, and most importantly, they are fun.
And guess what? There are also lots of great hobbies for couples, as well. Not to mention, these habits can actually bring you closer as a couple and lead to a healthy marriage life.
The good thing is that the options for couple habits are virtually endless, and you can pick one that both of you enjoy doing most.
In the article below, I'm going to share with you eleven uncommon habits that can lead to a healthy marriage life.
1. Travel together
Visiting new places together is a great way of sparkling your lost love.
Traveling together will create a sense of adventure and excitement in your relationship.
Couples who get out of their house to experience the world together beyond their favorite movie spot maintain a sense of discovery that breaks the monotony of domestic routine. Whether a walk in the park, swimming or visiting new places, traveling will heighten your sense and create new memories.
It will not only recharge your relationship but also provides the much needed time away.
Most importantly, however, traveling as a couple will allow you to return feeling more refreshed, invigorated, and hopeful. You will establish new patterns to avoid getting sucked into the humdrum of everyday living.
Experiencing new atmospheres with your partner will create lingering energy to your relationship, and will ultimately strengthen your bond.
2. Get a couple's massage
A couple's massage is among the hottest treatments you can get with your partner at a luxury spa.
Nothing is more romantic and healthy than lying side-by-side with your partner in the most relaxing environment.
Alone, massage is a treatment that will increase your blood circulation, relieve tension, reduce stress, relieve anxiety, promote relaxation, and improve sleep. However, when done with your partner, it will not only allow you to spend time together, the couple massage increases feelings of affection and intimacy.
In most cases, it results in the release of oxytocin, serotonin, and dopamine, which helps couples to feel connected and happy both during the massage.
3. Ballroom dancing
Even if you don't consider yourself a great dancer, learning new dance moves with your partner will help you stay fit, but it can also improve teamwork, making it one of the most beneficial hobbies for couples.
However, to have tangible benefits, you have to work together and be responsive to your partner. Plus, with a new dance style, you'll impress your friends at the next wedding you attend.
4. Sex
Ok, we get it, sex is one of the things you're doing!
However, turn it into a habit, and the next time you engage, keep the benefits of sex in your mind. Like dancing, sex can also be a hobby.
Beyond making you feel great, sex will burn calories, sex is intimate, and it's one of the best habits that will bring you closer to your partner, both physically and emotionally.
5. Running
Running, especially to couples who are fitness enthusiasts or those trying to get in shape, can be an exciting habit.
Beyond the health benefits such as staying in shape, bulking up and staying fit, running together as a couple will provide bonding time, plus allow both of you to log some quality time together while training, consequently building up your marriage.
6. Cycling
It feels like everyone or every couple you know today is into cycling, right? Well, it's for some pretty good reasons.
For a start, like running, cycling as a couple has plenty of health benefits, which include gaining better body shape, improving your health, building muscles, among others.
But beyond the health benefits, cycling as a couple will allow you to create bonding time, and being able to ride distances together will enable you to connect while experiencing the best of Mother Nature.
7. Volunteering
Volunteering as a couple for a charity that's near and dear to your hearts is a habit that will see your relationship reap tremendous benefits.
Volunteering, specifically offering your hands-on services such as cleaning up the street, or a charity walk, as opposed to the financial volunteering will bring you closer together by allowing you to spend time together doing a meaningful activity.
This is not to mention, volunteering provided gratitude and perspective when you give back to an important cause or community.
8. Raise a dog
If you have always been looking for an excuse to get a dog, here you go!
Multiple studies indicate that couples with a dog usually lead a more active lifestyle, and usually report lower stress levels compared to non-dog owners. Consequently, a more active lifestyle, with reduced stress is often associated with a more active sex life.
More importantly, the mere presence of a dog in a couple is associated with increased trust, cooperation, enthusiasm, and physical intimacy.
9. Go to the gym
Going to the gym is yet another habit that couples should bring into their lives for a healthy marriage.
Alone, going to the gym will serve a host of health benefits ranging from toning your body, building muscles to better health.
On the other hand, beyond the health benefits, going to the gym as a couple will allow you to bond as a couple. This is particularly true if you are both looking forward to achieving a certain fitness goal.
10. Gardening
Gardening as a couple helps you grow and create something beautiful together.
Beyond giving you responsibility, gardening is an exciting habit that will allow you to get outside together away from all other distractions. Whether its growing flowers or growing a veggie garden, gardening will allow you to grow as a couple and help in strengthening your marriage.
11. Raising kids
Raising kids is actually not a hobby but rather a job.
However, it's one of the jobs that you should love as a hobby. Having and raising kids as a couple is usually one of the most bonding experiences you'll ever get. Being a parent, the importance you feel individually, and knowing that you and your partner are a mom/dad figure to a young one will create a team spirit that is unmatched by any other hobby.
Reset your marriage by developing interesting habits
Habits are like reset buttons in marriages, and can often make all right in your marriage life again.
All that matters is that you perform the habits together, collectively as a team-just like good old days.
Soon, you'll rekindle your lost love.
Share this article on
Want to have a happier, healthier marriage?
If you feel disconnected or frustrated about the state of your marriage but want to avoid separation and/or divorce, the marriage.com course meant for married couples is an excellent resource to help you overcome the most challenging aspects of being married.
More On This Topic
You May Also Like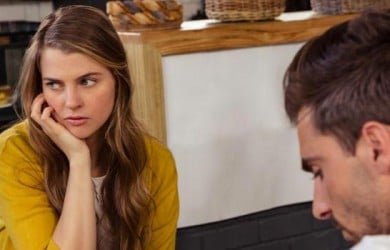 Popular Topics On Married Life