How to Know if You Have a Low-Key Relationship
Do you ever feel like you are in a low-key relationship with your partner? Or your partner feels like people don't need to know about your affairs?
After several days or weeks of talking or going on a date, you and your love interest finally decide to take it a step further. Officially, you are now a couple hoping to build a healthy relationship. Expectedly, you are excited and can't wait to tell your friends and family or even show PDA in public.
However, your partner feels different. He doesn't explicitly state it, but you believe the public display and announcement don't freak them. It looks like they want to keep your relationship private but not a secret.
That can be confusing because you don't know if they are not proud of the relationship or want it to be a low-key relationship. How do you tell the difference between private and secret relationships? Also, what does it mean to be low-key?
What is a low-key relationship?
To better understand a low-key relationship, it is best to state the difference between private and public relationships.
A public relationship is one where everyone knows that you and your partner are in a relationship. That means not only your close friends are aware, but also family members and acquaintances. They have seen you many times together, asked you about your affair, and you have confirmed it.
Your relationship is a general knowledge that everywhere you go, your partner follows. And when they don't see one of you, people inquire. Also, you are not afraid to tell anyone who cares to listen that you have a partner.
On the other hand, a low-key relationship is operated on a low level. That does not mean people are unaware of your relationship, but only a few people.
For instance, if you and your partner work in the same organization, only your best friends and his will know about your low-key relationship. A low-key relationship means the couple doesn't appreciate displaying their relationship publicly, except in the presence of close friends and family members.
Meanwhile, many people have trouble categorizing their relationship as either a private or secret relationship. Simple! As the name implies, a confidential relationship is an affair hidden from the public, including friends and family members. This relationship often exists in place of work where dating each other is forbidden.
Also, a low-key relationship can happen where there is a feud between two family members- just like the classic families of Romeo and Juliet. Or a relationship can be private because there is another person in the picture.
Regardless, low-key dating is concealed from everyone due to reasons best known to the individuals concerned.
Related Reading: 

Having a Secret Relationship – Is It Even Worth It?

 
Why do people keep low-key relationships?
Public relationships are some of the sweetest affairs you will experience. Your partner is not afraid to show you off or take you out to great places.
However, some people love low-key dating due to many reasons. Some of the common reasons for a low-key relationship are:
You want to know each other better
One reason many people like a low-key relationship is because they need time to know each other well.
It is also one of the signs of a would-be healthy relationship. Keeping a relationship private at the initial stage will give the partners enough time and freedom to know each other's likes, dislikes, weaknesses, and strengths.
For some couples, making their relationship public is a chance for other people to contribute to the affairs. That can be detrimental to relationship growth, especially at the early stage. Whether you like it or not, people will always have something to say about your relationship.
So, if your partner fears the opinions of others might influence their decision, it is best to keep your relationship private but not secret.
Some people will be unhappy
No matter how much of a good person you are, some people will be unhappy about your relationship. Your new relationship can trigger hate in some people, such as your ex, crush, and so on.
That often happens in workplaces or the same community. Keeping a low-key relationship is the best in this scenario.
Uncertainty about the relationship or the person is acceptable at the early stage of the affair. You might enjoy your love interest's company but fear disruptions.
Also, you might feel the person is hiding some things from you even though they already told you about their life. Nonetheless, if you feel unsure of many things in the relationship, it is right to keep a low-key relationship.
Your partner is in another relationship
Oops! Yes, cheating is one of the top reasons people engage in low-key dating. It is not news that people cheat on their partners.
If your love interest prefers to call you rather than you calling them, you should ask some questions. Also, someone could be keeping a relationship private if you ask to meet their family, but they decline after months of dating.
How to know if you have a low-key relationship or secret affair?
If you are having trouble telling the difference between a private and secret relationship or a public and low-key relationship, check the following signs:
Your partner prefers more intimate time with you
Most people who prefer a low-key relationship dislike public shows whenever they are with their partner. Private dinner and Netflixing together are their watchwords. They always feel like the whole world is watching in public.
It can sometimes be frustrating if you love to visit the cinemas or attend occasions with your partner.
You settle issues privately
If your partner is the type that would rather sit you down and toss out the argument or disagreements, you might be in a low-key relationship.
Although not in all cases, one of the signs of a public relationship is the need to tell your friends or family members about your issues. That can worsen the situation as others' opinions might turn you against your partner.
Your partner does not say much about your relationship
Low-key relationship meaning encompasses giving out little details to outsiders concerning your affair. If your partner only reveals a few details when asked about their relationship status, then they want to keep your relationship private but not a secret.
For instance, if a friend or family member asks your partner if they are in a relationship, they might answer in the affirmative but refuse other questions that follow it.
Your partner introduces you to only their closest friends
Even though your partner has a pool of friends, they introduce you to only one or two friends.
That may be the sign of keeping a relationship private, and it has nothing to do with you. They only want their most trusted friends, rather than everyone, to know you.
You display affection only when you are together
Have you noticed that your man or woman only gives you random pecks when you are somewhere private? If yes, your partner keeps a low-key relationship. Whenever you are outside or among people, you might question your partner's intention towards you.
However, once it's the two of you or close friends, your partner changes to a lover. They hold your hands and give you one of those passionate forehead kisses. That's a big sign that they want to keep your relationship private but not a secret.
Your partner still cares for you in the public
Another sign of a low-key relationship is that your partner cares for you outside, even if they do not want others to know.
They might not have spelled out your relationship to people, but their caring side always comes out when you are outside. That is the main difference between a private and secret relationship.
Your partner doesn't post you on social media
Thanks to our digital world, it is hardly impossible to keep anything private. As such, people now count social media paparazzi as one of the ways to show you love your partner.
However, you don't have this luxury in a low-key relationship. Your partner can care for you, show you to a small circle of friends, but insists on not moving your relationship to social media.
Your partner is not rushing things
When your partner suggests that you don't rush into things at the early stage of the relationship, it means they want low-key dating. For instance, if they suggest you both stay away from a sexual relationship, they are probably taking it slow. That means they are paying attention to you and the new relationship.
Also, it means they want to enjoy things with you alone and ensure you both are making the right decision. A low-key relationship often allows you to study the relationship and know where it's heading.
Your partner wants both of you to hang out alone
A low-key relationship is full of "My partner and I." Instead of going on group hiking, your love interest would prefer you do it as a couple. To your partner, that will allow you guys to have time alone to enjoy the moment and bond.
Your partner gives you privacy
Even though your love interest likes to spend quality time with you alone, they give you enough me-time. They do not bother you for dates and allow you to have enough privacy to yourself. In other words, your partner respects your boundaries not to invade.
Check out this video where the couple explains the difference between secrecy and privacy in the relationship:

Are low-key relationships a good thing?
One of the decisions couples take at the early part of their relationship is to make it known to everyone. It is even challenging if you work in the same place or have the same friends. Understand that there is nothing terrible in keeping a relationship private as long as you both desire it.
That means you have decided to take your time knowing each other without interference from others. It also means you don't have to declare your love on each other's social media pages.
You can post pictures together and like their posts, but not necessarily shower praises and adorations in the comment section.
A low-key relationship is good if you both don't like being loud but stay unequivocally faithful to each other. The problem, however, comes when you disagree on exclusively low-key dating. If you want to tell your friends everything about your relationship, you may be pushing the relationship faster than your partner.
However, if you are both relaxed and ready to explore the relationship, engaging in low-key dating is the best. It affords you time and energy to study each other and grow the relationship. In addition, low-key relationships assist you in using your head rather than your heart.
That way, there is a low chance you will make the wrong decision. You should only be concerned if there is no deadline for keeping a relationship private.
When should you make low-key relationships public?
The time to make your relationship public solely depends on the partners involved. Besides, people move differently in relationships. To some, a few weeks are enough to make a decision, while six months is not enough for others.
Nonetheless, it is best to discuss with your partner the reasons for the low-key relationship and how long. Regardless, one or both of you might want to fast-track things at some point. That's because, at the initial stage of a low-key relationship, feelings and bonds take time to develop.
Meanwhile, it is typical to build feelings for each other after spending lots of time together. All the activities, outings, events you have participated in, and time you spend together will culminate into feelings you can't control. They only help you to build a strong foundation for your affairs.
Once you find it difficult to express your feelings to your partner openly, it is time to make it public. You would have been confident in each other and the relationship; you would have built trust for one another, making the relationship stronger.
Thus, you have no tangible reason to keep your affair low-key any longer.
However, if your partner feels you should keep the low-key dating, you need to express yourself. Express your feelings clearly without mincing words. You are tired of keeping a private relationship; hence, you wouldn't be talking. If nothing changes after this, it might be time to call it to quit.
Conclusion
Low-key relationships involve two individuals who decide to make their affair known to only selective people.
A low-key dating is different from a secret relationship because it is not hidden. The individuals prefer to keep it low without the usual public show on social media or among friends. The couple must agree and be on the same page to make a low-key relationship work out well.
Share this article on
Want to have a happier, healthier marriage?
If you feel disconnected or frustrated about the state of your marriage but want to avoid separation and/or divorce, the marriage.com course meant for married couples is an excellent resource to help you overcome the most challenging aspects of being married.
More On This Topic
You May Also Like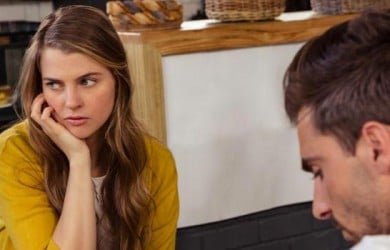 Popular Topics On Married Life