How to Be Humble in a Relationship: 15 Charming Ways
It can be challenging to stay humble when you are in a relationship. However, being in a relationship involves an equal balance of giving and taking. Are you wondering how to be more humble? Do you often ask yourself, "Is it good to be humble?"
Or do you question how to humble yourself in a relationship?
This article can help you become a more humble partner to create a healthier bond. It can teach you how to be humble in a relationship to help your partner and yourself better.
When you are wondering how to be more humble, acts of humility can help. Showing humility allows you to maintain the delicate balance required to make the relationship work and create a loving, supportive environment.
We all have different opinions, ideas, and beliefs, which can sometimes clash with our partners. Learning humility can help you better understand your partner and create a healthy, balanced relationship.
A lack of humility can cause chaos and misunderstandings, and it has even been known to be the cause of breakups. Learning how to be humble and showing humility in your relationship can reap so many rewards.
What does being humble in a relationship mean?
When discussing how to be humble in a relationship, acts of humility may seem like common sense. Unfortunately, these simple acts of humility are often forgotten in a partnership. This is common when we have become comfortable with our routines.
Showing humility shows your partner you care about and respect their needs. While it may seem obvious, there are a few ways to show humility and stay humble in your relationship.
Examples of being humble include:
Actively listen to others

Ask questions to clarify and understand

Stay focused on the situation

Understand your faults and weaknesses

Admit when you are wrong

Realize that you do not know what others are thinking and feeling

Put others before yourself

Take an empathetic approach

Learn about and from others

See things from a different perspective than your own

Have the confidence to know when you do not know and be willing to learn

Apologize without being asked

Seek forgiveness when you are wrong or when it is needed

Have

gratitude

for each moment you are given in life.
15 ways to be more humble in your relationship
There are many ways to be humble. While some come naturally, others require us to work at them to succeed. If you wonder how to be humble in a relationship, we have some simple strategies that can help.
1. Learn to accept advice from others
Unsolicited advice may be frustrating, but it can also be helpful. Others can often see things that you cannot see yourself. The perspective others give can sometimes provide the insight you have yet to consider.
The quality of possessing humility in a relationship means looking within yourself for things that you can change. When someone offers advice, consider it with an open mind and try to see things from their point of view.
Understanding that there are times when others know more than you do about your life or actions is the epitome of humility. If you want to know how to be humble in a relationship, it is a necessity.
2. Learn to listen
Listening is a skill that many of us forget to nourish and often take for granted. In a world built on multitasking, it can be hard to focus on what is being said and understand the meaning.
Effective communication relies on this skill. Listening attentively shows that you care about what your partner says and value their opinion. Listening to your partner can bring you closer as a couple and help you better understand one another.
3. Accept criticism with poise
When you are criticized, it can be hard to see the benefits it provides. However, criticism provides enlightenment by highlighting our shortcomings to help us fix them.
Through criticism, we become better people. Instead of being upset when you receive criticism, consider the value it provides. Listen to the criticism and reflect on the truth within the statement.
Although it can be challenging to accept the negative aspects of ourselves, humility depends on it. Develop humility through acceptance and use It to encourage personal change.
4. Accept your shortcomings and mistakes
Along with accepting criticism, we must learn to admit our faults. No one is perfect, and you are not an exception. Having a humble attitude means understanding that you have flaws like everyone else. If you hope to be humble in your relationship, you must accept and work to improve your faults.
While trying new things is imperative to personal success. Failure is just as critical. Without failure or faults, we have nothing to strive for in life. Accept your shortcomings, utilize them to your benefit, and create a brighter future.
5. Be grateful for what you have, but don't rub it in
Being thankful for all the blessings you have in life is excellent, but being boastful isn't.
Sure, you may have been at the top of your class or won awards and scholarships for your work with the less fortunate, but none of this matters if it was only done to make yourself look better to others.
People with humble personalities understand that it is about the bigger picture rather than themselves. They are grateful for all the good in their life and relationships.
Learning how to be humble in a relationship involves doing good things simply for the sake of doing them, not as padding for your college application. Actual acts of humility come naturally and are meant to improve the lives of others, not just your own.
6. Embrace discomfort and encourage change
One of the most challenging aspects of humility is the discomfort it can bring. Despite how it feels, discomfort is a good thing. The discomfort that comes with humility tells us that things are changing, and while we may not like that change at first, it is opening doors to a better, brighter future.
7. Show your appreciation often
While it may seem simple, not showing appreciation is often one of the people's biggest regrets. Showing others that you appreciate their effort or actively expressing gratitude for their role in your life can significantly impact their well-being and your own.
People often say that the words 'Thank You' are the most powerful in the world, and for a good reason. A new study done through the University of North Carolina at Chapel Hill shows that expressing gratitude affects not only the person who is expressing it but anyone who witnesses that expression as well.
Thus, these simple words can help you to increase trust and build better bonds with others.
Keep an open mind and heart, and always be thankful for the people in your life.
8. Pay attention
One of the easiest ways to be more humble in your relationship is by paying attention to your partner and showing interest in their life. Being observant is a handy skill to hone. Build humility by becoming mindful of your actions towards others, and you will also learn about yourself.
Being attentive and paying attention to the world outside of yourself will help you see the bigger picture and help you resolve any issues you may be experiencing by developing humility.
9. Learn to understand your weaknesses and strengths
Learning humility is not about feeling bad about yourself or downplaying your accomplishments. Humility is about understanding your weaknesses and strengths and always keeping both in perspective.
At the core of humility is resistance to the urge for validation from others and instead finding that validation within ourselves. To be humble and have humility means seeing the world from a different perspective and learning to understand differing points of view.
10. Count your blessings
Being humble in your relationship and having humility in life is not about the big, showy displays of affection that bang down the door and demand attention. It is a small, often unnoticeable act in everyday life.
Humility is cooking dinner, doing a chore without being asked, or buying your partner's favorite snacks while grocery shopping. Humility is about putting another person before yourself simply because their happiness matters as much as yours.
If you are wondering how to be humble in a relationship, the answer can be found in your reflection and expression of gratitude.
Check out this video to learn more about how gratitude makes you more attractive to a partner:
11. Learn to forgive
If you are trying to understand how to be humble in a relationship, remember that forgiveness is one of your most important tools.
When you practice forgiving your partner for the mistakes that they have made, you open the doors for reconciliation by prioritizing the relationship over your bruised ego. It promotes humility and is beneficial when the mistakes are minor.
12. Share credit
In a relationship, staying humble means realizing that every achievement and goal is a combined effort that your partner is a part of.
If you learn to acknowledge and share the credit for tasks and responsibilities with your partner. It generates positivity as they will appreciate their efforts and what they bring. It will also encourage the idea of collective goals and feeling a part of the other person's achievements.
13. Stop comparing your relationship
One of the important ways to humble yourself is by ensuring that you don't compare your relationship to that of others.
Comparison enhances the problems in your relationships based on your perception of someone else's relationship. Remember that all relationships are different and have their own particularities, and comparisons are never good for their health.
14. Prioritize your partner
The concept of humility is based on the idea that you are not the center of the universe; it presupposes that other people are just as important and therefore, you must look out for them.
Try to prioritize the needs, requirements and life every now and then. It will help them realize that they are important to you. However, do not undermine your needs and create an imbalance in the relationship while doing this, as it will be unhealthy in the long run.
Related Reading: 

Prioritize your Relationship, Partner, and Sexual Connection
15. Seek feedback
To be humble in a relationship, you can seek constructive feedback from your partner and loved ones about your conduct as a partner. And try to be open to making changes accordingly.
Seeking feedback also establishes your intention to work on improving things while acknowledging that there are areas of improvement.
You can also explore relationship counseling to receive constructive feedback about your conduct within the relationship,
Final takeaway
Being humble is a significant aspect of a successful life and vital to a healthy relationship. While you may wonder if it is good to be humble, it is essential to remember that humility is more about its impact on others than what it can do for you.
Having a humble personality and learning to be humble in a relationship can teach you much about your partner. What's better is that it can teach you about yourself. Humility is an essential skill worth the effort it takes to develop.
While being humble in a relationship, remember to look within yourself for the answer. While showing humility starts with you, it impacts every person you interact with and can make or break a relationship.
Share this article on
Want to have a happier, healthier marriage?
If you feel disconnected or frustrated about the state of your marriage but want to avoid separation and/or divorce, the marriage.com course meant for married couples is an excellent resource to help you overcome the most challenging aspects of being married.
You May Also Like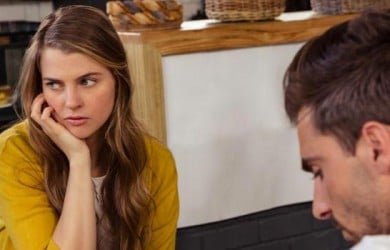 Popular Topics On Married Life