When to Stop Trying in a Relationship: 10 Signs to Watch For
Does your partner bring out the best or the worst in you? Do you feel supported like they're also your best friend?
If you don't feel at ease with them and excited about exploring life together then there's a good chance that the relationship isn't right for you. It can be difficult to know when to stop trying in a relationship because it conjures up a whirlwind of emotions.
It can be difficult to walk away from a relationship in which you have invested your time and emotions. But ending things at the right time can save you from experiencing additional sadness and negativity.
Signs your relationship is doomed
We all dream of a Hollywood partnership with the perfect house and children. But life doesn't quite work that way though. In reality relationships are hard and we need to assess the relationship dynamics at every stage.
Of course, we all want to respect and trust both ourselves and our partners. Nevertheless, studies show that without something called psychological flexibility, you might always have to face the question of when to stop trying in a relationship.
When we're psychologically inflexible, we get stuck in negative thoughts and a blaming mindset. Essentially, we let our painful emotions dictate our behavior and that can lead to lashing out at those closest to us.
As behavioral science writer Jessica Dore explains in her article, inflexibility leads to rumination, disconnection from our values and then either confrontation or withdrawal. If you notice any of these signs then it could be time to walk away from a bad relationship.
Understanding what you want to do with the relationship
Before you consider when to stop trying in a relationship, first review what you want. This is easier said than done and you'll need some space for self-reflection. Essentially, review your life goals, your values and what you need from a relationship.
It's worth remembering that all relationships go through ups and downs and sometimes we have to restate our needs to our partner. Assess your evolving needs regularly and communicate these to your partner.
If, on the other hand, you're in a relationship where you don't feel confident talking about your needs, then this could be the moment when to stop trying in a relationship.
Most people should first have a go at communicating their needs but it could be time if this feels impossible. You can then start letting go of a relationship to move forwards with your life.
Also Try: Do You Feel That You Understand Each Other?
10 giveaways to stop trying to fix a relationship
So, what does it look like when it's time to walk away from a bad relationship? Most of us agonize about these types of decisions and we doubt whether our relationship can be saved. We hope that things may work out so that we can remain in love with our current partner.
Relationships can be extremely confusing due to the high level of emotions that one invests in them. And that's why it's helpful to look at concrete signs for when to stop trying in a relationship so you feel less conflicted.
1. Ignored needs
As mentioned, we all have needs, but if you can't find a way to reconcile your needs, this could be one of the signs your relationship is beyond repair. With time, you'll feel unappreciated and undervalued. And nobody wants to feel that way in a relationship.
First, your relationship deserves for you to try to communicate your needs to your partner so that they can try to make some changes. And if nothing changes despite this, that's when you know to stop trying in a relationship.
Also Try: What's Your Conflict Style in a Relationship? Quiz
2. Secrecy and fear
Knowing when to stop trying in a relationship starts with our emotions. Are you so afraid to talk to your partner about any problems that you almost avoid them? If instead, you're confiding in work colleagues that you're keeping a secret, you could be dealing with reasons to end a relationship.
Naturally, you don't necessarily tell your partner every tiny detail about your life. Nevertheless, lying about who you talk to and hiding what's on your mind will erode trust and respect. You'll also start feeling increasingly anxious and distant in your attempts to avoid being found out.
3. Abuse and trauma
Letting go of a relationship that revolves around abuse is critical. Unfortunately even in these cases though, it can be hard to leave. Essentially, people can feel stuck or responsible for the abuse and they lose touch with reality.
It's important to leave an abusive relationship safely. One option is to work with a therapist to develop a plan together. Another way to get support is with groups like the National Domestic Violence Hotline.
Also Try: Am I Verbally Abused Quiz
4. You're trying to change your partner
When to stop trying in a relationship is realizing the moment you wish for your partner to become someone else. There's nothing more frustrating than trying to change someone or someone trying to change you.
Moreover, this behavior could be a sign of deeper personality problems and you'll see that the relationship is too hard to survive. For example, a controlling partner could be a narcissist and want everything done their way.
5. No intimacy
Stop trying to fix a relationship that has no intimacy. It's that simple. This doesn't just refer to sexual intimacy but also emotional.
As expected, the initial passion of any relationship tends to wear off. If a deep emotional connection doesn't replace this, that's when to stop trying in a relationship. After all, if you can't share your deepest thoughts and feelings with your partner, who else can you share them with?
Also Try: Do You Have Intimacy Issues? Quiz
6. Emotional disconnect
One of the key signs that it's time to break up is if you're finding that you can't connect to your own emotions or feel strongly about your partner's actions. Emotional detachment can happen due to abuse but it can also happen when you're being ignored day in and day out.
When he stops trying or when she stops trying, you'll find that deep down, you are starting to give up too. That's often the beginning of a break in your commitment and loyalty to the relationship.
Watch this video if you want to find out more about emotional detachment:

7. No respect and trust
One of the core reasons to end a relationship is when there's no trust or respect. This can happen when she stops trying or when he stops trying such that communication becomes a constant battle of wills and egos.
Sometimes trust and respect cannot be rebuilt, which is usually a time to give up on a relationship. Without trust and respect, you can't problem-solve together or unite over what a common future looks like.
Also Try: How Much Do You Admire And Respect Your Partner Quiz
8. Equality
One of the sure signs your relationship is doomed is when there is an imbalance in your relationship. You shouldn't always be the one doing the chores or vice versa. Moreover, one person can't have a veto power on all decisions.
Listen to how you discuss situations if you want to know when to stop trying in a relationship. Does your partner always try to get their way without considering yours? If so, you'll start feeling resentful,which you can treat as one of the key signs it's time to break up.
9. Lack of commitment
Another one of the critical signs your relationship is failing is when one of you isn't ready to put the effort in making the relationship work. All successful relationships take patience, collaboration and a willingness to change. You'll soon feel the relationship is too hard to survive without any of these.
You'll notice when she stops trying such that a mature sharing of dreams and feelings no longer happens. Lack of commitment can make things go sour where no one listens to each other and there's no compassion left. If you're unsure of the signs, that's when to stop trying in a relationship.
Also Try: Am I Afraid of Commitment Quiz
10. Doubt and guilt
When he stops trying and you start doubting yourself or feeling guilty, that's when to stop trying in a relationship. Generally, doubt is a normal part of any relationship but if you can't talk about it and it escalates to stressful levels, you have to listen to your instinct.
Most of us are taught to disregard our gut. Nevertheless, neuroscientist researchers discuss that the gut is an important part of decision-making in this article.
Signs your relationship is beyond repair and knowing when to stop
Knowing when to give up on a relationship is stressful, but looking out for the signs can help you. Moreover, if you feel that your values are disconnected and you have opposing goals, it's probably time to call it a day.
Another conversation test is to talk about children. If you have vastly different views about educating and generally bringing up your children, this will naturally lead to tension and stress. One of you could also be conceding too much, which can create an unhealthy imbalance.
Suppressed needs and emotions always blow up at some point. So, even if you're not fighting today, you could be building up years of rage to the point of no return. Not only is this not healthy for your mental state but it's also a potential disaster for any future kids.
Also Try: Are You In An Unhappy Relationship Quiz
Conclusion
The ten signs mentioned will help you work out when to stop trying in a relationship. Generally, remember that something is wrong when values, needs, and boundaries are mismatched or disregarded.
Another of the signs your relationship is failing is that you're ignoring each other and not problem solving together. Psychologists refer to psychological inflexibility where one of you can't let go of negative thoughts and gets caught in the blaming loop without wanting to change.
Instead, be open to new experiences and surround yourself with positive people who want to explore life with you. A common curiosity and mutual respect for individual struggles is the key to building a partnership for life.
Share this article on
Want to have a happier, healthier marriage?
If you feel disconnected or frustrated about the state of your marriage but want to avoid separation and/or divorce, the marriage.com course meant for married couples is an excellent resource to help you overcome the most challenging aspects of being married.
You May Also Like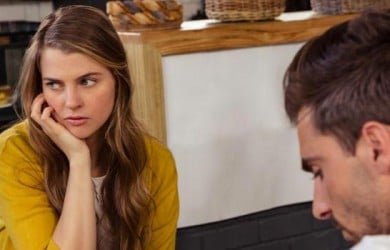 Popular Topics On Married Life