11 Signs of Dead-End Relationships & Ways to Cope
Dead-ends: That end of a road from which you can't go any further.
There are a lot of dead-ends in life. Dead-end roads, dead-end jobs, and perhaps the most painful of them all, dead-end relationships.
While all relationships are vulnerable to dead ends, long-term relationships have the tendency to run the risk of continuing for long, even when they should end.
Indeed, according to some, dead-end relationships outnumber actual working relationships.
The topic of why people stay in long-term relationships, even though the relationship is no longer working anymore, has often been discussed, but one reason is thought to be due to the attachment that is formed over the years spent together.,
What is a dead-end relationship?
It is the kind of relationship that has no future. It looks like it cannot move forward, and the issues of the relationship just don't seem to resolve.
The relationship looks unfulfilling, and all that the partners can think of is about having a break. The relationship doesn't seem to provide satisfaction and happiness.
Why do people keep hanging onto a dead relationship?
In many cases, we like the stability that a relationship offers – and we are afraid to be alone, even if it means dragging a dead-end relationship.
Also, people keep on holding on to a dead-end relationship, as they consider their partner a "work in progress" and continue fixing their partner. It makes it difficult to understand how to know when to end the relationship.
While every relationship waxes and wanes over time, if you suspect that you are in a dead-end relationship, it is a red flag that you should not ignore.
Before we delve into how to get out of a dead-end relationship or how to end a relationship that has run its course, let's dive headlong into the signs of a dead-end relationship or know when it's time to end a relationship.
11 signs of a dead-end relationship
Is love dead? Is my relationship dead? There are many tell-tale signs that you're in a dead-end relationship. These glaring red flags are indicative of when it is time to end a relationship.
If even a few of these signs apply to you, it may be time to step back and evaluate your relationship.
1. You're not happy
This is a big one. Do you find that you're not happy?
Even more importantly, do you feel that you would be happier outside this relationship?
You may even be more than simply unhappy; you may also feel sad, and you may find yourself breaking down at various points. That answers how to know when to end a relationship.
2. You have a feeling that something isn't right
Do you have a feeling that something isn't right in your relationship? That it may be time for the relationship to end, but you don't want to accept the idea? If this has been a persistent feeling, it is not something to ignore.
3. The bad times outweigh the good
Do you find yourself asking, "Is my relationship dead?"
Do you spend more time arguing than actually enjoying each other's company?
Do you argue about the future?
Do you discuss the future at all?
All of these issues are signs that you may be in a dead-end relationship. Further, do you try to fix your partner, or does your partner try to fix you?
If you argue about the same issues over and over, things aren't likely to change in the future. Are you willing to accept that? If not, it is time to move on.
4. The relationship has "changed," and not for the better
Apart from an increase in fights, other dynamics in your relationship may have changed, too.
Perhaps there is more distance, which could manifest itself in a ack of physical intimacy. You often find yourself tossing in the bed or staring at the ceiling, asking yourself, is my relationship dead?
You could also simply spend less time with each other, and you may even prefer to spend time with your friends instead.
If you recognize a lot of these signs in your own relationship, it may be time to accept that you're in a dead-end relationship and take steps to move on.
You want to part on good terms, pick up the best way to end a relationship, and create a solid foundation so that you can both move on in a healthy way.
5. Lack of effective communication
Communication is one of the important aspects of any relationship. So, if you feel you and your partner are not interacting as much or if the conversations lead to fights or constant put-downs, it is an important sign of a dead-end relationship.
6. You need more space than before
You feel you need more space in your relationship. This is because you like being alone. You love being left on your own. Your relationship looks chaotic, and for the same reason, you spend more quality time when you are left on your own.
7. You feel mostly irritated with your partner
Another related sign of a dead-end relationship is one in which you find yourself getting angry at everything your partner does. Sometimes, you feel perhaps even unreasonably angry.
While in the past, you would hav let things go easily, it's not the same now, and it's time to break off a relationship that is going nowhere.
8. You feel someone else is a better match
If you feel you deserve someone better than your partner or begin to feel that your partner is no longer good enough for you, it is a sign of a dead-end relationship. Probably you have found someone and your thoughts resonate with them. This has led to you drifting apart from your partner.
9. You don't feel your authentic self
Although it will be difficult, every person should value their time and realize that a relationship that does not bring value to your life is not worth being a part of. Losing your value or having your self-worth diminished spells the end of a relationship.
Having said that, ending a dead-end relationship or marriage can be the most difficult decision of your adult life. But it may be time to start thinking about how to get out of a dead-end relationship.
10. You see a lack of effort
Although you try extra hard to make things work and find a solution to learn how to fix a dead-end relationship, somehow, the same amount of effort is lacking from your partner's end.
Relationships are a two-way street, and no one partner alone can take things into their hands fully. So, if you feel your partner is disinterested in the relationship and doesn't show signs of effort, it is a dead-end relationship.
11. The disparity in values and priorities
Fundamental differences in values, goals, or life plans. These differences create challenges in finding common ground or building a future together. It highlights the importance of shared values and alignment in order to have a healthy and fulfilling relationship.
10 tips on how to end a dead-end relationship
Once you have decided to give up on the relationship and know that it is the right choice, you must be aware of how you can gradually move out of it.
How to end a relationship that is going nowhere? If you are stuck in a dead-end relationship, check out these tips on how you can leave a dead-end relationship and rebuild your life:
1. Don't get fooled again
There is no easy answer to the question of how to end a long-term relationship.
After spending a significant amount of time together, it can be difficult to take the first step towards ending a relationship.
You must ensure that you stop running to your ex just because you miss them. Ask yourself, "Why do I stay in a dead-end relationship?" They might be emotional and call you back but know why you ended things and practically take the decision that is good for both of you.
2. Be honest with yourself first
If you've been struggling with the relationship for some time or your partner has been unable to meet your needs, be honest with yourself and know that it is in your best interest to move forward.
Once you commit internally, don't question yourself. Don't re-evaluate your decision.
3. Discuss things face-to-face
First and foremost, you should never end a relationship via email, text, or any other electronic means. Although 33% of people have been broken up via technology, according to a survey by Lab24, this does not create a strong foundation and can lead to problems down the road.
4. Consider the time and place
How to end a dead-end relationship?
Although you may be tempted to rush into a conversation to get it over with, you should have control over all the possible variables that could potentially disrupt your talk. In short, put some thought into selecting a location that allows for an extended period of time, free of any disruptions.
5. Be 100% forthcoming and honest about your feelings
Taking the open confrontation approach to breaking up, in which the partner is forthcoming and honest about their feelings, causes the least amount of stress.
This approach was more effective than placing blame on yourself or trying to end things gradually.
Of course, just because it's best to be direct and honest, it doesn't mean that you should be harsh or put the blame on the other person. There's a balance that you should strive for. At the same time, don't make promises you can't keep just to make your ex feel better. It is important to be firm and stick to your ground.
6. Halt communication (temporarily) post-break-up
Although it may be tempting to continue getting together as "friends," this only creates confusion for both people in the aftermath of a breakup. Doubt may begin to seep in. If you live together, make arrangements to move out.
After you have committed to moving on, halt all communication for a month or so, including Facebook surveillance, to allow time to process everything.
7. Know your worth
Once you realize you are precious and you deserve only good things in life, it will be easier for you to move on in life. Recognize your strengths and put them to work.
People tend to dwell so much on the mishap that they forget they can stand up again and rebuild themselves only because they have the potential. Don't forget your capabilities and strive forward.
8. Use affirmations
Once you have committed to moving on, commit to it 100% and see it through, and affirmations are a great way to boost your spirits. Use the following affirmations to move on:
I am loved and lovable

I forgive my ex

I deserve love

I am letting go of the past
9. Establish a new routine
Now that you are moving out of a dead-end relationship, it is essential to find a routine for yourself that can help you grow. While your life and your partner's life are dependent on each other, you need to break the system and get busy with yourself.
You can begin this by finding a hobby.
10. Take care of yourself
Studies suggest that it can take up to 3 months for people in relationships to move on and 18 months for divorced) partners to start afresh.
The point is that it will take time for both partners to move on – give yourself time to heal from your relationship.
After all, this is the only way you will eventually be able to move on and find yourself engaging in other things. If you are feeling guilty about ending a relationship, then don't. It's in the best interest of both parties.
Take care of yourself, and be sure to have a support system in place.
Watch this video to learn what self-care really is:
Some commonly asked questions
Here are the answers to certain questions that can help you better understand the dead-end relationship meaning:
Can you fix a dead relationship?
In some cases, it is possible to revive and repair a dead relationship, but it depends on various factors, such as the willingness and commitment of both partners, the underlying issues, and the extent of the damage.
Fixing a relationship requires open communication, a shared effort to address and resolve problems, seeking professional help if necessary, and a genuine desire to rebuild trust and intimacy. The inability to do this can foretell the end of the relationship.
However, it's important to recognize that not all relationships can or should be salvaged, and sometimes ending the relationship may be the best option for both individuals to find happiness and fulfillment.
Does space help a broken relationship?
Yes, space can often be beneficial in a broken relationship. Taking time apart allows both individuals to gain clarity, reflect on their feelings, and heal emotionally. It provides an opportunity for personal growth and self-discovery.
Space can also help reduce tension and conflict, allowing each partner to reassess their needs and priorities.
However, it is important to strike a balance and maintain open communication during this time, as too much distance without active effort to address the underlying issues may further deteriorate the relationship.
Final thoughts
Moving out of a relationship can be difficult, but once you realize what is right for you and have the courage to think practically, you will do good for not just yourself but your partner too.
After you've given yourself time to heal from a dead-end relationship, you may want to try a matchmaking service this time around.
Share this article on
Want to have a happier, healthier marriage?
If you feel disconnected or frustrated about the state of your marriage but want to avoid separation and/or divorce, the marriage.com course meant for married couples is an excellent resource to help you overcome the most challenging aspects of being married.
You May Also Like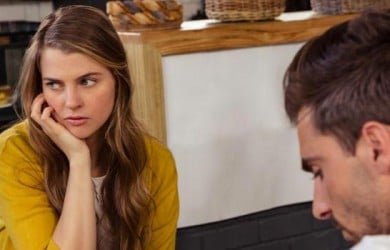 Popular Topics On Married Life