10 Signs You're Being Used in a Relationship
I have always been a believer that no one deserves to be treated poorly, especially in a relationship. Unfortunately, sometimes we find ourselves in a situation where one person is using the other. It isn't always the case, and many times it's more of an innocent mistake rather than an act of maliciousness.
Coming from a personal experience, I understand how devastating it can be to have someone you love to take advantage of you or turn their back on you.
There was a time when I did things I'd never do now because I had become so infatuated with someone that I didn't even realize what I was doing was unhealthy for me.
Thankfully, I was able to recognize what I was doing and make the necessary changes in my life to break out of that relationship and move on with my life. As heartbreaking as it can be, these experiences can help teach us a lot about ourselves and help us grow as people.
Being used in a relationship can have many causes, but a few signs can help you identify when you're being taken advantage of in a relationship. Let's dive into the details.
What does it mean when you are being used in a relationship?
When someone is being used in a relationship, they are not being treated well. They may be used for their money, sex, or power. People who use the term "being used" usually refer to someone who is being abused in some way.
These abuses are usually emotional or physical in nature. For example, someone may use you for their money or time without giving you anything in return. They may make you feel guilty for being unhappy with the relationship, or they may give you superficial compliments rather than real ones.
To be in a relationship with someone using you means they are taking advantage of you for their benefit.
10 signs you're being used in a relationship
Being used can leave you feeling depressed and alone. Wondering how to tell if someone is using you? Here are ten signs of being used in a relationship:
1. You feel like nothing you do is good enough
If you feel like you are never good enough for your partner, you may be being used. You are constantly told that you are not good enough or don't deserve something in your life. This may cause you to become insecure and doubt yourself.
2. You are constantly blaming yourself for problems in relationships
When you are in a relationship with someone controlling, you may blame yourself for all the problems in the relationship. You may tell yourself that something is wrong with you and that you make mistakes that are causing problems in your relationships.
This is designed to make you feel like there is nothing you can do to fix things. By placing the blame for everything on yourself, your partner can keep you under control.
3. Your partner isolates you from your friends and family
If your partner isolates you from your family and friends, you are probably being used to control you. Your partner does this because they feel threatened if they think you will be close to other people outside the relationship.
Isolation is another way to control you because you will feel more dependent on your partner if you spend time away from them.
4. You are afraid to voice your opinion
If you are afraid to voice your opinion in a relationship, your partner might be using you. This is because you have to watch what you say to avoid offending your partner.
You are worried that your partner will become upset or angry with you if you voice an opinion that they do not agree with. By keeping you from voicing your opinions, your partner can control what you say and how they react towards you.
5. You are not financially independent
If you are not financially independent, being used in a relationship is a possibility. This means that you have no money outside your relationship with your partner. You will have to rely on them for financial support to survive.
If your partner gets angry or upset with you, they may cut off your support without warning. This will leave you and your family with nothing, which can be emotionally devastating.
6. You feel like you are walking on eggshells around your partner
If you are walking on eggshells around your partner, you might need to protect yourself from the relationship. You need to watch everything you do and say around them so that you do not make a wrong move that could cause them to become upset or angry.
This can cause you to be on edge at all times, making it difficult to relax and be yourself when you are around them.
Check out Dr. Neha's advice on how you can stop walking on eggshells:
7. You feel stuck in your relationship
If you feel stuck in your relationship, you might be being used for someone else's benefit. This is because you are unable to leave your partner because they are holding you hostage in the relationship.
Leaving the relationship is not an option because you are afraid of what they may do to you or your family if you leave. To escape the relationship, you might need professional help to teach you how to get out of it safely.
8. You keep secrets from your partner to protect yourself
If you feel you are keeping secrets from your partner to protect yourself, you may be being used in a relationship.
Protecting yourself means that you are keeping information from your partner to avoid causing an argument with them. This can cause you to resent the relationship because you feel like you are not being heard anymore.
9. Your partner expects you to cater to their needs all of the time
If your relationship is one-sided, you might be being used in a relationship. This means that your partner does not demand you to be with you. Instead, they expect you to do all of the things that they need to keep them happy.
They expect you to cater to their every need without ever reciprocating. This can lead to resentment on your part, leading to the end of your relationship.
10. You are afraid to end things for fear of what they may do to you if you leave
If you feel too afraid to end your relationship because you fear what your partner may do if you leave, you may be using a person in a manipulative way to get what you want from them.
If this is the case, you need to realize that it is not a healthy relationship and that you deserve to be treated better.
5 effects of being used in a relationship
Being used in a relationship by your partner is a sad place to be in. Realizing that you're just a tool in their hands can do so much mental damage. Here are 5 things that can happen to you when you're being used in a relationship and how they can affect your life.
1. Depression
When you are being emotionally used and ignored, you are going to feel depressed a lot of the time.
You'll start feeling bad about yourself. You'll start thinking about all the ways you've been used and all the negative things that have happened as a result. This is going to make you feel helpless and hopeless.
2. Feelings of isolation
When you're used in a relationship, you'll feel like there's no one you can turn to for support or advice. You'll feel alone and isolated. This is going to make you unhappy and resentful towards your partner.
3. Low self-esteem
When your self-esteem is low, staying positive and motivated is much harder. You will be self-conscious about your appearance and how your partner treats you. As a result, you will start to feel depressed and withdrawn. You may even start to pull away from others and begin to isolate yourself.
4. Lack of emotional support
When you feel that there is no emotional support or understanding from your partner, you will feel very lonely and unsupported. You may become very depressed and feel depressed all the time. You may also withdraw from others and cut them off because you don't have anyone to talk to anymore.
5. Feeling unappreciated
When your partner doesn't show you any appreciation, you're going to start to feel as if you don't matter to them. This is going to make you miserable and depressed. You will probably begin to hate yourself and lash out at your partner for making you feel this way.
What to do if you're being used in a relationship: 5 strategies
If you're in a relationship where you feel like you're being used, it can be difficult to know what to do. You may feel like you don't have a choice in the matter. But you do have choices.
Here are 5 ways to learn how to deal with being used in a relationship:
1. Think about what you want from the relationship
Do you want someone who treats you well? Do you want someone who makes you a priority in their life? Is having someone who likes and respects you important to you? If so, then it's worth looking for a different partner who treats you with respect and kindness.
Remember that you deserve to be treated well. You deserve a partner who doesn't see you as an object to be used in any way that benefits them.
2. Don't stay just for the sake of staying in the 'relationship'
If it isn't healthy for you or the relationship, there's no point in staying there. The relationships you have in your life should be positive and rewarding, not negative and draining.
3. Talk to the other people in the relationship about how you feel
If you're not happy in your relationship, it's important to talk about it with your partner. Let your partner know that you're not happy in the relationship, and tell them why. They might not see what they're doing wrong, and it's better if they hear your concerns directly from you.
You should also talk to the other people in the relationship about your feelings as well. They might be able to shed some light on the situation that will help you figure out the best way to deal with the situation.
4. Set boundaries for yourself
If you feel uncomfortable in your relationship, it's okay to tell your partner about it. Let them know that their actions aren't okay with you and that you'd like to see something different happen in the relationship.
It may feel awkward at first, but it's important to be honest with yourself and your partner if you want things to change.
5. Get outside help if you need it
Everyone deserves to have a positive experience in a relationship, but sometimes that's not possible. If you feel that you're in a toxic relationship that's causing you more harm than good, it's important to get the help you need to turn things around.
There are a number of resources available that can help you learn how to find a healthier relationship and how to keep the one you're in healthy as well.
Further notes on being used in a relationship
I believe that being used in a relationship is an extremely painful and difficult experience. It feels like you're constantly on the receiving end, and there's always this feeling of being powerless.
It's better to be safe than sorry. Check out these questions on being used in a relationship to know how to deal with it.
What does being used do to a person?
When someone is used, they may feel a range of emotions, including anger, sadness, and betrayal.
Most often, people who are used feel like they have been discarded, and their feelings go unnoticed. This may cause them to lash out at those around them and may even lead them to question their own self-worth.
Couples counseling can help people working through these feelings to move forward and heal from the effects of being in a toxic relationship.
What is it called when someone uses others?
The act of using someone for one's own benefit. This can be done in a number of ways, such as exploiting them financially, manipulating them emotionally, or simply taking them without giving anything in return.
This is known as "taking advantage" of someone else, and it can be very harmful both to the person who is taking advantage of another person and to that person's wellbeing.
How do I stop being used in a relationship?
No one deserves to be treated badly or used. If you feel as though you are being manipulated or taken advantage of, it is important to speak up and tell someone you trust what is going on.
If you are worried that you may be in a relationship where someone is being mean to you, here are some things that you can do to protect yourself:
1. Find out what triggers your partner's behaviors towards you
See if they're always around you in an unhealthy way or if it only happens at certain times of the day/week/month. Identifying the triggers can help you prepare yourself when the behavior happens again so that you can protect yourself better the next time it happens.
2. Limit contact with an abusive or unkind partner
Don't engage with them until they've calmed down and are in a better position to communicate with you without blaming or attacking you.
3. Self-care
Practice self-care techniques to help you remain calm and confident during difficult situations with the person in question. This could include meditating, doing some exercise, listening to music, etc.
4. Look for support
Find people who can support you in times like this, who won't judge you for your situation but will instead try to encourage and empower you to make positive changes in your life. Don't be afraid to seek out help from friends and family if needed!
Takeaway
I hope this article has provided you with some insight as to what makes someone "used" in their relationships and how to cope with this experience. If you feel that someone you know is experiencing this, please do not hesitate to reach out to them and ask them if they would like help.
Share this article on
Want to have a happier, healthier marriage?
If you feel disconnected or frustrated about the state of your marriage but want to avoid separation and/or divorce, the marriage.com course meant for married couples is an excellent resource to help you overcome the most challenging aspects of being married.
More On This Topic
You May Also Like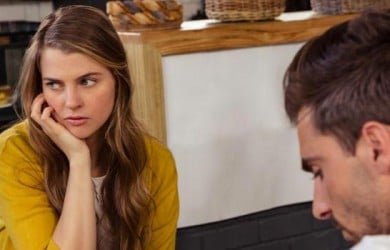 Popular Topics On Married Life