Why Are Relationships So Difficult and How to Make Them Better?
In the past six years of providing couples therapy I've witnessed how the people I work with often wonder "why is my relationship so difficult?" Growing up with the mentality of "happily ever after" no one ever told us that relationship requires daily hard work. No one bothered to mention that it will also include arguments, frustrations, fights, tears, and pain.
In different religions, it is recommended, and sometimes mandatory to go through one or a series of marriage classes before receiving "the permission" to get married. In the United States, you receive a marriage license but there are no mandatory marriage license classes, as far as I know. How can it be that we are obligated to study and learn so many different topics in school, but we are not taught how to be a better partner for our lifelong commitment? Can we ever be ready for this lifetime commitment that encompasses so many different stages and changes over the years? What can I really teach you today about how to have a better relationship with your partner?
Learning about marriage from the Gottamans
Part of the training I received was from Dr. Gottmans (the husband and wife). I found it fascinating to learn about the different components of what they found in research as important for a marriage to succeed. They talk about the fact that we need to have shared meaning, fondness and admiration and should know how to work through conflict, trust, commitment, and a few other components. Watching them on stage in the three-day training was also a learning experience. Seeing the differences between them and how they interact was a very interesting experience. I learned a lot about my own relationship with my husband too. I understood the fact that sometimes we argue and it can get very intense, but it doesn't imply that we're not compatible with each other. It just means that we fight harsh because that's what we are used to and we are both able to let go very easily.
Marriage requires consistent efforts
At the end of the day, what I want to teach you today is that if you thought to be in a relationship is going to be an easy thing – this is going to be a very difficult roller coaster for you. However, if you recognize that relationship is a process of daily hard work, you will be able to make it. It would make you aware that you have to make daily effort to create the relationship you want, and not take it for granted. It would make you responsible to educate yourself and constantly work on your self-improvement in order to be a better human being and therefore a better partner.
You will be able to be one of those who are not just married but happily married. Through your hard work and learning, you will even cherish those moments you cried and fought hard with each other because those moments will make you stronger as a couple. The way I see it right now is that as long as I spend my days making sure that my partner is happy and they do the same thing for me – we would both be happy. Many times, through daily routines and responsibilities we easily become selfish and focus on what it is that we need in the relationship, instead of paying attention to what our partner needs. We fail to listen to our partner and notice when they're struggling because we are too. When you add children to the mix, it makes it even more difficult. There are so many responsibilities and things to do, in addition to your daily work life that it's easy to get lost in the process.
Prioritize your relationship
My advice to you is to make sure to prioritize your relationship especially when things seem too hard. Take out some time to spend with each other. Find those little moments of joy to check in with each other and remind each other how much you love one another. It can even be a quick text of a heart emoji during the day that can change your partners day completely. Cherish those little moments to hug, laugh, enjoy life and dance like no one is watching. Take a walk on the beach, go to your favorite restaurant or the place you went on your first date. Create a daily routine of checking in with each other and dedicating it for just the two of you, even if it's only for five minutes. Notice each others presence, and pay attention to the signals of crying out for help. Remember that when you decided to marry that person, or dedicate your life to being with them, you had a good reason to do that – and never forget that!
If you're in a relationship right now and you're not sure if you want to take the next step take an inventory and say to yourself – can I leave the rest of my life with the defaults and the fact that my partner has? Am I willing to let go of some of the little things that we fight about and recognize the beauty of our relationship for what it is? If you can leave those things that bother you for the rest of your life happily and you can work through them even if it's difficult it is probably worth it.
Share this article on
Want to have a happier, healthier marriage?
If you feel disconnected or frustrated about the state of your marriage but want to avoid separation and/or divorce, the marriage.com course meant for married couples is an excellent resource to help you overcome the most challenging aspects of being married.
More On This Topic
You May Also Like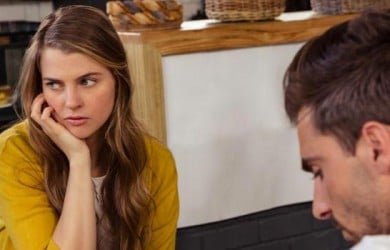 Popular Topics On Married Life