10 Signs You Are Not on the Same Page in the Relationship
Are you feeling stuck and disconnected in your relationship? Perhaps you feel like you're making all the effort but getting nothing in return? Relationships go through all ups and downs. If you're not on the same page in the relationship, though, don't panic just yet.
We all dream of that Hollywood romance where we are in perfect harmony with our partners. It's not just that we want to be on the same page about how we live our lives. We also have the same vision about the future, and we never seem to argue. Is that realistic, though?
What does being on the same page in a relationship mean?
Human beings are complex creatures, and every day we develop and evolve. Even our values can change over time. Therefore, it's not a surprise that it's tough to stay on the same page with our partners. That requires constant communication and ongoing check-ins with each other.
Sadly, sometimes life distracts us, and we get caught up in our mad whirlwind of to-do lists. Everyone these days seems to be too busy or too stressed. This can put a strain on any relationship, and one day, you wake up and realize something's wrong. Perhaps, it's that both of you are not on the same page in the relationship?
Naturally, you can't expect to agree with absolutely everything your partner thinks or does. Nevertheless, being on the same page means that you're aligned on the things that matter to you. These could be, for example, lifestyle, kids, money, and friends.
Everyone has a list of significant life decisions and what they care about. The key is to make sure that your list matches with your partner are one to avoid being not on the same page.
Related Reading: 10 Effective Communication Skills in Relationships for Healthy Marriages
Why being on the same page is key for a great relationship
What does being on the same page mean? More importantly, why does it matter? Essentially, to be happy, you need to live your life according to your values and needs. If not, you can become resentful over time. Moreover, most of us then lash out at those closest to us, and relationships suffer.
It's hard knowing what you want in life and how to live it according to your standards, especially with so much advertising around us telling us what the perfect life looks like.
Furthermore, social media these days forces us to compare ourselves to others constantly. You should be looking internally and checking against your values and standards rather than letting others dictate things for you.
How to get on the same page in a relationship starts with knowing yourself and your values. These are guiding principles for how you live your life, for example, honesty and respect. Although, everyone will define these values slightly differently and expect them to show up in behaviors.
The more you know your values and live by them, you're more likely to lead a fulfilling life. Moreover, you'll be able to match with a partner who has similar values. Then, you'll easily be on the same page.
If you're not on the same page in a relationship, then you'll quite simply be miserable. You'll find yourself constantly second-guessing your partner and probably getting it wrong. This could lead you into a vicious circle of arguments and frustrations.
Top 3 points to be on the same page on with your partner
As mentioned, if you're asking yourself the question "are we on the same page in the relationship", you'll want to consider the following top 3 points:
1. Lifestyle
We all know that phrase telling us that opposites attract. Of course, this can be true because we are often attracted to those who complement us and perhaps fill our gaps. Nevertheless, it can become a source of frustration.
Imagine what it's like living with a partner who's a huge party person and goes out every night of the week if you're an at-home kind of person? Another common source of argument is money. If one of you loves spending lavishly, but the other prefers a thriftier lifestyle, you might feel stifled.
2. Kids
Kids can lead to you not being on the same page relationship. You'll have problems if one of you wants kids, but the other one doesn't.
Furthermore, parenting styles can vary enormously and can create a disconnect. A good clue, though, is to look at how their family approached parenting. Most people tend to emulate how they were brought up or, on the contrary, go the opposite way. Have that conversation, though, before you have kids to be on the same page.
3. Values
These guiding principles for how you live your life also tell you what type of people you want to be with. Communication becomes much easier when we're aligned, as does conflict resolution.
10 signs you are not on the same page in the relationship
The following tell-tale signs will help you decide if you're not on the same page in a relationship. Of course, what you then do about the signs you notice is up to you. Not being on the same page could also be a sign of incompatibility. To know more about signs of incompatibility, watch this video.

1. You avoid talking about life decisions
Having vastly different views about leading your life and managing your money and kids makes it very hard to stay on the same page with someone. This can be further exacerbated if you avoid talking about those topics.
2. Arguments about friends and hobbies
Do you like doing completely different things? Does one of you go out late at night while the other one gets up early for their jogging? Friends can also create a wedge in a relationship if there's tension. After all, no one likes having their partner's friends criticize them.
3. Less intimacy
If you're starting to feel disconnected mentally, you're less likely to want to connect physically and emotionally. Having less sex and being less intimate are vital signs that you're drifting apart and potentially not on the same page.
4. Overly flirting with others
People have various types of relationships, from open relationships to completely monogamous ones. Of course, what you decide is suitable for you is entirely up to you and your partner.
Nevertheless, if you've noticed your partner changing their behavior, then this could be a warning sign. Could you not be on the same page relationship?
5. They're not available for significant events
Does your partner constantly skip work or family events? Naturally, they're not always fun, but the point of a relationship is to support each other. If your partner isn't there for you, then you can very legitimately ask yourself the question: "Are we on the same page in the relationship?"
6. Boundaries aren't respected
There are several forms of boundaries ranging from physical to emotional and sexual. Furthermore, it's essential to know what your boundaries are in a relationship so that you can build mutual respect.
For example, you might need some alone time at specific points during the week. When this isn't respected, you could be facing issues in your relationship.
7. You make excuses for them
Are you always justifying your partner's behavior to your friends? Somehow deep down, though, it doesn't feel right, and you don't feel supported. If your partner is avoiding your friends and spending less time with you, you may not be on the same page in the relationship.
8. You don't understand your partner anymore
We all confuse each other at times, especially if we're tired. Then again, if you're constantly surprised by our partners' views on things, you might be disconnected.
Of course, you can have different views, including on topics such as politics, but you still need to appreciate and empathize with your partner.
9. They don't seem to make any effort
When a relationship feels one-sided, the chances are you're not on the same page. All relationships take effort to understand each other and communicate maturely. Typical warning signs, for example, could be that they're not helping as much around the house or not listening to your needs.
10. Less eye contact
Eyes tell us so much about a person. We also instinctively know that people who avoid eye contact are usually hiding something. Of course, there could be several reasons for this sudden change in eye contact. One of them could very well be that you're not on the same page in the relationship, though.
10 ways for effectively getting on the same page in a relationship
The good news is that you can do things to get through rocky patches in a relationship. We all have ups and downs with people in life.
Nevertheless, applying some of the following tips for how to get on the same page in a relationship can help you come out even stronger on the other side:
1. Discuss the future
Yes, it can be scary to have those big conversations about money and kids. If you don't have them, though, you're harming both yourself and your partner. After all, if you want completely different things that you can't align, then don't waste time going too far down the line together.
2. Get to know each other's friends
Who we hang out with says so much about us. Make sure you involve each other with your respective friends to be more integrated. That's not to say that you can't have time alone with your friends. Of course, you can, but it's about striking a balance.
3. Rekindle the romance
Perhaps you've seen a lack of intimacy, so you now think that you're not on the same page in the relationship? Then again, when was the last time you went on a date night or did something special for your partner?
Sometimes, paying attention to the little things to show we care can turn around a situation.
4. Define the relationship
Being on the same page is very much about agreeing on definitions. Some couples can go for months without even saying the girlfriend or boyfriend word. This can lead to misunderstandings as both people assume different things about the status of their relationship.
5. Communicate
Successful relationships are built on trust and assertive communication. No one can guess what's going on in your head, but you can talk about it. This can be tough sometimes.
For instance, if frustrations are already high, it can lead to both partners blaming each other. Naturally, you are then not on the same page in the relationship.
Blaming and shouting are painful for everyone involved. On the contrary, you need to communicate maturely and respectively, without accusing your partner of staying on the same page.
6. Understand both your needs
For both partners to stay on the same page in a relationship, they must understand each other's needs. These typically include security, intimacy, achievement, and autonomy, amongst others. Share your needs to help your partner also open up about theirs.
7. Accept your partner for who they are
Deep down, we all want to change other people. The only person you can change, though, is yourself. Therefore, look at your behaviors if you want somewhere to start dealing with a relationship where you and your partner are not on the same page.
Changing ourselves sometimes encourages change in others. Regardless, try to accept your partner with all their good points and flaws. Forgive them for being human, just like you are, and watch the dynamic shift.
8. Spend time together
Try to reconnect through a hobby or with friends if you're drifting apart. Sharing a passion is a great way to remember why you fell in love in the first place.
9. Know your core values
As mentioned, aligning on values and what they mean for you is key for being on the same page. To help you discover your values, you can think about people you admire and list down what it is about them that they do that you would like to emulate.
10. Be yourself
Last but not least, be yourself. Don't try to second-guess your partner or turn into a people pleaser in the vague hope that your relationship will improve.
Keep living a balanced life of work, fun, family, and friends, and your partner will respect you more for it. Moreover, don't be afraid to be vulnerable and human.
Conclusion
Being in a great relationship takes work. It's a journey of ups and downs and its chaos of emotions while also highly fulfilling.
So, take one step at a time to be on the same page in the relationship. Moreover, remember to know yourself while communicating and caring for each other's needs. This will ensure you grow together with love, trust, and respect.
Share this article on
Want to have a happier, healthier marriage?
If you feel disconnected or frustrated about the state of your marriage but want to avoid separation and/or divorce, the marriage.com course meant for married couples is an excellent resource to help you overcome the most challenging aspects of being married.
More On This Topic
You May Also Like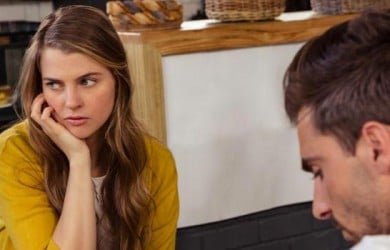 Popular Topics On Married Life