How to Know When to Break Up
When is it time to break up with someone?
It is difficult to come up with a straightforward answer to this question. If you are rethinking your relationship, wondering if, in the words of The Clash, Should I Stay or Should I Go?, these are some points to think about.
Examining the following issues will better help you reach the answer to that crucial question: When Is It Time To Break Up? Carefully thinking over the consequences of staying or leaving can help you feel confident that you have made the best decision, whatever choice you ultimately make.
Related Reading: 

Tips on How to End a Dead-End Relationship
Is there a "right" amount of time to wait before breaking up?
You are allowed to reflect on the health of your relationship, really! All relationships have their ups and downs and knowing if working through one of the down periods is truly worth it is important to think about.
You do not want to break up with someone you love if you sense your issues are able to be resolved with some effort. So take the time you need.
The decision to break up (or to stay) will reveal itself to you clearly once you have thought things through.
Also Try: 

Should We Break Up Quiz
When is it time to break up?
How do you know when it is time to break up? The short answer to this question is this: when the pain, sadness, and frustration of continuing in the relationship outweigh the joy, shared closeness, and happiness the relationship brings you. These are signs it's time to end a relationship.
That is the short answer to the question of when to break up, but it is not easy to digest. You may have a history with this person, you may still feel like you love or like them.
But you may be feeling more and more distance, a lack of spark, a need to be on your own.
You are waffling back and forth, imagining what it might be like to end things. When is it time to break up with someone you love? Let us look at some signs that will help you answer the question, "when is it time to break up?"
Related Reading: 

Signs Your Relationship Is Falling Apart
20 Signs that it's time to break up
There is no guide on how to know when to break up. However, there can be a few obvious signs you should break up.
If you see these signs as a recurrent part of your relationship, you should know it is time when to break up with someone.
1. There is physical, mental, or emotional abuse
There is no relationship worth staying for if your partner is physically violent with you. If your partner is mentally or emotionally abusing you, gaslighting you, degrading you, sequestering you from your friends and family, these are 100% valid reasons to end a relationship.
If you need help getting out, contact a local resource specialized in helping victims of domestic abuse.
Related Reading: 

How to Fix an Abusive Relationship
2. You are no longer attracted to them
If you no longer feel any romantic feelings towards your partner, this may answer the question, when is it time to break up?
Does the thought of them touching you turn you off? Are you living more like roommates than romantic partners? If you do have sex with your partner, do you fantasize about someone else?
If the answer to those questions is yes, unfortunately, this is when to end a relationship.
3. You do not love them anymore
Sometimes love can be like a light switch, either on or off.
If you no longer feel deep, romantic love for your partner, it is unfair for you both to stay in the relationship. No longer having loving feelings for your partner is a strong reason to end a relationship.
Related Reading: 

Signs of Falling out of Love
4. You aren't seeing any signs of caring from them
You are tired and tell them you don't feel like going out.
Do they respond with "You are always tired! We don't do anything anymore!" rather than a caring remark such as "Hey, come here and let me rub your back" or "Let's order in and go to bed early"?
If your partner does not realize that you may be physically or mentally tired, the answer to the question "When is it time to break up?' is mostly likely "right now!"
5. The fights never end
If your mode of communication is mostly friction-filled, or you keep returning to the same conflicts that never get resolved, these are reasons to break up with someone you love.
Can you really accept a future that includes so much fighting?
You know no one can, and therefore, this answers the question of when is it time to break up.
Related Reading: 

How to Stop Constant Fighting in a Relationship
6. You are the one who constantly compromises
Your partner thinks that your issues are resolved, but in fact, they are only going dormant because you make a compromise—each and every time.
While these compromises may seem like something you are doing for the greater good of the relationship, it is not very later that you will realise that it can lead to built-up resentment, and feelings of inadequacy in you.
An unbalanced relationship means it is time to break up.
7. You have grown apart
If you have been in a long-term relationship, perhaps you feel like you or your partner is a different person now than they were when you first met. This happens. Not everyone is able to grow and change together.
If you feel a distance the size of the Grand Canyon stretching out between you both, it may be the answer to the question of when is it time to break up.
8. You have to modify your core values to remain in the relationship
Perhaps your partner does things that are unethical to you: cheating on their taxes or claiming overtime at work that they didn't really do.
If you have to close your eyes to behavior that goes against your moral and ethical code, these are reasons to end a relationship.
Ask yourself how you feel about staying in a relationship with a person like this? If the answer is no, you know when is it to time break up.
Related Reading: 

Core Relationship Values Every Couple Must Have
9. You no longer care about your partner's well-being
You are so over them that when something bad happens at work or in their personal life, you just roll your eyes and go about your own business.
You may not want bad things for them, but you just can't seem to care to proactively find ways to make them feel better, or help them find solutions. This could happen because they seldom listen to your suggestions, which had hurt you in the past. Definitely a sign and answer to the question of when is it time to break up!
10. You are the one who is supporting the health of the relationship
If your partner does little to contribute to the relationship, in terms of planning activities or helping around the house, it could mean that it is time to end the relationship.
A relationship is a partnership, and while one person may need to contribute more on certain days, one partner cannot take the relationship forward all alone.
Ask yourself what value do they add to your couple?
11. Your needs are neglected
Does your partner not want to engage in sex, conversation, social activities with you?
This could simply mean that they are not interested in you, or the relationship. When we love someone, fulfilling their needs becomes one of the most important things to us. If your partner constantly ignores your needs, it is time to show them the door.
12. Your general state of mind is "unhappy"
If you just do not feel happy in the relationship, what is even the point of it?
If you recognize the general state of your mind as "unhappy", it may be time to call it off. You can recognise this by the way you feel when you wake up, especially with your partner, or when you spend the day with them.
Does their presence make a difference in your happiness? If not, the relationship may already be over.
Also Try: 

Are You In An Unhappy Relationship Quiz
13. You do not look forward to spending time with your partner
If you do not feel like spending time with your partner and do not miss them when they are not around a lot, it may be time to break up.
In fact, you may find yourself overscheduling your weekends, so you are out doing things on your own.
14. Things you used to find cute about your partner now annoy you
Very often, when we fall out of love with someone, we start seeing things we once found cute as annoying.
Since the love is gone, you may find it difficult to put up with certain habits or things that your partner says.
15. Friends and family question your relationship
Your friends and family have started to wonder what you see in your partner and have openly stated you can do better.
If people in your life, who care about you, can see that you are not right for each other, it may be time to break up.
16. What you want out of life is significantly different
You cannot see your partner in your future.
The goals and plans you have outlined for yourself in the coming years do not align with theirs. Also, if you do not have a problem imagining a future without them, it may be time to let them go.
17. Unmet needs
You spend more time asking your partner for what you need than getting it.
You have clearly talked about unmet needs, but your partner is not willing or is unable to fulfill these. You aren't feeling valued. While unrealistic expectations from your partner may be your shortcoming, not being able to meet your needs, or not even trying, is theirs.
18. You are bored with your partner even when doing things with them
You fantasize about what your life would be like if you were solo or with someone else.
This could mean that your partner does not add any value into your life, and in fact, may make you feel unhappy and inadequate.
19. Taking separate vacations is routine
You can't stand to spend concentrated time with your partner anymore. You both would rather take vacations alone, or even with your friends, rather than just the two of you.
This could mean that you both do not enjoy each other's company, and a long-term relationship in that case just does not make any sense.
20. You do not like who you are in the relationship
You do not like what your partner turns you into. Maybe you are unhappy and therefore react in ways you know are not your actual traits. Chances are, your partner makes you feel inadequate or insecure. You may find yourself complaining, or nagging about issues you know you do not even want to.
Related Reading: 

How to Break up With Someone You Live With
Some last-ditch efforts you can try before calling it a day
If the above signs do not speak to you completely and you are unsure how to decide to break up, you could give it one last shot by some last-ditch efforts.
Identify the underlying dissatisfaction
Sometimes we are unhappy with ourselves, but we project this unhappiness onto our partners, putting the blame on them.
Spend some time working on your own personal inner happiness and see if this shifts your feelings about the relationship.
Always ask for clarity. Lay it all out there.
Before breaking up, it is worth it to truly talk with each other about what is driving you apart. Give them room to talk, too.
Offer a reset, with a deadline by which improvements should be seen.
Related Reading: 

Ways to Break up with Someone You Love 
When it is time to break up: 10 steps to doing it right
There is no easy way to break up with a partner you used to care deeply for. But it is worse to remain in a bad relationship.
Some people prefer the ripping off the band-aid method, where they quickly say, "it's over; I'm out." Others move slowly towards the unraveling.
Whatever fits your comfort zone, here are steps to extract yourself from the relationship gracefully.
1. Do it in person
So many of today's breakups happen over text or email. That just isn't respectful.
Have the conversation in person so your so-to-be ex feels part of the decision.
2. Do it in private
Best place for a breakup?
Your partner's place, so they can cry privately once you have announced the breakup and left. Nothing worse than having to walk the streets of a city, sobbing and looking for a taxi to take you home.
3. Be thoughtful about the timing of the breakup
Try to avoid breaking up with your partner on their birthday or a major holiday like Christmas.
Don't break up with them the day they write the bar exam or have their thesis defense.
4. Be clear
Your mind is made up, and you need this to come across.
It is better to state the reasons behind the breakup so that your partner knows this is a done deal.
5. Approach the conversation with as little drama as possible
Think about what you want to say, starting with all the good memories you will keep of your time together. Do not be dramatic when you try to approach the conversation, as it is only likely to spiral into more later.
6. No breakup sex
While it may seem like a good idea at the time (you want to comfort each other through this awful conversation), it will not help in either of your recoveries.
Related Reading: 

Science Behind the Indulgent Nature of Break up Sex
7. Break off all contact
Delete them from social media.
Sure, we all know people who "remained friends," but really, recovery is much easier if you have no contact with the person and you cannot see them on social media.
8. Acceptance of the reasons
Breakups happen because you were not meant for each other. When you integrate this truth, recovery will be faster. It is very important to accept what has happened, and also accept the reasons why it was the right thing to do.
9. Give yourself some time alone
Rebound relationships are never healthy and can be unfair to the other person.
Once you break up, date yourself. That's right. Take care of yourself, work on yourself, touch base again with your own identity. Do what you like when you like. Embrace your solo life.
10. Tempted to talk with your ex?
Ask yourself the why behind the urge.
If it is just to keep them in your life, back away and do something else. If you truly have zero feelings for them, ask yourself what you would be getting out of the conversation?
Related Reading: 

Healing From the Emotional Pain of a Breakup

 
The healing after the breakup: What next?
Even as you may have initiated the breakup, some painful emotions may surface in the days and months following the end of the relationship. You may have wanted to fly solo, but the reality of feeling there is no one out there thinking of you can be difficult.
During this post-breakup time, treat yourself gently. Reach out to friends so that you can make plans for the time which you used to spend with your former partner.
This is not to say that you should try and avoid dealing with these sad moments.
You will need to process this life-changing milestone. But do surround yourself with people who love you and who will be there for the dark times that follow the end of a relationship.
Just as you tried working things out in a relationship, try to form a similar connection with your own self.
Watch this video by Jay Diaz to understand the many stages you go through once you break up with someone you love:
Once you feel that you have healed, only then should you venture out into the dating pool again.
Make sure that when you do start to date, you are doing this with a sense of excitement, and not just because you are unable to be alone.
Related Reading: 

What to Do After a Breakup?

 
The bottom line
Make sure you have taken the time to work on your own inner light so that when you start interacting with romantic partners again, they are drawn to this, the authentic you, strong and attractive.
Learn from your former relationship, so that you do not find yourself in similar situations months from now.
You want your next relationship to be the one that goes the distance, with a balanced and healthy love bond between you and the next partner.
Share this article on
Want to have a happier, healthier marriage?
If you feel disconnected or frustrated about the state of your marriage but want to avoid separation and/or divorce, the marriage.com course meant for married couples is an excellent resource to help you overcome the most challenging aspects of being married.
More On This Topic
You May Also Like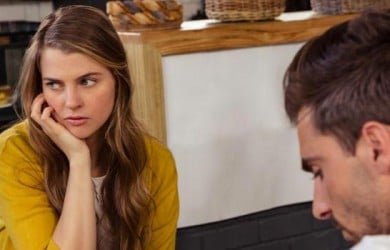 Popular Topics On Married Life