What is a Marriage License and Why Is It So Important?
There was once a time when marriage was a foundational part of our culture. However, since the 1960s, marriage has declined close to 72 percent, according to the reports. This means that only about half of America's population are in a marital relationship.
Not only that, but according to the Pew Research Center, 15 times the amount of couples now live together than they did in the 60s, and 40 percent of unmarried individuals believe that marriage does not hold the need or relevance that it once did.
Unfortunately, for many, a marriage license is nothing more than a piece of paper.
Some might say that if that perspective was debated in a court of law, it's interesting that a deed to a house or a title to a car is not seen as simply a "piece of paper," and they would have a valid argument. Marriage is not just a relationship between two people who love each other.
What is a marriage license?
So what is a marriage license? What is the purpose of a marriage license? Does a marriage license mean you are married?
It is a document procured by a couple that has been issued either by the church or a state authority which grants them authority to get married.
Basically, a marriage license is essentially a legal permit that states you and your partner are legally allowed to marry. Also, it is a confirmation from the authority that there are no qualifications that would disqualify you from a legal marriage.
Marriage is also a legal contract and a binding agreement. And so, when two people decide to become life partners with the help of a marriage license and wedding ceremony, there are actually a lot of benefits that come with it.
Check out this video to learn about the difference between a marriage license, a marriage certificate & a certified marriage certificate:
Why marriage license is so important
Before you start to undermine the relevance of a marriage license and wonder 'Why do I need a marriage license,' let us enlighten you on why do you need a marriage license. When should you get your marriage license? And what are the things needed for a marriage license?
Marriage is good for your health
Everyone wants to "live well and prosper," right? Well, one way to do that is to get married. For instance, there is a study that indicates that "those who never married were more than twice as likely to die early than those who had been in a stable marriage throughout their adult life.",
Not only is marriage a potential lifesaver (literally), but it reduces your chances of having a chronic condition, it improves your mental and emotional health and there are also studies that indicate that married sex is better than sex among singles.
One reason is that married people tend to have sex more consistently than singles do; this results in more calories burned and better heart health. Also, engaging in the activity with a monogamous partner is much safer too.
It's a healthy environment for children
There is a bit of a caveat to this point. Marriage is a healthy environment for children if the marriage itself is good.
Keeping that in mind, there are numerous reports which indicate that children who have two parents in the home earn better grades, are more likely to stay in school (and go to college), have a lower chance of doing drugs or participating in underage drinking, are less vulnerable to emotional issues and depression. They have a greater chance of getting married when they grow up.
A marriage license earns you all kinds of rights
What does a marriage license do?
Although no one should get married just for the legal benefits, it's still good to know that there are some. Many, in fact. Being married gives you the right to your spouse's Social Security, Medicare, and even disability benefits.
It puts you in a position to make major medical decisions on behalf of your spouse. If your partner had children prior to you getting married, you could legally file for the official role of stepparent or even adoption.
You can sign for lease renewals on behalf of your spouse. And, should they die, you are able to consent to after-death procedures and also make final burial plans. You are also able to get access to their worker's compensation or retirement funds as well.
Related Reading: 

The Importance Of A Marriage License
You can receive financial benefits
Did you know that there are financial benefits that come with being married? Marriage can earn you several tax deductions.
It can also safeguard your estate, reduce your healthcare costs, earn you greater deductions on your charitable contributions and it can also serve as tax shelter if your partner has a business that ends up losing money.
Being married can make (and keep) you happy
Can you live a fulfilling life as a single person? Of course, you can!
But when you know that you have someone by your side who is committed to supporting and encouraging you, through the good and tough times, for the rest of your entire life, that can bring about a special feeling of relief and happiness.
And that's why married people tend to be happier, long-term, than singles (and divorced people).
Also Try: 

Marriage Happiness Quiz- How Happy Is Your Marriage?
Apart from functioning as valuable proof or evidence of a marriage, a marriage license has numerous other benefits. Some of which are as follows:
Getting visa approvals for your partner

Ensures social security

Beneficial for women as it can impart self-confidence in them

Beneficial for claiming life insurance, pension, and other bank deposits

Can be essential during a legal separation, alimony, and even divorce

The succession of property
Related Reading:

 The Benefits of Marriage – Tax, Legal and More
Requirements to get a marriage license
What do you need for a marriage license?
Now, there are specific requirements for a marriage license. You cannot just walk up to any Governmental authority and demand a marriage license, Right?
There are quite a few requirements for a marriage certificate, but they vary from state to state. The most basic ones are –
Presence of both of the spouses

The person who officiated the ceremony

One or two witnesses
The newlywed couples need to pay a visit to the county clerk's office from where they are planning to exchange their marriage

vows

.

Also, you need to be aware of another important point here, and, i.e., the marriage license is good for that particular state from where you obtained it.
You cannot use the same license, which was procured, for example, from Texas and used for the wedding, which is supposed to take place somewhere in Florida.
But there is a catch here– a U.S. citizen can manage a marriage license in any of the fifty states.
Just remember! There are certain things you need for a marriage license. You will need to bring certain personal records to your clerk's office in order to apply for a marriage license.
What are the legal documents required for marriage?
What do we need for a marriage license? Let's take a closer look at what you need for a marriage license.
What are the legal documents required for marriage? The exact records can vary from state to state, but most states will require these basics-
A state-issued photo ID of you and your partner

Proof of residency for both you and your partner

Birth certificates for both you and your partner

Social security numbers for both you and your partner
Again, some states require more specific records than others.
Most states in the USA used to require mandatory physical examinations before marriage. These examinations also included testing for certain diseases, including venereal disease as well as serious contagious diseases such as rubella and tuberculosis. These laws were originally created to help stop the spread of these diseases.

Today, however, mandatory testing is not the norm—although there are still some states which require testing for rubella and tuberculosis due to the serious and contagious nature of the disease.
To find out whether or not you will need a physical examination before you can apply for a license, look up your state's specific marriage requirements. If you do require an exam, you will likely need proof from the physician with you when you apply in person for your marriage license.
If you are under 18 but live in a state where you can marry with parent/guardian consent, your parent/guardian will need to come with you to apply for the license.
You may also need to prove that you are not related to your partner.
How to get a marriage license
Procuring a marriage certificate is equally important as getting a marriage license is. The former is considered an official recorded document that is issued by the Government to certify the union legally. At times, a marriage record is regarded as a part of the public record.
To complete an application for a marriage license, one or both spouses must appear in person at a courthouse, city hall, or town office and sign the marriage license application in the presence of the clerk (along with payment of a fee).
The application for a marriage license requires one or both partners to appear at the court to sign the application in the presence of a clerk with a small fee. Alternatively, the marriage license can also be mailed by the couple.
Read this article to understand further details: 

How Do You Get a Marriage License?
Who should sign the marriage license?
In most states, the marriage license has to be signed by both the spouses, along with one or two witnesses and the officiant. The officiant could be the judge, a friend, or a religious leader who performed the wedding ceremony.
This is signed right after the wedding.
How to get a copy of your marriage license?
If you do not have an official copy of your marriage license, you must obtain a copy from a government agency from the state where your marriage took place.
The website Centers for Disease Control and Prevention (CDC) details the name and address of every vital records office. The other option is to get the copy from the county clerk or a civil registrar from the place of marriage.
How much marriage license cost?
The marriage license fee can vary from $10 to $115, depending on the state, county, city, or municipality. Check out the states with the fee for each state here.
Note that the fees for the states are subject to change from time to time.
What if I lost my marriage license?
Getting a marriage license is mandatory in every state of the United States of America and across the world. The purpose of obtaining a marriage license is to legalize the marriage and serve as a legal permit.
If your original marriage license is lost, you can apply for a duplicate one as legal evidence. The duplicate marriage license is obtained from the local registrar's office, or you can also avail an online marriage license.
Takeaway
So, as you can see, when considering whether or not getting a marriage license is going to make that big of a difference in your life as it relates to your relationship, there is an overwhelming amount of evidence that says that it definitely can.
Getting married is about so much more than just "having a piece" of paper. In just about every category that you can think of, it comes with a myriad of advantages. Ones that can last a lifetime!
Share this article on
Want to have a happier, healthier marriage?
If you feel disconnected or frustrated about the state of your marriage but want to avoid separation and/or divorce, the marriage.com course meant for married couples is an excellent resource to help you overcome the most challenging aspects of being married.
More On This Topic
Recent Articles
You May Also Like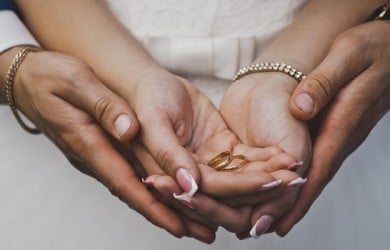 Popular Topics On Getting Married