Why Get Married – 5 Reasons Why It's Still Important Today
What is the first thought that comes to your mind when you hear the word marriage? Is it the sanctity of the wedding in your religion or the legality of being married by law that makes it more valuable?
Or, are you someone who still values the formality of being married to the person who you chose to love forever?
You might also wonder why get married these days? Is it still as important nowadays, when divorce rates are soaring high?
How people view marriage today
Today, seeing happily married couples may seem like an unbelievable sight.
Nowadays, we see men who have a hard time deciding if they will marry or not. It is because men who marry look like they're on their way to suffering a life of jail time with their wives.
Today, even women feel that marriage can sometimes just be a formality and will only cause more problems when they want to end the relationship. Today, couples would anticipate the impact of a divorce when you're married rather than the good reasons to get married.
This inhibition, in turn, gives rise to questions like 'why is marriage important' or 'why do people get married in the first place'.
Some may think that if they disregard legal reasons to get married and just live in together, it would make them cooler or more independent and realistic, but does it?
Before you rush to any conclusion, you need to figure out why do you want to get married.
Ask yourself questions like- don't you wish to get married to the person you love? Is marriage more of a burden than a good thing?
Believe it or not, the true meaning of marriage may have changed today, but there are still couples that still value and know the importance of getting married, and that's always a good thing. This is because being married to your partner is ultimately way better than being single your whole life.
Recommended – Pre Marriage Course
Why is marriage important in life?
Before understanding the reasons for getting married, it is crucial to realize why people fear getting married. There are a lot of counterquestions to marriage as follows.
Why get married today when you can just live together? Why get married when it only gives you a hard time when you want to get divorced?
These are just some of the reasons why people nowadays see marriage as a burden rather than something to be proud of. By definition, marriage isn't just a term that you can easily disregard. To get an answer to why get married, read along.
Marriage is the sacred union of the two people in love committed to the nurturing of a new life together.
Still today, our society flourishes and recognizes the importance of marriage and puts conditions in places and situations that ultimately safeguard the union of a family by law and by religion.
Sure, some people may argue that why get married? It's still their decision not to get married, and that's all fine.
However, for those who still believe in the importance of getting married to seal the union of two people, here are some more reasons to reaffirm your belief in the institution of marriage.
Six reasons to get married
For those who are married or those who are planning to get married, you might find yourself relating to the following positive reasons for getting married.
1. Marriage will give you the legal rights of a spouse
We all know how important it is to be the legal spouse not just because you want your children to bring the legitimacy of their birthright but also plays a vital role in your assets and all kinds of marital rights, including retirement funds and alike.
Still wondering why it is important to get married, read on!
2. Marriage is the beginning of your new life together
Marriage is not just a legal union. It is both a physical, spiritual, and emotional alliance as you and your spouse will now decide together and will no longer think selfishly but rather for the benefit of your family.
It gives you and your partner a legitimate chance to commit to your relationship.
3. Marriage teaches you the importance of commitment
Though many marriages indeed lead to divorce because of affairs, there are also many couples who have successfully defeated the temptation to do this.
If you're married, wouldn't you treasure what you have with your spouse? Wouldn't you think twice about ruining your marriage just because of temptations?
So, why get married- to understand what commitment is!
4. Marriage will strengthen your union as a family for your children
Let's face it – it is easier to abandon your partner and your child when you're not bound by marriage.
Statistics show an alarming rate of an absentee parent, which will then cause significant mental and behavioral effects on a child.
When you are married, and you have kids, even if you're facing problems, there's more than enough reasons for you to rethink your priorities and your life.
So, why get married- It's still one of the building blocks of a healthy family. And, you ought to strengthen your relationships for a happy and fulfilling life.
Watch this video to gain deeper insights into raising children as you are building a happy marriage:
5. It is the ultimate act of love for your partner
If you truly love someone, won't you imagine your future with them? Won't you dream of building a family with your partner and bind it with marriage? Would there be any other reason why you won't marry the person you love?
It's one of the strongest glue that any couple can have aside from commitment, respect, and of course, love.
6. Marriage is not the last step for a happy ending
Marriage doesn't work for some and ultimately leads to divorce. But, there are still people who know how sacred marriage is and know the importance of getting married.
A marriage, of course, isn't the last step for that happy ending but rather the first step in making your own love story, which will require lots of patience, understanding, commitment, love, and respect. There are still some people today that do not feel the need to be married — and we are not here to judge or to tell them what they need to do with their lives.
Why get married when you're young and successful? This is one of the most common reasons that we would hear if you ask someone about marriage and truth is, we live the life we want.
The truth is, we just all want our happily-ever-after, and marriage is still one way to show to your partner that you are willing to spend the rest of your lives with them, for better or for worst – till death do you part.
Now when somebody as you- why get married, you know what to say!
Share this article on
Planning to get married?
Just engaged or contemplating marriage? Discover how to transition smoothly into the next phase of your relationship with Marriage.com's Pre-Marriage Course. Begin your incredible journey with this guide designed by experts and lay a strong foundation for your path of togetherness - forever!
More On This Topic
Recent Articles
You May Also Like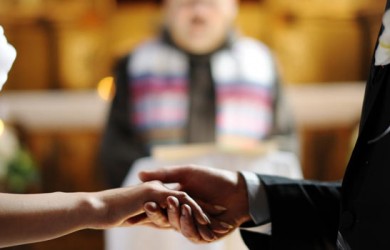 Popular Topics On Getting Married