How Do You Get a Marriage License?
How to get a marriage license? Easy: You apply for one!
When you apply for a marriage license, it legally allows you to get married to your significant other. But before that, it is important to understand what a marriage license is and why it is important to get one.
What is a marriage license?
A marriage license is a document issued by a governmental authority that allows two people to marry. To obtain a marriage license, the soon-to-be-married couple needs to visit the county clerk's office where they are planning to marry. You can find more information on the online marriage license process here.
What does a marriage certificate contain?
Before you learn how to get a marriage license, you should know what a marriage certificate includes to be familiar with its contents.
Full name of the couple

Residence information of the couple

Occupation of both the partners

The date and place of the marriage

Some states include the name of the witnesses

Signature of the county's clerk and justice of the peace.
To know more watch this video that explains the difference between Marriage license vs. Marriage certificate:
Difference between a marriage license and a marriage certificate
Once you have gotten your marriage license, a government document that legally allows you and your significant other to get married, it is time to get a marriage certificate. The certificate of marriage comes after the wedding ceremony has taken place.
A marriage certificate is a public record that you two are legally married. It is also important when you want to legally change your last name to add someone to your work benefits policy, and it can be helpful when you get audited by the IRS.
Lastly, keep your marriage certificate safe, so you can easily access it when required.
How to apply for a marriage license: Steps to follow
Wondering where do I obtain a marriage license? You can obtain it offline or online easily. The license will be printed where you were married, and depending on how far it has to travel to get to you is the deciding factor for how long it takes to get a marriage license.
Here is how you can apply for a marriage license and obtain it:
Step 1: Get everything you need
How to apply for a marriage license? When applying for a marriage license, one of the most important marriage license requirements is that both the partners must appear together.
Before getting a marriage license, you will need to gather all of the appropriate paperwork necessary for the application. Depending on your legal status and age, the paperwork and other items you may need to bring will vary from state to state. The most basic requirements for a marriage license application are:
Your state-issued identification card or driver's license

Your social security card and social security number

Your birth certificate

Some proof of residency

Blood or medical test
Again, these are just the most basic requirements. Some states and circumstances will require more paperwork. Always look up your state's marriage license requirements before heading to the office.
Step 2: Inquire about mandatory testing and waiting periods
When people ask themselves, 'How to get a marriage license,' they often don't know about two significant factors: mandatory testing and waiting periods.
In the past, it was standard for states to require medical testing for couples; this was done to stop the spread of contagious diseases. Testing for hazardous illnesses such as rubella and tuberculosis is still mandatory in some states. However, mandatory physical examinations are not as standard as they used to be—though some states still require them. If your state does, you will need proof of testing and examination.
Waiting periods are another element of marriage license applications that vary from state to state. A waiting period is essentially a time that must elapse between applying for the license, getting the license, and getting married.
Waiting period laws were introduced to avoid people getting married on impulse—and no, Nevada does not have a waiting period on marriage licenses!
Step 3: Apply in person or online
The increase in modern technology has led many states to allow couples to use online applications rather than make them drag themselves down to the county clerk to apply.
Depending on your state, you may be able to complete your application online and avoid the hassle of appearing in person. However, some states do not have online applications and require you to appear in person to apply and pick up your marriage license. Hopefully, this answers the question, "how to get a marriage license?".
Additional point: Obtaining a marriage license if you are widowed
If you are widowed, you do not need to submit a death certificate when applying for a marriage license at a marriage license bureau.
How to quickly get a marriage license in 9 simple steps
When planning your marriage, be prepared for one of the most important things—the marriage license. It's not one of the most exciting parts of planning a wedding but one of the most vital. Because without it, you can't be officially married. Just imagine if you went to all the work of planning a wedding and forgot to get a license! You couldn't be officially married.
There are some things you need to know about how to get one, so to make it easy, here are tips on how to get a marriage license in 10 simple steps:
1. Set your wedding location as early as possible
The state and county will make a difference when applying for a marriage license as application requirements vary.
2. Find the phone number and address of that county clerk's office
In most cases, that is where you'll be applying for your marriage license. Call and ask questions about how to apply and what you'll need to apply. Also, find out the days and times they are open and if they charge more for Saturday applications.
3. Make sure that both of you go in to apply
You both must be present to get a marriage license.
4. Be sure you both pass the age requirements
Each state has different age requirements for marriage. If you are not old enough, you'll need parental permission to marry in that state.
5. Each of you must bring a photo ID
Bring IDs such as a driver's license or passport, any necessary paperwork (ask the county clerk for specifics, like a birth certificate if you are under age), and the application fee, which varies quite a bit by state and sometimes even by county. In New York, you'll page $35, in Maine, it's $40, in Oregon, it's $60.
6. When it is ready, pick up the marriage license
Please pick up the license or have it mailed to you. Keep it somewhere safe until your wedding day. Don't forget to bring it with you on your special day! It's good to keep it in a file folder or some other protective container to prevent it from getting folded or smudged.
7. Sign in
After you are married by someone authorized to do so in your state, such as a religious leader, judge, clerk, or justice of the peace, then that officiator, two witnesses, and you and your partner all sign the marriage license. Bring a pen!
8. Return the license
Have someone, usually the officiator (ask the clerk's office for specifics), return the license to the county clerk's office so it can be recorded. This is important to do right away.
9. Almost done!
You can purchase a certified copy of the completed marriage license in person in about a week and perhaps also by mail. You don't have to, but on your way home, purchase a nice frame to put it in. You can even hang it on the wall where some of your wedding photos will go!
How long does it take to get a marriage license?
This is one of the most essential details to plan for. In some states, you could hurry down to the county clerk's office and apply for one; but you wouldn't be able to get a same-day license in other states. That's why you need to learn about getting a marriage license in your state.
Some states have a waiting period before using your marriage license, so you need to get it in advance. But also, some states require you to use the marriage license within a certain amount of time.
This is critical to make sure you can get your marriage license when you need it.
For example, if you're getting married in Idaho, there is no waiting period or expiration to get it a year in advance or on the same day as the wedding. But if you are getting married in New York, there is a 24-hour waiting period and a 60-day expiration; in that case, make sure to apply at least one day before your wedding but not more than 60 days before.
Final thoughts
In marriage legalities, a digital revolution is a useful option for applicants.
While there is a sense of ritual involved in applying for a marriage application traditionally, you can apply online if your state's online process is shorter than the normal process.
It's all about accuracy, friends. If you are compelled to "go digital," make your online submissions error-free and precise. While convenience and speed are always attractive, the delay of a license issuance hurts.
Share this article on
Want to have a happier, healthier marriage?
If you feel disconnected or frustrated about the state of your marriage but want to avoid separation and/or divorce, the marriage.com course meant for married couples is an excellent resource to help you overcome the most challenging aspects of being married.
Learn More On This Topic
You May Also Like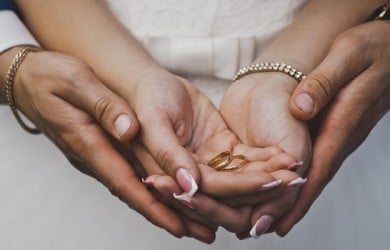 Recent Articles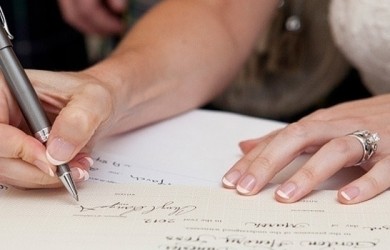 Popular Topics On Getting Married