Serial Monogamy in Marriage: Definition, Signs & Causes
When people hear the phrase "serial monogamy," they often imagine a person who rapidly shifts from one relationship to the next. They may date someone for a few weeks or even a few months and then quickly move on to another relationship.
While serial monogamy is often associated with dating, it can also occur within marriage. Learn all about serial monogamist psychology below.
What does "serial monogamy" mean in marriage?
In marriage, the serial monogamy definition refers to people who have repeated short-term marriages. They may marry for a few years, divorce as soon as problems arise, or the honeymoon phase passes, and then remarry shortly after.
The reason serial monogamy applies to marriage is that in most instances, especially in the case of religious or Christian marriage, there is a general expectation that people will remain monogamous and faithful to each other.
Many people value marriage as a lifelong commitment in which two people remain monogamous. However, a serial monogamist engages in numerous marriages. While they may remain monogamous throughout each marriage, the truth is that they have multiple sexual partners throughout their lifetime because of serial monogamy.
A serial monogamist may not be all bad because they are faithful to one person while in a relationship, but the problem is that their relationships are rarely for life.
They don't practice monogamy in the form of having one lifelong partner. Instead, they are monogamous, with one person at a time.
Learn more about serial monogamy in the following video:
Ten signs of being a serial monogamist in marriage
So, what are some signs of being a serial monogamist in marriage? Consider the ten serial monogamist characteristics below to get a better idea. These signs may be present among serial monogamists whether they are married or not.
1. Becoming bored easily
Serial monogamy is associated with boredom. A person who tends to be a serial monogamist enjoys the thrill of the chase and the excitement in the beginning stages of a relationship.
What happens with this personality type is that they become infatuated early in a relationship and think they want to spend the rest of their life with this person. They may rush into marriage, but as soon as the honeymoon stage passes, they get bored, assume they've fallen out of love, and end the marriage.
2. Fear of being single
Another serial monogamist red flag is difficulty remaining single. People who fear being on their own are more likely to be serial monogamists because as soon as one relationship ends, they enter a new one.
Fear of singleness can quickly lead to a pattern of serial monogamy because a person will jump into a new relationship before doing self-discovery and healing from the last breakup.
This means they carry the mistakes from the previous relationship into the next one, setting the next relationship up to fail.
3. Relationships that progress quickly
In a typical relationship, it's natural for people to take some time to get to know each other. They may date casually for a while before deciding to settle down exclusively. When a person is a serial monogamist, their relationships tend to be intense and fast-paced.
On the other hand, serial monogamists may express their love for their new partner after just a few dates or insist upon moving in together before really having time to get to know each other.
4. Dislike of dating
Most serial monogamists aren't fans of the dating scene. They'd rather settle into a committed relationship than take time to explore the dating pool and get to know a person. Rather than having some casual flings with a few committed relationships here and there, a person who practices serial monogamy wants to always be in a serious relationship.
5. Struggling to be alone in any setting
Another of the top serial monogamy characteristics is the fear of being alone. Many serial monogamists want a relationship at all times and want to be around other people as much as possible. Being alone, in their own company, can make them quite uncomfortable.
6. Expecting a perfect relationship
One of the common patterns seen with serial monogamy is that it results from a belief that a relationship will always be perfect. A serial monogamist believes that there is one perfect soulmate for them, and once they determine their partner is not perfect, they will jump ship and look for the next relationship.
7. Black-and-white thinking
Similar to their desire for perfection, serial monogamists see relationships in black-and-white terms. The relationship is either perfect or it is all bad. This means that disagreements or differences will seem catastrophic to them rather than challenges they must work through to make the relationship last.
8. Signs of narcissism
The serial monogamist narcissist will have a series of short-term relationships because they rely on their partners to meet all of their needs. They require excessive attention and admiration, which can wear on their partners.
So, what happens is that the narcissist quickly enters into relationships, and when one relationship goes sour, they switch to another relationship to have their needs met.
9. Looking for a new relationship before the current relationship ends
Since serial monogamists have trouble being alone, they must create a new relationship before leaving their current one. While they may stay faithful to their current partner, as soon as they feel that the relationship is going sour, they will look for new prospects, so they don't have to be alone for long if the relationship ends.
10. Staying in bad relationships
Finally, a serial monogamist may stay in a bad relationship until it is past its prime because of their fear of being alone. They may prefer to stay in a bad relationship than face the reality of dating again and finding another relationship to meet their needs.
Why do people practice serial monogamy?
There is not one single cause of serial monogamy, but several factors can contribute to this type of relationship pattern.
People who have a habit of serial monogamy often have underlying problems, such as mental health disorders or distorted thinking patterns, that lead them to seek relationships to meet their every need.
Some factors that can contribute to serial monogamy include:
Personality disorders like BPD (borderline personality disorder, which is linked to a fear of abandonment and, therefore, serial monogamy

Codependency

Poor examples of healthy relationships during the childhood years

Being unsure of your identity and turning to a relationship to fulfill your identity needs
Changing the cycle of serial monogamy
If you've had repeated, serious short-term relationships over time and are ready to settle down with a lifelong partner; serial monogamy can become a problem. While you may always find yourself in a relationship, chances are that these relationships are not fulfilling.
After all, serial monogamists tend to believe that their relationships should be perfect and meet their needs, even though it's unrealistic for any relationship to be a fairytale.
When expectations aren't met, the relationship begins to crumble, and a serial monogamist will either end things so they can jump to the next relationship, or they may stay in a situation where they aren't happy.
Ultimately, this doesn't make for healthy relationships.
To break the pattern of serial monogamy, you'll have to spend some time on your own. Think about what it is that you want out of a relationship. What did you like about past relationships?
What went wrong?
Evaluating the pros and cons of past relationships can point you toward what you'd like out of a lifelong partner. While you spend some time alone, doing some soul-searching is also beneficial.
Are there any traits you bring to the table that lead you to bounce from one relationship to the next?
Maybe your parents had a terrible relationship growing up, so you're afraid to settle down with the wrong person. This can lead you to jump ship as soon as the relationship seems less-than-perfect. Or, perhaps you're so afraid of being alone that you quickly jump into relationships with people who aren't a good fit.
Take some time to figure these things out and change distorted viewpoints. For example, if you expect your partner to be perfect and meet your needs at all times, challenge yourself to shift your thinking. Your partner can be imperfect but still be a good fit.
Ultimately, you may have to seek counseling or therapy if you have difficulty breaking the cycle of serial monogamy. In counseling, you can explore your emotions and uncover underlying issues contributing to relationship problems.
Serial monogamy FAQs
The answers to the following questions can also be helpful if you're looking for information on serial monogamy in marriage.
1. Is serial monogamy a red flag?
Serial monogamy isn't all bad because people with this relationship style do tend to be faithful to their partners. However, it can come along with several problems.
People who engage in serial monogamy may be codependent or have unrealistic beliefs about how relationships can look. Furthermore, because they're always in a relationship, they may not have had time to develop a strong identity and explore who they are.
The facts above can make a relationship with a serial monogamist more challenging. This doesn't mean that relationships with a serial monogamist will always fail, but it's still important to look at your partner's relationship history.
A series of serious short-term relationships can be a red flag that they fear commitment and will jump ship once they get bored or feel the relationship is no longer perfect.
2. What is a serial monogamous relationship?
A serial monogamous relationship occurs when one or both partners have a habit of always being in a relationship. These relationships often begin quickly and then fizzle out when reality sets in.
One of the most common examples of serial monogamy is the tendency for a person to hop from one relationship to the next. When the first relationship doesn't work, they quickly replace it with a new one, convinced that this next person is the love of their life.
3. Do serial monogamists ever marry?
Some serial monogamists do end up settling down and getting married. However, they may quickly enter a marriage, only to push for divorce when things don't go as planned.
Some serial monogamists may have several marriages throughout their lifetime. Still, they may have difficulty having a healthy marriage if they do not resolve underlying issues like codependency and attachment problems.
Serial monogamy in marriage can lead to repeated divorces and remarriages.
The takeaway
Serial monogamy involves a tendency to have repeated serious relationships, most of which are short-term. Instead of settling down with one partner for their lifetime, serial monogamists jump from one relationship to the next.
Someone who isn't a serial monogamist may have several serious relationships during their lifetime. Still, after one relationship ends, they take time to grieve, heal and decide what they'd like to do differently next time.
On the other hand, a serial monogamist never takes time to move on from the previous relationship.
The pattern of serial monogamy can make it challenging to learn who you are and develop the skills needed for a healthy relationship. If you're caught in a cycle of serial monogamy, you likely need to take some time on your own to do some soul-searching and explore what is leading you to always need to be in a relationship.
With time and effort, and in some cases, some professional counseling, you can learn to overcome the challenges of serial monogamy and develop a long-lasting relationship that you don't feel the need to run from at the first sign of problems.
Share this article on
Want to have a happier, healthier marriage?
If you feel disconnected or frustrated about the state of your marriage but want to avoid separation and/or divorce, the marriage.com course meant for married couples is an excellent resource to help you overcome the most challenging aspects of being married.
More On This Topic
You May Also Like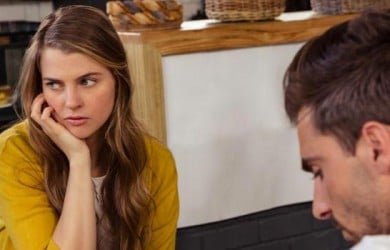 Popular Topics On Married Life