How to Understand Age Differences in Marriages
The topic of age differences in marriages is not an alien concept. Although it is a widespread belief that love is enough to establish and maintain long-term relationships and successful marriages, is it truly enough?
Research has revealed that heterosexual relationships where the man is older are far more common than same age or relationships where the woman is older. But the reasons for men and women choosing a partner with an age gap are varied, like reproductive health, economic viability, or physical preferences.
In an ideal world, maybe love is enough. But in the real world, there are a lot of different factors that go into determining a successful marriage. So, is age, and more specifically, the age gap important for a successful marriage?
Are age differences in marriages significant? If so, what is the ideal age gap? How much age difference is acceptable?
All these questions may have popped into your head. Don't worry. The age differences in marriages need to be explored further. This article will clarify your doubts and answer the questions that you have about age differences in marriages.
So, if you're curious, just continue reading.
Also Try: What Age Range Should I Date? Quiz
Does the age difference between couples make for a successful marriage?
Before delving any further, let us first understand the meaning of an age gap. For couples, an age gap stands for the difference between the ages of the two partners involved.
So, let's now tackle whether age and a couple's age difference are essential aspects of a relationship. Firstly, think about the different factors that you may be looking into while choosing a partner.
It can be their financial status, personality, life goals, morals, values, belief systems, physical appearance, and so on. So, why not also consider age as a factor? Although it is a famous saying that age is merely a number, but is it true?
In the real world, age, unfortunately, isn't just a number. Age differences in marriages may help you determine (along with the other factors mentioned above) whether the person you're attracted to can be marriage material.
Age can be a determinant for compatibility in long-term relationships. There is no relationship age gap rule for establishing the appropriate age difference between a couple.
Some studies have shown that relationships with a considerable age gap have higher satisfaction levels in the short term than relationships with similarly aged partners. However, the satisfaction falls considerably as time passes, while it remains stable for same-age couples.
The plethora of information and age gap relationship statistics predicting the ideal age for marriage and maximum acceptable difference and minimum acceptable difference should be taken in with a grain of salt. The information may be accurate, but it has its limitations.
Why are there limitations? It's because every couple who's in a relationship is unique. Their relationship ups and downs are unique to them. They are unique individuals. So, it's best to use the information about age differences in marriages as a guide rather than as a rule.
The age gap is an essential consideration because many conflicts that couples may go through are brought upon, not due to incompatibility but age-related factors. So, just remember to understand the average age difference between couples' statistical reports keeping your situation in mind.
What is the perfect age difference in marriages?
So, the next question that may have come to your mind is, what is an acceptable age difference between couples? The answer to this query is closely related to the content of the previous section.
The simple truth is that a couple's age difference works differently for different couples, married or unmarried. The ideal age difference for you and your significant other might be completely different from what works for another couple.
However, there are some basic guidelines to help you figure out the answer to the question: can age gap relationships work? This information will help you understand the things that may characterize your relationship based on different age gaps.
Also Try: How Old Will I Be When I Get Married?
5-7 years of age difference
First and foremost, let's take a look at this particular age difference bracket. A lot of people feel like this may be the proper age gap. Why so? Some of the advantages of this age difference bracket have been listed as follows:
1. There is going to be a mature partner
A big benefit of marrying someone who is 5-7 years elder or younger to you is that the older individual will possibly be more mature in comparison to the younger one. The absence of an age gap can lead to many conflicts brought upon the relationship due to immaturity in both partners.
Related Reading: 

How to Meet Mature Women for Marriage
2. Infrequent ego clashes
A 5-7 year age difference means that both individuals belong to the same generation. So, this comes with the benefit of avoiding misunderstandings due to pride or ego. It's easier to understand each other's mindsets, values, and beliefs.
3. If the male is older, he usually catches up with the female's level of maturity
This is relevant for heterosexual couples. Women are believed to be more mature than men, so this age gap allows both people to be more or less on the same level of maturity.
Related Reading: 

8 Ways to Resolve the Differences in Male and Female Communication Patterns
8-10 years of age difference
Although this age difference bracket deviates quite significantly from the average age difference in married couples, there is still a lot of scope for such an age gap relationship or marriage to work.
1. Patience is key

The older partner needs to be very patient. Why? It's because, in such an age gap marriage or relationship, the younger partner may be significantly different in terms of maturity than the older counterpart. So, the older partner can provide an environment to let the younger partner grow up comfortably.
The younger partner's level of maturity matters

In the same vein as the previous pointer, the older partner's maturity does not matter compared to the younger ones. If the younger partner is mature in his/her/their years, it'll be easier to avoid misunderstandings and conflicts.
Related Reading: 

4 Benefits and Disadvantages of Dating a Younger Man
2. It's best if both the partners are settled

Being settled financially facilitates a lot of stability in the relationship. So, for successful age gap relationships, this sense of security and stability is essential. If both partners are at different levels of financial stability, respect and understandingare crucial.
3. Expect compatibility issues

This age difference bracket increases the likelihood of generation gap-related conflicts. Couples might find it hard to relate to each other if they grew up under very different circumstances abd can't understand each other's perspectives.
Also Try: What Am I Doing Wrong In My Relationship Quiz
20 years and beyond
This age difference does raise the question of how much of an age difference is too much? Well, primarily, such marriages happen because of a powerful connection between both partners.
So, the honeymoon phase may be fulfilling and pleasant. But, after that, here are some of the problems that couples with significant age differences in marriages may encounter:
1. Hardly any common ground

If you thought that the generation gap in the 10-year age difference bracket might be pertinent, it's become more prominent in these huge age gap relationships. So, it makes it challenging to have anything in common. This can be reduced if the older partner is more modern in their outlook and beliefs.
Related Reading: 

Different Types of Interpersonal Relationships
2. Insecurity and discord

The older partner may begin to slow down because of their age, whereas the younger partner is still in their prime. The differences in the pace of leading life can cause a lot of arguments stemming from jealousy and insecurity.
3. Age-related health issues

If you're the younger partner, be prepared to spend a significant amount of time dealing with your beloved's health issues while you are still young. It can either strain the relationship or bring the couple closer together.
Related Reading: 

7 Tips for Coping with Mental Illness and Marriage
4. Sexual incompatibility

Another common issue you may encounter unless the older partner is exceptionally fit and healthy is the disparity in sexual intimacy. The sexual urges of the older partner may start diminishing, leading to frustration and dissatisfaction.
Watch this video to learn more about whether age differences in relationships matter:

Can a marriage with a significant age difference last?
Now that you've read through the characteristics of different age differences in marriages, your attention may be fixated on the 20 years age difference bracket. You may wonder how much age difference is too much? Is it worth it?
Well, it depends. As per studies on age differences in marriages, couples who have a difference of a decade or more do face many conflicts brought upon by social disapproval.
People generally prefer to be married to partners who are their age. But some people like the idea of marrying someone a decade older or younger. It's all entirely subjective. So, age differences in marriages are more than acceptable to a lot of people.
However, considering the challenges associated with 15 to 20-year age gap relationships, it may be safe to infer that the biggest age difference in a marriage that is acceptable and easier to cope with and sustain is possibly the 10 to 15 year age difference.
But if you're planning on settling with a significantly younger or older person than you, just remember that mutual respect, direct and truthful communication, trust, love, and stability are the most important determinants of compatibility.
If you and your partner work on these things, age differences in marriages won't matter. You and your partner can easily overcome the age difference by strengthening your bond.
Also Try: What Age Will I Get Married?
Conclusion
Factors such as trust, love, respect, and communication are just as important for relationships with no age gaps, as they are for the ones that have age gaps. So, remember to focus on these aspects of the relationship. Age differences in marriages can determine their dynamics, but with respect, any relationship can be successful.
While age differences in marriages are wrapped up in many misconceptions, understanding how different age gaps can impact your relationship allows you to proceed in an informed manner. Remember that all relationships have problems, but you can ensure that your relationship is healthy and long-lasting with the right attitude.
Share this article on
Want to have a happier, healthier marriage?
If you feel disconnected or frustrated about the state of your marriage but want to avoid separation and/or divorce, the marriage.com course meant for married couples is an excellent resource to help you overcome the most challenging aspects of being married.
More On This Topic
You May Also Like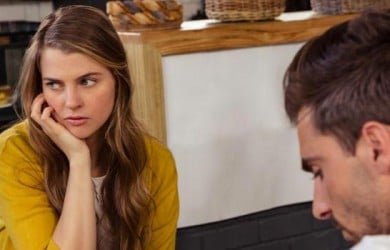 Popular Topics On Married Life