How to Enjoy Married Life at Any Age
Sharing a life together with your spouse is one of the most fulfilling things you can do, but that doesn't mean that marriage is free from challenges along the way.
Being married is about building a life together that is fun, loving, and satisfying. Yet, many couples -young and old – worry that their enjoyment of married life will one day evaporate.
Is marital enjoyment doomed to decrease as the years roll by? Absolutely not! But it's up to the couple to make sure they are treating each other well and making their marriage a top priority.
Stress, responsibility, and the daily grind may all weigh on your spirit, but don't let it weigh on your marriage. Here are 7 great tips on how to enjoy married life.
1. Never stop being friends
One of the best lessons on how to enjoy married life is to stay friends with your spouse. Being friends and being partners, both have very specific connotations, both of which are important to the marriage arrangement.
Partners are there for each other, they make decisions together, and they create a healthy, happy, functioning life together. These are all important aspects of married life. But friends laugh together, they make plans to go to events, to have dinner, and to explore the world. Friends have fun, share hobbies and jokes, and can't wait to talk to each other.
By remaining friends, you will have the best of both worlds and remain happy in your marriage.
2. Maintain a healthy sex life
Learning how to enjoy married life starts in the bedroom. Not only should you be going out of your way to make sure your spouse is having an enjoyable sexual experience, but you should be making sex a priority in your marriage.
Couples who have sex together regularly (one or more times a week) share a strong bond. Studies show that happiness and satisfaction in marriage are closely related to the quality of a couple's sex life.
3. Laugh together
One of the biggest tips to know how to enjoy married life is to smile each and every day. More specifically, go out of your way to laugh together. When it comes to stress in your marriage, laughter truly is the best medicine.
Laughter is a great way to bond and have fun with your spouse, but it has many great health benefits, too. Studies show that the risk of heart disease among those who rarely laugh is 95% higher than those who reported having a laugh every day.
Giggling, chuckling, and all-out laughing together can decrease epinephrine and cortisol levels, reducing the body's stress response. This is why many people feel comfortable and more at ease after laughing. It is also why many spouses try and use humor to de-escalate a disagreement.
Mirthful laughter is also responsible for decreasing symptoms of dementia, insomnia, and depression.
4. Take care of yourself
When you first met your spouse, odds are the first thing you noticed about them was their appearance. Looks aren't everything, but partners want to be attracted to one another and taking care of yourself will go a long way when it comes to marital enjoyment.
It's fun to lounge around the house all day in pajamas with your sweetheart, but don't forget to dress up for them every once and awhile.
Standard tips for physical care include keeping your nails trim, going to the doctor/dentist appointments regularly and paying attention to your hygiene, but part of looking good also means taking care of your skin, shaving regularly, styling your hair, and staying in healthy shape for your body type.
5. Use your speech wisely
Just because you've been married for a long time doesn't give you an excuse to be rude, inconsiderate, or mean to your spouse. As the person who knows your partner best, it would be easy for you to pinpoint the exact topics or words that would hurt their feelings, but this would not be kind and would not benefit your marriage.
Couples benefit when there is positive speech in the household, plus it sets a good example if you have children. Learn to communicate and problem-solve in a fair and respectful manner, remembering that you are both on the same side and should be handling your problems together as partners, not separately as enemies.
6. Don't try to change each other
You knew who your sweetie was when you married them, so why try and change things now? Of course, you should be able to openly communicate with one another about what is and isn't working in the relationship, but do not try and mold your spouse to better fit who you would like to be with.
Instead of using manipulative or dominant maneuvers to change your spouse, embrace them. Make a list of all the things you love about their personality and focus on these things whenever their irritating whistling habit or 'need to analyze everything' pops up.
Also watch:

7. Be thoughtful
One of the simplest ways you can enjoy your married life together is by being thoughtful. This is one of the easiest and most effective ways to maintain happiness in your relationship.
Look for ways to be thoughtful. Bring home flowers or treats that your spouse enjoys 'just because…'. Put away the dishes or shovel the driveway for your partner. Continue to show your appreciation for all your partner does for you by saying please and thank you or acknowledging their kind deeds with a kiss.
These may sound like simple tasks, but the power of kindness goes a long way toward a happy home. As an added benefit, this study done by Oxford University revealed that being kind to others actually makes you happier.
Learning how to enjoy married life is simple: love the one you're with. Go out of your way to be good to one another, to communicate regularly, and to remember that you are best friends as well as lovers. By not forgetting about the little things like manners and kissing, you will be creating a solid marital foundation.
Share this article on
Want to have a happier, healthier marriage?
If you feel disconnected or frustrated about the state of your marriage but want to avoid separation and/or divorce, the marriage.com course meant for married couples is an excellent resource to help you overcome the most challenging aspects of being married.
More On This Topic
You May Also Like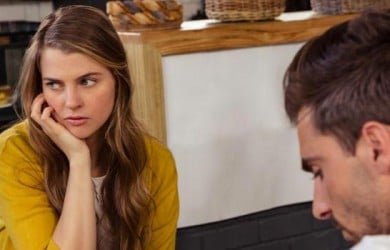 Popular Topics On Married Life