Different Types of Interpersonal Relationships
Have you been hearing the term "interpersonal relationships" frequently lately and wondering exactly what is interpersonal relationships?
Aren't all relationships between humans interpersonal? Well, yes, they are, but there are varying degrees of just how interpersonal they are.
Let us examine interpersonal relationships definition, since it is getting a lot of press right now.
Define interpersonal relationships
Sciences Daily describes interpersonal relationships this way – "Interpersonal relationships are social associations, connections, or affiliations between two or more people. They vary in differing levels of intimacy and sharing, implying the discovery or establishment of common ground, and may be centered around something(s) shared in common."
Interpersonal relationships are one of the richest, most beneficial parts of life.
Only hermits living secluded in remote areas prefer solitude to the pleasure of interpersonal relationships.
Humans are a social species and seek to connect with others and feel a sense of interdependence.
Family, friends, colleagues, people that we encounter as we go about our day—the attendant at Starbucks or the janitor at our workplace—we all feel good when we connect and acknowledge each other.
Related reading: Types of Relationships
Different degrees of closeness in interpersonal relationships
You may feel a connection to, say, the checkout lady at your favorite grocery store. In fact, you specifically try and get in her line when you shop there because you enjoy your conversations so much.
But this is a light social connection, not representing a close friendship or romance. While it is an interpersonal relationship, it does not carry the degree of intimacy that a friendship or love relationship has.
You can read the interpersonal relationships examples for a better understanding of this terminology. A deeper, more-intimate interpersonal relationship will contain some of the following traits –
You and the other person in the relationship listen to each other.

You strive to communicate openly and without judgment.

You both trust and respect each other.

You consistently make time for each other and enjoy each other's company.

You remember details about each other's lives.

You engage in healthy activities together.

You genuinely care about each other's welfare, and

You accept each other as you are right now, faults included.
The life-enhancing benefits of interpersonal relationships
Our interpersonal relationships are formed for more reasons than just the nature of our species. We put work into finding and nurturing our interpersonal relationships to understand the benefits of such relationships?
They help us fill our emotional and physical needs

They make us feel mentally balanced and healthy

They give us touchpoints, helping us navigate tough times as we know these people have our backs

They serve as a support network

Each of the people's actions affects the other person

They can be mirrors to our lives, helping us see more clearly when we may be following a pathway that isn't the best for us

They are our cheerleaders

They link us to something greater than ourselves
Attachment theory also explains our natural need to seek out and grow our interpersonal relationships. This theory defines the same attachment as a deep and lasting bond connecting people across distance and through time. Creating such relationships helps ensure our survival, especially when we are babies and completely dependent on our mother and other caregivers.
It is this bond between mother and child that encourages them to fulfil the babies' needs, which of course, provides continuation of the species. We don't outgrow this bonding behaviour. In fact, as we grow, we replicate it and continue to benefit throughout our lives from our interpersonal relationships.
Some examples of different types of interpersonal relationships
The depth and strength of our interpersonal relationships are different depending on the individuals with whom we connect.
What defines the relationship are the different expectations the individuals have and the context of the connection.
The four basic types of interpersonal relationships
1. Family
We are born into a family, so this is the first type of interpersonal relationship we form.
Note that within our family relationships, we will have varying degrees of connection with our mother and father, our siblings and extended family (cousins, aunts and uncles).
The depth of our interpersonal relationships in our family are also somewhat culturally and religiously-dependant. We may come from a background where family is the most important thing in life, or, to the contrary, family has little significance.
2. Friends
Our friendships can sometimes provide us with a greater sense of connection than that which we share with our family. The difference in the friendship bond is one we purposefully seek out, versus family which is imposed on us.
Friendships can be same sex or different sex, but the essential ingredient is trust, transparency, laughter, unconditional support, common values and interests, and equal give and take.
3. Romantic partners
Interpersonal relationships involving romantic partners are the most intimate ones, both emotionally and physically.
A healthy interpersonal relationship with a romantic partner is based on deep bonding, passion, trust, respect, and admiration.
4. Work colleagues
Strong interpersonal relationships in the workplace are beneficial to the company as a whole.
When employees feel a sense of connectivity with others, good work habits are formed and output is enhanced. Happy workers deliver their best, and this makes for a productive company.
Since we spend at least eight hours during the workweek with our work colleagues, it is important for our mental health to feel like we are part of a team, a group of people who can give us positive feedback and, if necessary, feedback that helps us work to the best of our abilities.
Some pointers of developing healthy interpersonal relationships in the workplace include –
Do not treat the workplace as your home. Stay professional.

Do not pass along office gossip.

Do not share all your secrets with your colleagues.

Give space to your co-workers.

Stay away from office politics

Check your ego.

Do not criticize any colleague in front of others. If you have an issue with them, address this in a private setting.
Share this article on
Want to have a happier, healthier marriage?
If you feel disconnected or frustrated about the state of your marriage but want to avoid separation and/or divorce, the marriage.com course meant for married couples is an excellent resource to help you overcome the most challenging aspects of being married.
More On This Topic
You May Also Like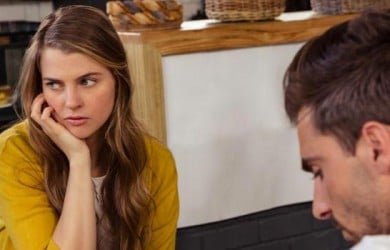 Popular Topics On Married Life